6 Places Eric Bledsoe Could Be Traded To
Eric Bledsoe shocked the and NBA world when he tweeted "I Dont wanna be here". Soon after the Suns fired Earl Watson and named Jay Triano as the interim coach. After that the Suns sent Bledsoe home in anticipation for a trade. According to sources around the league many teams are lining up to give an offer the Suns can't resist. Although there is probably a 0% chance any of these trades happen here are 6 teams that could trade for Bledsoe.
Honorable Mentions
Clippers
Reasons Why Not: Just because DeAndre Jordan wants his boy back doesn't mean they get him. The Clippers already have Patrick Beverly, Milos Teodosic, Austin rivers, and Lou Williams at guard and don't need to add a new one.
Pacers
Reasons Why Not: The reasoning for this sort of makes sense, the Pacers have been relevant for a long time. The theory is if the Pacers fully enter a rebuild then they won't get out of it until nearly a decade. If the Pacers trade for Bledsoe then maybe they can make the playoffs for the next five seasons but never quite contend. I don't believe in this reasoning and believe the Pacers will enter a full rebuild.
Knicks
Reasons Why Not: This would be the most Knicks thing ever. Soon as they commit to a rebuild they go ahead and trade for a possible All-Star. Go for it Knicks, the media will have a field day.
Magic
Reasons Why Not: Magic are 3-1 right now and if they truly believe that they can make the playoffs then this would be the right move but the Magic still need another star from the draft in order to someday be a contender.
Blazers
Reasons Why Not: How would Lillard, Bledsoe, and McCollum all play on the court at the same time. Who could they Blazers find to trade to the Suns. This would be extremely difficult to maneuver and I would be very surprised if it was pulled off.
Now for the teams that have a chance at getting Bledsoe.
Cavaliers
Direction: Championship Contender
Possible Trade: Eric Bledsoe to Cleveland, Iman Shumpert, Channing Frye, Cedi Osman, 2021 Top 18 Protected
Bold Trade: None
The Cavaliers tried to acquire Bledsoe back in July in a deal involving Kyrie. Rich Paul is another big name that connects Bledsoe to the Cavs. Rich Paul is the agent of 16 NBA players including LeBron James and Eric Bledsoe. LeBron, Bledsoe, and Derrick Rose worked out together over the past summer. With Thomas, Bledsoe, Crowder, James, and Love starting and Rose, Wade, Smith, Korver, Thompson coming off the bench, this trade would only make Cleveland one step closer to beating the Warriors. From Phoenix's point of view this trade is definitely acceptable. Reports came out saying that the Suns were being reluctant accepting any trades that don't include a young player with high upside. Cedi Osman is a rookie from overseas that could blossom in to a very solid player. Frye is a good veteran for a young Phoenix team. Shumpert fills perhaps the biggest hole in the Suns' team, which is defense. The Suns are just an AWFUL defensive team and Shumpert would definitely help that. When you add a pick into the equation this trade is definitely acceptable for both sides.
Nuggets
Direction: Building for Contention
Possible Trade: Eric Bledsoe to Denver Emmanuel Mudiay, Kenneth Faried, Top 12 Protected Pick to Phoenix
Bold Trade: None
This trade makes the most sense out of all the trades for both teams. Denver is no lock for the playoffs and would extremely benefit from an extra All-Star caliber play. Mudiay obviously is not working in Denver and the same can be said for Faried. Faried could be a very good veteran mentor for Marquesse Chriss and Alex Len. Mudiay could find success in a new city, especially getting the minutes that he would receive. With Bledsoe the Nuggets would have a lot of flexibility. They could play small ball with Bledsoe, Murray, Harris, Millsap, and Jokic, or they could play traditional with Bledsoe, Harris, Chandler, Millsap, and Jokic. The bench would be more deep and the Nuggets would overall be a better team.
Bucks
Direction: Building for Contention
Possible Trade: Eric Bledsoe to Milwaukee John Henson, Rashad Vaughn, 2018 Unprotected Pick to Phoenix
Bold Trade: Eric Bledsoe to Phoenix Jabari Parker, Matthew Dellevadova to Milwaukee
If Bledsoe's value drops then this deal might seem appealing. Henson is overpaid but never the less a decent player. Vaughn still has potential only being a couple days over 21. Milwaukee and Bledsoe could be great, or turn out to be a very bad experiment. That is the exact reason I don't think Bledsoe is worth giving up Brogdon. Bledsoe is ball dependent in a way and the Bucks do not wan't to take away any ball time from Antetokounmpo. This could work if Bledsoe accepts his role and dominates the fast break with Giannis. It is scary to think off a fast break with 6″11 Giannis and super athletic freak in Eric Bledsoe. If Parker is in this trade then Phoenix swindled the Bucks. there is not guarantee that Bledsoe could work in Milwaukee and for them to give up a talent like Parker for him is crazy. This would be an risky but fun trade to go down.
Thunder
Direction: Championship Contender
Possible Trade: Eric Bledsoe to Oklahoma City Jeremi Grant, Alex Abrines, Kyle Singler, 2019 Top 5 Protected Pick to Phoenix
Bold Trade: None
This is the all else fails trade offer for the Suns. Westbrook, Bledsoe, George, Anthony, Adams sounds fun but the Thunder just don't have enough assets to make this trade. Many also did not think they had enough assets to acquire Paul George or Carmelo Anthony. Maybe Sam Presti can use his persuasion to get Bledsoe for pennies on the dollar. Grant and Abrines would still get sufficient minutes in Phoenix and maybe even Ferguson could be added to the trade. Two things need to happen in order for this trade to work, the Sun need to be desperate and Presti has to be able to convince the Suns it's a fair deal.
Spurs
Direction: Championship Contender
Possible Trade: Eric Bledsoe to San Antonio DeJounte Murray, Danny Green, 2018 Second Round Pick to Phoenix
Bold Trade: None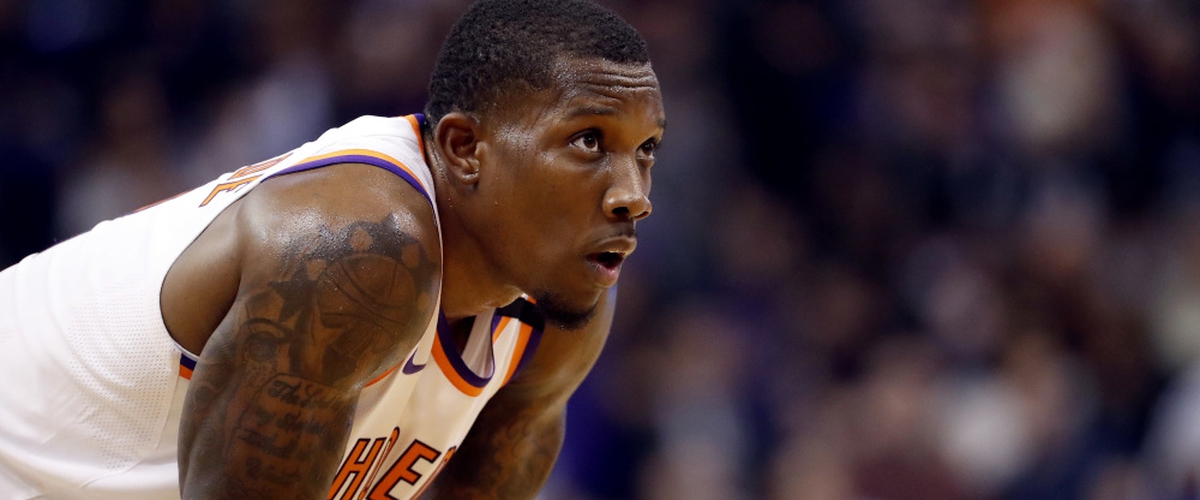 This just doesn't seem right. Spurs aren't known to acquire superstars (Aldridge is the exception) and Bledsoe doesn't seem like a Spurs player (Neither did Aldridge). That being said if the Suns are offered DeJounte Murray they need to accept the trade without hesitation. This trade also works for the Spurs, because they were a real threat to the Warriors last season before Kawhi Leonard got hurt and now Aldridge is playing like an All-Star. If you add a near All-Star talent to that roster the Spurs have a legitimate chance at winning the title.
Pelicans
Direction: Building for Contention
Possible Trade: Eric Bledsoe to New Orleans Solomon Hill, Cheick Diallo, Frank Jackson, 2018 Unprotected Pick to Phoenix
Bold Trade: Eric Bledsoe, Tristan Thompson, Troy Daniels to New Orleans,
Iman Shumpert, 2018 Nets Unprotected Pick to Phoenix, DeMarcus Cousins to Cleveland
For the bold trade it would have to be later in the season and the Pelicans need to be bad. As for the trade that could happen now, the Suns would be very happy to get two rookies like Cheick Diallo and Frank Jackson. Also they would get a pick that could end up being in the 10-14 range. For the Pelicans it gives them hope. Hope that they can win and that Cousins will stay. Bledsoe, Holiday, any small forward you can find, Anthony Davis, DeMarcus Cousins isn't a bad starting lineup and could possibly make the second round of the playoffs. Making the second round of the playoffs would be a very successful trade for the Pelicans.