Patriot Talk: Week 3 Recap and Week 4 Predictions
[email protected]: 10-26 Loss (1-2 Record)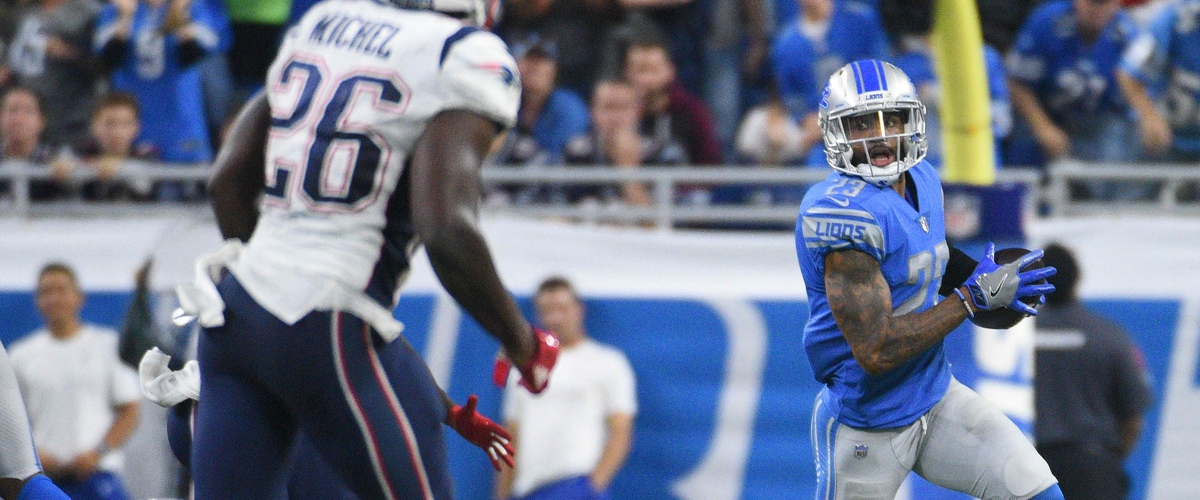 Heading into this game, there were high expectations, lots of emotion and a hungry fanbase. After an embarrassing week 2 performance (specifically on defense) against Blake Bortles and the Jaguars, fans and media surrounding the Pats were calling for answers. Before the game began, it was announced that Patrick Chung, Eric Rowe, Trey Flowers and newest acquisition Josh Gordon were not going to play. It really showed how shallow the Patriots defense is. A very weak Detroit offensive line held off a pathetic pass rush. The linebackers weren't doing their jobs either, and were very slow and allowed Kerryon Johnson to run all over them. Yes, Kerryon Johnson ran for over 100 yards against New England. That's mid second round pick of this past draft, Kerryon Johnson. That's the same Kerryon Johnson that was 3rd on the running back depth chart for the Lions to start the season. The same Kerryon Johnson who ran for 17 and 43 yards, respectively, in weeks one and two. The run defense was just pathetic, and something needs to be changed. As for the coverage, they weren't terrible, but they were not good either. They gave up big plays too often, and they are super inconsistent in coverage, outside of Gilmore. Trey Flowers being out did make a difference, and when he comes back, the defense as a whole will be slightly less pathetic. It isn't a lost cause, as a few minor moves, like Hightower playing defensive end and bringing Chung down to linebacker or, better yet, activate Harvey Langi from the Practice Squad, could change the swing of things. Try a trade for Earl Thomas. Make the defensive line deeper by signing someone. A n y t h i n g.
Offensively, it was brutal. We were going up against a defense that let rookie Quarterback Sam Darnold look like the next Joe Namath (Darnold since then has been a bottom 3 QB based on my Effectiveness Rating), and was pathetic against Jimmy Garoppolo and the 49ers. Yet the Pats couldn't pick up a first down if their lives depended on it. Dorsett, who had been our top wide receiver through the first two weeks, had some bad drops. Sony Michel, who a lot of people expected to be very good in this game, fell flat on his face. The offensive line was getting tossed around like ragdolls. Cordarrelle Patterson couldn't get open in one on one coverage. They didn't utilize James White when they desperately should have. Gronk drew all the coverage yet still wasn't enough because the other guys couldn't do anything. And Tom Brady- whether it's miscommunication, the lack of weapons, or just straight frustration with coaches- has not looked good. Josh Gordon wasn't able to… oh wait, he didn't play because Bill is the most stubborn coach when it comes to new guys. God, Bill Belichick has been awful this year, hasn't he? Let Dion Lewis walk and took an injury prone Michel and Offensive lineman Isaiah Wynn when Calvin Ridley was available. Completely depleted the receiving core around Brady by trading Cooks and letting Amendola go, and not even trying to replace them (because if he did try, Ridley would be a Patriot). Now that I've let off some steam, lets get to next week.
Josh Gordon should play, so that is a positive. Rex Burkhead was injured for the third time in three games, and is now on IR with a chance to return in 8 weeks. Trey Flowers and Patrick Chung are both practicing and should be ready to go for next week. Ja'Whaun Bentley was placed on IR, the rookie linebacker is eligible to return in 8 weeks, if healthy. They signed edge rusher John Simon, and he has looked impressive in the past (very technically sound). The Patriots continue to look for receivers, working out Jeremy Kerley and could be a front runner for recently released Rishard Matthews. Orleans Darkwa is still relevant… right? They really need Darkwa, let me tell you. Finally, the Patriots could be in the running for Earl Thomas, but cap space is an issue. He would help the Patriots awful defense.
Next week, the Pats are going up against the undefeated Dolphins to take on former Patriots Danny Amendola and Brandon Bolden. Currently the Dolphins have a good thing going. Tannehill finished as the league's top quarterback last week according to my effectiveness rating with a 38.857 ER. They also have a very good running back in Kenyan Drake. Also, to put in perspective how good Tannehill was, Brady finished 28th in the league with a 15.778 Effectiveness Rating and Stafford 14th with a 24.988 ER. Because of the solid running game backed up by a solid passing game, along with the fact of the horrendous Patriots defense and struggling offense, I am scared of week 4. But at this point, with the situation of the game, it's a must-win. They get a healthy Chung, Flowers and Gordon back.
Prediction: 31-27 Patriots win