NFL Week 6: Kansas City Chiefs (5-0) @ New England Patriots (3-2) Projections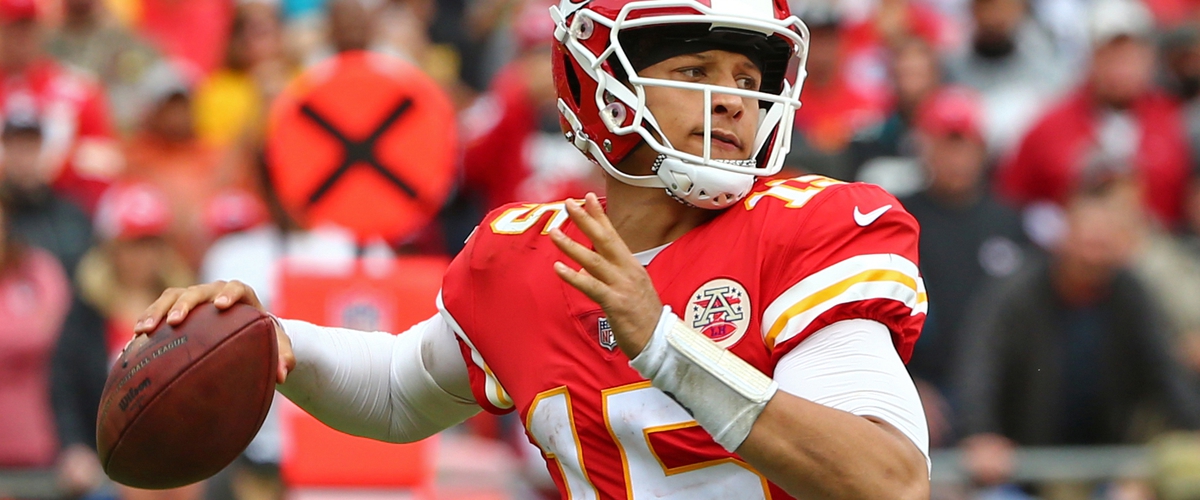 Chiefs quarterback Patrick Mahomes has been on fire through five weeks. Can the Patriots slow him down? Most projection models on the internet say yes they can, including my newly-created Offense/Defense Index model.
Through five weeks of the 2018-19 NFL Season, two teams have emerged in the AFC as favorites in their respective divisions. Those two teams, the 5-0 Kansas City Chiefs and the 3-2 New England Patriots, just happen to meet this Sunday night at Gillette Stadium in Foxboro, Massachusetts. So, what can we expect to happen? Most people have said to expect a shootout this weekend, as Chiefs quarterback Patrick Mahomes is on a record pace but is backed by a lackluster defensive unit. Let's take a look at some projections on how the game will play out, including my own numerical projection at the bottom:
Football Outsiders
Football Outsiders' flagship statistic is DVOA (Defense-Adjusted Value over Average), a model which puts a quantitative value on how well a team has played, weighted by situation and approximate value. I highly recommend checking out Football Outsiders to check it out. However, since it's only 5 weeks into the season, DVOA isn't going to be greatly accurate in predicting matchups. To remedy this problem, the site uses DAVE, which combines DVOA with its preseason projections. Using DAVE, which gives a percentage over average, I calculated that the site projects Kansas City to win the majority of the time, at 53.6% (since an average team would tie an average team and a team at 1% would beat a team at -1% 51% of the time, a team at KC's DAVE would beat a team at NE's score in that percentage of games).
Football Outsiders Projection [Unofficial]: Kansas City (53.6%) - New England (46.4%)
FiveThirtyEight
FiveThirtyEight is a popular website linked to ESPN that forecasts games using its ELO model. ELO assigns each team a number, with 1500 as the average, and changes it after each game. The website's projection for Sunday night's matchup is for the Patriots to prevail in the majority of games, with a spread of NE -1.
FiveThirtyEight Projection: New England (54%) - Kansas City (46%)
ESPN's Football Power Index
ESPN is famous for its sports coverage and attempts at creating all-encompassing statistics, from FPI to its infamous QBR metric. FPI uses predictive QBR and other figures to measure the expected points added by a team's offensive, defensive, and special teams units. The site uses this in its matchup predictor, which currently greatly favors New England.
FPI Projection: New England (66.6%) - Kansas City (33.1%) [Tie 0.3%]
TeamRankings
TeamRankings has its own method of predicting NFL games by determing an average score rather than probability in its model. This is shown on the ESPN gamecast to games, and also favors the perennial juggernaut Patriots.
TeamRankings Projection: New England 33.2-28.8 Kansas City
NumberFire
Similarly to TeamRankings, NumberFire projects games by determining an average score, which is displayed in ESPN's pre-game gamecast. NumberFire currently favors the Patriots, but it's closer than some other projections. One notable thing is that NumberFire doesn't see this game playing out on average as the shootout some people think it will be.
NumberFire Projection: New England 27.3-22.8 Kansas City
Other Metrics
Spread: New England -3.5
Spread Consensus Pick (Who The Public Is Betting On): New England 51%
Offense/Defense Index
Here's the crowned jewel of my experiment, O/D Index. Similarly to DVOA by Football Outsiders, O/D Index assigns each team a percentage over or below average based on their offensive and defensive efficiency in several metrics with a decently high correlation coefficient to winning. Using these percentages, as well as a home-field advantage adjustment, O/D-I can assign a percent chance for each team to win a game. This game was enormously close by O/D-I's projection, as Kansas City has an O/D-I about 1% higher but is the away team. As a result, my model favors New England barely.
Offense/Defense Index Projection: New England (51.62%) - Kansas City (48.38%)
Coming soon: More updates with Offense/Defense Index and Quarterback Index.