NFL 2017-18 Season: One Question For Every AFC Team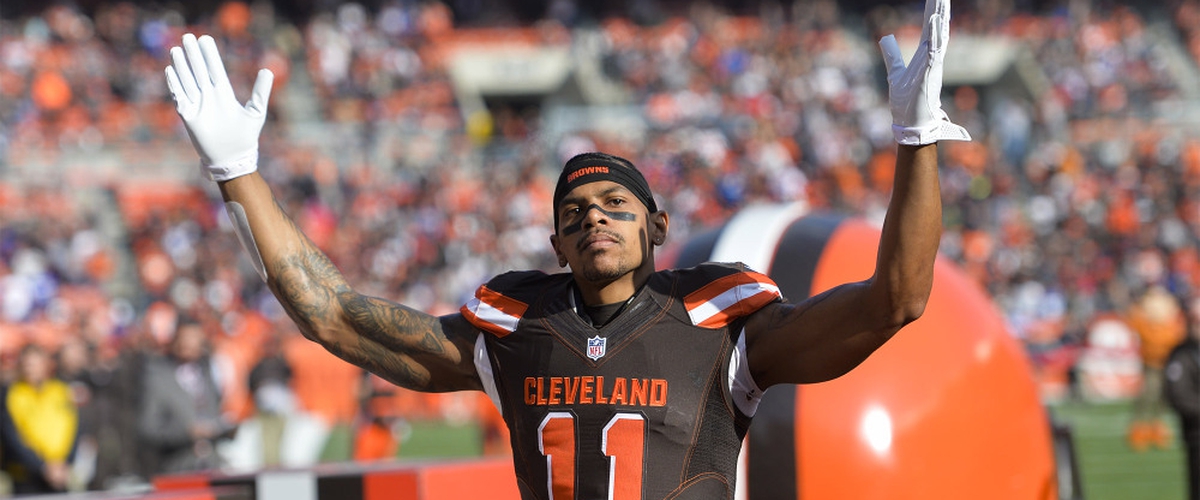 How the Browns will approach replacing the role of Terrelle Pryor is one of 16 questions looked at here. (Photo Courtesy of USAToday)
Every NFL team has a lot going for it. Every team has talented players and a good head coach. However, each team also has problems. With problems arise questions. Each team has many problems that will stand in their way to the one true goal of the NFL: a Super Bowl trophy. So, here's a look at one question for every team's run to Super Bowl LII in Minnesota:
New England Patriots
Who will step up as Trey Flowers' starting counterpart on the defensive line?
The Patriots have a big group of candidates for the second defensive end position. Trey Flowers is a lock to be the team's starting defensive end no. 1. However, last season saw the second defensive end position filled by Jabaal Sheard and Chris Long, both of whom have moved on. The Patriots' defense utilizes a lot of versatile players to get pressure on the quarterback, and pressure has always been a key to the team's defensive system. The candidates for the job are newcomer Kony Ealy, OLB/DE Rob Ninkovich, and rookies Deatrich Wise Jr. and Derek Rivers, as well as Lawrence Guy. Ninkovich has years of Patriots experience, while Ealy burst onto the scene in Super Bowl 50 and likely would have been the MVP if Carolina had won. Wise Jr. and Rivers may not be ready, but could fill the spot towards the end of the year. My guess would be that Ninkovich would start at the other defensive end position due to his experience and versatility as a pass rusher and situational linebacker.
Miami Dolphins
How will the Dolphins prepare their secondary for their tough schedule?
The Dolphins' secondary features ball-hawking strong safety Reshad Jones, but lacks other "starpower" at the cornerback position and others. Former Eagle Byron Maxwell is currently the team's no. 1 cornerback, and the depth behind him is average. The Dolphins have a very tough schedule for a secondary, featuring teams like New England, Oakland, Atlanta, New Orleans, and Tampa Bay. The Dolphins will face an uphill battle to the playoffs preparing this secondary. I would try to prepare the team to play mainly a 4-3 defense with versatile, fast linebackers who could help out the secondary. However, I would mainly try a system to funnel outside receivers towards the positions of the safeties and linebackers. Slot receivers and tight ends could be shut down in a 4-3 by outside linebackers, while outside receivers could be pressured into double coverage by corners and linebackers or safeties.
Buffalo Bills
How will the Bills adapt their offense this season to make the passing game more effective?
The Bills last season had a disappointing offense that featured LeSean McCoy and a lot of quarterback-designed runs. For the team to be more successful this season, they will need to do more in the passing game. Sammy Watkins has been dealing with injury and the team lost speedy receiver Marquise Goodwin, so they will need to address that this season. Tight end Charles Clay has been disappointing for his contract. This season, the team will need to run more of a balanced offense to be successful. This could be done well by using a similar offensive system to New England, an "Erhardt-Perkins" offensive system. This system is complicated, but allows a team to run a quick no-huddle offense that disables the defense's ability to switch personnel. It uses versatile players and uses the tight ends and running backs heavily as receivers. LeSean McCoy is an electric player with great receiving ability who could be a great threat in this sense. This system also gives many possibilities to a single play, which can make the most of the limited personnel the team has behind Watkins and Zay Jones. Using this system, the team could make the most of their personnel in the passing game.
New York Jets
How far can Bryce Petty, Christian Hackenberg, and Bilal Powell progress, and will it be enough for the team's future?
Petty or Hackenberg, as well as RB Bilal Powell, could represent the future of the Jets' franchise. However, if neither quarterback shows enough progress this season, they could be relieved of their duties and replaced by a rookie quarterback like USC's Sam Darnold or Wyoming's Josh Allen. The team needs to see that which ever quarterback starts can lead the team successfully and manage the offense rather than leading the bulk of the stress on the running game. I think Powell will no doubt progress to be the team's starting running back, as he is a versatile, quick running back who can run through a team or run a route through the secondary. However, I doubt that Petty or Hackenberg can progress enough to keep the team comfortable.
Pittsburgh Steelers
How much can Martavis Bryant contribute to the offense this year?
Bryant's feud with quarterback Ben Roethlisberger has been a featured headline on sites like ESPN and NFL.com. Bryant is possibly a top-15 receiver in the league when healthy and actually playing, and has an unbelievable twitch to get away from defenders. He's athletic and has great body control, but first will need to repair his relationships with the other Steelers, particularly Roethlisberger. This team will need him to do a lot of things. I think the Steelers will come to terms with Bryant, but will likely show him the door if he gets suspended again. Bryant will, as I see it, pile up some good stats as the team's premier outside receiver. Antonio Brown should also see an increase in production from having another receiver to take the defense away from. I think Bryant could reach as many as 1,000+ yards or as few as 300. It all depends on how he can make amends.
Baltimore Ravens
How will the Ravens manage to utilize receivers Breshad Perriman and Mike Wallace without Steve Smith Sr.?
This year may be the breakout year for Perriman that the Ravens have long expected. The team's top two wide receivers, Perriman and Mike Wallace, have done a lot of their damage as speedy deep threats, and were previously packaged due to injuries and, obviously, Steve Smith. However, now, the team's top two receivers are Perriman and Wallace. Teams will be able to focus as much attention as possible to the deep ball which Flacco throws so well, so how else can these guys be used? I think the team could use them in many ways. First, they could operate them in the slot to present challenges to the defense of giving safety attention to the middle of the field. This would help the team open up other receivers, or potentially each other, on the outside. The team could also use the two in many packages with the tight end to open up short routes.
Cincinnati Bengals
What roles will the Bengals' offensive personnel undertake to improve upon a down season?
The Bengals notably drafted Washington speedster John Ross III and, much to the hatred of many fans, Oklahoma running back Joe Mixon. These two may be able to help fill roles that the team may need to improve after a 6-9-1 season. Ross will obviously be able to stretch defenses to an unheard-of level. That's what 4.22 speed will do for you. He also has value as a potential return man. The team could use Ross like the Chiefs use Tyreek Hill. From what I've seen of him, Ross is faster than Hill and arguably more elusive, and could be used to detract attention from high-point-ball and deep threat wideout A.J. Green. Mixon is an elusive runner who provides more in football than possibly Bernard or Hill. He could also fill a role that was previously kept by Rex Burkhead. However, I'd hate to see him start, as he had a situation similar to KC WR Tyreek Hill. The team's offensive will likely lean greatly on receiver John Ross to create separation like DeSean Jackson or Tyreek Hill, not only to become a target but to help split the coverages up that are usually piled on A.J. Green. Ross could be a slot receiver who draws safety attention away from the outside of the field. The team will also need to utilize the running game better in order to have something to turn to if the passing game gets shut down. They could also utilize this to make the most of the play action pass, which could be used to take pressure off of a weakened offensive line.
Cleveland Browns
How will the Browns combat the loss of top receiver Terrelle Pryor?
In 2016, Terrelle Pryor was a huge part of the Browns' offense, reeling in 1,007 yards and 4 touchdowns. He could be seen routinely making catches downfield to dig the Browns out of big situations like a third-and-long. He will obviously be hard to replace, but doing so can be achieved by making the most of their personnel and by changing the mindset of the quarterbacks. First off, the most important thing to replace with Pryor is his ability to convert in clutch situations. This will, in a replacement, stem mainly from the quarterbacks, but also from the other personnel on the roster. Kenny Britt is a larger receiver with an ability to get downfield and battle larger cornerbacks, while Corey Coleman is a fast receiver who can get downfield and stretch a defense. Rookie tight end David Njoku is another big, athletic tight end with the ability to catch a contested ball. These three could be the key to replacing Pryor's conversion abilities. Coleman could stretch the field or get open quickly in a shorter-yardage scenario. Britt would represent the closest player to Pryor physically. He can beat a defender downfield and keep him away, and also demonstrated top body control with the Rams last year that could help him win contested plays to move the chains. Tight end David Njoku could also be an X-factor in this. He could obviously block downfield for Coleman or Britt, but could also present a mismatch with a slower linebacker or smaller cornerback who could make catches in the big moments. However, another thing to replace with Pryor would be his overall production in the passing game. The quarterbacks would have to be able to quickly diagnose plays and would have to put more into a system that throws on a route rather than some of the toss-ups the team did to Pryor. The solution to this lies in the success of Coleman, Njoku, and running back Duke Johnson. Coleman had a disappointing season last year, but with Njoku and Johnson around him, he could see more production and a lot of man-to-man coverage. Njoku is a big, physical tight end who reminds me of Washington's Jordan Reed. He could replace some of what Pyror did as a passing target, as could no. 1 receiver Kenny Britt. Last, Duke Johnson is a great receiving back with the potential to be a 500-yard or more receiver. Combined, the Browns could replicate Pryor's season with their team, and go beyond.
Tennessee Titans
How can the Titans help themselves the most with their system as it applies to QB Marcus Mariota?
The Titans upgraded generously at the receiver positions this offseason, going from a 1-2 punch of Rishard Matthews and Tajae Sharpe to rookie Corey Davis and Eric Decker. In order to win a division where both the Texans and Colts are also expected to make a push, they will need to tailor their offense more towards Marcus Mariota. Last season, the team leaned on the running game to some success. However, to become a legitimate double-digit win team, they will likely need to improve the passing game. This could mainly be accomplished with a West Coast-style offense with a read-option scheme built in, similar to the 49ers with Steve Young. This way Mariota could utilize the skills of Decker, a quick and reliable receiver, and Corey Davis, a big-bodied possession receiver, to attack a defense in the middle-to-short range of the field. With a read-option built into the offense, defenses would always have to remain alert for the extra weapon that Mariota, the NFL's fastest quarterback, would bring himself on the ground. The team could also run a lot around play action in order to set up longer plays due to the backfield duo of DeMarco Murray and Derrick Henry forcing defenses to respect the run.
Indianapolis Colts
How can the Colts further rebuild their defense, and how should they use their new acquisitions?
Rebuilding the Colts' defense further lies mainly in how quickly they can get all of their new players accustomed to their systems. They picked up Jabaal Sheard on the outside, who could be used like the team used Robert Mathis for many years. Another notable acquisition was outside linebacker Barkevious Mingo. Mingo is a fast, mobile linebacker with a great ability to cover the field side-to-side and as a blitzer. Mingo and Sheard could make up a great blitzing duo, and Mingo could also play in a nickel scheme if the team needed it as a middle linebacker. Inside, the team drafted Northwestern's Anthony Walker, an ILB with great upside as a tackling machine. If the team can get Mingo, Walker, and Sheard up to speed, they could go from a below-average linebacker trio to a very solid one. The team also drafted Malik Hooker to take over as the top free safety. Hooker, a ball-hawking free safety, could be used to move teams away from their number one target in the passing game. He could also be used as a Deone Bucannon-style safety who could match up on tight ends or cross the field to make a pick. If the Colts can rebuild their defense to be a 4-3 that utilizes Hooker and Vontae Davis as a team, they could suddenly have a notable NFL defense.
Houston Texans
What will the Texans do to prepare their offense for Deshaun Watson?
Answering this question requires an understanding of the kind of player that Deshaun Watson is. From what I've seen and heard, Watson is a "leader" as described by his coaches and teammates who has a good arm and mobility, but will need to improve his fundamentals to improve his overall game. So, clearly for Watson to be the most effectively used, the team needs to be able to use Watson's abilities. They could do this by employing a West Coast or Erhardt-Perkins offense. Watson will likely be able to run a successful offense either way, or even an Air Coryell offense, with a read-option scheme. A read-option scheme would both enhance the passing and running game by forcing opposing defenses to respect Watson's abilities. The team would want to adjust to Watson by likely using a short-to-mid route offense due to Watson's lack of NFL reps and create a system by which to give Watson a dump-off candidate on most plays to play it safe. One of the reasons Jared Goff failed last season was that the Rams didn't adjust to give him a way to play it safe under pressure. The Texans will need to incorporate this. They have enough receiving talent with Hopkins, Fuller, and Strong to give him a play-it-safe candidate, even being Lamar Miller or tight end C.J. Fiedorowicz. Doing this would likely help Watson succeed in the NFL early.
Jacksonville Jaguars
What will it take for Blake Bortles to succeed in 2017, and is this his last chance?
Blake Bortles, I firmly believe, will be out in Jacksonville if he doesn't succeed this season. The draft has simply too many talented quarterbacks to pass on one for a lackluster starter. For Bortles to succeed, the team will need to run to his strengths. Running back Leonard Fournette will take some pressure of Bortles' shoulders, and help the team in the passing game by opening up the option of the play-action pass. The tight end position will also be one of interest, as Marcedes Lewis will need to play a big role for Bortles to succeed and bild upon his 2015 campaign. None of the Jags' receivers are big-bodied targets, so Lewis will have to cover that position. If he can provide, as well as Fournette if he can improve as a receiver, that check-down target, then Bortles could be more confident in the pocket. If he could use this to become more confident, then he could better target Allen Robinson and Allen Hurns deep, increasing his success overall.
Oakland Raiders
How can Derek Carr and the Raiders' offense step forward to succeed more, and in less last-second situations?
Don't get me wrong, the Oakland Raiders were good in 2016. However, to be legitimate contenders in 2017, they will need to take some major steps forward. The Raiders won 12 games, but had a point differential of just +31, good for 7th of 12 playoff teams. That also meant the won by, on average, just 1.9 points, compared to New England's average (+191 differential) of 12 points ahead. They will need to take some steps ahead to challenge New England and Pittsburgh, so how will they? Newcomers Cordarrelle Patterson, Jared Cook, and Marshawn Lynch will defeinitely help with this situation, but possibly the biggest acquisition could be Cook. Cook is an athletic, fast tight end who can be a target for the deep ball if the Raiders need it. Lynch will obviously be used in short-yardage situations and to take pressure off of Derek Carr and the passing game. When it comes, however, to winning the game "faster," Patterson will be a huge value player. Patterson is a renowned kick returner who could help the Raiders tremendously with field position. Special teams is very underrated in football, but Patterson's ability to gain extra yards on returns could make the difference if the Raiders have limited time to make a drive. His ability here could also help the team score more easily throughout the game due to better field position.
Kansas City Chiefs
How can the Chiefs compensate for the loss of Jeremy Maclin, and how will the running game develop to help with this?
Jeremy Maclin's role with the Kansas City Chiefs was to be the team's classic reliable no. 1 receiver, and he delivered for most of his KC career in the role. However, due to Maclin's contract, the Chiefs cut him and he was signed by the Baltimore Ravens. The Chiefs were comfortable in doing this obviously because they knew they had "enough" weapons in Tyreek Hill, Travis Kelce, Chris Conley, and Albert Wilson. The team has said they will try to involve Hill more in the offense, while Chris Conley can likely take up Maclin's role as the "reliable" chain-mover. Obviously, the team's top straight receiving weapon may be tight end Travis Kelce, who can likely reach 1,000 yards. The running game could help with this in early down yardage so the team wouldn't need to move the chains from long distances as much. Rookie Kareem Hunt has shown promise as a quick, agile running back and Spencer Ware has already shown an ability to be a quick and strong running back. Combining all these elements, the Chiefs could very well overcompensate for the loss of Maclin to the Ravens.
Denver Broncos
How will Denver's offense perform against the NFL's hardest schedule?
The Denver Broncos have proven to have a lot of pieces offensively, but all of that will be made or broken by the quarterbacks and head coach Vance Joseph. New offensive coordinator Mike McCoy likes to utilize the passing game and different receivers, and the Broncos certainly have the personnel to comply. The team should perform above the NFL's average, but they might be dragged down by Siemian or Lynch against the NFL's hardest schedule. I think if the team runs a system that uses the run and play-action pass a lot, they could simplify the rules of the quarterback and increase the success of the quarterback.
Los Angeles Chargers
Which talented receiver will become the team's frontrunner this season, and what roles will the others have?
The list of weapons available to Chargers QB Philip Rivers is extensive and impressive: Travis Benjamin, Keenan Allen, Mike Williams, Antonio Gates, Hunter Henry, Dontrelle Inman, Artavis Scott, and Tyrell Williams, among others. Last season, Tyrell Williams was (surprisingly) the top-rated Chargers receiver last year by my WRT metric, which rates approximate team value of a wide receiver. This season, I think Travis Benjmain is the frontrunner to be the team's top target. He has breakaway speed unlike any other Chargers receiver, and has good hands and body control. Allen and Mike Williams could also be the top targets due to being bigger targets with the attributes of a no. 1.