2017 NBA Draft Reactions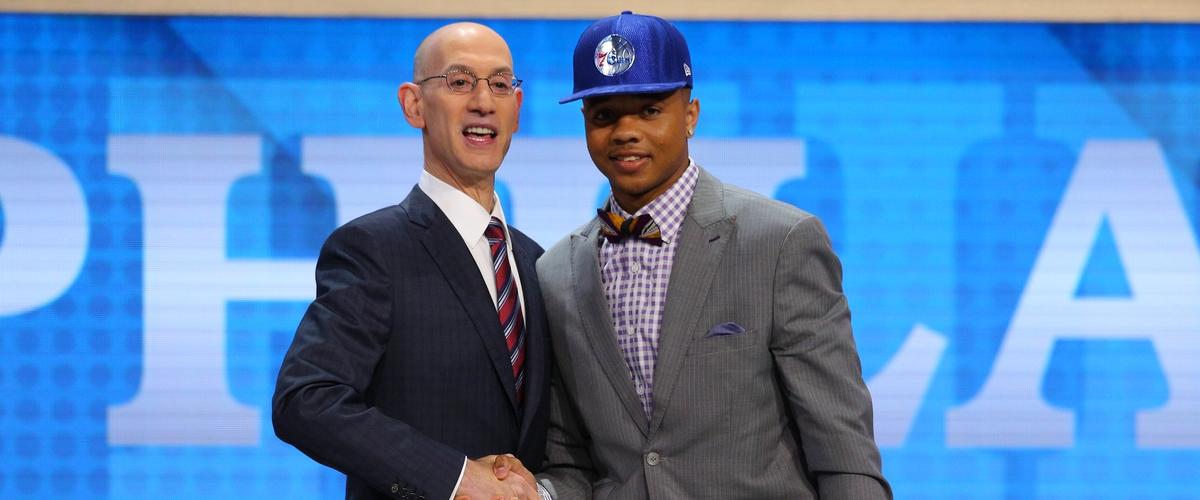 The NBA Draft has come and gone. The top of the draft went as expected, but hell still broke loose. Jimmy Butler is no longer a Bull, and names slid and rose out of nowhere.
In this post I'll give some winners and some losers, as well as some overall reactions to the 2017 NBA Draft.
Best Pick: Markelle Fultz #1 to the Philadelphia 76ers
When the best talent in the draft fits in seamlessly with the team, then it's a no brainer best pick. They now have Fultz and Ben Simmons as the primary ball-handlers next season, and can now go into the future knowing that their core is now set. Credit to Bryan Colangelo for making the deal with Boston to get to #1.
Best Fit: Malik Monk #11 to the Charlotte Hornets
I think the Hornets have had a pretty damn good last few days. They got Dwight Howard for nothing, and get amazing value with Monk at 11. Monk provides them with a scoring punch they desperately needed (Hornets finished 16th in PPG last season).
Steal of the Draft: OG Anunoby #23 overall to the Toronto Raptors
I may be a Raptors fan, but I truly do think this is the steal of the draft. Before his ACL injury he could have been a top 10 pick. He's 6'8'' but has a 7'3'' wingspan and when he recovers (currently two months ahead of schedule), he can step in right away and become a contributor for the Raptors on the defensive end. May end up logging heavy minutes if they're unable to resign PJ Tucker or trade away DeMarre Carroll.
Most Surprising Pick: Bam Adebayo #14 overall to the Miami Heat
Not that Bam didn't deserve to be drafted in the lottery, I just don't understand the need or the fit. With their wing players Dion Waiters and James Johnson going into unrestricted free agency, I thought they should have gotten some pretty good insurance with a guy like Justin Jackson. Instead they drafted someone that will spend most of his time in Miami backing up Hassan Whiteside.
Most Intriguing Pick: Caleb Swanigan #26 to the Portland TrailBlazers
I'm a Big Ten guy, so I saw a lot of Swanigan this past year at Purdue. I think this guy is a total stud. He may be 6'8'' (undersized 4 in the pros), but he's massive, a threat from both inside and outside, and a fantastic rebounder. His athleticism is also off the charts for a guy his size and I think his game will adapt really well to today's NBA.
Best Trade: Minnesota trades Zach Lavine, Kris Dunn, and the #7 overall pick (Lauri Markkanen) to the Chicago Bulls for Jimmy Butler and the #16 overall pick (Justin Patton)
Whenever you can get a multiple time all-star onto your roster, you usually have to do it. Minnesota didn't live up to expectations last year, but with Butler on the roster, they should be a lock now to break into the playoffs next season. A big three of Butler, Towns, and Wiggins should be really fun to watch and I'll be looking forward to watching this group play. This is what you do when you have assets available (cough, Danny Ainge, cough).
Most Improved Team: Minnesota Timberwolves
See above. Minnesota greatly increased their chances as a playoff team, and now have their very own big three. Great day for T-Wolves fans.
Best Use of Picks: Sacramento Kings
I love what Sacramento did tonight. Drafting De'Aaron Fox at 5 was a great pick, and I'm not terribly high on Zach Collins so I think it was a good move to trade down and gain an extra pick. Justin Jackson should be a very solid pro, and at #20 in the draft you can afford to take a risk on a guy like Harry Giles. If Giles ends up being healthy and staying healthy, he'll be a big part of their core going forward. Things actually look bright for them in the post-Boogie era.
And lastly, the question you all want to know. How did my mock draft do?
In the end I got 12 selections right. You can take a look at my mock draft here, but below I'll list the picks I ended up getting right.
Markelle Fultz #1 overall
Lonzo Ball #2 overall
Jayson Tatum #3 overall
Josh Jackson #4 overall
De'Aaron Fox #5 overall
Jonathan Isaac #6 overall
Frank Nkilita #8 overall
Dennis Smith Jr. #9 overall
Justin Patton #16 overall
Terrance Ferguson #21 overall
Jarrett Allen #22 overall
OG Anunoby #23 overall
I hope you guys enjoyed the draft as much as I did. And now we can all look forward to free agency starting on July 1st!
Article by Thomas Mooney
Follow Thomas on Twitter
Follow A Few Good Mics on Twitter
Listen to the podcast on iTunes: