NFL Mock Draft 2.0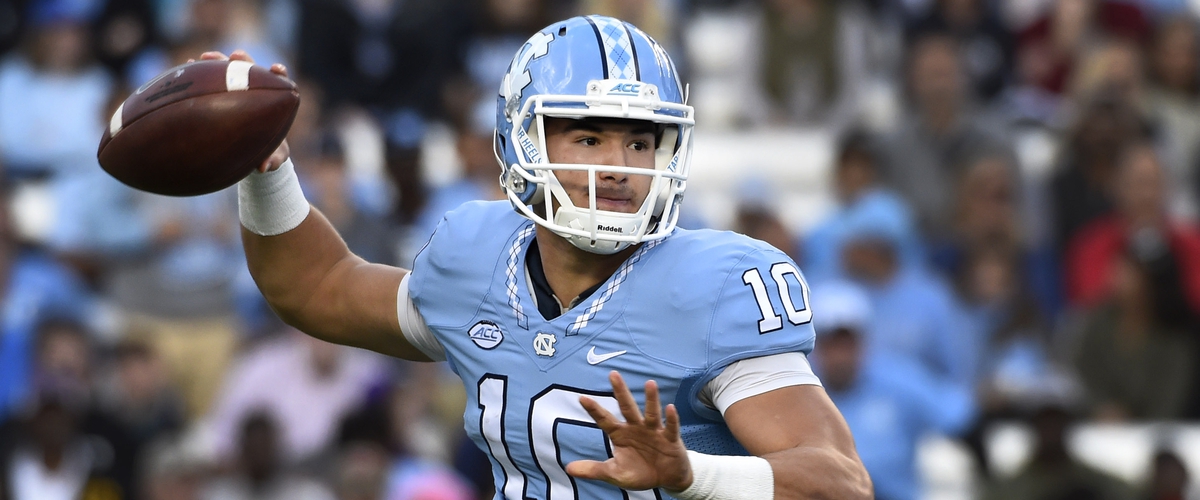 The draft is two weeks away. Since last week's mock, even more rumors have flown around and it's hard to see where the chips are going to fall. Trying to decide what's truth and what's just your typical draft hype garbage is hard to do. But in 2.0 I'll try and figure it out and in parentheses I'll show the jump of fall of each player from last week.
You can take a look at Mock Draft 1.0 here.
1. Cleveland Browns: Myles Garrett - DE/Texas A&M (Last Week: No Change)
I want to make clear that I am NOT buying the stories about the Browns taking Trubisky over Garrett at #1. I think they'd definitely be willing to make a trade up to #2, but passing on Garrett in favor of ANY of these QBs would make me lose all hope on the Browns rebuild.
2. New York Jets: Mitchell Trubisky - QB/North Carolina (LW: Up 30)
TRADE: The New York Jets trade the #6 pick, #70 pick (3rd round) and a 2018 3rd round pick to take Mitchell Trubisky. Reading the reports that Hue Jackson wants a QB, and the 49ers are "open for business" the Jets panic and trade up to take the #1 QB on the board and try to take him before Cleveland does.
3. Chicago Bears: Jamal Adams - DB/LSU (LW: Up 2)
Bears need help all over the secondary, especially considering the talent in the division. Will either be Adams, Malik Hooker, or even Marshon Lattimore here at #3.
4. Jacksonville Jaguars: Leonard Fournette - RB/LSU (LW: Up 4)
Up 4 spots from last week, the thing that changed for Fournette was his weight. He weighed 240 at the combine and got down to 228 for his pro day. Although I am a fan of Chris Ivory, it doesn't look like the Jags are ready to move on from Blake Bortles just yet, so give him more help.
5. Tennessee Titans: Marshon Lattimore - DB/Ohio State (LW: No Change)
Titans help their secondary by being fairly shocked that the best cover corner in the draft fell to them at 5. They can address their WR needs with the 18th pick.
6. San Francisco 49ers: Solomon Thomas - DE/Stanford (LW: Down 4)
The 49ers are reportedly open for business and they take an offer to trade down, but not too far down. They get two extra 3rd round picks and still get their guy at #6. John Lynch makes out a genius in his first big move as GM.
7. San Diego Chargers: Malik Hooker - DB/Ohio State (LW: Down 4)
After the Jets traded up to take a QB earlier in this mock, it's a perfect situation for Malik Hooker to slip in the draft. Chargers would love this pick as he could step in and fill the role that Eric Weddle filled for years.
8. Carolina Panthers: Christian McCaffrey - RB/Stanford (LW: Up 15)
With Fournette out of the picture, McCaffrey would shoot up the board. Fox Sports reporter Peter Schrager reported that his value has been rising, and that's one I believe. I believe teams love his versatility on offense, and Carolina knows that Cam needs some pressure taken off of him.
9. Cincinnati Bengals: Reuben Foster - LB/Alabama (LW: Up 4)
Last week I had them taking an offensive lineman, but I hadn't accounted for their loss of longtime MLB Rey Maualuga. Foster has been the leader of the Bama defense the last few years and he's been getting comparisons to Ray Lewis with his leadership ability. Drafting Foster could also help them eventually move on from Vontaze Burfict.
10. Buffalo Bills: Mike Williams - WR/Clemson (LW: Down 3)
After losing Stephon Gilmore, the Bills could use a corner, but none are worth taking at 10 with all the top prospects gone. So I still think they go with a weapon on offense to help out Tyrod Taylor and put opposite of Sammy Watkins.
11. New Orleans Saints: Derek Barnett - DE/Tennessee (LW: No Change)
12. Cleveland Browns: OJ Howard - TE/Alabama (LW: Up 6)
After picking the dynamic Garrett at #1, and with Trubisky being gone, the Browns surround the offense with more weapons and Howard helps in the pass and run games.
13. Arizona Cardinals: DeShone Kizer - QB/Notre Dame (LW: Down 1)
With players like Barnett and Foster off the board, the Cardinals don't wait around to take their QB of the future.
14. Philadelphia Eagles: Charles Harris - DE/Missouri (LW: NR)
15. Indianapolis Colts: Cam Robinson - OT/Alabama (LW: No Change)
The Colts desperately need offensive line help to protect Andrew Luck. It just depends on their preference between Robinson and Ramczyk.
16. Baltimore Ravens: Gareon Conley - CB/Ohio State (LW: NR)
17. Washington Redskins: Jabril Peppers - LB/Michigan (LW: Down 1)
18. Tennessee Titans: Corey Davis - WR/Western Michigan (LW: Down 8)
19. Tampa Bay Buccaneers: Taco Charlton - DL/Michigan (LW: Down 4)
20. Denver Broncos: Ryan Ramczyk - OT/Wisconsin (LW: Down 11)
21. Detroit Lions: Marlon Humphrey - CB/Alabama (LW: Up 1)
22. Miami Dolphins: Jarrad Davis - LB/Florida (LW: NR)
23. New York Giants: Garrett Bolles - OT/Utah (LW: Up 3)
The Giants could use a running back, so with Dalvin Cook available he might be too good to pass up, but Erick Flowers hasn't turned into the franchise left tackle they hoped he'd be. They can find good value on running back in the next two rounds.
24. Cleveland Browns: Deshaun Watson - QB/Clemson (LW: Up 1)
TRADE: Cleveland trades the #33, #65, and a 2018 4th round pick to get back into the first round and jump in front of Houston to take Deshaun Watson. Hue Jackson clearly wants a QB of the future and the front office uses it's bevy of draft picks to get it.
25. Houston Texans: Patrick Mahomes II - QB/Texas Tech (LW: NR)
After last year's disaster with Brock Osweiler, Bill O'Brien knows he has to find his quarterback immediately with his job potentially on the line. Everything I read says that Mahomes can be the best quarterback in this draft, and with Watson off the board, O'Brien finds himself taking the best QB available at 25 no matter who it is.
26. Seattle Seahawks: Kevin King - CB/Washington (LW: NR)
If they are actually going to trade away Richard Sherman, they should go for a player in the Sherman mold like Kevin King. Has the similar size and plays with the physicality that the Seahawks like.
27. Kansas City Chiefs: Haason Reddick - LB/Temple (LW: Down 10)
28. Dallas Cowboys: Tre'Davious White - CB/LSU (LW: No Change)
The Cowboys need to address their secondary issues early after the losses of Brandon Carr and Mo Claiborne in free agency.
29. Green Bay Packers: TJ Watt - LB/Wisconsin (LW: Up 1)
After a string of corners going right before they pick, the Packers select Watt as the replacement for Julius Peppers. Thompson goes on to wait until the middle rounds to select his secondary help.
30. Pittsburgh Steelers: Forrest Lamp - G/Western Kentucky
If one of the top 4 quarterbacks fall, I think the Steelers take a hard look. But since they're all gone by now in this mock, they instead take the best inside lineman in the draft to help protect Roethlisberger while he's still in uniform.
31. Atlanta Falcons: David Njoku - TE/Miami (LW: No Change)
32. New Orleans Saints: John Ross - WR/Washington (LW: Down 14)
Despite his record setting 40 time, injury concerns end up making Ross fall, where the Saints immediately take him to replace the speed they lost when they traded Brandin Cooks for this pick.
Biggest Changes From Last Week:
Falling out of the first round:
Teez Tabor - DB/Florida (LW: #29 to Green Bay)
Takkarist McKinley - DL/UCLA (LW: #27 to Kansas City)
Caleb Brantley - DL/Florida (LW: #24 to Oakland)
Malik McDowell - DL/Michigan State (LW: #21 to Detroit)
Biggest Rise: Mitchell Trubisky - QB/North Carolina (Up 30 spots to #2)
Biggest Fall: John Ross - WR/Washington (Down 14 spots to #32)
Notable Omissions:
Dalvin Cook - RB/Florida State (LW: 2nd Round)
Joe Mixon - RB/Oklahoma (LW: 2nd round)
Follow on Twitter:
,
Listen to the Podcast:
iTunes:
PodBean: