NFL Mock Draft 3.0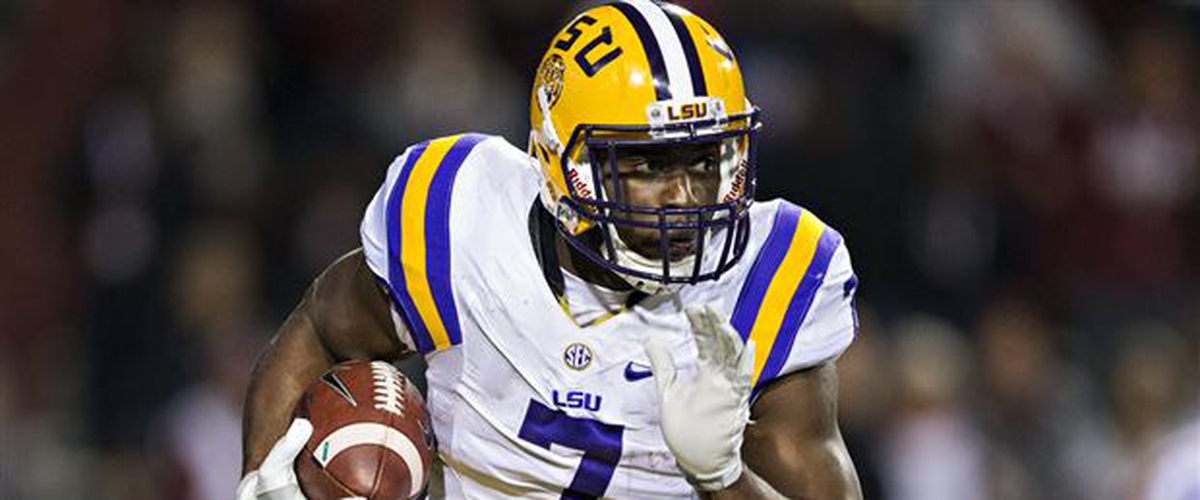 The NFL Draft is now 1 week away, and since last week's mock draft, there hasn't been too much rumors about where the top prospects will go. Teams are finishing up their draft boards and just looking forward to draft day. I won't do any trades in this mock, just straight up picks with the original draft order.
You can read Mock Draft 2.0 here.
1. Cleveland Browns: Myles Garrett - DE/Texas A&M (LW: No Change)
No need to overthink things. Garrett is the clear #1 and the Browns won't pass on him.
2. San Francisco 49ers: Solomon Thomas - DE/Stanford (LW: Up 4)
3. Chicago Bears: Marshon Lattimore - CB/Ohio State (LW: Up 2)
4. Jacksonville Jaguars: Leonard Fournette - RB/LSU (LW: No Change)
The Jaguars haven't had a legit #1 running back since Fred Taylor, Fournette can step in right away and round out that offense and give them more balance.
5. Tennessee Titans: Jamal Adams - S/LSU (LW: Down 2)
With Lattimore off the board, the Titans take the top safety on the board. They recently released veteran Devin McCourty, which means they're eyeing his replacement at #5.
6. New York Jets: Malik Hooker - S/Ohio State (LW: Up 1)
The Jets need to upgrade their secondary, and since there's no second cornerback worthy of a top 10 pick, they take the #2 safety right before the Chargers nab him.
7. Los Angeles Chargers: Jonathan Allen - DE/Alabama
With the two safety's off the board, they have to wait a little bit longer for their Eric Weddle replacement. Being able to get Allen at 7 would be a steal and could make their defense better from day one.
8. Carolina Panthers: Derek Barnett - DE/Tennessee (LW: Up 3)
After trading Kony Ealy to the Patriots, the Panthers could use another pass rusher. Barnett had double digit sacks each of the last 3 years and giving him a chance to learn from Julius Peppers as well, might be too good to pass up.
9. Cincinnati Bengals: Reuben Foster - LB/Alabama (LW: No Change)
Cincinnati at 9 takes a leader in the middle of their defense, and could be the next Ray Lewis.
10. Buffalo Bills: Marlon Humphrey - CB/Alabama (LW: Up 11)
New coach Sean McDermott is a defensive guy, and with the loss of Stephon Gilmore, secondary has become a big need. Humphrey may be a reach at 10, but he's a physical corner that seems like a good fit in Buffalo.
11. New Orleans Saints: Haasan Reddick - LB/Temple (LW: Up 16)
Reddick has been rising up the charts this last week, and with Foster and Barnett off the board, the Saints don't think Reddick will last to 32 and take him now.
12. Cleveland Browns: OJ Howard - TE/LSU (LW: No Change)
This would be a shock of a pick, especially if Hue Jackson's reported love of Trubisky is true. The front office could convince Jackson to build the team around their future QB and Howard would be a great pick.
13. Arizona Cardinals: Mitchell Trubisky - QB/North Carolina (LW: Down 11)
Since the Cardinals don't have a lot of particular needs, Bruce Arians needs to seriously consider taking Trubisky if he falls. Nobody knows how much longer Carson Palmer is going to last, so taking their QB of the future would be a smart move here.
14. Philadelphia Eagles: Christian McCaffrey - RB/Stanford (LW: Down 7)
Reports came out this week that McCaffrey received a guarantee from a team picking in the teams, and I think the Eagles are that team. They've been looking for a big time running back for a long time now, and McCaffrey is a legit 3 down back with great versatility.
15. Indianapolis Colts: Ryan Ramczyk - OT/Wisconsin (LW: Up 5)
16. Baltimore Ravens: Mike Williams - WR/Clemson (LW: Down 6)
The Ravens don't have a #1 receiver on the roster right now after the retirement of Steve Smith, and Williams would be a steal here at 16.
17. Washington Redskins: Jabrill Peppers - LB/Michigan (LW: No Change)
18. Tennessee Titans: Corey Davis - WR/Western Michigan (LW: No Change)
The Titans would have loved Williams to fall to them at 18, but Davis is just as good and would be a great option for Marcus Mariota.
19. Tampa Bay Buccaneers: Charles Harris - DE/Missouri (LW: Down 5)
20. Denver Broncos: Cam Robinson - OT/Alabama (LW: Down 5)
21. Detroit Lions: Taco Charlton - DL/Michigan (LW: Down 2)
22. Miami Dolphins: Gareon Conley - CB/Ohio State (LW: Down 6)
23. New York Giants: Dalvin Cook - RB/Florida State (LW: NR)
The Giants could use an offensive lineman, but if they don't believe there's one good enough for 23, they go best player available, and that could be Cook. They need a running back after releasing Rashad Jennings.
24. Oakland Raiders: Jarrad Davis - LB/Florida (LW: Down 2)
25. Houston Texans: Deshaun Watson - QB/Clemson (LW: Down 1)
The Texans need a quarterback and everyone knows it. They will be playing in a lot of big games and Watson is a big game player. Might not have the highest ceiling, but I think he has the highest floor of any of these quarterbacks.
26. Seattle Seahawks: Kevin King - CB/Washington (LW: No Change)
King fits the bill of a big physical corner, the type of corner the Seahawks love.
27. Kansas City Chiefs: Tre'Davious White - CB/LSU (LW: Up 1)
28. Dallas Cowboys: Adoree' Jackson - CB/USC (LW: NR)
29. Green Bay Packers: TJ Watt - LB/Wisconsin (LW: No Change)
30. Pittsburgh Steelers: Deshone Kizer - QB/Notre Dame (LW: Down 17)
Ben Roethlisberger contemplated retirement, and I think the Steelers would be wise to think about Kizer. A QB with a good arm, and the size perfect for a QB in this division.
31. Atlanta Falcons: Takkarist McKinley - DE/UCLA (LW: NR)
32. New Orleans Saints: John Ross - WR/Washington (LW: No Change)
The Saints go best player available and pick their replacement for Brandin Cooks.
Biggest Changes From Last Week
Falling Out of the First Round:
Patrick Mahomes II - QB/Texas Tech (LW: #25 to Houston)
Garrett Bolles - OT/Utah (LW: #23 to the New York Giants)
Forrest Lamp - OG/Western Kentucky (LW: #30 to Pittsburgh)
David Njoku - TE/Miami (FL) (LW: #31 to Atlanta)
Biggest Rise: Marlon Humphrey - CB/Alabama (Up 11 spots to #10)
Biggest Fall: DeShone Kizer - QB/Notre Dame (Down 17 to #30
Follow us on Twitter:
,
Listen to the Podcast:
iTunes:
PodBean:
Look out next week on DRAFT DAY for our final mock draft.