NFL Mock Draft 4.0 - The Final Mock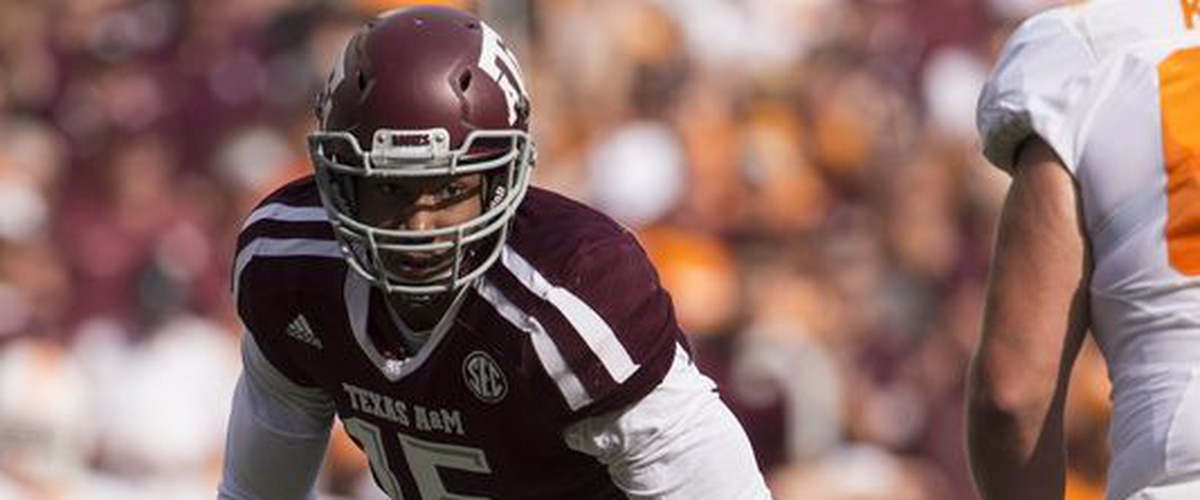 Tomorrow is finally draft day. After months of workouts and speculation, it all comes down to this. The draft starts tomorrow at 7PM, but my final mock draft starts right now.
#1. Cleveland Browns: Myles Garrett - DE/Texas A&M (LW: No Change)
Believe the Mitchell Trubisky at #1 crap if you want to, but I haven't bought it once. Take the guy that can dominate the division for the next decade. Don't pass on a generational talent.
#2. San Francisco 49ers: Solomon Thomas - DE/Stanford (LW: No Change)
The Niners are probably praying the Browns pay a king's ransom to trade up to 2, but I don't think that will happen. Thomas is one of the safer picks in the draft, and with a roster as barren as theirs are, you take the best player available.
#3. Chicago Bears: Marshon Lattimore - CB/Ohio State (LW: No Change)
Could see Jamal Adams at this spot, but I think corner is a bigger need. I don't think you can count on Prince Amukamara, and Kyle Fuller looks good at times but is too inconsistent. Lattimore isn't a far drop from Adams.
#4. Jacksonville Jaguars: Leonard Fournette - RB/LSU (LW: No Change)
Mocks (including mine) have been projecting this for weeks, and it makes sense. They've loaded up on defense the last few years, and now they need to help out Blake Bortles.
#5. Cleveland Browns: Mitchell Trubisky - QB/North Carolina (LW: Up 8)
The Browns trade #12, #52, and a 2018 5th rounder to get their quarterback. I would be shocked if the Browns didn't trade back up ahead of the Jets to take Trubisky, especially with how much the front office seems to want him.
#6. New York Jets: Jamal Adams - S/LSU (LW: Down 1)
The Jets would be shocked to see Adams still on the board, and they rush to the podium. Their secondary is basically non-existent and you could make the case that he's the 2nd best defensive prospect in this draft.
#7. Los Angeles Chargers: Malik Hooker - S/Ohio State (LW: Down 1)
New DC Gus Bradley gets his Earl Thomas type safety and the Chargers finally get their replacement for Eric Weddle.
#8. Carolina Panthers: Christian McCaffrey - RB/Stanford (LW: Up 6)
There have been reports that the Panthers would take McCaffrey even if Fournette was available and I believe it. He's more versatile and they could use him all over the field on offense, as well as use him as a returner.
#9. Cincinnati Bengals: Haasan Reddick - LB/Temple (LW: Up 2)
Bengals could use some more athleticism in their pass rush, and Reddick was a workout warrior at the combine, but has the skills to back it up at the next level.
#10. Buffalo Bills: Mike Williams - WR/Clemson (LW: Up 6)
I consider Williams the best wideout in this draft, and the Bills need one. McDermott is a defensive coach, but is there a corner that he likes at 10? Get a receiver to put opposite of Sammy Watkins and give Tyrod Taylor all the help he can get. I could also see the Bills taking OJ Howard here.
#11. New Orleans Saints: Derek Barnett - DE/Tennessee (LW: Down 3)
#12. Tennessee Titans: Marlon Humphrey - CB/Alabama (LW: Down 2)
Tennessee trades back with Cleveland and regains a 2nd round pick in the process, gets a good corner, while also looking forward to drafting a receiver at 18.
#13. Arizona Cardinals: Patrick Mahomes - QB/Texas Tech (LW: NR)
I think the Cards are a lock to go QB here at 13. They're defense is good enough where they can get depth later in the draft, and I think Arians would love to groom Mahomes as the eventual successor to Carson Palmer.
#14. Philadelphia Eagles: Jonathan Allen - DE/Alabama (LW: Down 7)
Don't see the Eagles going WR round one, especially signing Alshon Jeffery and Torrey Smith. Go with the best defensive player available and Allen's shoulder injury could make him fall.
#15. Indianapolis Colts: Reuben Foster - LB/Alabama (LW: Down 6)
The Colts need a leader on that defense, and Foster has been praised for his football IQ and leadership on the field. His diluted sample at the combine won't drop him past 17 at the latest, I think the Colts would love for him to fall to 15.
#16. Baltimore Ravens: OJ Howard - TE/Alabama (LW: Down 4)
The Ravens could go corner or offensive line, but I think they go best player available, which is OJ Howard. Would be a steal at 16.
#17. Washington Redskins: Jarrad Davis - LB/Florida (LW: Up 7)
#18. Tennessee Titans: Corey Davis - WR/Western Michigan (LW: No Change)
Tennessee would be a big winner of the first round if they can trade back, regain a 2nd round pick, and still get a good corner and a top flight receiver.
#19. Tampa Bay Buccaneers: Dalvin Cook - RB/Florida State (LW: Up 4)
Tampa takes Cook and reunites him with his Florida State quarterback Jameis Winston. Especially with the uncertain future of Doug Martin.
#20. Denver Broncos: Cam Robinson - OT/Alabama (LW: No Change)
#21. Detroit Lions: Taco Charlton - DE/Michigan (LW: No Change)
#22. Miami Dolphins: Charles Harris - DE/Missouri (LW: Down 3)
There are reports that the Dolphins love Harris, and they could use an eventual replacement for Cameron Wake.
#23. New York Giants: Ryan Ramczyk - OT/Wisconsin (LW: Down 8)
The Giants had Marshall Newhouse start a lot of games last year, and former first rounder Erick Flowers has been a bust so far. Giants NEED a tackle. I've seen mocks with them taking a TE, but it's a deep position that they can get in the 2nd round.
#24. Oakland Raiders: Kevin King - CB/Washington (LW: Up 2)
#25. Houston Texans: Deshaun Watson - QB/Clemson (LW: No Change)
Bill O'Brien reportedly loves Pat Mahomes, but I think Watson would be a steal at 25. Big game player, I think he's the best QB in this class, and most ready to come in and play right away.
#26. Seattle Seahawks: Garrett Bolles - OT/Utah (LW: NR)
Please help keep Russell Wilson alive.
#27. Kansas City Chiefs: DeShone Kizer - QB/Notre Dame (LW: Up 3)
Andy Reid takes a QB that might have the highest ceiling, and they take him for the 5th year option.
#28. Dallas Cowboys: Tre'Davious White - CB/LSU (LW: Down 1)
#29. Green Bay Packers: Takkarist McKinley - DE/UCLA (LW: Up 2)
With the top corners off the board, Ted Thompson goes pass rusher. TJ Watt would be tempting due to his potential and the hometown connection, but we also know that he loves his UCLA prospects.
#30. Pittsburgh Steelers: Jabrill Peppers - LB/Michigan (LW: Down 13)
All I've read is that the Steelers front office loves Jabrill Peppers. The reports of his diluted sample are bound to hurt his stock, as some teams that were questioning his fit will use it as an excuse to take him off their boards. I still think he's a first round talent and won't fall past Pittsburgh.
#31. Atlanta Falcons: Forrest Lamp - OG/Western Kentucky (LW: NR)
#32. New Orleans Saints: Adoree' Jackson - CB/USC (LW: Down 4)
Biggest Changes From Last Week
Falling Out of the First Round:
Gareon Conley - CB/Ohio State (LW: #22 to Miami)
TJ Watt - LB/Wisconsin (LW: #28 to Green Bay)
John Ross - WR/Washington (LW: #32 to New Orleans)
Biggest Rise: Mitchell Trubisky - QB/North Carolina (Up 8 spots to #5)
Biggest Fall: Jabrill Peppers - LB/Michigan (Down 13 spots to #30)
Follow us on Twitter:
,
Listen to the Podcast
iTunes:
Podbean:
Thanks for reading my final mock draft of the year! As always, please feel free to tweet at me or comment below on what you think. Enjoy your draft day everyone.