Knicks Lose Big in Opener against the Thunder!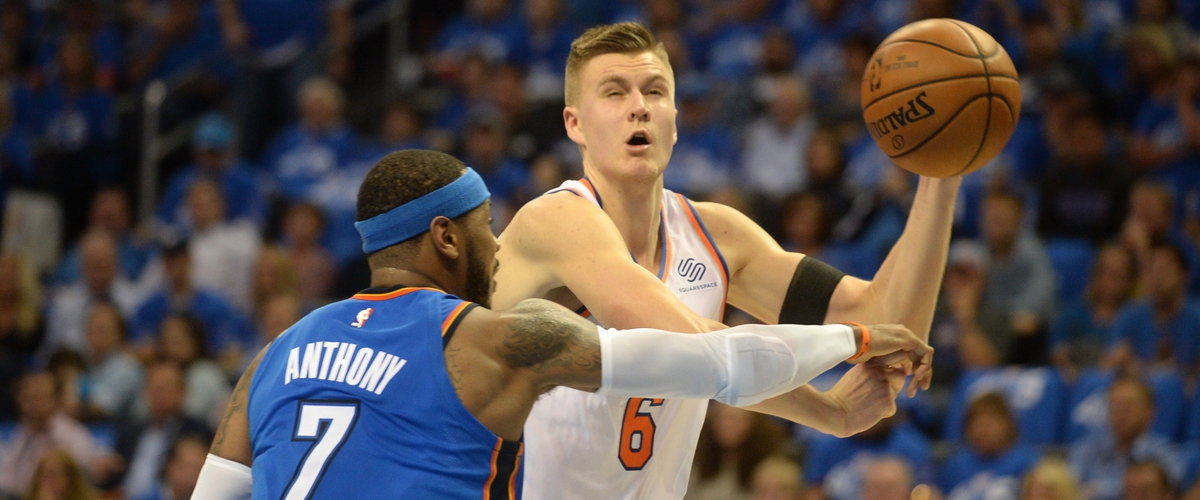 The New York Knicks season has begun and I already want it to end. For good stretches it was very painful to watch. The New York Knicks lost to the OKC Thunder 105-84. As we all know Carmelo Anthony was making his debut after the Knicks traded him and the irony was his first game was against those same Knicks. Lets dive into the game.
I will say it was very odd to see Melo in another team jersey, on a few occasions I would get caught up in the moment and cheer when Melo made a shot and then realize he does not play for the Knick anymore. Melo played well but he always was a good player but was asked to do more than he was capable of in NY. He is a scorer that needs to play with better players them himself. He finished with 22pts on 8-20, while Paul George, the other new acquisition finished with 28 pts and Westbrook as usual stat padded and got a triple-double.
One thing became evident from this first game of the season for the Knicks, they lack a play-maker. This team struggled to run offense and had problems on defense as well. It showed in the 105pts they gave up and the 26 turnovers. They looked like a team that needs a major overhaul. Most of the roster is not part of the future.
All was not bad for Knicks fans. Kristaps Porzingis looked sharp in this one, finishing with 31pts and 12 rebs. He played excellent and was aggressive from the start. He looked comfortable in being the focal point of the offense. The sad part is that Porzingis is going to have to get used to being the only option on offense as the rest of the team cannot get their own shot.
The biggest gripe I had from this game was the lack of Willy Hernangomez. He did not play until the game was out of hand. He was an All-Rookie last year, why is he not playing. I hope they ask Jeff Hornacek that question. It leads me into my next question, why is Kanter playing so many minutes? He may have ended up with 22min but he was on pace for over 30 if not for the blow-out. Even in his best years in OKC, he rarely played over 22-24min. He is best used in short bursts as he struggles to bring anything outside of scoring and offensive rebounding. The last issue is PG, they need to activate Jarrett Jack quickly, Baker really struggled to play the back-up PG role and Sessions the starter looked old and lost, turning it over way too many times.
Overall I was not too surprised with the outcome. The Knicks have a bad roster. Porzingis is clearly a star but after that we have a bunch players that most teams would not even touch. The start of tanking season is already here for the Knicks, let's hope they can land a top 3 pick.