WrestleCade: The New Beginning Results & Fanfest Notes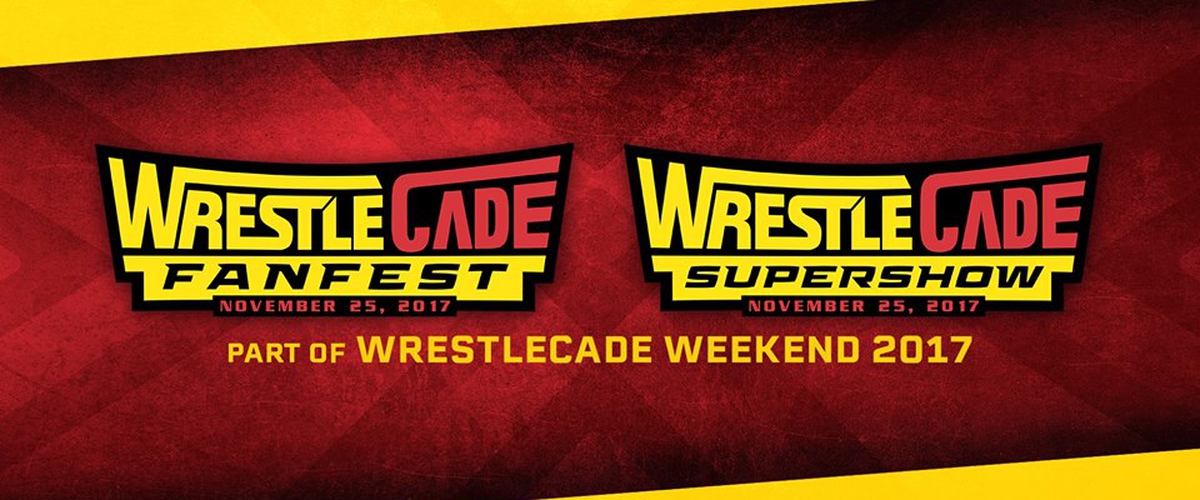 A year after we thought WrestleCade counted their final three count, they returned to Winston-Salem at the Benton Convention Center during Thanksgiving weekend in 2017. The weekend started on Friday with -- from what I've been told -- was a very stellar Showcase of Champions show. I wasn't able to make that event. However, I was able to make the WrestleCade Fanfest and subsequent Super Show that followed that evening.
On the show, we witnessed a main event Triple Threat Match for the Impact Global Wrestling title. A women's No Disqualification match for the ages. A match many years in the making between two wrestling legends. A Battle Royal with many stars of today and yesterday. A WOW match to determine the new No. 1 contender for that promotion's title. Also, we witnessed the final time we would see a legendary manager at ringside. This and more was part of what turned out to be spectacular day/night and return for what has become a tremendous, annual tradition during Thanksgiving weekend in Winston-Salem.
Here are the results of the show:
Four-way Tag Team Match:
Extreme Horsemen defeated the Spirit Squad, Heatseekers, & The Boys
This was the opening match of the night. The Spirit Squad were the first team to come out, and they cut a promo after they got into the ring. I do recall Damien Wayne being in the match for quite awhile, and The Boys hitting simultaneous dives on the outside of the ring. In the end, it was Wayne that delivered a slingshot into a C.W. Anderson super-kick on Kenny of the Spirit Squad for the pin. A good opening match.
Billy Gunn defeated Carlito
Both cut promos before the match. Carlito said all Billy could do was talk. And, that he had better hair and an apple. Billy fired the crowd up with his "Suck it!' phrase he's used before. These two put on a good match that seen Carlito at one time accidentally spit his apple out on the referee. This allowed Gunn to hit his Famouser finisher on Carlito for the win. After the match, Carlito gave his second apple he brought out to ringside to a young girl before heading backstage.
Triple Threat Match
Zane Dawson defeated Tommy Dreamer & Luke Hawx
This was the third match of the weekend for AML Champion Zane Dawson. Dreamer, the ECW legend, got in some good offense. However, his use of the ring bell on both Dawson and Hawx stood out to me for him. Hawx has put on very good performances at WrestleCade in the past and did so again here. At one point in the match, he hit a power-slam on Dreamer after picking him up with ease. After all the offense, it was Dawson that hit a vicious running clothesline on Dreamer to get the pin. Dawson continues to look dominate as champion.
Jerry Lawler defeated George South
This match was a long time in the making. According to both, it was the first time they've ever faced each other. South came out and cut a long promo about Lawler while insulting the fans in the process. Lawler cut him off and defending South's comments about him not being from North Carolina. South swore he was gonna use Lawler's piledriver finisher on him. Lawler told him he was gonna hit him with a move that was taught to him by "Stone Cold" Steve Austin. Lawler then hit the Stunner on South as the match started. South sold it and repeatedly told referee Jeff Bunton that he broke his neck. South did gain control of the match. And during the process, shoved Bunton a number of times and said he could do what he wanted to do. Later on, Lawler got in some offense and then hit South with a number of punches in a row. He followed that up with a drop kick. Yes, a drop kick from Lawler on South that drew an applause from the crowd. The conclusion of the match came when South tried to use his feet on the ropes for leverage to gain a pin. But Bunton seen it and the match continued. Lawler then did the same thing moments later, and Bunton counted three after seeing Lawler's feet on the ropes. An Infuriated South yelled at Bunton after the match, but Lawler was declared the winner. Needless to say, South's shoving of Bunton ended up costing him. Hats off to both veterans and legends in the business for still being able to perform. It was a classic, old school match that told a great story. That drop kick from Lawler was something I'll always remember from this show.
Veterans of War(Crimson & Jax Dane) defeated America's Top Team(Bobby Lashley & King Mo)
I expected a hard-hitting and physical match here. And we got that. For whatever reason, I don't recall much detail on this match. I do remember being on the fence and not really cheering for either because I like both teams. The end came when Crimson and Jax hit a Magic Killer-type move on Mo for the win.
Juventud Guerrero, Super Crazy, & Caleb Konley defeated PJ Black, Jason Kincaid, & Willie Mack
Last year, a six-man tag team match stole the show at WrestleCade. This match was a good one and everybody got their time to shine. We got Caleb vs Kincaid for a bit. Then Super Crazy vs Willie Mack. Then Juventud vs PJ Black. Kincaid at one point during the bout hit an impressive hurricanrana on all three members of the opposing team. Willie Mack really put on an amazing performance, and hit a stunner on everyone in the match. Then he got a stunner from the referee. But in the end, he was pinned by everyone in the match as Guerrero, Super Crazy, and Konley won the bout.
WOW Match to determine No. 1 Contender for the title
Jungle Girl defeated Amber O'Neal w/Lana Star by DQ
This match determined who would challenge champion Santana Garrett for the title. Star interfered on behalf of Amber a few times, but was not able to get the win. The end of the match came when The Beast came out and attacked Jungle Girl. Then she attacked Amber as well. As this was going on, WOW founder David McLane was on the mic for all to hear in telling officials to tame The Beast. The Beast and Jungle Girl stared each other down as The Beast was leaving. The ref declared Jungle Girl the winner due to her being attacked first. I'm glad to see WOW representing at WrestleCade.
Dan "The Beast' Severn w/Jim Cornette defeated Josh "The Goods" Woods
For those that were following, this was the last match that Cornette would manage in his career. He even gave a few fans an earful about how the match was going. There was a lot of mat/amateur style wrestling in the bout that Severn ended up winning by pinfall. After the match, Cornette got on the mic and put over Severn, Woods, and the North Carolina wrestling scene being the best. He said that was why he chose WrestleCade as the event for his final match as manager because it was in North Carolina. Personally, I remember first seeing him managing the Midnight Express in Mid-South Wrestling when I lived in Midwest City, OK as a kid. He's done a lot in the business and I'll always remember him with that tennis racket. It wouldn't be Jim without it. Thanks Jim Cornette for a tremendous career as a manager in the business.
Top Rope Belts Battle Royal
"Hurricane" Helms wins the Battle Royal
I think there were 25-30 guys from the present and the past in this match. I do recall the final four in the battle royal: Hurricane, Matt Striker, Crazzy Steve, and Hornswoggle. Hornswoggle was announced as a late addition to the match. It eventually came down to two with Hurricane and Striker. Hurricane eliminated Striker to win the Top Rope Belts Battle Royal. Later during the show, Helms was interviewed in the ring and presented the new Top Rope Belts. He put over Top Rope Belts and said that was the place to go for custom made wrestling title belts. I like that we got stars from yesterday and today featured in this battle royal.
"The Big Guy" Ryback defeated Joey Mercury
This was a better match than some people thought it would be. I thought both guys worked well. Ryback hit a cannonball and two dives in a row on Mercury. Mercury had control of a good portion of the match and even hit Ryback's own Shell Shock finisher on him. The end of the match came when Mercury hit the Pedigree finisher that didn't phase Ryback at all. The Big Guy then hit his Shell Shock finisher on Mercury for the win.
Women's No Disqualification Match
Ivelisse defeated Taya Valkyrie
As I've told many people and even said it on the Live From The Armory podcast I was guest on last week that this was the match of the night. Every weapon you could think of was used -- including tables. They even fought in the stands. The end of the match came when Ivelisse used a chain in a camel clutch move on Taya. Taya wouldn't give up until Ivelisse leaned back with the chain around her neck. I had high expectations for this match and neither one of them disappointed me at all. This was one of the best women's matches I've ever seen live. If you're reading this, do yourself a favor and buy the DVD if for nothing else than to see this match alone. Trust me on that!
Triple Threat Match for the Impact Global Championship
Eli Drake(c) defeated Jack Swagger & Johnny Impact
Drake is just gold on the mic and got the crowd even more fired up when he spoke. Early in the match, Swagger and Impact both threw simultaneous punches standing on the second rope on Drake that provided a good laugh for the audience. From there, all three hit their trademark spots and a suplex powerbomb involving them happened as well. Later on, Catalina got involved that disrupted a three count, which prompted Taya Valkyrie to come out. Taya escorted Catalina out of the arena. After Impact hit his Starship Pain finisher, Eli was able to get the win with a roll-up. Swagger and Impact were not happy at this. As Eli was heading backstage after the match, Taya and Catalina appeared from the back with kindo sticks. Eli retreated back to the ring -- only to receive a beat-down from everyone that included a double ankle-lock on him to end the show. To follow up women's No DQ match for the ages was a tough task to pull off. But overall, the match was great with spots, Eli's impressive promo skills, and all three still looking strong throughout the contest.
Fanfest Notes:
Meeting Jerry "The King" Lawler
The first person I met was Lawler after walking around to see where some talent were at. The first thing I told Lawler was happy early birthday because it was that following Wednesday on November 29. I told him that because mine was also on that Wednesday. Next, I told him I was looking forward to his match with George South later that evening. He said it should be good and that it was indeed his first time facing South in a match. I told him that surprised me because of how often talent was exchanged in the territory days. Then we got a pic and wished each other happy birthday before I left the table.
Meeting Rebel
At this time when I met Rebel, my good friend Bobby Mitchell was with me after I spotted him close to the entrance. We both have met Rebel before and Bobby and her are friends. We talked about her upcoming appearances and whether or not she would be around the rest of the weekend. She's always been nice to us, but she's not afraid to speak her mind at all either. So Bobby got a pic with her and then I did. She wanted to take another pic of her and I because she wanted to get a better one. After the last pic, she was asking if her hair and boobs were okay. Both Bobby and I kinda laughed and said that she was fine. I do find it funny when when questions like that are asked. However, I also appreciate the fact that stars do care about how pics come out as well because I'm also picky about my own I have taken, too. That's also why I'm glad Bobby was around because he does really well taking pics on my phone. I didn't know until later that she was born in Oklahoma although I did know she was a former Dallas Cowboys cheerleader. I'll have to bring that up next time since I lived in OK as a kid myself.
Meeting Ken Shamrock
This was my second time meeting him after doing so at the Shock Factor MMA in Charlotte back in 2012. My friend Mike Kalasnik was helping to run his table along with the other talents they had brought in. I talked to Shamrock briefly about when he came to Charlotte for the grand opening of Shock Factor MMA. Mike gave me a little hell about me saying that Shamrock doesn't bite after I gave him my 8x10 photo of us the . LOL. Bobby and I left the table and were on our way to the other side of the venue. Before I left, I told Mike I'd catch him sometime later this weekend.
Meeting Taya Valkyrie
This was my first time meeting Taya. We talked about WrestleCade and her match later that night against Ivelisse. She said she was glad it was changed to a No DQ match. Then Bobby took the pic of us. After the pic, I joked with her saying she's as tall as me in the pic. She said it was because of the heels she was wearing. LOL. She was nice.
Meeting Jack Swagger
This was my second time meeting Swagger. I met him at WrestleMania XXVIII in Miami in 2012, but couldn't talk long because of the line. This year, I told him I was an Oklahoma fan having lived in the state as a kid. So we talked about the Sooners and their game that was coming up against TCU. We also talked about Baker Mayfield and thinking it was silly that he was only going to be not starting the game while missing likely only one series. I agreed with him. We also talked about the Kansas game and how bad it was in general there. Then we got a pic of us holding our right hands over our hearts like it's done when he says, "We The People!" I so wanted to yell that when Bobby took the pic of us. LOL. It was great being able to talk Sooners football with a former player from there.

Meeting Jillian Hall
This was my second time meeting Jillian Hall. The first time was at the second WrestleCade event back in 2013. I mentioned that to her. She said it was a much different and bigger crowd than the previous time we were there. We then got a pic that was once again taken by Bobby. Bobby then brought up a photo bikini shoot that had been scheduled at one time with her, but that it didn't happen. I wasn't even aware of that, so that was news to me. It was interesting hearing that though. She was nice to Bobby and I though.

Meeting Ivelisse
I had seen Ivelisse at a show before for PWX back in 2013, but never met her until Fanfest. She was shorter than I thought, but she's as tough as it gets. Like with Taya, I had mentioned to her that I was looking forward to their match than any other on the card. She also said she was glad the bout was changed to a No DQ bout from a cage match. Then Bobby took the pic of us and it came out good. I did like the "pain" tattoo across the fist when she held it up in the pic of us.

Meeting Nora Greenwald aka Molly Holly
After a little confusion and some help from Bambi Weavil(after Bobby met Ivory at the Master of the Ring table), we were able to find Molly Holly's table. We didn't talk long, but I did happen to notice the check-in sheet that had a good amount of names of those that bought presale tickets to meet her. She looked great and this was the first time I had met her. It was likely the shortest conversation I had with anyone, but she was nice for the time I was there though. I'm glad she's doing very well for herself this year.

Meeting Christian
Since I was close by after meeting Molly Holly, Bobby and I decided to meet Christian at his table. So I ended up buying a photo op. When my turn came up in line, the first question he asked me was about my "Try Not To Suck" shirt I usually wear to events. I told it was a shirt the Cubs baseball team made last year, and this was one created after they won the World Series. He liked the shirt, and he ended up being the only talent that asked about it. We then got a pic of us with our right hands over our foreheads looking into the crowd.

Meeting Bobby Lashley
I had brought my 8x10 I got with Lashley at the Firestar show in Greensboro three years before, and had planned on meeting him after the lines died down some. So after paying for a pic and autograph, Lashley looked at that pic from Firestar and asked where that was from. I told him where at, but that I couldn't remember off the top of my head who he faced on the show(it was Marcellus King). After that, we were set to take a pic. Before it was taken, Lashley stuck his left fist out right in front of my camera phone. I did the same with my right hand(because I was standing to his right). Our fists were at the same height when I looked back on it later. It was the best pic I had gotten with a talent all weekend.

Meeting Madusa
We had passed by Madusa's table before, and told my friend Joseph Magee that we would be back over to meet her. And Bobby and I did. We both got pics with the WWE Hall of Famer and legendary star in the business. After the pics we got with her, we talked about the documentary about her that was released by WWE. She was saying you could only put so much of a long career in an hour, and we agreed. I told her that they did do well with getting much of it out, but that they did hit on the main bulletin points. It was great that we at least got to talk about the documentary with her a brief time.

Meeting the WOW talent and staff
Bobby and I hung around the WOW table at WrestleCade. As we arrived, Bobby was checking to see if a picture with the ladies at the table would be possible. WOW talent Samantha Smart told us we could get one with them at a better price if we both got in the pic with them. Of course, Bobby and I weren't going to say no to that. We got pics with Lana Star, Dagger, Samantha, and Katarina. WOW founder David McLane even offered to take the pic of us. So he took three of them on both of our phones, and he shook our hands afterwards. Dagger showed me her dagger and I gave her a little hell for security allowing her to bring in that in the convention center. Then I told her they knew better than to cross her. Then for the remainder of the Fanfest, we hung out at the WOW table. Amber O'Neal came back to her table a little later, and it's great that she knows us by face and name. We also gave her a hard time about not being in the pic with us. We talked about the promotion as well as looked at the amazing production they had on the television. They showed re-runs of the previous WOW championship match when Santana Garrett won the belt. We were most impressed with that. But not nearly as impressed with how we were treated and how engaging all the talents were to us. Amber gave us hugs like she normally does when we leave and the they thanked us for stopping by. Later that evening after the Super Show, Bobby and I along with Bob Delph and David Delph went to eat at Mellow Mushroom. We had seen Amber and a few of the ladies from WOW there as we were leaving. Amber waved at us as we were leaving. Thanks to the entire WOW staff for the one of a kind treatment at WrestleCade!
Other notes:
-When I was on my way to get in my tickets and get in line for Fanfest, I ran into Vince "Boss Hogg" Dalton as I was crossing the street to the Convention Center. I seen him at least 5-6 times during the weekend. Keep doing your thing, man!
-I seen Mark Denny a few times over that weekend as well. We were both going downstairs at the same time to Fanfest when I arrived. Mark is one of the nicest guys in the business, and one that has always spoken highly of my writing.
-During Fanfest, I caught up with Chris and Karissa Lea for a minute. I got to see their baby Karis as well. Due to not attending as many shows this year, I think it's been since WrestleCade last year that I seen them. They are great people and they always stop to say hi when they see me.
-I know I spotted the Top Shelf Guys at WrestleCade FanFest and the following day at QOC/AML, too. I know I seen Ian Maxwell and Montana Black a couple of times. Ian is #FastAsHell(you knew that was coming. Montana is big man, but he's even bigger when you stand next to him. I seen Bobby Ballantyne at least once and his ring gear is awesome. All of them are cool and respectful to me when I see them. It's cool they know who I am as well.
-I spotted Tracy Myers a few times and he always shakes my hand when he sees me. He also asks how everything is going at the shows. If you've never seen him at a show, he doesn't stay in one place very long and he does well in making sure everything is running smooth. He's a tireless worker, but he also goes out of his way to make you feel like a star rather than a fan.
Yes, there were a lot of people there, which at first made it tough to move around. But they had this on the same Saturday as WWE's Starrcade event in Greensboro as well and they still sold out both Fanfest and the Super Show. I love WrestleCade for many reasons. Fanfest and the Super Show were amazing to me. But seeing familiar faces all weekend long – whether it be talent or friends that are fans – is the biggest reason why I do.
Thanks to the entire WrestleCade staff and talent for the all the hard work and preparation in putting on another amazing event. I speak for many others that I'm glad it returned for this year. I want it back next year and beyond, too.

Be sure to tune into the Live From The Armory podcast on Wednesday nights that is hosted by my good friends Bob Delph and Lora Lyons.

Also, checkout Fisticuffs Photography on Facebook by my friend Robert Holt for photos of this event and the rest of WrestleCade weekend.