Jeter's No. 2 Immortalized in the Bronx
On May 29, 1995, a twenty-one-year-old kid from Kalamazoo, Michigan, made his MLB debut at shortstop for the New York Yankees. Five world championships, five Silver Sluggers, five Gold Gloves, fourteen All-Star Game appearances, and 3,465 hits later, that same kid would go on to be one of the greatest shortstops baseball has ever seen.
And no Yankee will ever wear the number two again.
Sunday night was all about Derek Jeter at Yankee Stadium. After New York's 11-6 win over the Houston Astros in game one of a day-night doubleheader, Jeter's jersey retirement ceremony began.
The ceremony commenced beyond the center field wall, where The Captain unveiled his newly-retired No. 2 in Monument Park. Jeter was then chauffeured alongside his wife, Hannah Davis, to the Yankees' dugout, where he took some time to shake hands with former teammates and new faces. A star-studded guest list, including Reggie Jackson, Joe Torre, Mariano Rivera, Dave Winfield, among others, was then announced, as each person walked onto the field and took their seat in front of the pitcher's mound. No. 2 and his wife came last, of course, and Derek Jeter revealed his Monument Park plaque in front of 47,883 fans chanting "De-rek Je-ter!"
The Captain was showered with gifts by Steinbrenner family members and former teammate Carlos Beltran, receiving a framed replica of his new Monument Park plaque, a luxurious Yankees Hall of Fame ring, and a Monument Park blazer.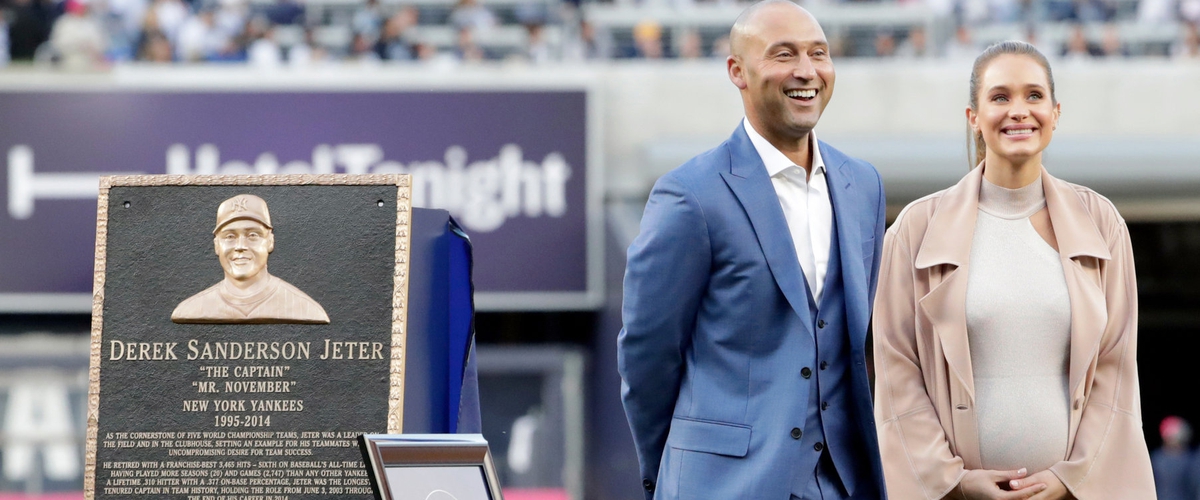 To finish it all off, Jeter gave an ad-libbed speech (again) about his time in New York. He said that someone had recently asked him if he would want to trade places with anyone. Derek replied, "there isn't a person or player I would trade places with that's playing now or ever. And the reason why I say that is because I got a chance to play for a first-class organization and in front of the greatest fans in the history of sports."
Jeter later added, "time flies, memories fade, but family is forever, and I'll be eternally grateful to be a part of the Yankees family." The Captain ended his emotional speech by thanking the fans at Yankee Stadium, who responded with a roar of applause.
Former teammates of the Yankees legend took to Twitter to congratulate The Captain on his outstanding accomplishment and career.
Although New York lost 10-7 to the Astros in game two, it was a magical night in the Bronx. No. 2 is the twenty-first unique jersey number to be retired by the Bronx Bombers, and is the last single digit that will ever be worn by a Yankee.
Derek Jeter will first show up on the National Baseball Hall of Fame ballot in 2020. Though nothing is certain, No. 2 could become No. 1 in three year's time, with a shot at being the first ever unanimous Hall of Fame inductee.
(Follow on Twitter!)
(Like and Follow on Facebook!)