Rivalry Brewing Between Birds and Beantown
Boston Red Sox fans have long been hateful toward the New York Yankees. The two teams have been arch rivals for roughly a century, and their feud has evolved into one of the biggest rivalries in all of sports. However, the 2017 season has given birth to another exciting AL East division rivalry.
On April 21, the Baltimore Orioles opened up a weekend series at home against the Red Sox. With Baltimore leading 2-0 in the eighth inning, and Manny Machado the runner on first, Orioles outfielder Mark Trumbo stepped into the batter's box. Trumbo smacked what could've easily been a double play ground ball to Boston shortstop Xander Bogaerts. Only, there was no double play turned. Manny Machado slid into second base hard on the play, spiking the Red Sox' Dustin Pedroia in the knee. The All-Star second baseman fell to the ground and was taken out of the game, and would go on to miss Boston's next three games. Thus, a Red Sox-Orioles rivalry was born.
The Orioles knew (or should have, at least) what was coming. It is an ancient baseball tradition to retaliate after a team hits and/or injures your star player. The Red Sox are not a team to break tradition.
Multiple pitches were thrown way inside to Manny Machado for the remainder of the series. However, in the Sunday matinee of the three game set, Boston reliever Matt Barnes threw a pitch that narrowly missed Machado's head. Barnes was quickly ejected, and even though he claimed after the game that it was an accident, it was pretty obvious that it wasn't. While the new Red Sox pitcher Joe Kelly was warming up to relieve Matt Barnes, Dustin Pedroia and Manny Machado got into a heated conversation from their respective dugouts.
Machado was upset at the amount of times Boston had thrown at him over the weekend, and was especially angry that Barnes threw at his head. Pedroia agreed with Machado, saying "That's not me ... If it was me, we would have hit you the first day. Now, it's not me." Later, the Red Sox second baseman exclaimed "That's not how you do that" in reference to Barnes' headhunting (Source: Jay Jaffe, si.com). Since the ball ended up hitting Machado's bat and was foul, Manny stepped back in the batter's box and laced a rocket to deep center field for an RBI double. Although the series was over, the Orioles would be on the road in Boston the following week, and the rivalry was getting intense.
On May 1, the two teams would see each other again, but this time at Fenway Park. Orioles starter Dylan Bundy hit Red Sox outfielder Mookie Betts in game one of the four game series. While it's hard to tell whether Bundy hit Betts on purpose, Boston definitely thought that it was on purpose.
The very next day, Red Sox ace Chris Sale threw a ninety-eight mile an hour fastball behind the legs of Manny Machado, and everyone at Fenway knew that it was intentional. Both teams were warned by the home-plate umpire. In the seventh inning, Machado crushed a solo home run that landed behind the Green Monster, for his second out-of-the-park shot in as many games. After the game, the Orioles third baseman went on a profanity-filled rant, expressing his thoughts on how Boston was "still thinking about that same slide that I did that was no intention of hurting anybody ... If you're going to f------ hit me, hit me, go ahead ... Don't let that s--- keep lingering" (Sources: Charles Curtis, ftw.usatoday.com; @MattKalman, Twitter).
In game three, Baltimore's Kevin Gausman beaned Red Sox shortstop Xander Bogaerts with a seventy-seven mile an hour breaking ball. Surely Gausman didn't mean to hit Bogaerts, because pitchers always throw fastballs when trying to intentionally hit a batter. It is more likely that the pitch got away from Gausman. Nonetheless, the Orioles' starting pitcher was tossed by home-plate umpire Sam Holbrook.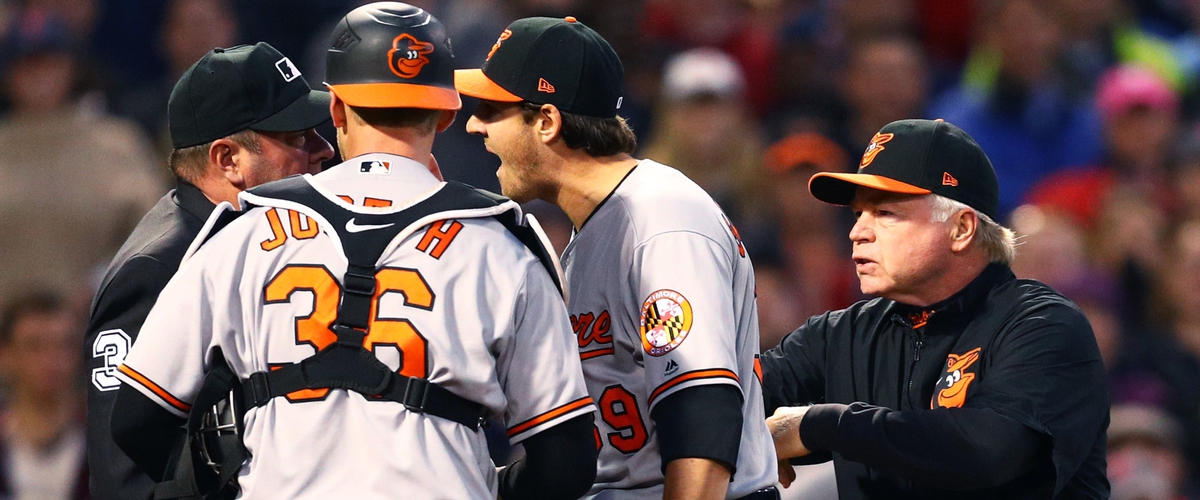 Manny Machado smacked a three-run homer in the final game of the intense series, which also traveled way (like, wayyy) over the Green Monster at an estimated four hundred sixty-six feet. If Machado sought any revenge against the Red Sox from their first meeting in late April, he definitely got it. Baltimore's All-Star third baseman crushed three home runs in four games against Boston, picking up six RBIs.
The two teams battle ten more times this season, leaving plenty of opportunities for drama to ensue.
(Follow on Twitter!)
(Like and Follow on Facebook!)