Grading Each SEC Team's Week 1 Performance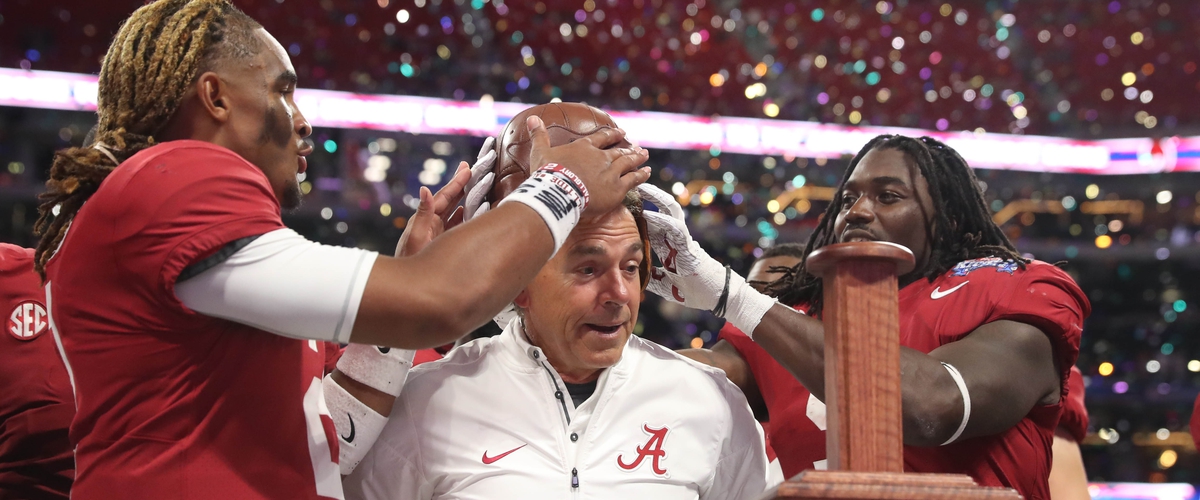 Football is back and wow did it not disappoint. The first weekend included the "best opening game ever," one of the biggest comebacks in college football history, and a double overtime thriller on Labor Day.
Across the board, this was probably the best opening weekend to a college football season I've ever seen. Especially in the SEC.
So, to kick off the best time of year, I will be grading each SEC team's performance in their opening game. I will be going in alphabetical order, so the team grades are not in order of performance. I will have my rankings from 1 to 14 at the bottom of the article.
Let's jump right in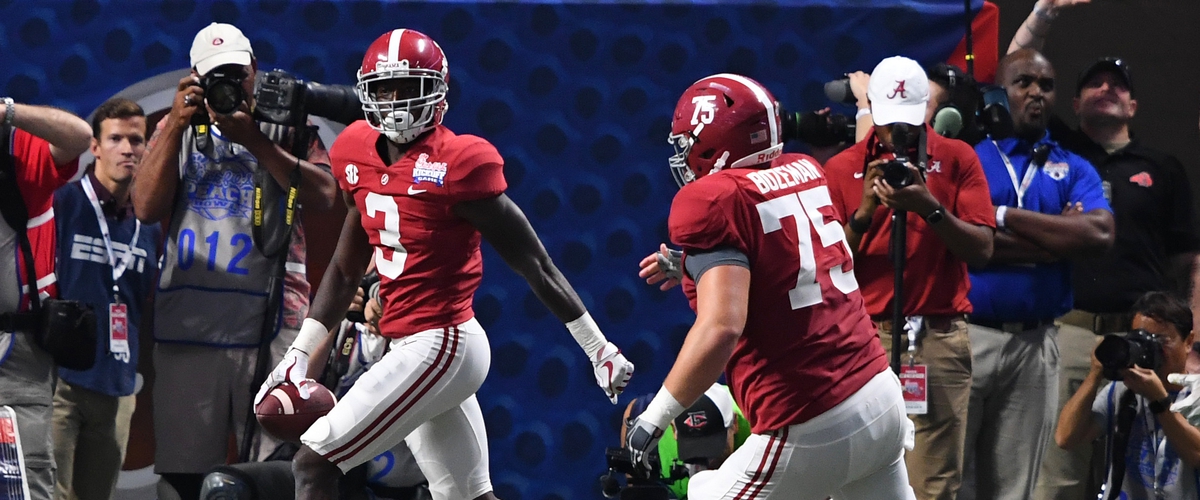 #1 Alabama (1-0)
Week 1 Result: Defeated #3 Florida State 24-7 in Atlanta
Up Next: vs. Fresno State (1-0)
Here's an obvious comment: Alabama are hungry to win another national championship and anxious to avenge their last second loss to Clemson in last year's title game.
In a matchup that featured the #1 and #3 teams, the Crimson Tide looked like a competent NFL team on the defensive side, holding the versatile Florida State offense to just 7 points and 250 total yards.
Heisman hopeful Deandre Francois was solid in the first half for the Noles, but couldn't handle a reenergized Bama defense after the half as Jeremy Pruitt's D forced three turnovers (two interceptions, 1 fumble) and shut the Seminoles out after their single second quarter touchdown.
I was blown away with the Tide defense, was very unimpressed with a sorry performance on offense. Jalen Hurts couldn't throw the ball more than 10 yards downfield, and Bo Scarbrough was held to just 2.7 yards a carry.
If it wasn't for a blocked punt, and a fumble recovered on the ensuing kickoff, this would've been a one score game late in the third quarter. Alabama needs to tinker with their offense a good amount and because of their sorry performance with the ball, I give them a lower grade then they should receive for winning this game.
Good thing Nick Saban will have Fresno State and Colorado State the coming two weeks to try and figure out the offense and get Jalen back to form.
Week 1 Grade: A-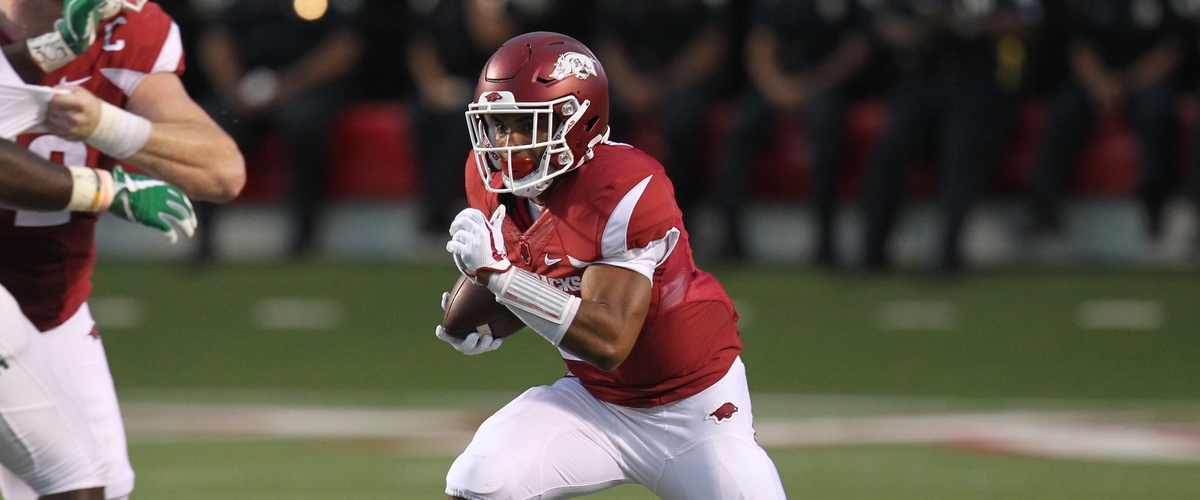 Arkansas (1-0)
Week 1 Result: Defeated Florida A&M 49-7
Up Next: vs. #23 TCU (1-0)
It's hard to get much of a read on how the Razorbacks will be this year after playing an FCS side, but one thing is clear, Chase Hayden has the potential to be a great running back.
The freshman out of Memphis ran for 120 yards and a touchdown in the Hogs beat down of Florida A&M in Little Rock, showing speed and great vision as he averaged just shy of 9 yards per carry.
Arkansas' defense was solid only allowing nine first downs the entire game and 7 points but shouldn't they have shutout this team? The line had the home side favored by 46, and they failed to cover that line. Is it their fault or Bret Bielema's fault?
No, but if they want to have a run at Alabama in the SEC west, they should have probably beaten this A&M team by 50 or more.
This coming week will be a good bench mark for Bielema and company as TCU comes to town.
If Austen Allen can be sharp, the Hogs could get a resumé building win in week 2 against a solid Horned Frog team.
Week 1 Grade: B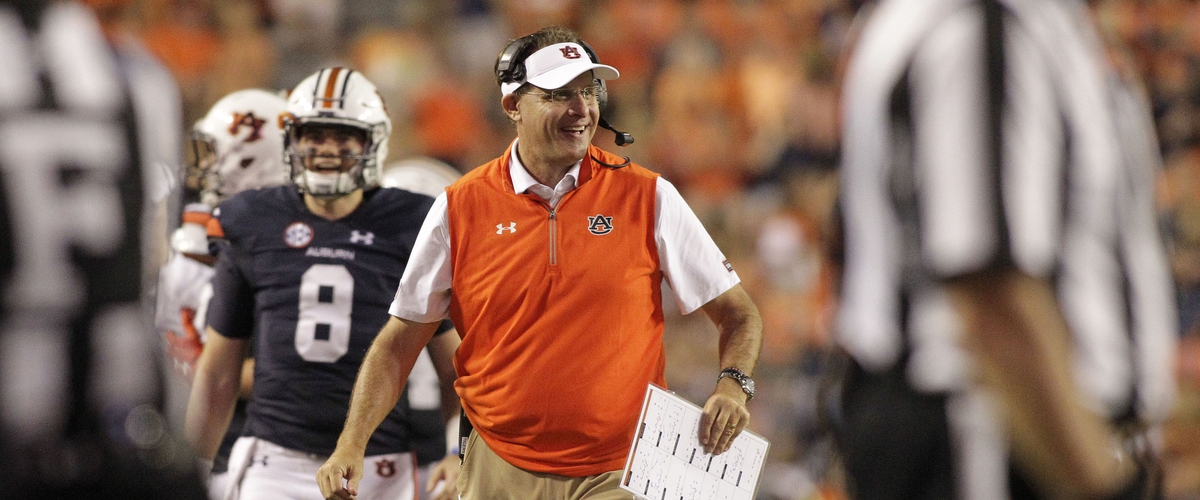 #13 Auburn (1-0)
Week 1 Result: Defeated Georgia Southern 41-7
Up Next: at #3 Clemson (1-0)
Yes, the two-headed rushing attack from Gus Malzahn is back. Behind transfer quarterback Jarrett Stidham (who is really good at handing the ball off), as both Kam Martin and Kerryon Johnson ran rampant on the Eagles of Georgia Southern.
The two running backs combined for 30 carries, 272 yards, and 2 touchdowns. Not to mention they both had longs of 61 and 60 yards respectively.
While the run game was on point as usual, totaling 351 as a team, the transfer QB Stidham was pretty average after receiving so much preseason hype. The sophomore transfer from Baylor went 14 of 24 for 185 yards, 2 touchdowns, and an interception. Not too great against a pretty poor defense.
The reason I will give Auburn a good grade is because of their incredible defensive play. The Tigers gave up just 78 total yards the entire game, and held Georgia Southern to 8 yards passing, and 0 for 15 on third down conversions.
The defense showed up in the home opener, but will they be able to slow down Clemson's dual threat attack? It will be interesting to see if they can.
Week 1 Grade: B+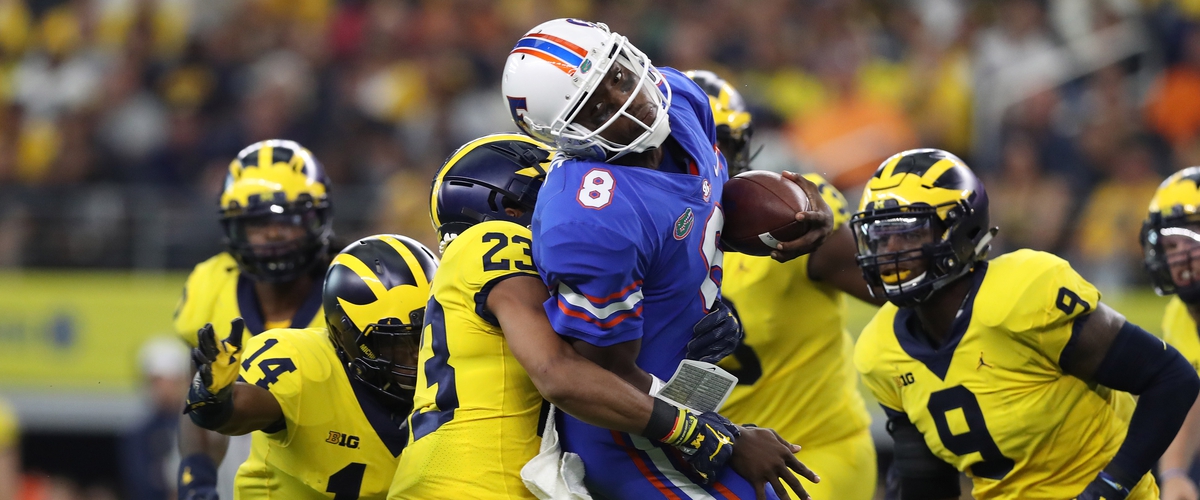 #22 Florida (0-1)
Week 1 Result: Lost to #11 Michigan 33-17 in Dallas
Up Next: vs. Northern Colorado (1-0)
Let me start by saying, yikes. Florida is going to have a really tough year on offense.
The Gators tried out two quarterbacks in their loss Saturday afternoon and neither was even okay. Freshman Feleipe Franks started and looked shaky for the entire first half. Then came former Notre Dame starter and graduate transfer Malik Zaire, and he was beat to a pulp the entire second half.
Zaire finished with a QBR of 4.6 after throwing for 106 yards, while Franks finished with a QBR of 23 after throwing for 75 yards.
The one positive takeaway for Jim McElwain going forward is his defense can keep his team in games. The Gators had two interceptions returned for touchdowns on back-to-back plays in the second quarter.
The reverse takeaway is that these were the only two touchdowns the team generated. After the opening drive which went six plays, 46 yards, and resulted in their only field goal, the offense looked okay.
After that, the team that won the SEC east a year ago couldn't put together a meaningful drive. 3 turnovers, 9 first downs, this team is in trouble on offense.
I don't want to say it's panic time in Gainsville after one game, but with Tennessee coming to town week three, Florida could struggle to make a bowl if they lose this one.
Week 1 Grade: C-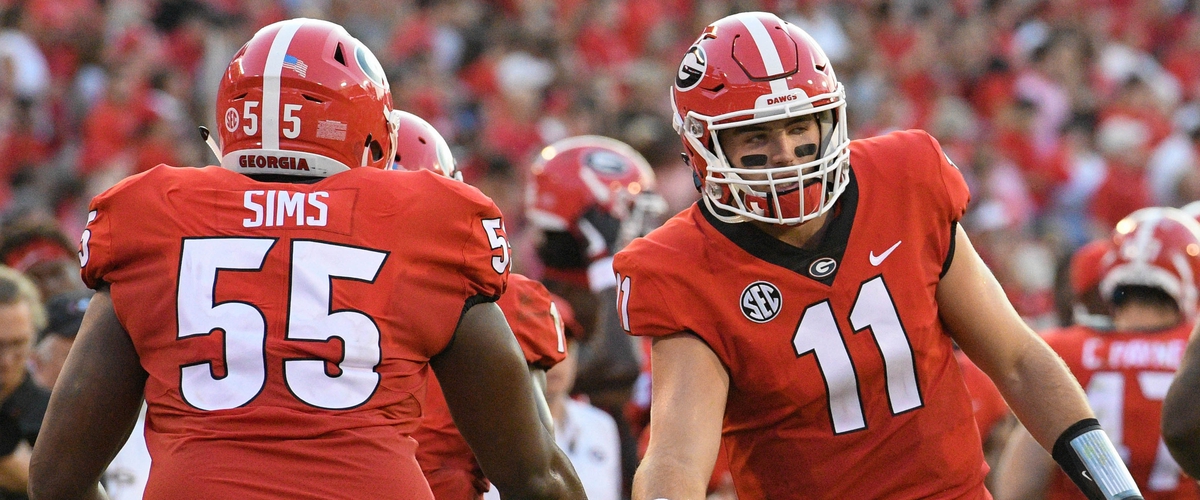 #15 Georgia (1-0)
Week 1 Result: Defeated Appalachian State 31-10
Up Next: at #24 Notre Dame (1-0)
On the anniversary of the epic upset of Michigan 10 years ago, Appalachian State couldn't pull the miracle again in Athens.
Despite losing Jacob Eason to a knee injury early in the first quarter (he will miss this weeks game at Notre Dame), the Dawgs took care of business thanks to freshman Jake Fromm and Nick Chubb.
In a game that Georgia has been known to struggle in, the 15th ranked team took care of business jumping out to a 21-0 lead at halftime and seeing it through in the second half.
Fromm came on for Eason during the Bulldogs' first drive and looked comfortable as he threw just five incompletions on 15 attempts. Not to mention, a 34 yards TD pass to Javon Wims in the second quarter.
As I've said for Arkansas and Auburn, this game wasn't a true test for Georgia. Next week will be on the road in a tough environment in South Bend, Indiana.
Fromm will start and it's a good thing for Kirby Smart that he played so long in the opener. Plus, he will be taking all the first team reps this week in practice, so he should be pretty comfortable when he takes the field Saturday.
Defensive tackle Trenton Thompson was very impressive making 3 solo tackles, 2 for loss, and adding a sack. The Dawgs will need a stout line if they want to stop a good Fighting Irish run attack and that success begins and ends with how well Thompson plays in the middle.
Week 1 Grade: B+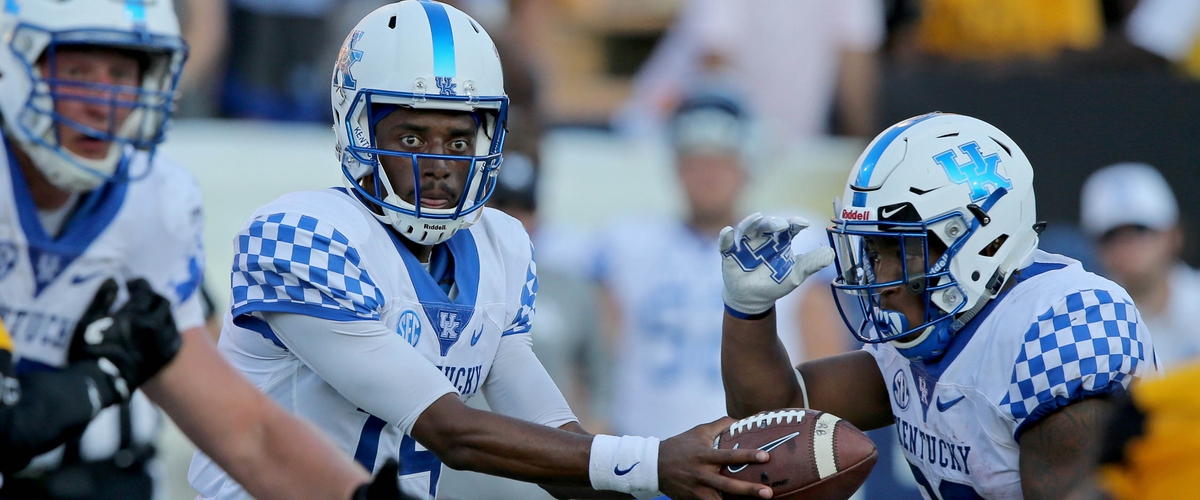 Kentucky (1-0)
Week 1 Result: Defeated Southern Miss 24-17
Up Next: vs. Eastern Kentucky (0-1)
Good call Kentucky, schedule an easy start to the season, then beg and pray you can claw your way into a bowl at 6-6.
In typical Kentucky fashion, the Wildcats squeaked past a sub-par Southern Mississippi team on the road Saturday thanks to a fast start and some timely defense.
The Cats were outplayed on offense I think, but did a good job forcing three turnovers when they needed them. The Golden Eagles out gained the Wildcats 364-254 on offense, but couldn't keep a hold of the ball.
After a scoreless opening quarter, quarterback Stephen Johnson ran and passed for a score to put his team up 14-3 at the half.
Southern Miss wouldn't go away, however, as they were within seven until quarterback Kwandra Griggs was destroyed on a read option, fumbled the ball, and saw Benny Snell Jr. scoop and score it from 20 yards to put Kentucky up by two touchdowns.
The Wildcats have some things to straighten out on defense and offense, as the defense gave up too many passing yards (309) and couldn't figure out the read option until the second half. The offense on the other hand picked up just two first downs after the fumble touchdown in the final quarter and were too conservative down the stretch.
It was a rather average game from Mark Stoops' side.
Week 1 Grade: B-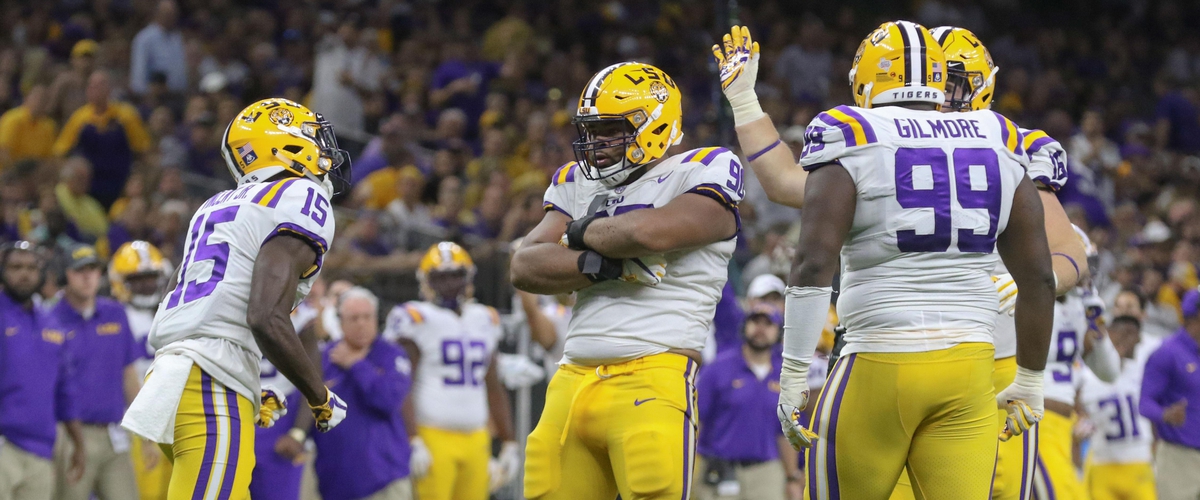 #12 LSU (1-0)
Week 1 Result: Defeated BYU 27-0 in New Orleans
Up Next: vs. Chattanooga
I'm going to give LSU my performance of the week award, but I won't rank them as the top team in the conference because I still think through and through, Alabama is a better team.
The Tigers still have a great defense, they still have a great running game, and they still crush non-conference opponents like they're high school teams.
However, all those good things are diminished because of one uncertainty and that is Danny Etling at quarterback. How can the Bayou Tigers be so consistently good but never have an elite quarterback?
The most elite QB to play in Baton Rouge in the last 15 years might be Jordan Jefferson (that says a lot).
Etling only threw the ball 17 times, and only missed on three of those attempts, but what I'm worried about is when LSU needs to throw the ball to win a game, can Etling do it?
This defense is top 5 in the country no doubt about it. That will win the Tigers at least 8 games I'm certain of it. Especially when they're holding teams to under 100 total yards and six first downs over 60 minutes.
Darrius Guise is a dark horse for the Heisman and I still can't get over how he was a backup for as long as he was. 27 rushes for 122 yards and two touchdowns is a great way to start the year and the scary thing is he will only get better as the year goes along.
This Tiger team is scary good. No doubt the second best team in the conference.
Week 1 Grade: A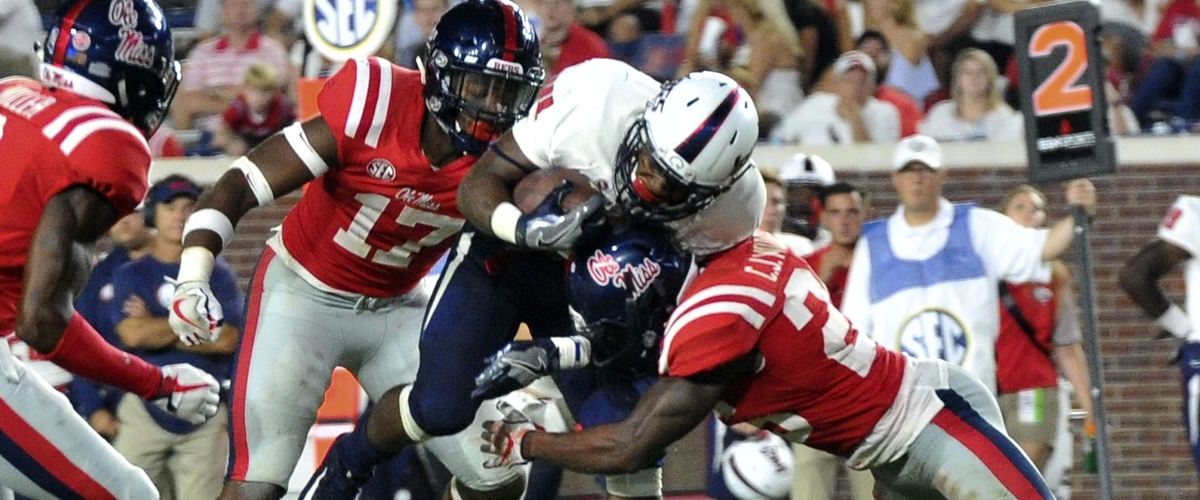 Ole Miss (1-0)
Week 1 Result: Defeated South Alabama 47-27
Up Next: vs. UT Martin (1-0)
Let me just say for this entire season, I'm not going to talk about Ole Miss a lot. Mainly because their football program is a cheating pile of scum, second of all I don't care about them.
Yeah, they won by 20 to open a season which will ultimately not mean anything since they can't make a bowl, but they gave up 27 points to South Alabama.
You heard me correctly, South Alabama.
While the Rebels offense was highlighted with Shea Patterson throwing for 429 yards and four touchdowns without turning the ball over and wide receiver A.J. Brown pulling in touchdowns of 71 and 77 yards, the defense gave up 170 rushing yards and 204 passing yards as they struggled to pull away from the Sun Belt side.
The sophomore wideout, Brown, finished with 233 yards on just 8 catches and was happy to perform for new head coach Matt Luke in his debut.
My takeaway from this game, Ole Miss is very good on offense with Patterson throwing the ball, shaky on defense, but none of that matters this season.
Week 1 Grade: B-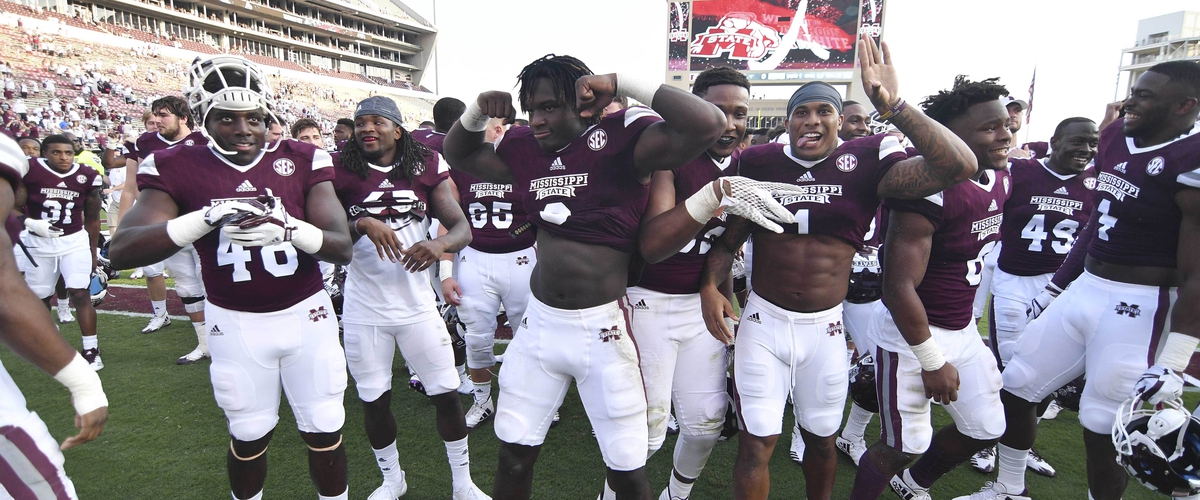 Mississippi State (1-0)
Week 1 Result: defeated Charleston Southern 49-0
Up Next: at Louisiana Tech (1-0)
There is a lot to be happy about if you're a fan of the Cowbell crazy squad down in Stark Vegas.
Not only did State shutout Charleston Southern 49-0, they finished week 1 with the highest defensive efficiency of any team in the country at 99.1% Yes, that is higher than both LSU and Alabama (97.7%).
Nick Fitzgerald drew a lot of attention with his great play at the end of the 2016 season and he continued to show why he can make the Bulldogs a legit competitor in the SEC this season after throwing for 239 yards and 2 touchdowns while also rushing for 41 yards and a TD.
State didn't beat around the bush, jumping out to a quick 35-0 lead before halftime and not letting up on the defensive side.
Finishing better than LSU, Mississippi State only gave up 33 total yards of offense the entire game (18 rushing yards, 15 passing)
It will be an interesting test for State traveling to Louisiana State this coming weekend, but expect to see a lot of offensive yards yet again. 555 might be a stretch, but it wouldn't surprise me if Fitzgerald led his offense to 350+.
Week 1 Grade: A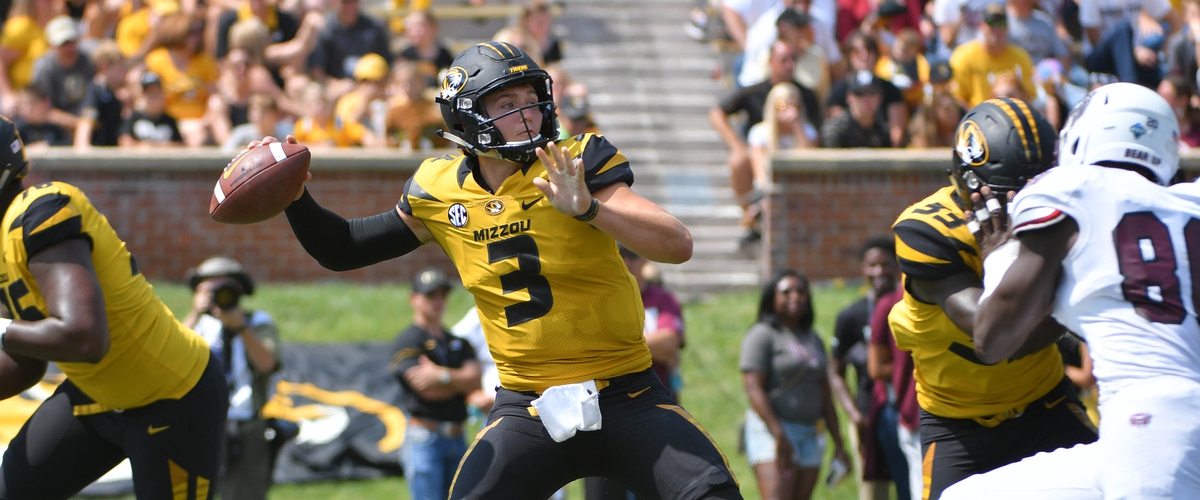 Missouri (1-0)
Week 1 Result: Defeated Missouri State 72-43
Up Next: vs. South Carolina (1-0)
As you can probably tell, I'm a big stats guy. You can probably also tell if you've read my past articles that I am not a fan of this Missouri football team.
So, after watching the game Saturday morning, I can say with certainty: don't read into Missouri's stats too much! Especially on offense.
I went into greater detail on this in my article (linked above) so I went spend too much time on it here. In essence, quarterback Drew Lock is known for running up the score against inferior non-conference opponents.
Case and point here against Missouri State as he threw for 521 yards and 7 touchdowns. I will only call Lock a good quarterback if he can actually put up numbers like this against a quality SEC team (I know it's nearly impossible).
Another point I made in my article back in late May was that this Mizzou defense is terrible. Terrible isn't even a strong enough word but it'll have to suffice here.
While you had Mississippi State shutout Charleston Southern and give up just 33 yards of offense against their FCS opponent, Mizzou gave up 492 yards of offense and 43 points to their FCS opponent.
If you are a betting person, take the over on every Mizzou game as they will give up tons of points to quality SEC offenses. Not to mention, if this team gets into a close game, they're screwed. MO State dominated the time of possession with 38:16 while Mizzou had 21:44.
In a close game, this defense will be tired, coupled with already being horrible, they will get destroyed.
Week 1 Grade: C-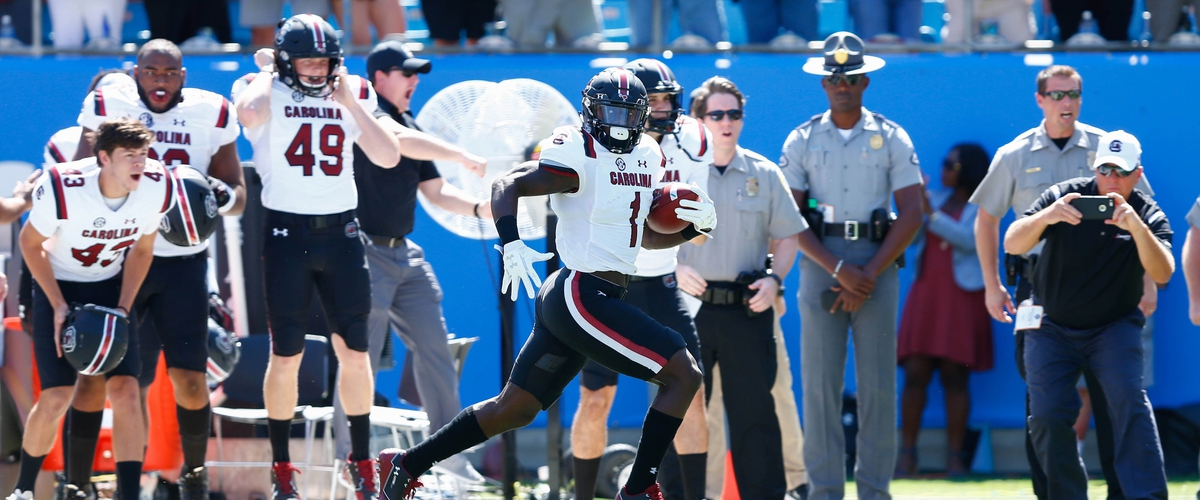 South Carolina (1-0)
Week 1 Result: Defeated NC State 35-28 in Charlotte
Up Next: at Missouri (1-0)
I was incredibly impressed with every aspect of South Carolina's team.
Special teams was great as Deebo Samuel returned the opening kickoff 97 yards. The offense, while getting dominated in terms of yards, were efficient when needed. Finally the defense was solid, holding the Wolfpack to just 7 points in the second half after a slow start.
Samuel earns my player of the week award after playing like an absolute beast in this game.
5 catches for 83 yards and 2 touchdowns a kickoff return is a good way to get the attention of NFL scouts.
He was also the player who caught the game winning touchdown for the Gamecocks early in the third quarter.
While the Cocks defense forced two turnovers and were suffocating the NC State offense in the second half, the first half was spotty as all three of the touchdowns allowed were on drives 75 yards or longer.
Expect a high scoring affair in Columbia this Saturday night, but this South Carolina team is much improved.
Well done Will Muschamp.
Week 1 Grade: B+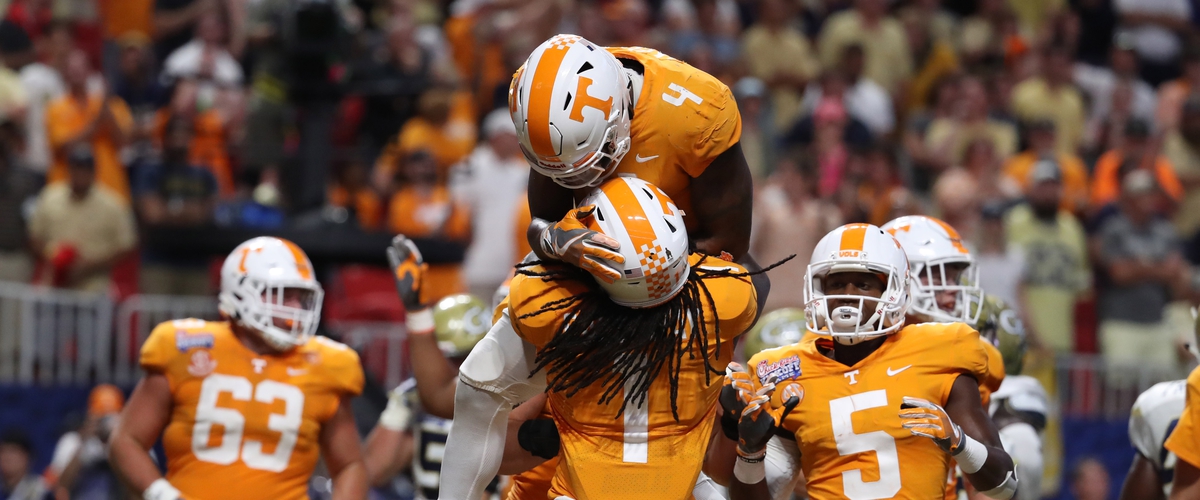 #25 Tennessee (1-0)
Week 1 Result: Defeated Georgia Tech 42-41 (2OT) in Atlanta
Up Next: vs. Indiana State (0-1)
What a crazy game we saw Monday night in Atlanta. The Tennessee Vols won a game that ultimately seems like a loss.
UT stopped Georgia Tech on a two-point conversion in double overtime to win by just a point to make sure Butch Jones still has a job (for now).
Tennessee trailed by 14 in the fourth quarter and surprisingly dug deep and managed to force the game to overtime.
While the Vols won the game and scored 42 points, much like Missouri, there are more questions than answers after winning the opener.
While no team from here on out will run the triple option against Tennessee, the Yellow Jackets provided a road map on how to beat the UT defense into submission.
One, run the ball over and over; it'll work the majority of the time. Two, possession, possession, possession. Georgia Tech had over 41 minutes of possession in this game and accumulated 655 yards of total offense (535 on the ground).
So, while Quinten Dormady played well in the second half after settling down, and wide receiver Marquez Callaway showed he can be a big time playmaker for this team, this Tennessee team is far from being elite.
Off a short week, they'll have a walkover game this weekend in their home opener against Indiana State, but Butch Jones has a lot of questions that need addressing if the Vols are to make a push for the SEC East title.
Week 1 Grade: C+
Texas A&M (0-1)
Week 1 Result: Lost at UCLA 45-44
Up Next: vs. Nicholls (1-0)
Oh my lord. Texas A&M. Are you guys serious?
After watching the first half of this game, I first thought that this Texas A&M team was better than I expected. And then they decided to head back to College Station at halftime and gave up 35 points in a row and lost to a solid quarter back and team in Josh Rosen and UCLA.
Did A&M deserve to win this game 44-10? Absolutely not they don't have an even decent quarterback! The starter, freshman Nick Starkel, completed less than half of his passes and threw for just 62 yards while being sacked twice.
He was then pulled down from behind and suffered a serious ankle injury will see him miss extensive time.
Then came the other freshman, Kellen Mond, who was stunningly worse than Starkel! Mond completed just 3 out of 17 passes for 27 yards.
Mond did run for 54 yards on 15 attempts but he's quarterback so it's kind of disturbing he ran it that many times.
The single bright spot for A&M is running back Trayveon Williams who ran for 203 yards and 2 touchdowns. Keith Ford was also great running the ball, adding 114 yards and 3 TD's, but Kevin Sumlin has a serious problem on his hands.
This A&M has playmakers but will struggle to get the ball to those playmakers.
Week 1 Grade: D+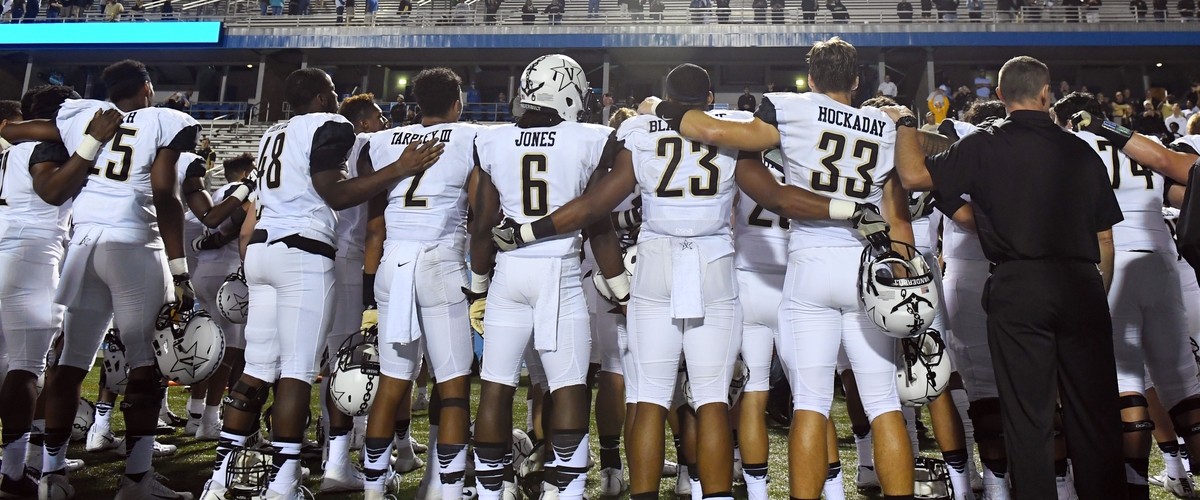 Vanderbilt (1-0)
Week 1 Result: Defeated Middle Tennessee State 28-6
Up Next: vs. Alabama A&M (0-1)
Vanderbilt very subtly beat the snot out of a solid MTSU team on the road Saturday night in Murfreesboro as the Commodores shock off a disappointing end to the 2016 season with a fantastic start to 2017.
Vandy jumped out to a 14-0 just over six minutes into the first quarter and never looked back.
The entire team just looked comfortable against an MTSU team that has given them fits in the recent past. Quarterback Kyle Shurmur was on point in the first half especially, finding wideout Kalija Lipscomb twice on touchdowns of 37 and 4 yards.
Shumur's efforts through the air were complimented by All-SEC running back Ralph Webb on the ground as the senior rumbled for 49 yards and a touchdown. He also added three receptions for 104 yards and a touchdown which sealed the game early in the third quarter.
I was really impressed with the speed of the Vanderbilt offense as the Dores swarmed quarterback Brent Stockstill, sacking him five times and intercepting him once.
This Vandy teams looks like a bowl game shoe in after this opening game. Will they win the SEC East? No, no way. But they will again be competitive again this year thanks to their stout defense and developing offense.
Week 1 Grade: B
SEC POWER RANKINGS: AFTER WEEK 1
1. Alabama
2. LSU
3. Mississippi State
4. Georgia
5. Auburn
6. South Carolina
7. Kentucky
8. Arkansas
9. Vanderbilt
10. Tennessee
11. Ole Miss
12. Florida
13. Texas A&M
14. Mizzou