Grading Each SEC Team's Week 2 Performance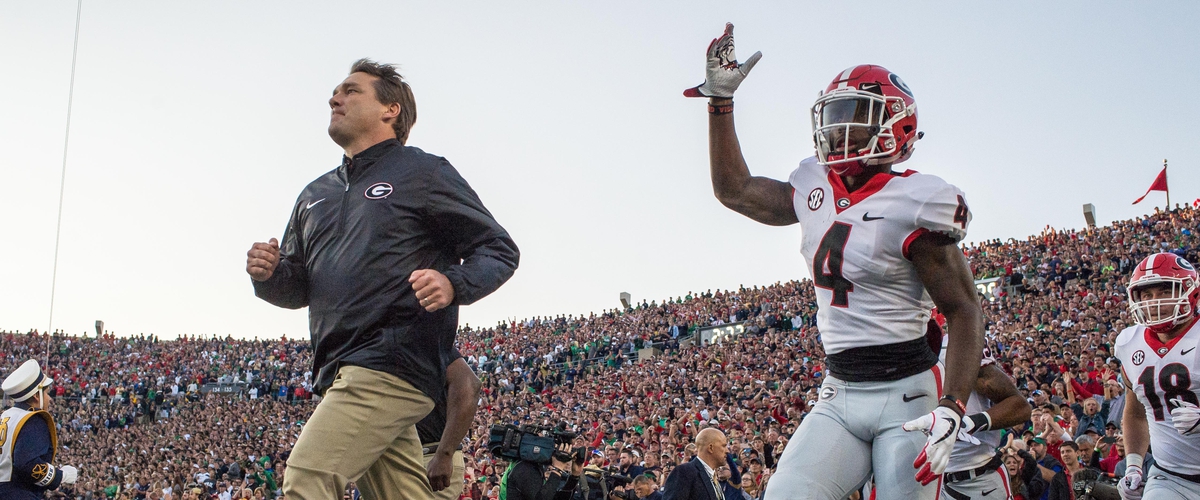 Week 2 in the SEC sure was a fun one. Two top 25 match ups, some tune up games against non-conference "cupcakes" and even one conference game.
While we are still a week or two away from seeing the beginning of conference play, let's take a look at the 13 teams that were in action Saturday and grade each of their performances.
If you didn't get a chance, go ahead and read my week 1 grades before moving on to this week so you can get a better idea of my thinking.
Again, stay tuned to the end of the article for my SEC Power Rankings.
Let's get right into it shall we?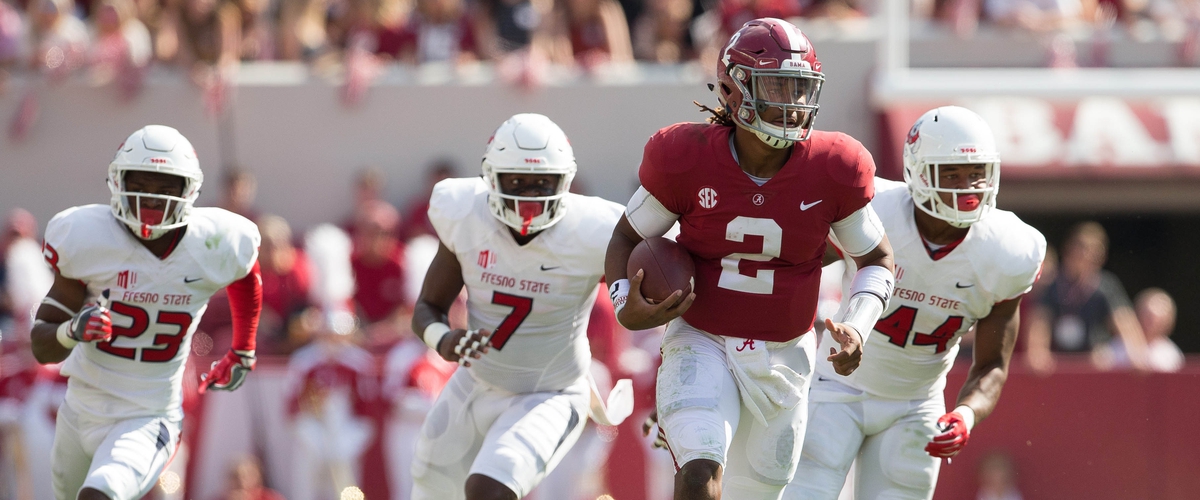 #1 Alabama (2-0)
Week 2 Result: Defeated Fresno State 41-10
Up Next: vs. Colorado State (2-1)
The Tide scored on the second play of the game on a Jalen Hurts 55 yard scamper and never looked back against a weaker Fresno State side.
Saban and the boys took a 28-3 lead into the half and cruised to a 31 point win, giving freshman quarterback Tua Tagovailoa his first reps in charge of the offense in the fourth quarter.
The five-star QB from Hawaii looked comfortable, as he went 6 for 9, with 64 yards and his first career touchdown pass.
While Tua looked solid in relief, Jalen Hurts was doing typical Jalen things, running for more yards than he threw for - 154 rushing, 128 passing - and didn't turn the ball over.
This game and this week's game against Colorado State are tune-up games for the Crimson Tide as they try to get the offense clicking on all cylinders and figure how to go about not having four linebackers.
They got off to a solid start against the Bulldogs, but struggled to make the initial tackle on defense on multiple occasions.
Defensive coordinator Jeremy Pruitt was not too happy about these struggles.
Week 2 Grade: A-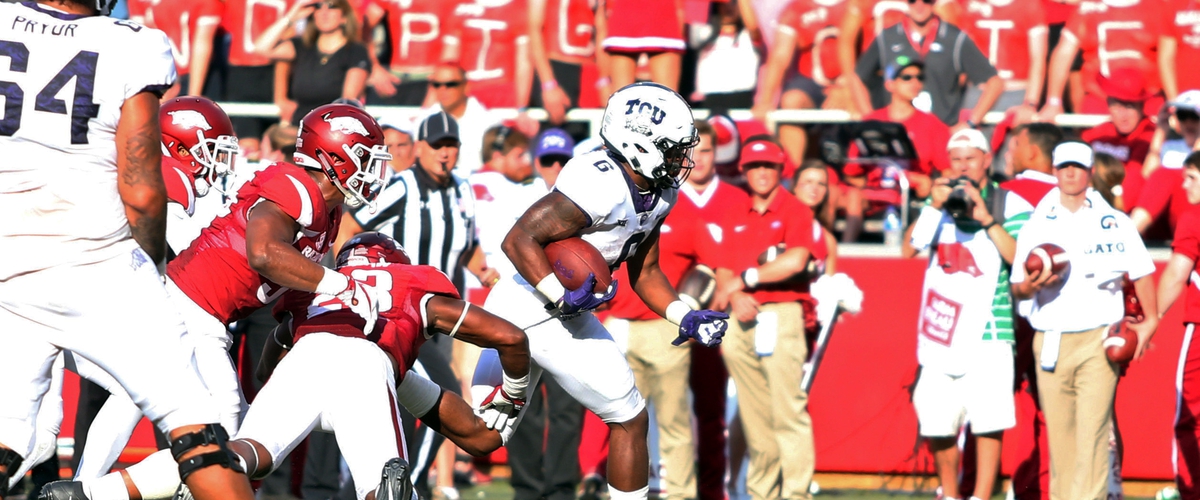 Arkansas (1-1)
Week 2 Result: Lost to #23 TCU 28-7
Up Next: vs. Texas A&M (1-1)
Well Bret Belima, you are now firmly on the hot seat after such a poor showing against a TCU team that you beat a year ago on a neutral site.
You would've thought the Hogs would show up for a big game at home against a ranked team to show they could be a top team in the SEC. That was not the case. At all.
The Razorbacks went three and out five of their first seven drives. On the two drives they didn't go three and out, they scored their only point of the game and missed a field goal.
The TCU defense was stifling all game, keeping Austin Allen quiet. What's even more impressive is how well the Horned Frogs stopped the usually lethal Arkansas running attack, as the home team averaged just 4.6 yards per carry on 31 attempts.
It wasn't like TCU blew the Hogs out of the water in this game, the total yards on offense were relatively even, but TCU's defense was just so much better over the course of the game, Arkansas couldn't hang in there.
This week's game at home against A&M is a must win for Bret Belima, or he could be jobless by this time next week.
Week 2 Grade: C+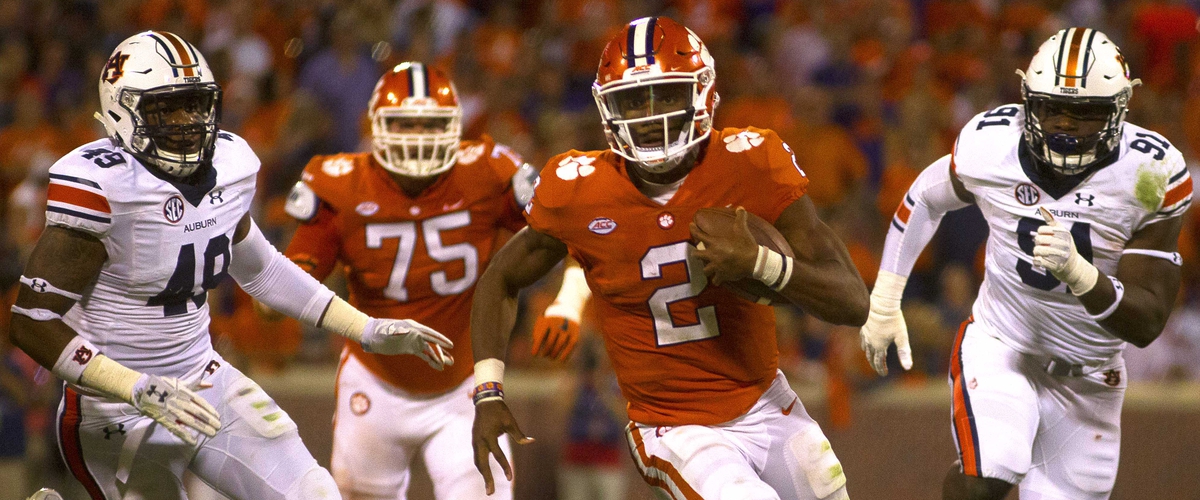 #15 Auburn (1-1)
Week 2 Result: Lost at #3 Clemson 14-6
Up Next: vs. Mercer (1-1)
Does Auburn have a good defense? Absolutely. They held a solid Clemson offense to 284 total yards and 14 points on the road.
Does Auburn have a good offense and is Jarrett Stidham a Heisman contender? Not at all to either question.
While the defense's performance blew me away, the level of the offense's struggle blew me away even more. An Auburn offense run by Gus Malzhan is known for finding some way to move the ball and score points. Not in this game.
The offensive line was out matched in every way possible. The Clemson D had 11 sacks on Stidham, the Auburn Tigers ran for 38 yards on 42 attempts (this includes sacks) and Stidham threw for 79 yards.
The Auburn offense may have not turned the ball over, but it sure seemed like they did several times going backwards so many times with that many sacks.
At least the SEC Tigers can regroup this week at home against Mercer and maybe find someway to shore up the offensive line struggles. Moving into conference play, defensive lines will run a clinic on this O-line if they play like they did this week.
Although they're still ranked in the top 25 after an 8 point loss, this Auburn team doesn't seem like a top 25 team in the country. Let alone a top 4 team in the SEC.
Week 2 Grade: C-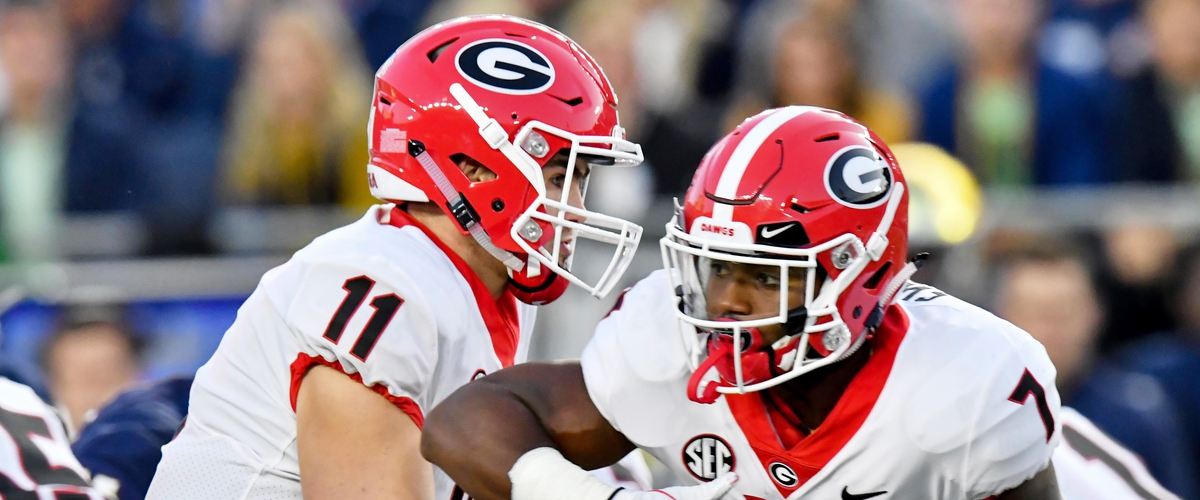 #13 Georgia (2-0)
Week 2 Result: Defeated Notre Dame 20-19
Up Next: vs. Samford (2-0)
Georgia didn't Georgia a big game! I'm shocked!
In all honesty, Kirby Smart did a fantastic job managing this game. Despite not having starting quarterback Jacob Eason, the Bulldogs beat a very good Notre Dame team on the road in a nail bitter.
Georgia has been known to start well in these types of games, but fizzle out in the third quarter in route to being destroyed.
That was nearly the case in this big game, trailing 16-10 midway through the 3rd, young QB Jake Fromm was sacked back at his own 19 yard line, setting up a second and 16 for the Dawgs. On third and 16, Fromm found Riley Ridley for 15 yards and what seemed like a three and out.
However, a personal foul penalty on the Irish gave the Bulldogs a first down at their own 48.
The next play, D'Andre Swift ran for 40 yards and set the Dawgs up in the red zone.
In the span of four plays, Notre Dame went from having a 78.6% win probability (according to ) to a 56.5% chance after the run.
That was the turning point of this game as Georgia would ultimately score the last touchdown of the contest with Sony Michel on the ground with 4:34 to go in the third.
Georgia showed a lot of grit and focus, so much so that they will receive my performance of the week award for their performance.
Fromm was good, the two-headed backfield threat of Nick Chubb and Michel was on point combining for 136 yards and a touchdown, and the Dawg defense held the Irish to 266 yards of total offense and 19 points on the road.
Don't look now, but Georgia could be the favorites to win the SEC East through the first two weeks.
Week 2 Grade: A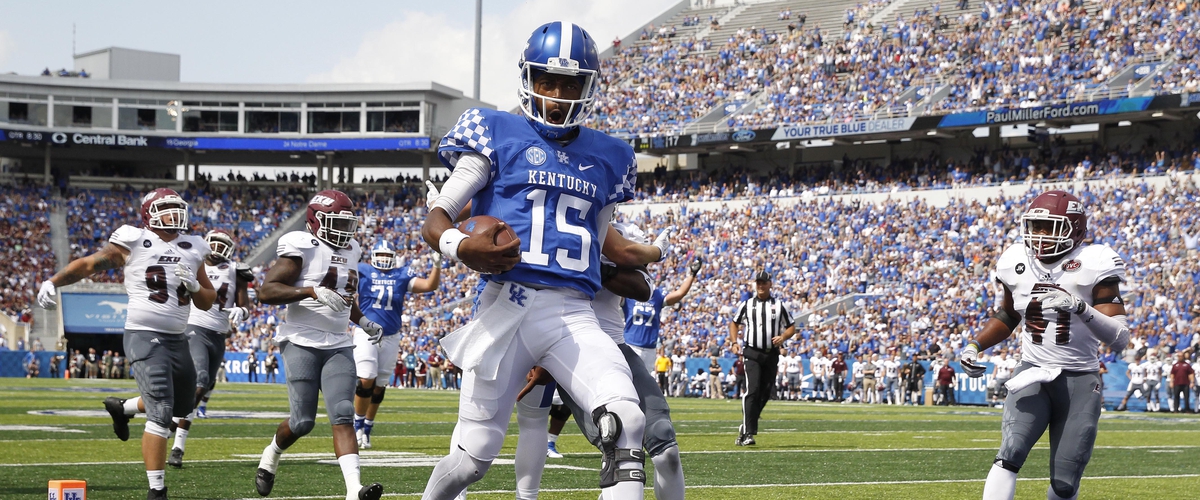 Kentucky (2-0)
Week 2 Result: Defeated Eastern Kentucky 27-16
Up Next: at South Carolina (2-0)
After I gave them a B- for squeaking out a win at Southern Miss, the Wildcats turned around and me doubt that they can make a bowl game yet again.
Favored by 34.5 and at home for the season opener, it took Kentucky almost three quarters to finally pull away from FCS side Eastern Kentucky.
Hell, EKU led the state school 16-10 until Benny Snell Jr. scored the go ahead touchdown with 2:57 left in the third quarter.
Kentucky is trying so so hard to be relevant at football and they still manage to find ways to screw up. A seven point win against Southern Miss? An 11 point win over Eastern Kentucky?
This UK team this year is bad. We just haven't seen the full magnitude of it quite yet. This week will be the week all of their glaring mistakes and inability comes to the forefront as the Cats travel to Columbia, South Carolina to take on a red hot Gamecocks side.
Start betting your money on the Cocks now.
Week 2 Grade: C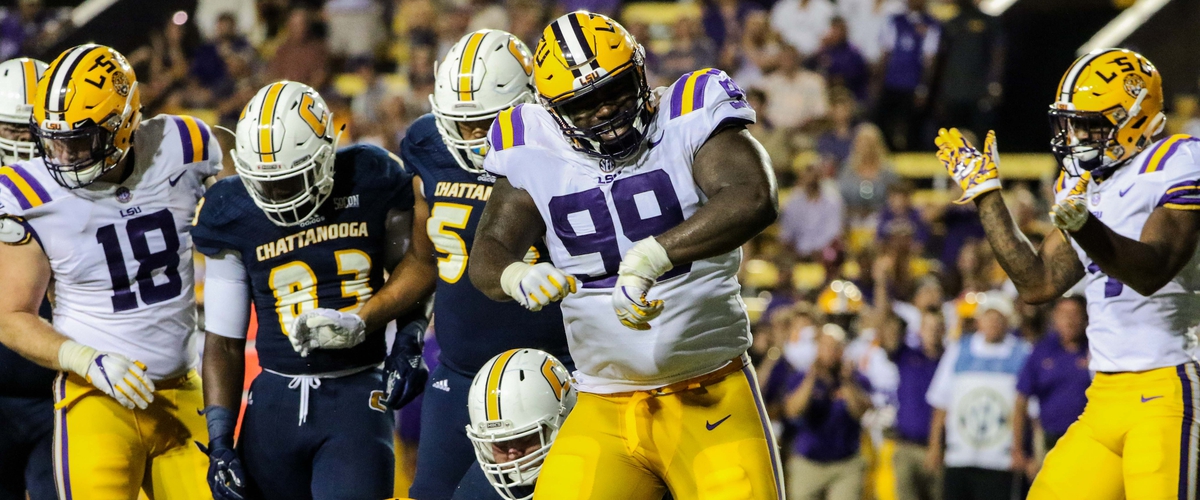 #12 LSU (2-0)
Week 2 Result: Defeated Chattanooga 45-10
Up Next: at Mississippi State (2-0)
Oh wow. This LSU Tigers team means business.
After giving up nothing to BYU, the Mocs of Chattanooga scored a surprising 10 points in Tiger Stadium.
But, the LSU offense was a well oiled machine in this game. What is there to say for the Tigers?
Well for one, they're going to dominate a lot of mediocre and bad teams in the SEC this season (I can see them losing a max twice in conference play) and I can also see them making a legitimate case to be in the college football playoff.
Ed Oregeron has got this team believing they're one of the best and they will only get better and more concise as the season rolls along.
Coach O said All-American defensive end Arden Key will return for this week's game in Starkville which is huge for the LSU run defense.
Danny Etling looked much better week 2 than in week 1 and as predicted, Darius Guise went for over 100 yards and two scores in the rout.
State are in trouble this weekend.
Week 2 Grade: A-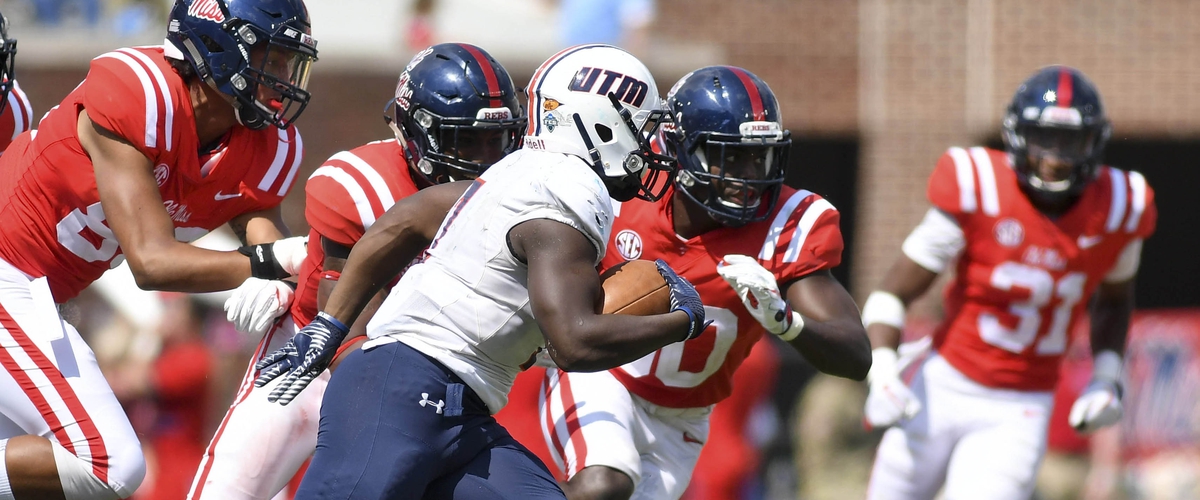 Ole Miss (2-0)
Week 2 Result: Defeated UT Martin 45-23
Up Next: at California (2-0)
Much like Kentucky, despite winning their first two games of the year, Ole Miss is terrible.
It's just a matter of time before everyone notices how bad they truly are. I think this coming week has the potential to be just that.
Cal won a big game week 1 at North Carolina, but struggled to pull away from Weber State winning 33-20 at home.
For the second straight week, the Rebels gave up 20+ to an inferior opponent and actually trailed for the majority of the first half. UT Martin running back Ladarius Galloway accumulated 188 yards on the ground and a touchdown before the Ole Miss defense could figure out how to slow him down.
Shea Patterson throwing for five touchdowns doesn't mean much if you are having to go into the locker up by 1 against UT Martin.
In Cal this weekend and in Alabama after a bye will show how incredibly bad this Rebel team is now that they aren't cheating anymore.
Week 2 Grade: C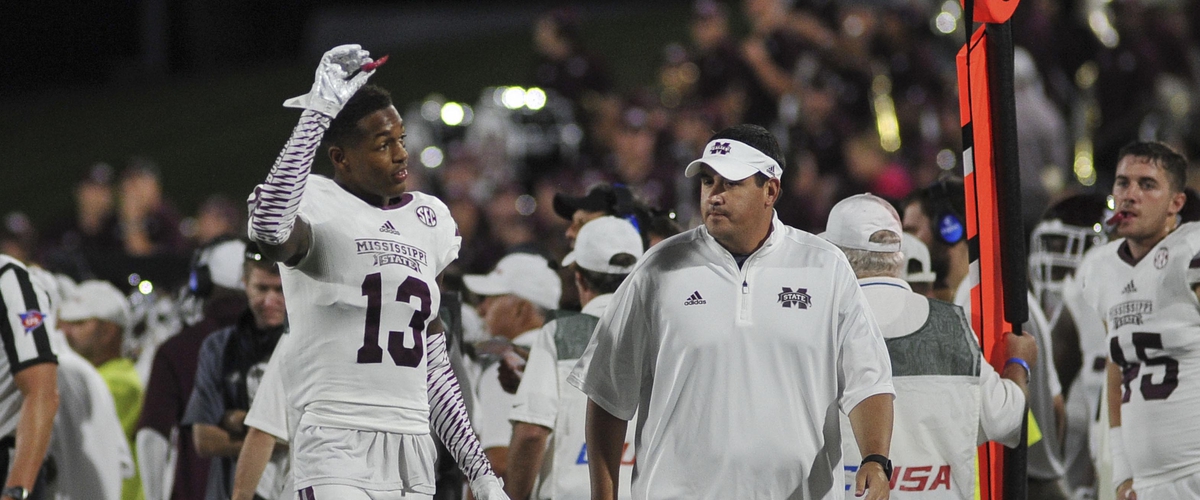 Mississippi State (2-0)
Week 2 Result: Defeated Louisiana Tech 57-21
Up Next: vs. #12 LSU (2-0)
The Bulldogs down in Stark Vegas continue to dominate like they should. A shutout win and an impressive defensive effort week 1 was followed up with an offensive explosion and again, an impressive defensive effort.
They went down 9-0 in the first quarter and then proceed to score 57 of the next 68 points on their way to another blowout.
I hope it's not too late to hop on the Nick Fitzgerald hype train, because I am a passenger now. 124 passing yards, three passing TD's coupled with 111 rushing yards and two touchdowns is incredible. It is not player of the week worthy but, I like what Fitzgerald can do with his legs.
LSU are known to dominate dual threat quarterbacks, but if anyone can upset the Tigers in Mississippi this weekend, it's Fitzgerald and his scrambling ability.
Oh and before I forget, Louisiana Tech, how do you get a third and 93 you goobers?
Week 2 Grade: B+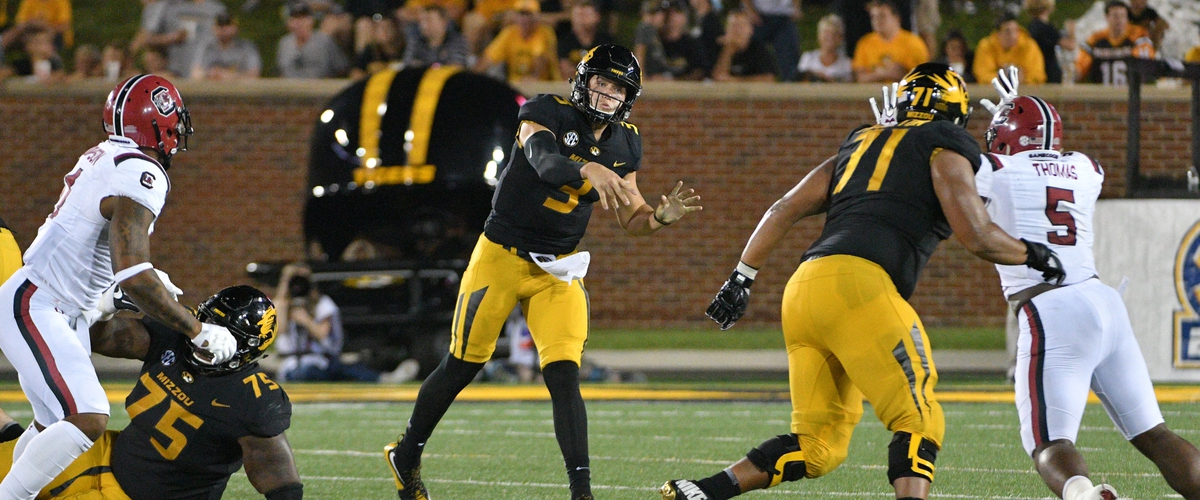 Missouri (1-1)
Week 2 Result: Lost to South Carolina 31-13
Up Next: vs. Purdue (1-1)
I don't want to call myself a fortune teller, but I put $30 on South Carolina money line Saturday and was mad I didn't put down more.
After a surprisingly good start, the Mizzou of 2015 and 2016 returned to 2017 and proceeded to do everything they could to get embarrassed at home.
After a 61 yard touchdown pass from Drew Lock to Jason Reese early in the second quarter, Deebo Samuel returned the ensuing kickoff 97 yards to pull the Cocks within 3.
On Mizzou's first play after the South Carolina touchdown, Lock threw an interception on an ill advised throw to the sideline. One play later, Samuel took a jet sweep and scored from 25 yards out.
In the span of 30 seconds game time and three plays, Mizzou went from leading 10-0 to trailing 14-10.
What an absolute joke of a team.
I didn't even think this was feasibly possible but Mizzou always manages to embarrass themselves worse than before.
This team is on a roller coaster drop towards the cellar of the SEC (again) and after they have four straight home games to start the season, they'll be lucky to be 2-2 heading into week 5.
Purdue, thought to be a walkover game coming into the season, was competitive against Louisville on a neutral field and dominated Ohio on Friday night at home.
I can see the Boilermakers winning this game if they can hang onto the ball and force one or two turnovers.
Mizzou fired defensive coordinator DeMontie Cross (finally) but it won't change a damn thing. This team won't make a bowl for the third year in a row.
Week 2 Grade: D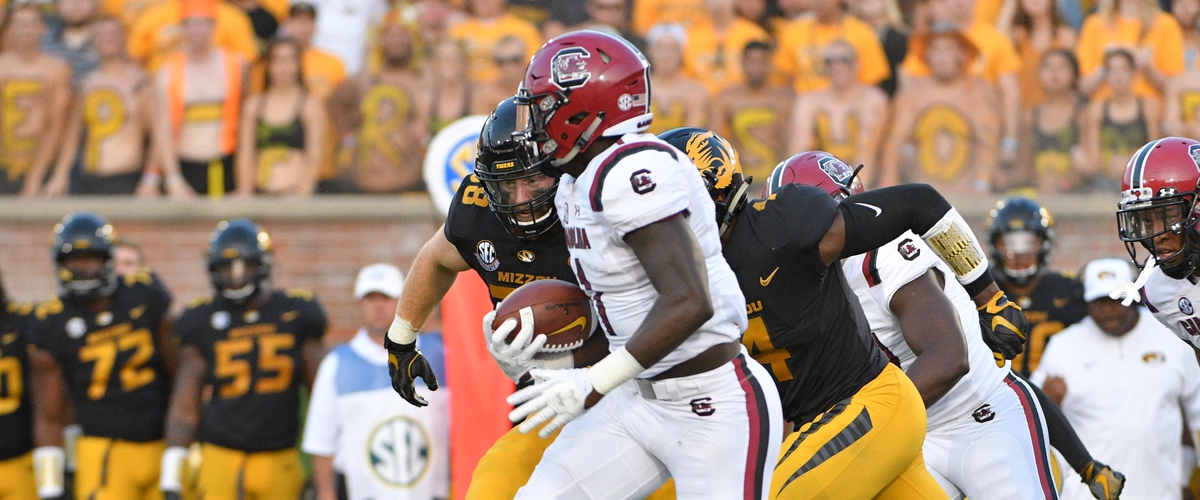 South Carolina (2-0)
Week 2 Result: Defeated Missouri 31-13
Up Next: vs. Kentucky (2-0)
Deebo my boy. What can't you do? Two weeks in a row with a kickoff return touchdown? Check.
Two weeks in a row with the game winning touchdown? Check.
Faster than 90% of receivers in the country? Also a check.
He's my player of the week yet again because he has scored two touchdowns with receptions, two touchdowns on kick returns, and now one TD on the ground.
You literally couldn't ask for a more versatile player to plug into the offense or special teams.
I'm already looking forward to the game between the Gamecocks and Georgia on November 4th in Athens. It could very well decide the East.
Taking on Kentucky this week finally at home, Will Muschamp and his resurgent team will get to show off to their fans just how good they truly are.
South Carolina to Atlanta in December? It looks very possible right now.
Week 2 Grade: A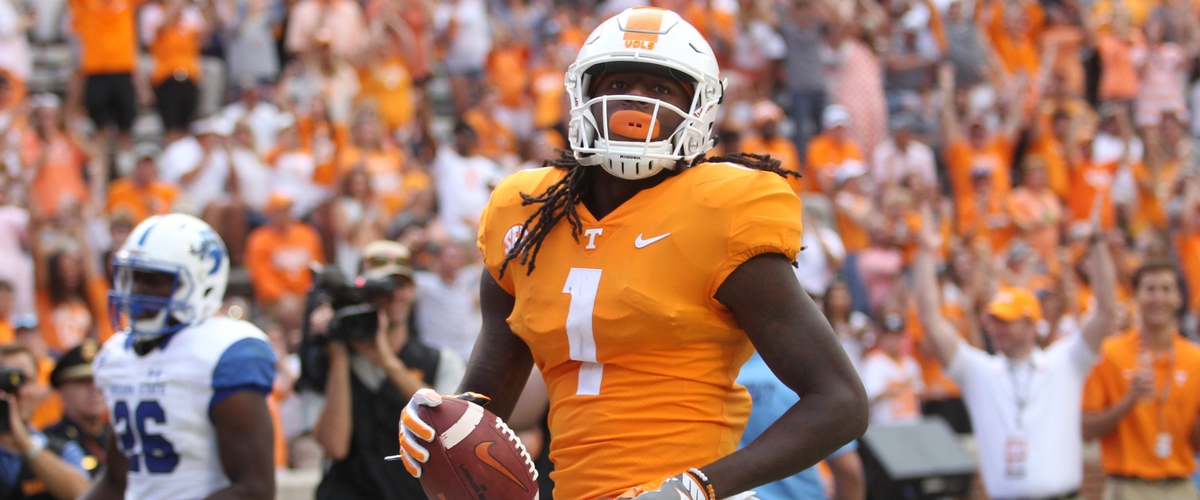 #23 Tennessee (2-0)
Week 2 Result: Defeated Indiana State 42-7
Up Next: at #24 Florida (0-1)
The Vols had an easy won before they travel to Gainesville for a game that always seems to be close.
This game isn't guaranteed to happen after Hurricane Irma pushed through the campus and the state of Florida late Sunday night - my thoughts and prayers go out to those affected by the storm - but if it does, it could be the beginning of something big in Knoxville.
If UT can get two quality wins out of three games in September, maybe they'll carry that success into the rest of the season.
Dormady still wasn't convincing quarterbacking the offense, only throwing 18 passes, but he has playmakers hungry for the ball. John Kelly was again impressive, as was wide receiver Marquez Callaway who scored a 37 yard touchdown on his only catch.
Sophomore running back Carlin Fils-aime was a surprise addition to the Vol offense, contributing three carries for 41 yards and two touchdowns.
Tennessee also got some help in special teams with an opening kickoff return of 97 yards from freshman Ty Chandler.
This is a big game this week for Butch Jones as it holds division implications.
Week 2 Grade: B+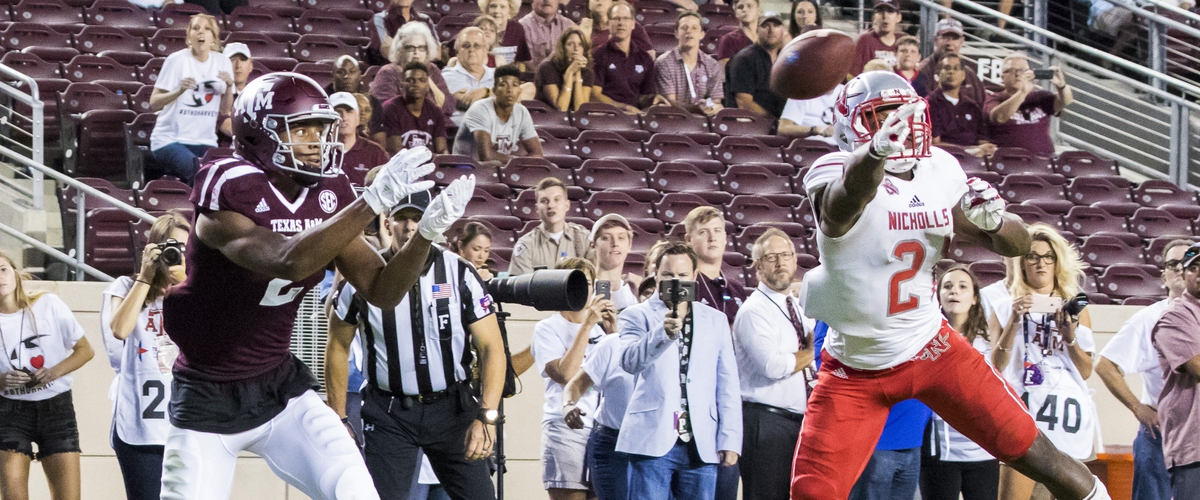 Texas A&M (1-1)
Week 2 Result: Defeated Nicholls 24-14
Up Next: vs. Louisiana (1-1)
You eyes aren't deceiving you. Texas A&M was tied with Nicholls 14-14 in the fourth quarter.
Thanks to running back Kendall Bussey, the Aggies were able to pull away (somewhat) and win by 10 but good lord. The ship is quickly sinking in College Station and Kevin Sumlin is doing everything he can to patch the continually growing holes.
A&M were better on defense this week but my goodness they can't play a full 60 minutes. They took a 14-0 lead in the first quarter and looked ready to run away with it.
However the quarterback problem continued to plague the home side. Kellen Mond started the game and threw a nice touchdown pass to put his team up 7-0 but ended with just 105 yards on 12 of 21 passing.
If A&M didn't have such good running backs, they might never score a touchdown. Lucky for them, they get another easy game this week but can they dominate a team they should easily beat for 60 minutes? It's hard to tell right now.
Week 2 Grade: D+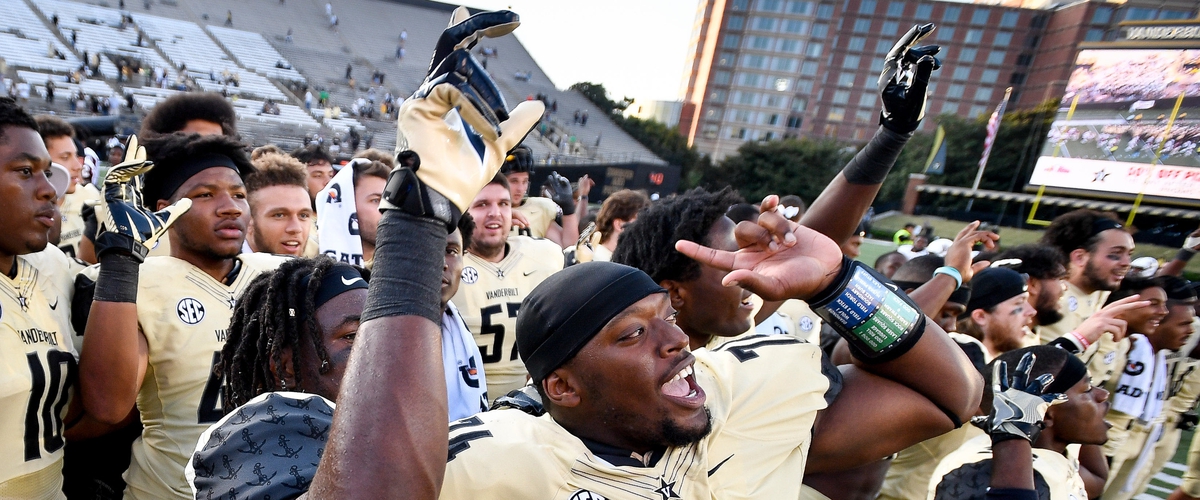 Vanderbilt (2-0)
Week 2 Result: Defeated Alabama A&M 42-0
Up Next: vs. #19 Kansas State (2-0)
Yes they've only played MTSU and Alabama A&M, but Vanderbilt looks very good. Scoring 10 touchdowns and giving up just one in back-to-back weeks is impressive regardless of who you play.
Derek Mason has the Vandy offense looking very good as Kyle Shurmur was again the most efficient QB in the conference, throwing more touchdown passes (4) than incompletions (3).
While Shurmur has been great the first two weeks, All-SEC running back Ralph Webb is yet to get going like he was expected to. The senior ran for just 54 yards and one touchdown after struggling to find room at MTSU.
This week's game against Kansas State will be a great bench mark for where exactly this Commodores team is. I don't think they will win this game, but if they can keep it to single digits, I will be very impressed.
Week 2 Grade: B+
SEC POWER RANKINGS: AFTER WEEK 1
1. Alabama
2. LSU
3. Georgia
4. South Carolina
5. Mississippi State
6. Auburn
7. Vanderbilt
8. Tennessee
9. Kentucky
10. Arkansas
11. Florida
12. Ole Miss
13. Mizzou
14. Texas A&M