Grading Each SEC Team's Week 3 Performance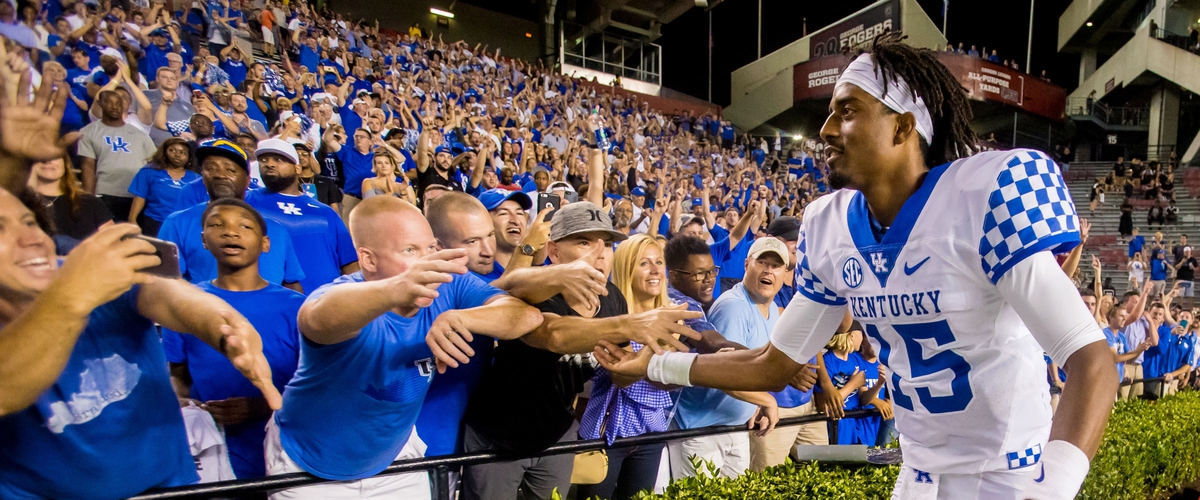 Slowly but surely ladies and gentlemen, we are getting closer to more real games in the SEC.
Week 3 was a good one in the conference of champions with Vanderbilt pulling a statement upset, the Kentucky Wildcats finally showing up for a big game, and the Florida Gators dropping a bomb on Butch Jones and the Volunteers.
I'm not going to beat around the bush, let's do it.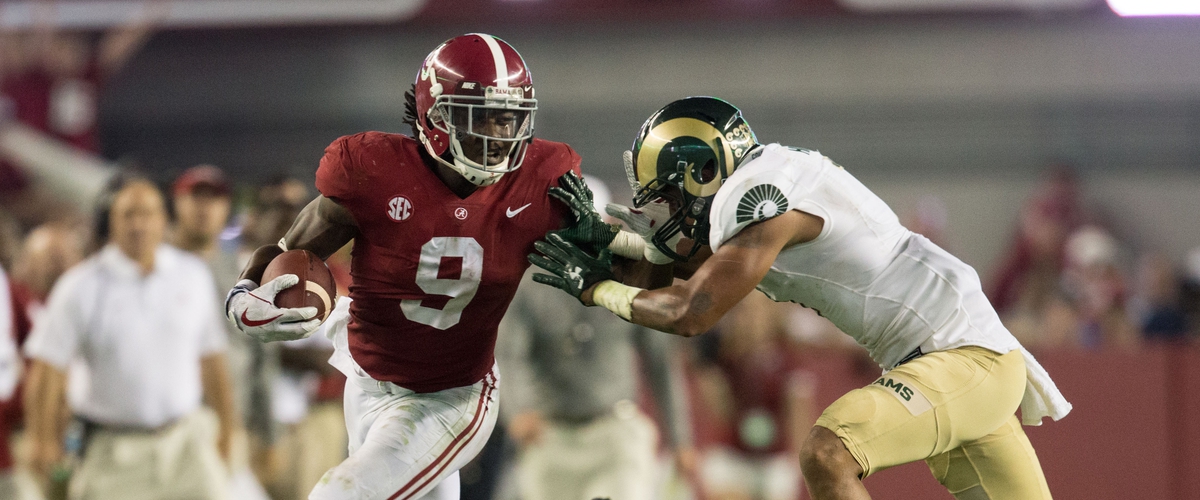 #1 Alabama (3-0)
Week 3 Result: Defeated Colorado State 43-21
Up Next: at Vanderbilt (3-0)
Yes it was another win for the #1 team in the country at home against a cupcake but again it was a pedestrian effort from an Alabama team that should be winning these kinds of games by 35+.
I was actually at this game (for the first half) and was really impressed with the amount of big plays the Tide had in the first half. Jalen Hurts scampered for a 27 yard touchdown on the opening drive barely over two minutes into the game, and on the following possession, Hurts found Calvin Ridley for a 78 yard touchdown after starting at their own five.
By the end of the first quarter, Bama was up 17-0.
If it wasn't for a 52 yard pass from Hurts to Robert Foster just before the half, Alabama would have been up just seven over Colorado State.
After scoring 24 straight and going up 41-10, Alabama took their foot off the gas. Again. That has been their biggest problem in the last two games. Slacking defense in the fourth quarter when the game is already decided.
Of course they still won comfortably, but play a complete 60 minute game! These are tune up games before the SEC schedule kicks into full gear this coming Saturday.
It won't be an easy game as the Tide travel north to face an undefeated Vanderbilt side hot off an upset win over Kansas State.
Week 3 Grade: B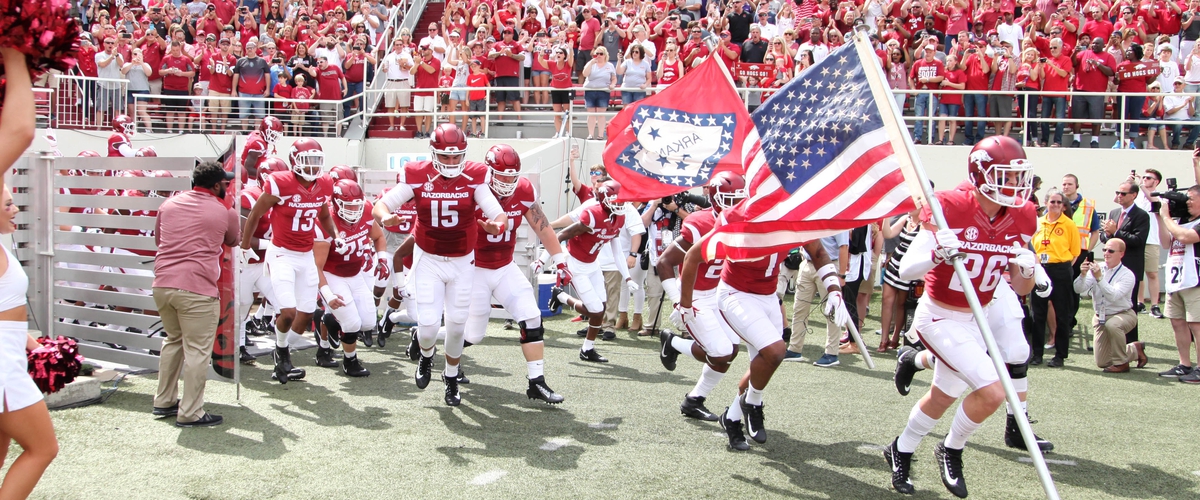 Arkansas (1-1)
Week 3 Result: Bye
Up Next: vs. Texas A&M (2-1) in Arlington
What's up with this week 3 bye nonsense Arkansas? You really need that week of rest after beating Florida A&M and getting it handed to you by TCU?
Poor scheduling.
In the game of "who's coach will get fired first" Bret Bilema will need to blow the lackluster A&M Aggies out of the water Saturday in Jerry's world.
If he doesn't, we might see a new man in charge when the Razorbacks return home to face New Mexico State.
Again, whoever made Arkansas' schedule is a moron.
Week 3 Grade: N/A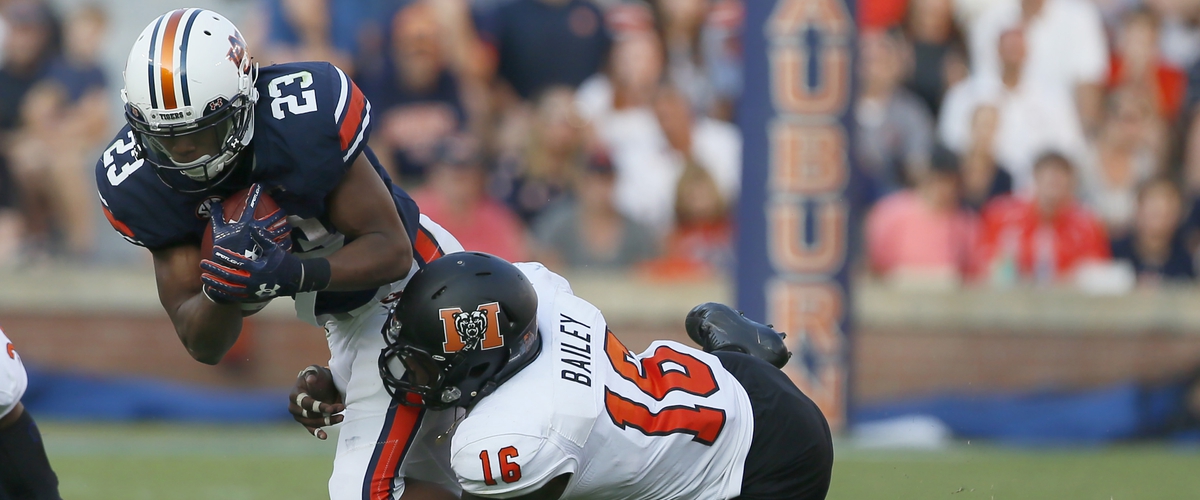 #15 Auburn (2-1)
Week 3 Result: Defeated Mercer 24-10
Up Next: at Missouri (1-2)
Anyone else on board the "Auburn is way over rated and average at best" boat? Because I am the captain of that boat.
After putting up 6 at Clemson, Auburn returns home for a cupcake game against FCS side Mercer and scores... 24 points with no passing touchdowns? Uh oh Gus, you might have a problem on your hands.
And shocker: Jarrett Stidham is not worthy of being a Heisman candidate! I said that immediately when the odds came out from Vegas during the summer and now I'm just laughing every time I see him play.
628 yards, two touchdowns, two interceptions, and he's been sacked 15 times in three games? What a joke!
He did throw for 364 yards in the game but it doesn't matter when your wide receivers can't hold on to a ball after catching it. Two wideouts fumbled, running back Kamryn Pettway fumbled one, and Stidham threw an interception.
If this was against 12 of the SEC teams (not Missouri) Auburn would have lost this game by double digits!
The defense is solid having only allowed 31 points in three games and ranking second in the country in total defense, but where is the vaunted Gus Malzhan offense?
Week 3 Grade: C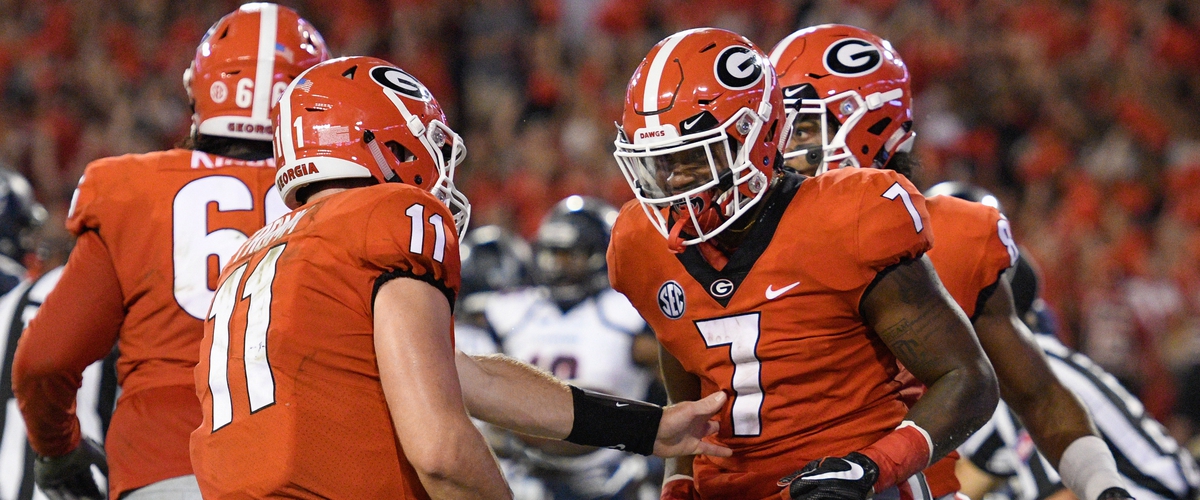 #13 Georgia (3-0)
Week 3 Result: Defeated Samford 42-14
Up Next: vs. #17 Mississippi State (3-0)
Georgia has surprisingly had a relatively easy time at home against teams they should beat clobbering Appalachian State and Samford. Couple that with a signature road win at Notre Dame and Georgia is my favorite to win the SEC East this year.
I love Kirby Smart. I loved him when he was the defensive coordinator at Alabama and I still have nothing but respect for him at Georgia. I think he has this team trending way up.
No Jacob Eason? No problem!
Jake Fromm is a freshman. He's not going to go out and win games but what he hasn't done is go out and lose games. Only one interception in two starts and pretty much three complete games and the freshman has been solid.
Thankfully for him, he has one of the best running backs in the country behind him in Nick Chubb who ran for 131 yards and two touchdowns, D'Andre Swift who has been impressive who can rotate into games.
Fromm only had to throw 13 passes in this game. He completed eight passes and three of those were TD's! That's what I call efficient.
Now Smart and the gang have to deal with Nick Fitzgerald and the impressive start from the Bulldogs from Starkville. It's going to be a very good game, maybe the best of the weekend.
Later this week, I'll write an article on my gambling picks of the weekend so I won't say anything more about the game now, but Georgia is looking very impressive.
Week 3 Grade: A-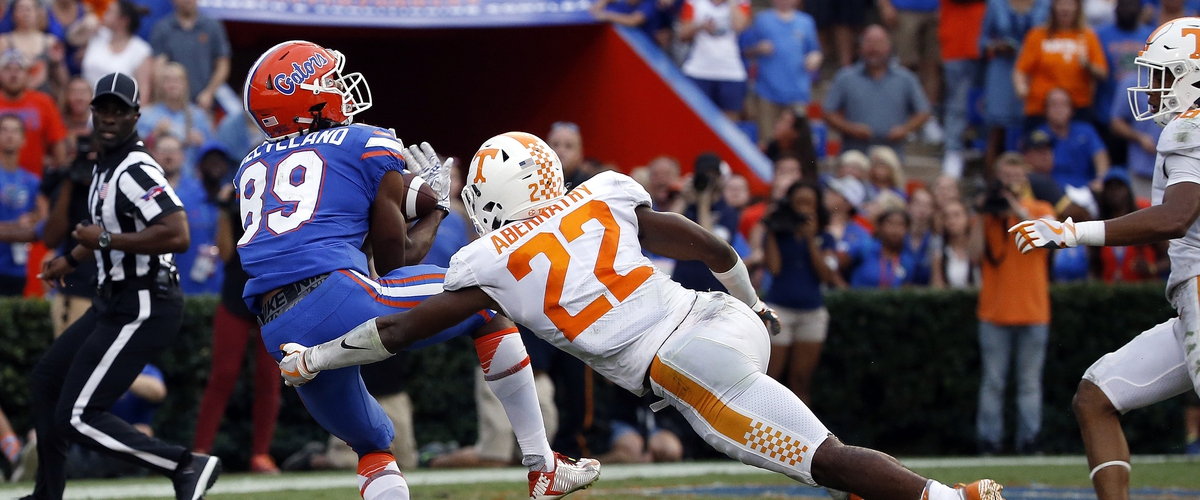 #20 Florida (1-1)
Week 3 Result: Defeated Tennessee 26-20
Up Next: at Kentucky (3-0)
I missed the freaking end of this game and I can't believe it. But wow what a throw from Felipe Franks to Tyrie Cleveland for the win. 63 yard pass at the horn to win the game over one of your rivals?
That's a way to keep your job Jim McElwain well done!
Yet again, however, Florida didn't deserve to win this game. They turned the ball over three times, lost the time possession battle, and were out gained in total yards yet won by 6 points.
Only someone like Butch Jones could manage to lose a game like this.
Not to mention, Florida was up 20-10 with 5:13 remaining in the fourth quarter yet figured out how to blow that lead. Had Cleveland dropped that ball and the game had gone to overtime, Tennessee would've won. I'm certain of it.
Now people will see what Florida really has on the road against a team that has figured out how to win close games. If Kentucky wins this game, they jump into the top 25.
If Florida wins, maybe McElwain wins a coach of the year award for scrapping together a bunch of average players and figured out how to win.
It should be very fun to watch!
Week 3 Grade: B-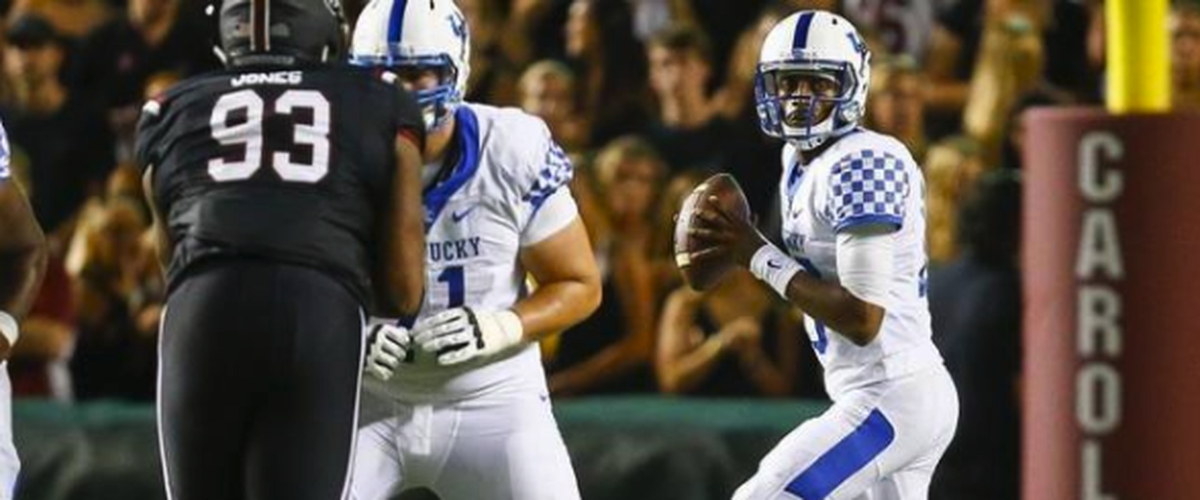 Kentucky (3-0)
Week 3 Result: Defeated South Carolina 23-13
Up Next: vs. #20 Florida (1-1)
And out of left field come... the Kentucky Wildcats?
Am I reading this correctly? I must be because Mark Stoops has the basketball school of Kentucky at 3-0 with two road wins! And one of them in conference over my previous favorites to win the SEC East.
I was shocked by this game as I put money on South Carolina again and ended up having it kick me in the ass as Benny Snell Jr. and Stephen Johnson put my foot in my mouth.
I have to give the Cats props. They played a complete game and found a way to win. Now, they look like a shoe-in to make a bowl game. And they could do it in their first six games?
They're halfway and now face Florida at home, Eastern Michigan at home, and Mizzou at home. That is an incredibly light schedule!
Quarterback Stephen Johnson has thrown for just 2 touchdowns in three games but it doesn't matter when you can run the ball yourself or hand it to Snell!
This wasn't a mind blowing performance from Stoops' team, but it was consistent. 7 points in the first and second quarter taking an 8 point lead into the half, and 3 points and 6 points in the third and fourth quarter was enough.
If Florida can stop they run, which they have struggled to do in their first two games, they could win. Otherwise, I have UK in this one.
Week 3 Grade: B+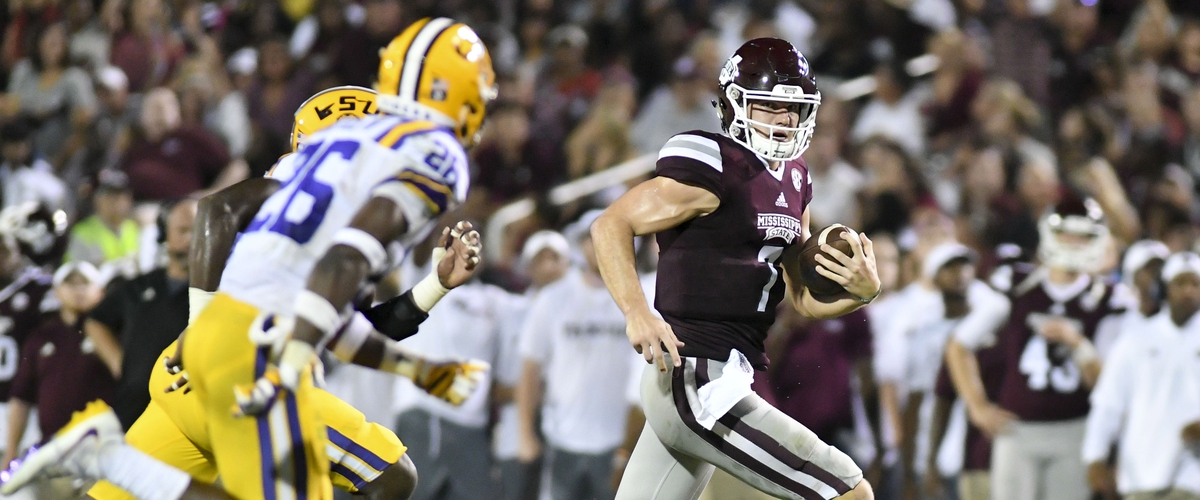 #25 LSU (2-1)
Week 3 Result: Lost at Mississippi State 37-7
Up Next: vs. Syracuse (2-1)
That collective wailing coming from Louisiana is all the fans down in Baton Rogue who again thought this was their year to challenge Alabama to win the SEC.
Well guys, you might have overlooked the Mississippi State Bulldogs.
Not only did LSU lose on the road, they got destroyed. A 30 point loss after winning two games and only allowing 10 points is devastating for coach Ed Orgeron and his team.
I don't see how they bounce back after a loss like this. The LSU defense was beat to a pulp on the ground as the State O-line bulldozed the way for QB Nick Fitzgerald and running back Aeris Williams.
The Tigers gave up 285 yards on the ground to go along with just 180 through the air from Fitzgerald.
My biggest question is one, how can LSU not recruit at least a top-10 quarterback one year, and two, how is Danny Etling still the starter? The guy has thrown for one touchdown in three games!
You stop Darius Guice on the ground, you stop the LSU offense dead. It's just that simple.
Week 3 Grade: D+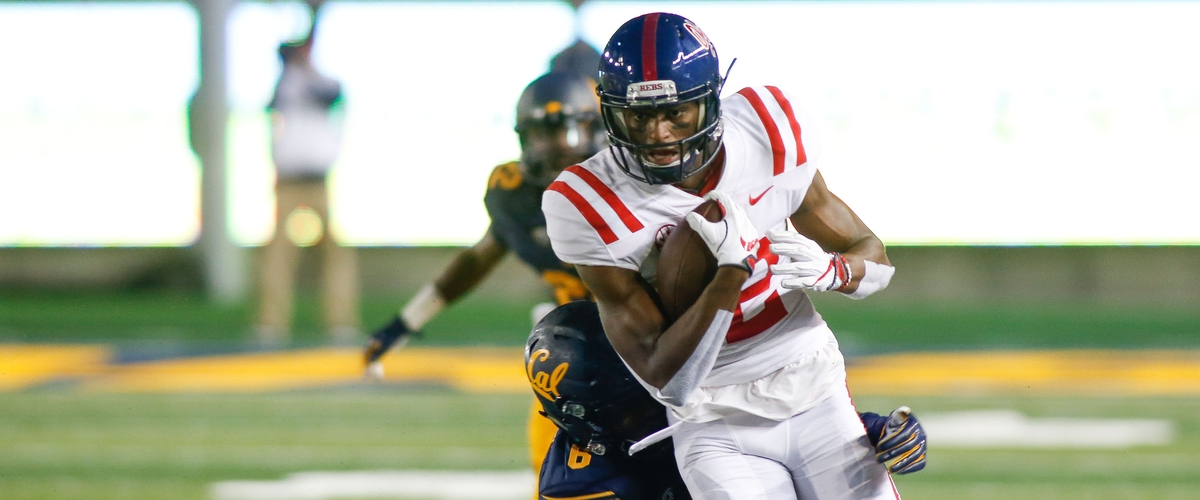 Ole Miss (2-1)
Week 3 Result: Lost at California 27-16
Up Next: Bye
I'm just going to cut straight to the chase, I don't care about Ole Miss at all and don't feel the need to analyze their games.
So from here on out with my gradings, I'll only write a couple sentences on them.
Leading 17-6 at halftime wasn't enough as Cal scored 20 straight and Shea Patterson threw 3 interceptions.
Three losses in a row inbound for the Rebels as they have this week off, then will travel to Tuscaloosa and Auburn. Bye bye Ole Miss.
Week 3 Grade: N/A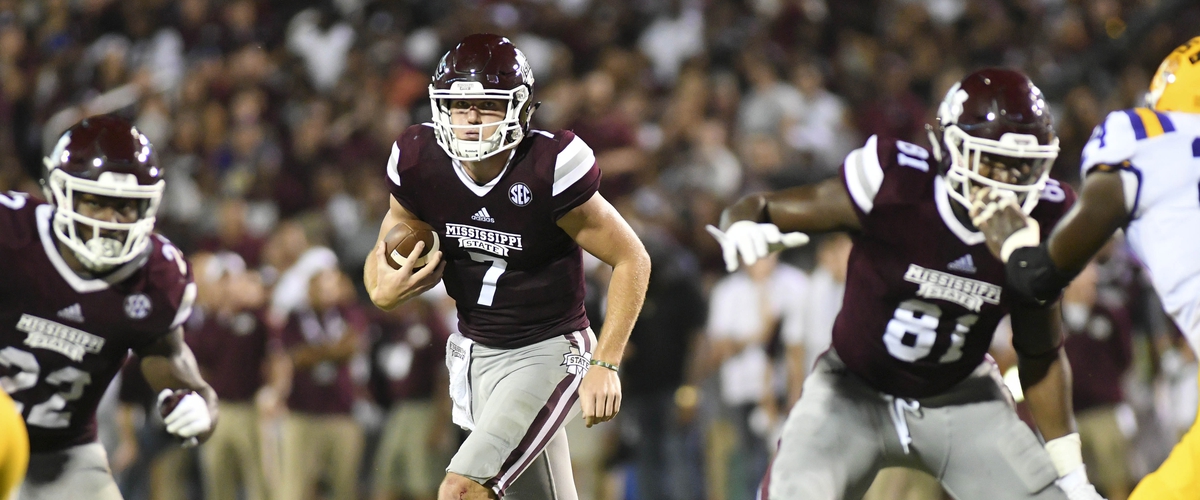 #17 Mississippi State (3-0)
Week 3 Result: Defeated LSU 37-7
Up Next: at #13 Georgia
Holy Hail State! I said the Bulldogs were good but wow I didn't think they were this good.
Without a shred of doubt, I give them my team performance of the week award after blowing away what I thought was a great LSU defense.
Not only did they drop 37 points on the Tigers, but they allowed just 7. Guise was nonexistent, Etling was horrible, and the defense couldn't get off the field in key downs.
My player of the week award goes to Nick Fitzgerald for 4 total touchdowns and nearly 300 total yards.
This kid is a big time playmaker and this is a perfect example of what I was talking about with my LSU grade. How can Mississippi State get quarterbacks like Dak Prescott and Nick Fitzgerald while they are stuck with Zach Mettenberger or Danny Etling?
It's honestly absurd.
Like I said earlier, this Bulldog-Bulldog matchup in Athens this weekend is going to be a fantastic game and I can't wait to see it.
Week 3 Grade: A+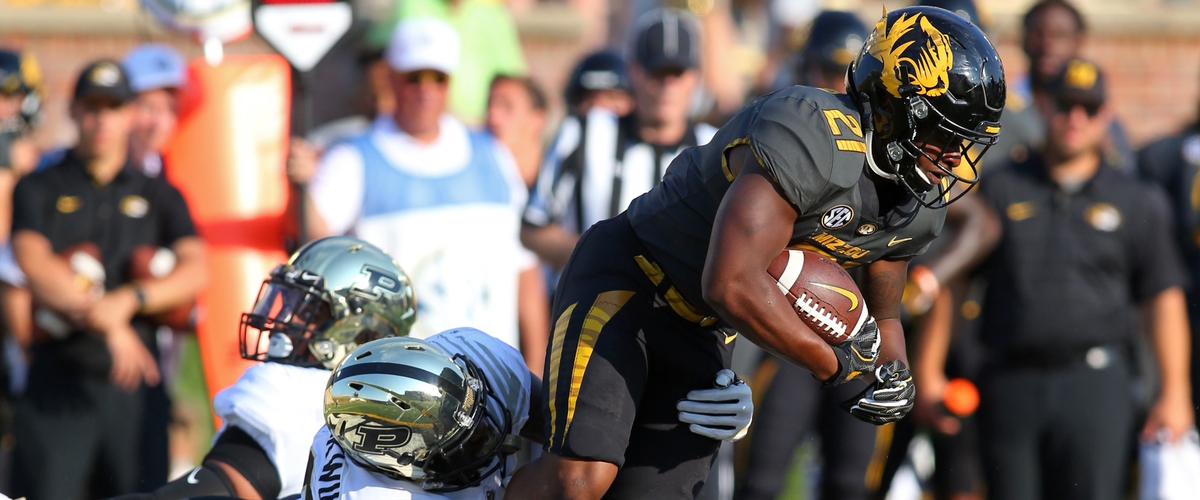 Missouri (1-2)
Week 3 Result: Lost to Purdue 35-3
Up Next: vs. #15 Auburn (2-1)
Do you know how to spell dumpster fire? M-I-Z-Z-O-U.
Tune into to my live stream on Sportscastr if you want to hear me rant about this team. My fingers, and your attention span, couldn't take the amount of stuff I have to say about this piece of crap recreation team.
Week 3 Grade: F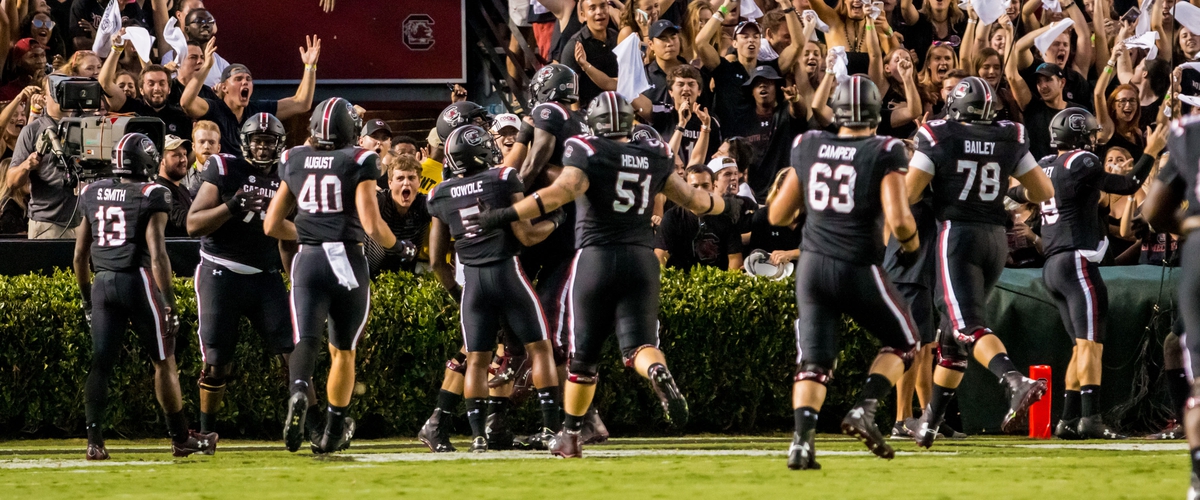 South Carolina (2-1)
Week 3 Result: Lost to Kentucky 23-13
Up Next: vs. Louisiana Tech (2-1)
I'm not a South Carolina fan by any means, but man I was sad when I saw Deebo Samuel get hurt.
The winner of my player of the week award in week 1 and 2 and now out for the season.
It's really hard to find any positives from this game as Kentucky came in and shut down what had been an explosive Gamecock offense and now they will be without their best player for the remainder of the season.
It's not the end of the world but it's a tough week for SC fans.
Week 3 Grade: C-
Tennessee (2-1)
Week 3 Result: Lost at #20 Florida 26-20
Up Next: vs. UMass (0-4)
Butch, Butch, Butch. How do you come back from a loss like that? I guess you play a winless, bottom of the barrel FBS team and hope that you win by a lot.
The Tennessee hype train has been officially derailed and this Vols team is one hair away from firing their head coach of five years after another woeful loss to their rivals.
Quinten Dormady is proof that Josh Dobbs was actually a good quarterback as the junior threw 3 INT's in the loss with just one touchdown.
The biggest thing for Tennessee moving forward is their consistency on offense. Yeah they looked good in the fourth quarter scoring half their points, but where were they the rest of the game?
Not only does Tennessee basically knock themselves out of chance to make it to Atlanta for the SEC Championship game, they also have to worry about making a bowl.
I think if UT finishes with 8 wins or less, Butch is gone before Christmas.
Week 3 Grade: D+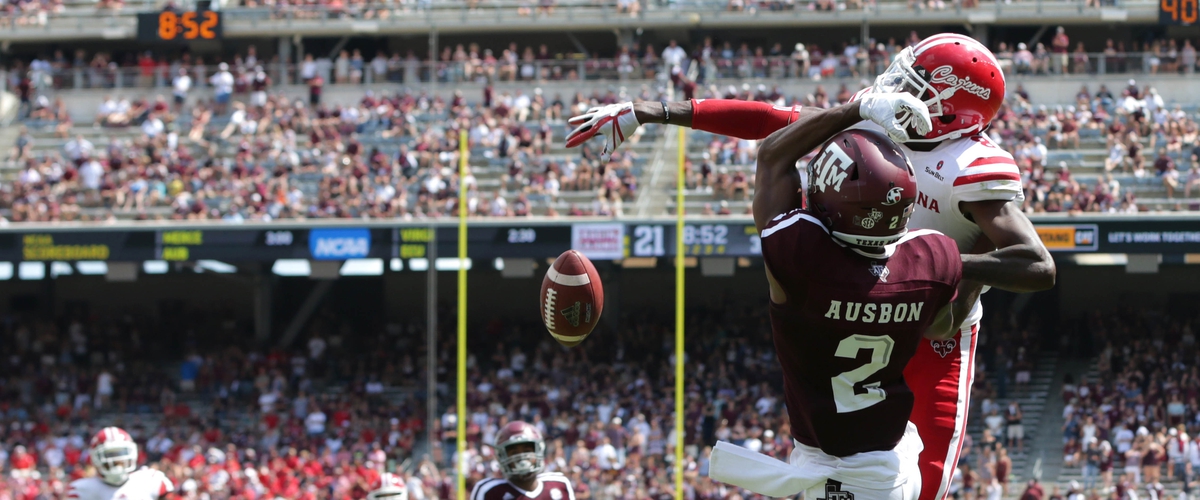 Texas A&M (2-1)
Week 3 Result: Defeated Louisiana 45-21
Up Next: Bye
I don't know what there is left to say about this A&M team and it's only week 3.
They're just really bad and I'm not too sure why.
Yeah they are weak at quarterback, but they have lots of playmaking running backs and wide receivers who should help at least somewhat.
Again, A&M had to rally to beat a team they should've blown out of the water to begin with. However, Louisiana lead 21-14 at halftime and it took 31 second half points from the Aggies to win by an even respectable amount.
Kellen Mond was better, throwing for 301 and three TD's. But still, this A&M side is missing a lot of pieces and about to run into a buzzsaw that is SEC conference play.
Week 3 Grade: C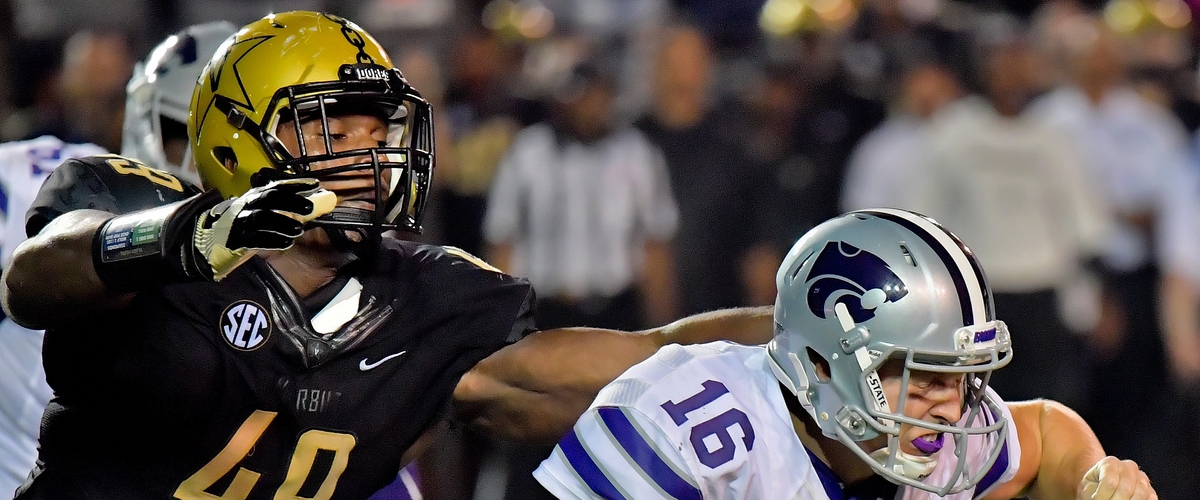 Vanderbilt (3-0)
Week 3 Result: Defeated Kansas State 14-7
Up Next: vs. #1 Alabama (3-0)
Talking a team trending upward, the Vanderbilt Commodores have grabbed the attention of everyone in the country after a signature non-conference, top 25 win over K State Saturday night.
Kyle Shurmur has improved so much from the bowl game to this season it's mind boggling.
Head coach Derek Mason doubling as the defensive coordinator has been a great success, and the players are overflowing with confidence.
It was all defense against the Wildcats but Vandy's defense might rank in the top 10 to finish this year if they can play half this well the remaining nine games.
Only allowing 13 points in three games, regardless of who you play, is a great showing.
I will be in Nashville this weekend for the game and I can't believe how much hype is revolving around this game of all games.
Do I think Vanderbilt has a chance? Eh, maybe.
Week 3 Grade: A
SEC POWER RANKINGS: AFTER WEEK 1
1. Alabama
2. Georgia
3. Mississippi State
4. Kentucky
5. Vanderbilt
6. Florida
7. Auburn
8. LSU
9. South Carolina
10. Arkansas
11. Tennessee
12. Ole Miss
13. Texas A&M
14. Mizzou