Losing James Neal is Not the Worst Thing for the Nashville Predators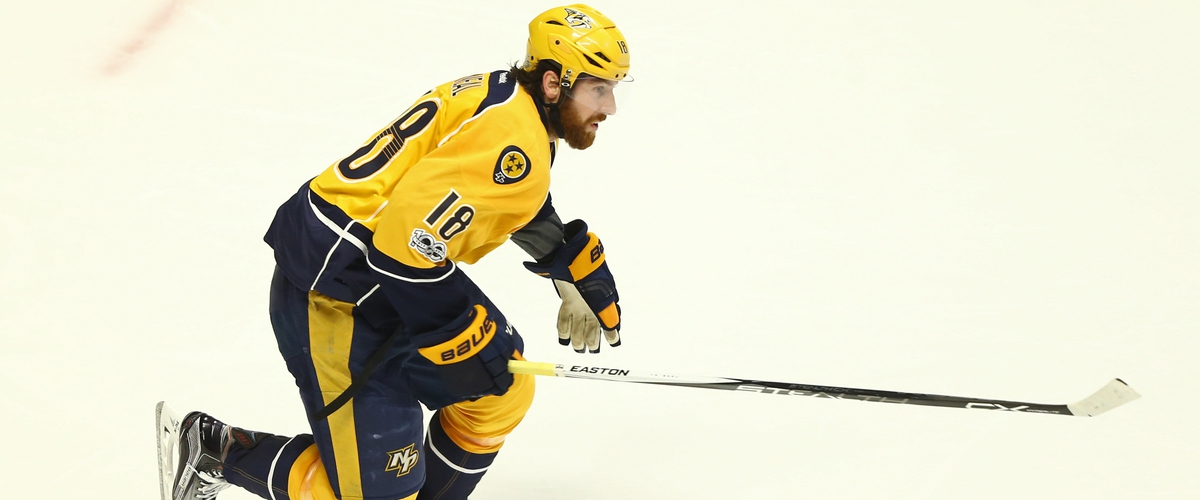 In the summer of 2014, Predators general manager David Poile made a bold trade prior to the Entry Draft, sending goal scorer Patrick Hornqvist to the Pittsburgh Penguins in exchange for another goal scorer, James Neal.
Three summers later, Neal will be leaving Nashville for Las Vegas, as he will become a member of the 31st NHL team, the Vegas Golden Knights. The left winger just completed his third year with Nashville, and it was one of his worst with the team.
Some Preds fans worry the departure of the 29-year-old Neal will hurt the team going forward. I'm here to tell you all that it won't. At all. Here's why:
Neal is Getting Older, and Scoring Less
In three full season with Pittsburgh, Neal scored 88 goals, scoring a career high 40 in the 2011/2012 season, helping the Penguins to a fourth place finish in the Eastern Conference.
In three full seasons with Nashville, Neal accounted for just 77 goals, and finished with one of the worst /minuses in his career with -10 this past season.
Safe to say, Neal's production numbers have started to taper off. Considered to be a sniper and a go to scorer, Neal was becoming less and less influential for the Preds' offense.
Not to mention, Neal is now pushing 30-years-old, and he has been in the league since 2008, where he debuted for the Dallas Stars. I was a fan of Neal throughout his time in Nashville, it just felt like he wasn't as important to the team as someone like Filip Forsberg or Victor Arvidsson who are very influential even if they aren't scoring goals game after game.
Neal's Contract was About to Expire/Frees Cap Space
James signed a 4-year, $20 million contract back in 2014 after being traded, meaning he only had a year left on his current deal with the Predators. And would the Predators have resigned him if he had stayed through this upcoming season? I seriously doubt it.
Paying a player $5 million for one season, and having him only contribute 23 goals and 18 assists, when he is supposed to be contributing 50-60 points, seems a little bit unreasonable. With his departure, the Preds now have more cap space freed up to either resign players who have contracts expiring this summer, such as Ryan Johansen, Austin Watson, and Victor Arvidsson.
Not to mention, Neal wasn't a figure head for the team's forward lines. He spent most of the year playing between the second or third lines, below players who are seven years his younger.
The Departure of Neal Offers Younger Players a Chance to Move Up
The Predators have lots of good young talent. And that is thanks to great development in the AHL by the coaching staff at the Milwaukee Admirals, and through great scouting.
Players such as Austin Watson, Colton Sissons, Pontus Aberg, and Kevin Fiala really showed how good they can be in a couple years with a great showing in the playoffs.
Neal leaving, clears up space for these players to have a bigger role in the team and get more playing time. I am always a big advocate for finding promising talent and bringing them up through the ranks and getting them playing time so they can learn the game.
I have lots of confidence in the young talent within the Nashville organization, and I have nothing but respect for James Neal and everything he did while a member of the Predators.
He will be missed, but losing him isn't the end of the world.