Predictions for the Best Games in College Football this Weekend: Week 11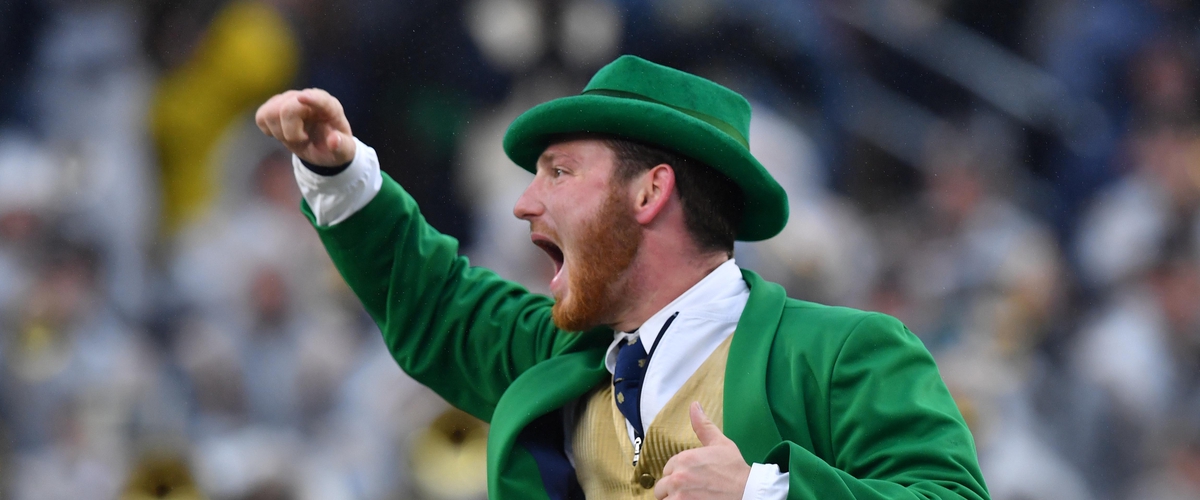 Welcome back to another week of college football predictions here on Hot Take! Last week went pretty well for me, going 4-1 with only the disappointment that is Penn State being the one blunder in my picks.
To be honest, I was dumb to pick them coming off a horrendous loss to Ohio State. If I ever pick one of their games agains, I can guarantee I won't be backing James Franklin's side.
Thanks to the help of my cousin, Clay Crews, I will pick 5 of the biggest games this weekend three other games that aren't as important. I call these my 'bonus picks of the week.'
With so much to get to, let's dive in!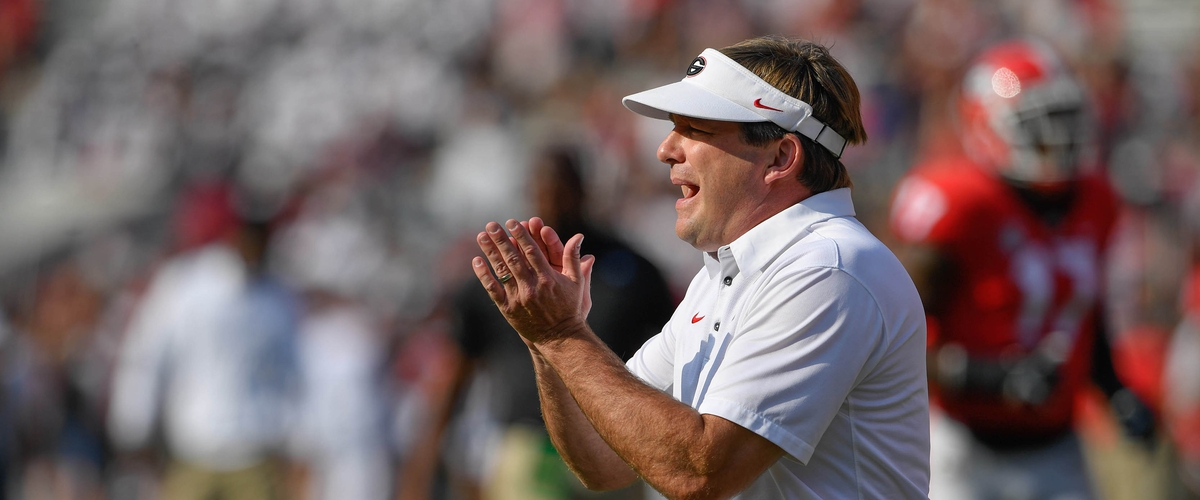 #1 Georgia (-2.5) @ #10 Auburn
It's clear to me after this week's College Football Playoff rankings that Georgia is going to be #1 the rest of the season unless they lose.
Regardless of their performance.
The Dawgs are coming off a not so pretty 24-10 win over a mediocre South Carolina side but in all fairness, they didn't Georgia the game up after topping the rankings for the first time since Herschel Walker was in the backfield.
This week will be the Bulldogs toughest test of the season as they travel to play #10 Auburn.
Jake Fromm continues to manage the games much like the QB's we've seen Nick Saban have at Alabama the last six years or so. He doesn't blow you away with big plays or gaudy stats, but he doesn't make mistakes either.
The two-headed monster of Nick Chubb and Sony Michel will have a tough test against an Auburn defense that ranks 9th in the country in points allowed per game (16.9).
Let me be clear before I make this pick, I go to Alabama and I despise Auburn.
But I feel like the Tigers are going to win this game. Call me crazy, but I just have a feeling that something is going to give and Georgia makes a few costly mistakes and mucks this game up.
I don't think Jarrett Stidham is a world-class quarterback, but he doesn't need to be.
I'm taking the Tigers.
Score: Auburn 28 - Georgia 20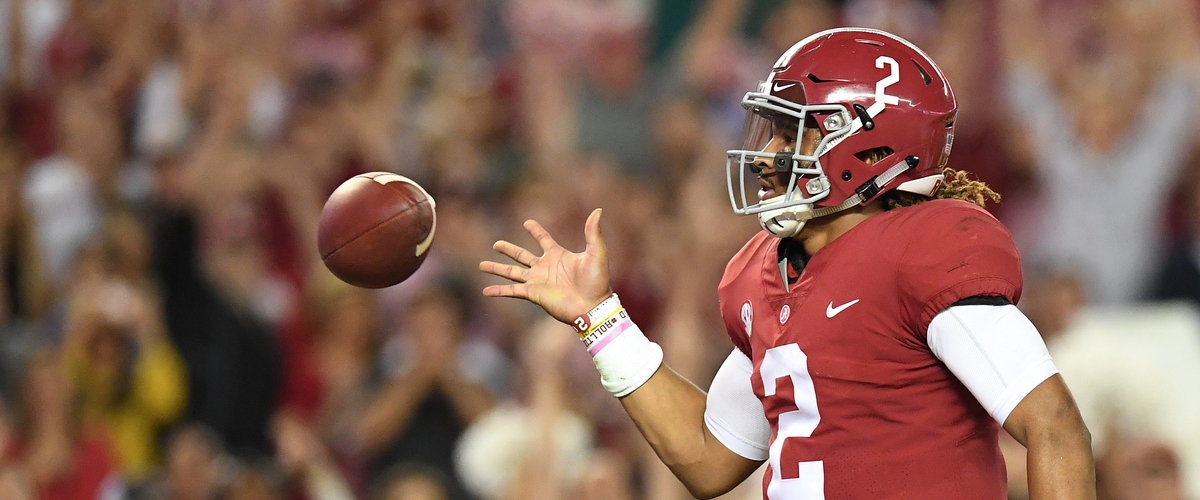 #2 Alabama (-14.5) @ #16 Mississippi State
Yet again, the Crimson Tide are double digit favorites despite playing a top 25, SEC opponent, while on the road.
Bama is playing consistent, not so flashy, football. They don't have crazy stats or blow teams out on the scoreboard, but they win with ease. If you didn't watch last weekend's game against LSU, you might have thought a 24-10 final was a close game.
In reality, it was not.
Jalen Hurts and company took a 14 point lead on the Tigers just under 16 minutes into the game and never looked back.
LSU cut the lead to 11 late in the third quarter but it was all Bama from start to finish.
Now with the Bulldogs of Mississippi State on the horizon, Alabama has a chance to build their resume with back-to-back top 25 wins. The last two seasons these two teams have met, the Crimson Tide have dominated, winning by a combined total of 82-9.
Nick Fitzgerald had his worst game of 2016 in State's 51-3 loss in Tuscaloosa, and he will be looking to get some revenge. While I think State is a decent team, I can't see them hanging with Alabama.
Even though the Tide have now lost four linebackers to season ending injuries.
Saban has yet to lose to Dan Mullen and the Tide as a team haven't lost to State since Saban's first year in charge back in 2007.
The streak will continue this weekend as Bama takes care of business.
Score: Alabama 35 - Mississippi State 17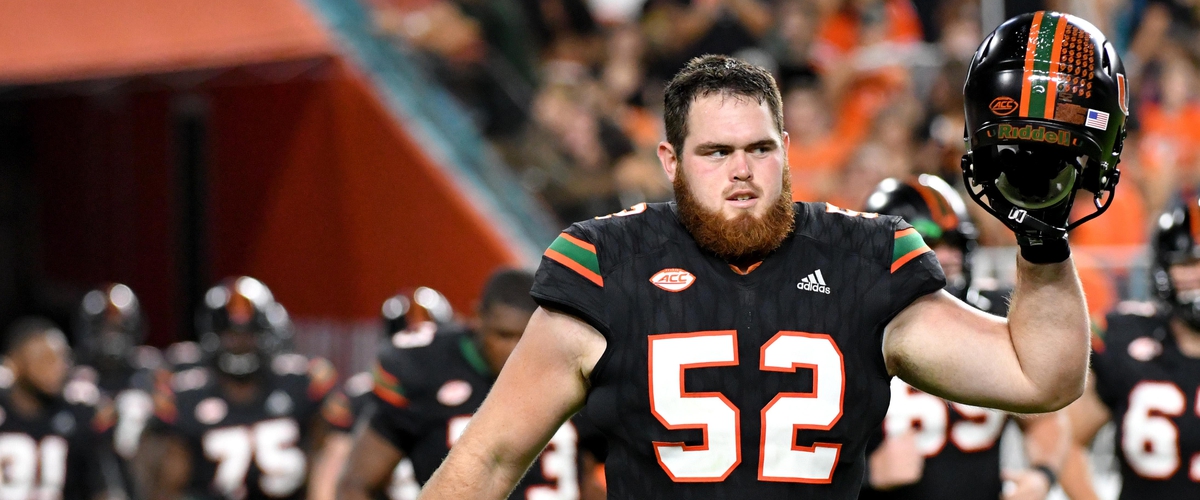 #3 Notre Dame (-3.5) @ #7 Miami
The classic, "Catholics vs. Convicts" rivalry is back! I am most excited to watch this game on Saturday night as the undefeated Canes host the one-loss Irish in Miami.
Miami is coming off an emphatic double digit win over top 25 side Virginia Tech despite being underdogs (I told you guys Miami would win). Now, Miami will have to win the biggest game in program history maybe since the early 2000's.
After losing to Georgia in the second game of the season by 1 point, the Fighting Irish have looked like a complete team, dismantling both USC and NC State in back-to-back weeks.
Notre Dame QB Brandon Wimbush has rushed for more touchdowns than he's thrown for (13 rushing, 11 passing) and has turned the ball over almost not at all.
Running back Travis Homer had a huge night a week ago against Tech and if the U are to win this huge game, they're going to have to run the ball like that again.
Malik Rosier can't throw three interceptions like he did last week. Notre Dame are too good of a team to be careless with the ball and if they have the chance, they will score. Lots.
I took them last week with confidence and I'm going to do it again this week.
Give me the Canes in a nail biting, action packed game under the lights in Hard Rock Stadium.
Score: Miami 28 - Notre Dame 25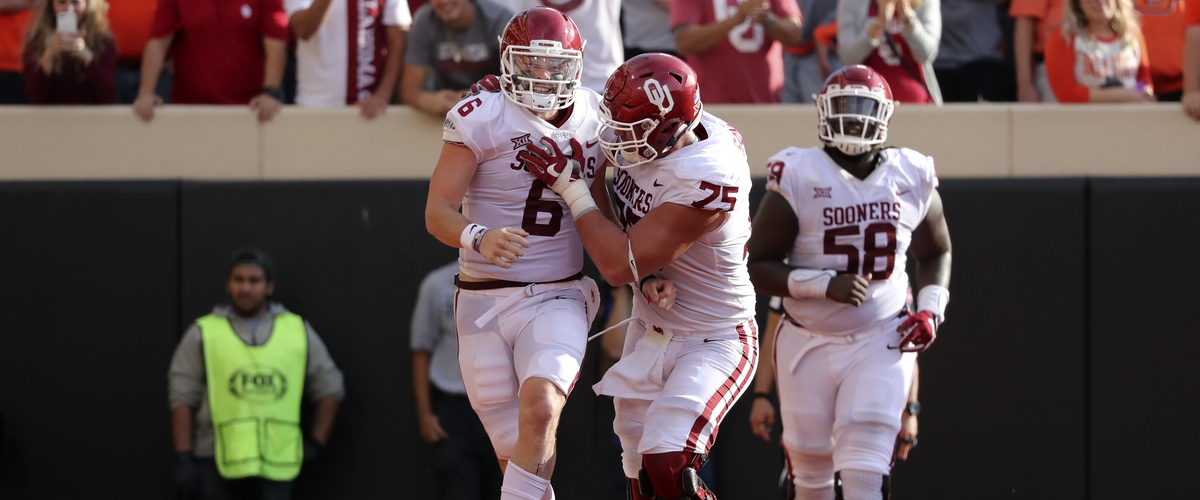 #5 Oklahoma (-6.5) vs. #6 TCU
Prepare yourself for another offensive showcase in the Big 12. The Sooners got a huge win over rival Oklahoma State last weekend on the road, and now they will get a chance to host a top 10 side in TCU.
Both of these teams come into this huge game 8-1 and 5-1 in conference play. The funny thing is, both TCU and Oklahoma have both lost to three loss Iowa State.
Otherwise, they have been the two best teams in the Big 12 this season. Not only does this game hold CFP implications, but it will also likely decide the winner of the conference.
If Oklahoma can win this game, they finish the season with two easy games against Kansas and West Virginia. TCU on the other hand finishes at Texas Tech and home against Baylor.
So who gets the edge in this huge game? I got the Sooners.
That loss to Iowa State was a wake up call to this side and they've shown you don't need a good defense, let alone a mediocre defense, to win games, especially when you have a quarterback like Baker Mayfield who can throw for 500 yards + and 5 TD's a game.
I think the over/under of 62 is for sure going to go way over, so throw some money at it if you have it!
Score: Oklahoma 52 - TCU 41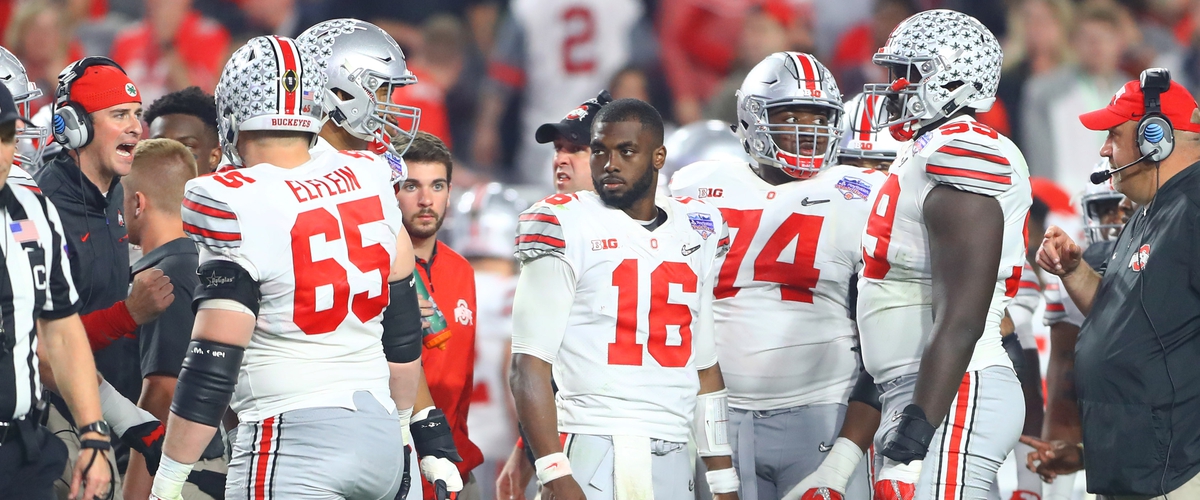 #12 Michigan State @ #13 Ohio State (-17)
Another game that holds huge conference implications on Saturday is this match up between the two 'States'.
With both teams at 5-1 in the Big 10 East, the winner will likely clinch the division and head to Indianapolis to take on Wisconsin in the conference title game.
What's shocking to me is that Ohio State is favored by this much after losing like they did to Iowa last week. How can you lose by 31 on the road to a team that is now 6-3 and then come back and be favored by more than 2 scores?
Michigan State are no cupcake side. They have quality wins over Michigan and Penn State, and take out the shock loss to Northwestern in overtime, they've only lost to Notre Dame, albeit by 20.
Yeah Ohio State is good, but I don't trust them one bit after that showing last week in Iowa. I think they'll win, but no way they cover this huge line.
Score: Ohio State 28 - Michigan State 21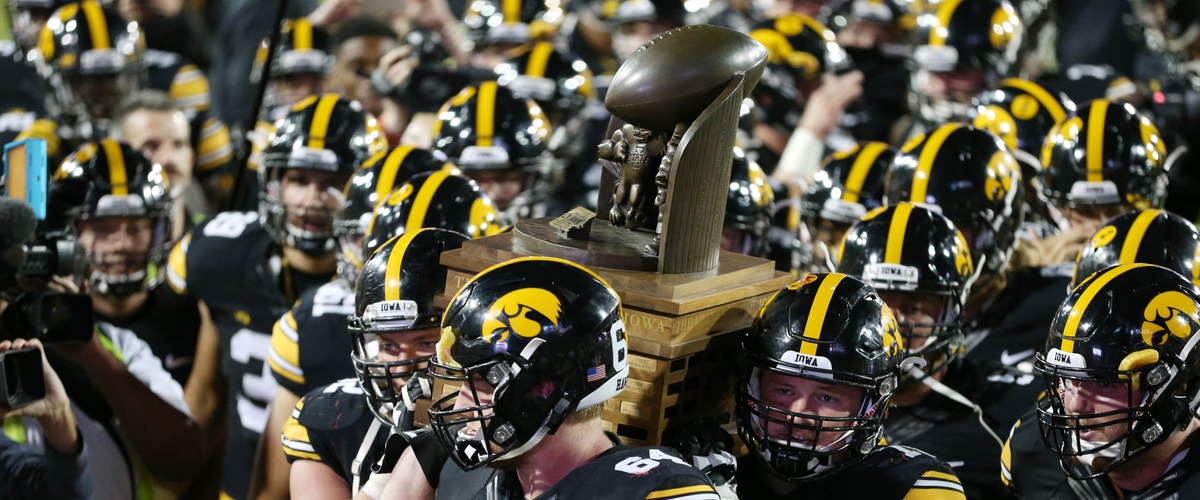 Bonus Picks of the Week
#4 Clemson (-15.5) vs. Florida State
Easy win for the Tigers here. At home against a team with a losing record and a backup quarterback, if Dabo doesn't have his team up by 20 by halftime, Clemson should drop out of the top 4.
After this game, Clemson can basically cakewalk their way into the playoffs hosting The Citadel and traveling to South Carolina.
Score: Clemson 45 - Florida State 7
#8 Wisconsin (-12.5) vs. #20 Iowa
Don't sleep on the Hawkeyes!
They crushed Ohio State last week and should've beaten Penn State but ended up allowing the game-winning touchdown on the final play of the game.
Wisconsin finally gets a true test this season and it doesn't come until game #10. Crazy right? If you were curious why an undefeated Big 10 team was 8th in the rankings, it's because the Badgers have played just two teams all season with a winning record (Florida Atlantic and Northwestern).
So I'm skeptical as to how good this team is. I know what Iowa is all about. They play everyone tough and have a solid defense that ranks 16th in the country in points allowed per game (18.1).
I think Wisconsin grind out a win, especially with it being at home, but I don't think they cover. Expect another low-scoring, close Big 10 game.
Score: Wisconsin 20 - Iowa 13
#15 Oklahoma State (-6.5) @ #21 Iowa State
The final game on the predictor slate for this week is this top 25 Big 12 matchup with the Cowboys traveling to face the Cyclones.
Both teams lost crucial games last weekend but that doesn't mean they have nothing to play for here.
Iowa State beat Oklahoma in Norman, while Okie State lost to the Sooners at home. So that must mean Iowa State should win this game right?
Wrong. The Cowboys will take this one with a great showing from Mason Rudolph.
Score: Oklahoma State 49 - Iowa State 27
Enjoy all the games this weekend!