Joe Burrow Transfers From Ohio State Buckeyes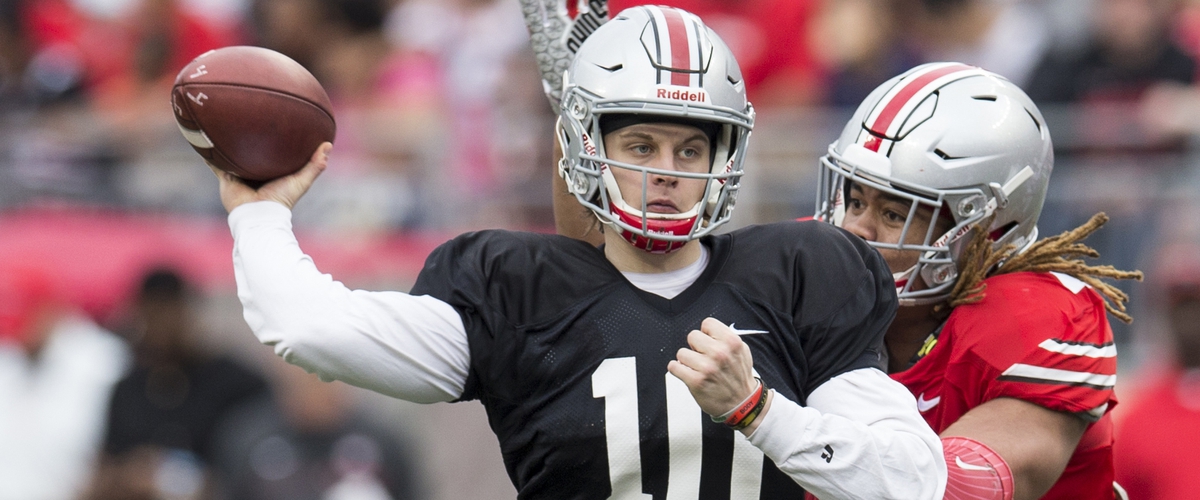 If you needed more proof of how deep the quarterback rotation is with the , look no further than the decision of Joe Burrow. On Tuesday, Burrow announced his decision to transfer from the Buckeyes after three years on campus. The former four-star recruit never started a game. However, he did appear in 10 games over the last two seasons.
During his redshirt freshman year, Burrow completed 22-of-28 passes for 226 yards and 2 touchdowns. He earned the backup role behind J.T. Barrett. Unfortunately, a leg injury forced Burrow to miss critical time last season. Eventually, he was replaced by Dwayne Haskins as the No. 2 quarterback. Burrow was never able regain his spot in the lineup. Moreover, there was a great chance he wouldn't have won the starting quarterback job for the 2018 season.
In addition to Haskins, the Buckeyes have Tate Martell vying for the quarterback position. The last time the Buckeyes had so much upheaval prior to a season, they won the national championship 2014. Remember, they entered the summer with Braxton Miller has the starting quarterback. However, injury forced the Buckeyes to use a little-known freshman quarterback named Barrett. He won the starting job over Cardale Jones. In the end, both quarterbacks were needed for the Buckeyes to win the national title.
Burrow graduated from Ohio State over the weekend. His father Jimmy Burrow may have let the cat out of the bag during this photo. A couple of days later, the younger Burrow confirmed what many people suspected.
Due to Burrow's ability, this has to be a fairly tough decision. However, this is the perfect time for Burrow to move onto a new opportunity. If he did earn the No. 1 spot, Burrow could lead the Buckeyes to the College Football Playoff. However, the prospects of not seeing any action would be rough.
Furthermore, Burrow will have two years of eligibility left. Therefore, he has an opportunity to truly learn a new system wherever he winds up. He will also be able to play immediately due to his graduation. He plans on making a decision within the next two weeks. Burrow will have as many as six potential destinations.
In reality, each spot looks like a great place for Burrow to land next season. The Florida Gators, Nebraska Cornhuskers and UCLA Bruins all have new head coaches. Moreover, they may each vie for conference titles within the next two seasons. Burrow can start for any of those teams next fall. A pair of Ohio schools are also on the radar, including the Ohio Bobcats where Burrow's father is the defensive coordinator. Keep an eye out on the Texas A&M Aggies as well.