Chicago Blackhawks: Once Bitten Twice Shy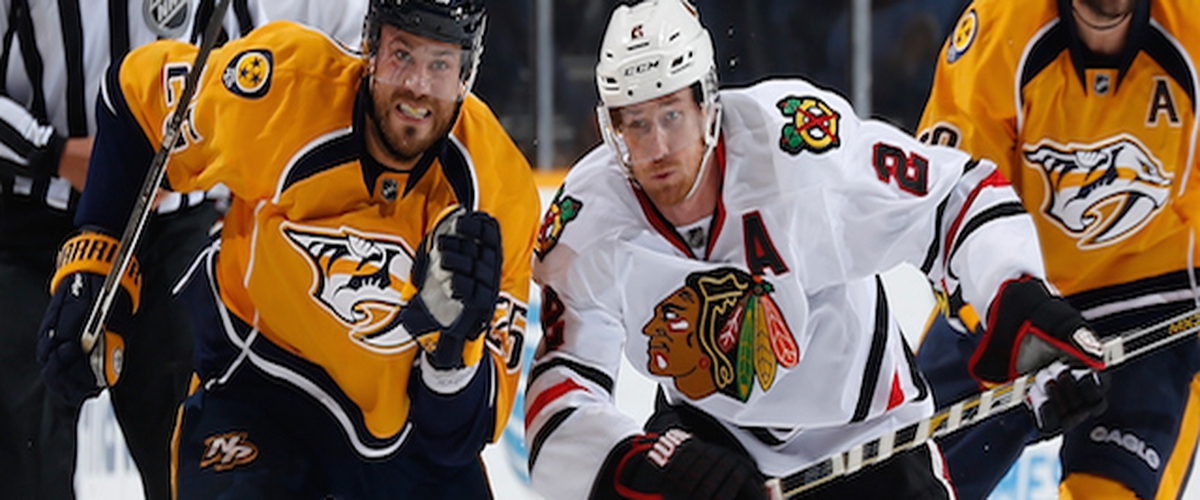 NASHVILLE- There is no better place than the Music City to get your groove back and the Blackhawks did just that against the Predators on Tuesday night.
With the clock ticking down for the regular NHL season, the race for a place in the post-season only speeds up. There are now only 33 games left in the 81 game-season, the half-way mark has come and gone. Now is the time where teams look to see where changes need to be made and where more work needs to be put in. For the Hawks, time and effort can mean the difference between a post-season run and ending their current post-season streak.
Tuesday nights win could perhaps be from the continuing momentum from their win last Thursday night in the Motor City. A fire that burns from deep within to show the NHL that the Blackhawks are not going to go down without a fight.
To start the scoring off for the night was David Kampf with a wrist shot goal 3:03 in the first period. Kampf was joined by teammates Vinnie Hinostroza and Tomas Jurco to celebrate his second goal this season.
The Blackhawks lead was taken from them in the second when Predator's center Kyle Turris scored off a slap shot early in the second. Following was Vinnie Hinostroza who also scored off of a slap shot at 14:33 in the second to end the scoring for the night.
Tuesday nights win comes at a crucial time in the season for the Blackhawks. They currently sit in last place in the Central Division and are four points away from being in a wild-card position. Jonathan Toews commented, "Our division, and our conference, there's so many teams competing for playoff spots. Everybody has that belief. You're going up against that every night, you're going to have to earn every bit of success you get."
Success that is going to have to come from places where the Blackhawks are going to have to dig deep to find. For now, they are taking it is step-by-step and game-by-game as to ensure they do not get bit again.
The Blackhawks will have a short turnaround and hit the road to play the Vancouver Canucks on Thursday night.