How will the Chiefs season play out?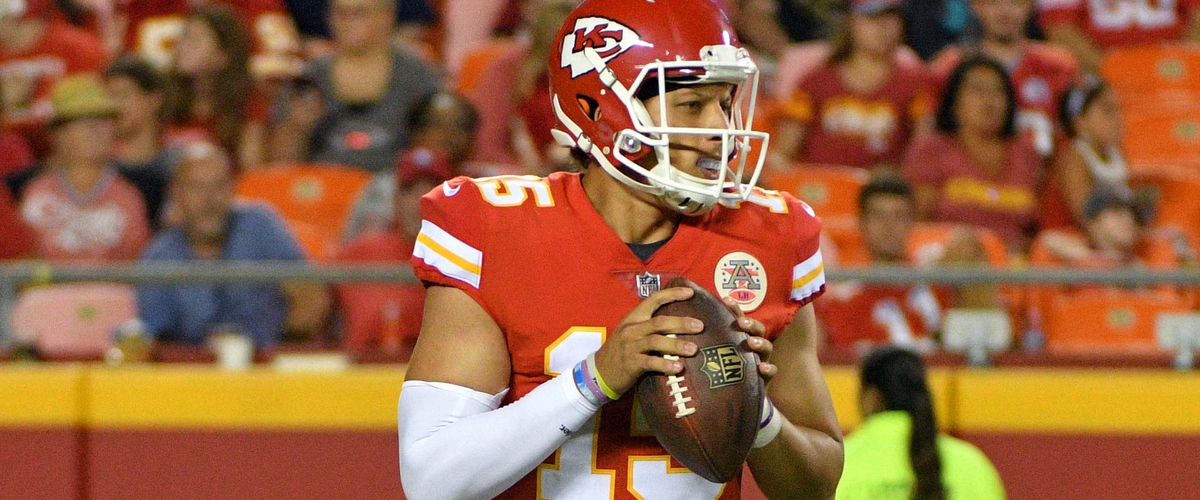 The Kansas City Chiefs just wrapped up their first pre season game a few days ago and there is a lot to be excited about! With pre season comes the foreshadowing of another exciting season. Kansas City and their fans have many hopes and expectations for the 2017 season. Hoping to wash out the bad taste left in the mouths of many, losing a playoff game in which they could not score a touchdown. As we all wait with baited breath for another chance to get a glimpse of the 2017 Chiefs and first round pick Patrick Mahomes it is time to make season predictions.
Game one, @ Patriots, TNF: Opening up the season on Thursday night football against the defending super bowl champions is a huge deal. Even bigger, they take on the most dominating franchise of the last decade and a half. A close game will legitimize the Chiefs wildly talented roster in the eyes of those who doubt but Kansas City will: LOSE.
Game two, vs Eagles: With ten days to prep for his former-team Andy Reid will be at the top of his already elite coaching game. Coming off the high of almost upsetting a team projected to go 16-0 Kansas City will: WIN.
Game Three, @ Chargers: The Los Angeles Chargers are everyones pre season darlings. Many pick the Chargers to grab a wild card spot, some are even so bullish to say the bolts will steal the AFC West. In divisional games, when trying to prediction a season a "smart" strategy--as smart as prediction strategies can be--Would be to pick a split in each divisional game and work from there--unless you have a woeful team in your division which Kansas City does not. However, the Chiefs spat in the face of that strategy by not losing a single AFC West game a year ago. Rolling off two very good games including a beat down of the Eagles, Kansas City will storm into a soccer stadium and beat the Chargers. WIN.
Game four, vs Redskins, MNF: The Washington Redskins are already a terrible franchise. In recent years spanning over a decade, they are even worse on prime time. Arrowhead is an amazing atmosphere any game but especially prime time games. This is a no brainer. Chiefs: WIN.
Game five, @ Texans, SNF: At this point it is almost comical how many times the Texans and Chiefs have matched up. The Kansas City defense will be too much for the new rookie starting QB Deshaun Watson. Yes, I think Watson will take over for Tom Savage by week five. Chiefs: WIN.
Game six, Steelers: A rematch of the gut wrenching playoff loss from a year ago that players and coaches are still openly talking about. The Steelers have had Kansas City's number over the last calendar year and it is to a "prove it" point. Fans will feel comfortable chalking this up as a win when they see a win over the Steelers. With that said the Chiefs will: LOSE.
Game seven, @ Raiders, TNF: Going into the black whole on prime time against a rabid fanbase that is still scorn by the two game beat down Kansas City handed Oakland a year ago, will be tough. Both teams are amazingly talented, and reverting back to the divisional splits theory, on the road Kansas City will: LOSE.
Game eight, Broncos, MNF: A prime time game, at home, against a lesser opponent, a team with no quarterback facing a dominating defense, Kansas City will: WIN.
Game nine, @ Cowboys: Dallas just got word their star running back Ezekiel Elliot will be out for six games. The super star will be back to take on the Chiefs, in fact, it will be his first home game since being reinstated if the six game ban is upheld. A shaky defense mixed with an offense looking to hit its stride adding back a difference maker, Kansas City will still pull out a WIN heading into their BYE week.
Game ten, Giants: As someone who no longer values Eli Manning's ability, or lack there of, and sees that the G-men have a woeful offensive line with no real running game, Kansas City will: WIN.
Game eleven, Bills: After dumping guys like Sammy Watkins, and Ronald Darby, the Bills looked to be even more underwhelming than they were even as early as last Thursday prior to the moves. They got back a now hurt Jordan Mathews but a lot of high valued draft picks. Those picks will not help them in arrowhead stadium in 2017, and the Chiefs will: WIN.
Game twelve, @ Jets: Many experts around the NFL media landscape think it is not hyperbolic to believe the Jets will go winless or close to it in 2017. So with ease, the Chiefs will: WIN.
Game thirteen, Raiders: One of the most historic rivalries in NFL history finally gets revamped. These two teams match up will together and will for a long time thanks to each organization's young cores. Kansas City after losing a close prime time road game to Oakland earlier in the year will: WIN.
Game Fourteen, Chargers, Saturday Night: A rocking home crowd going into the home stretch before the playoffs will push Kansas City to another: WIN.
Game fifteen, Dolphins, Christmas Eve: The Dolphins have already lost their starting quarterback, and talented linebacker Raekwon McMillan, Miami will have nothing left to play for come Christmas Eve and the Chiefs will: WIN.
Game sixteen, @ Denver: Although Denver has no quarterback, with a defense set to take a step back it is always tough to go to mile high and win a football game. Coming to town with just three loses, Kansas City would be in position to rest their starters, which I think they would do. Hold onto your butts because the question then becomes: what will Pat Mahomes do? Or would Kansas City trot out Tyler Bray? Ultimately talent wise man-for-man the Chiefs are far better, however, in a game with not much to play for on either side I think this makes it a toss up, Chiefs: LOSE
Record: 12-4.
Vegas over/under per OddShark: 9.0. The over is just a steal.
For more Chiefs news, notes, opinions, and discussion, follow: @Rylan_Stiles on .