Cody Stewart's Final 2017 NFL Mock Draft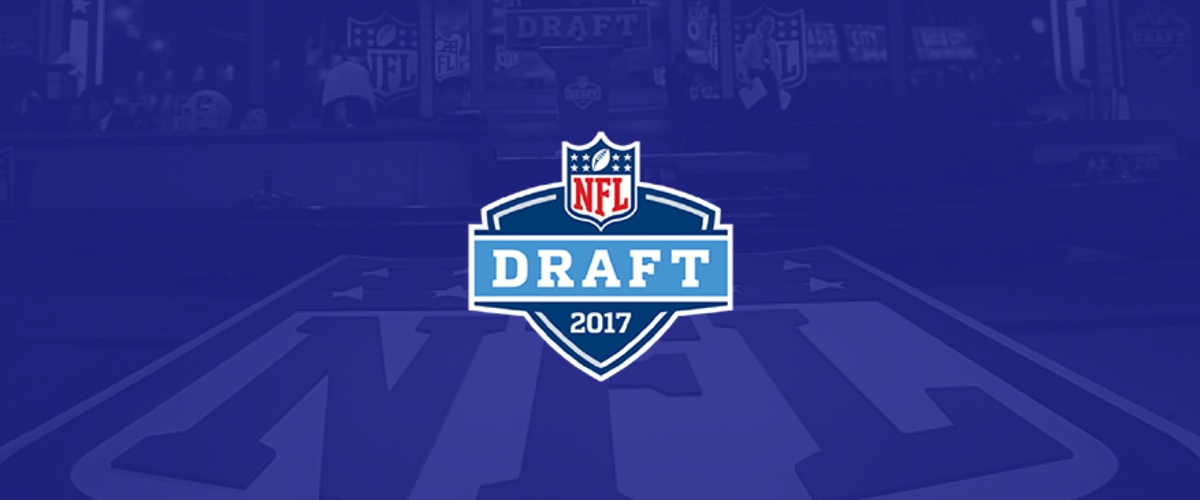 We are hours away from hearing the first name being called to the stage in the 2017 NFL Draft. To think, the Cleveland Browns, who have been on the clock since basically the start of the 2016 season, still haven't made up their mind on who they want to select number one overall. There's no need to even watch the draft tonight, I have all the pick right here. Let's take a look at who goes where.
1. Cleveland Browns – Myles Garrett, EDGE, Texas A&M
Many reports are floating around that Cleveland may look to go QB with the first overall pick. Remember, this is "smokescreen" season. Everything under the sun will be reported from now until the first pick is made. The Browns need to get pressure on the QBs of the AFC North. Garrett fits that bill.
2. San Francisco 49ers – Solomon Thomas, DE, Stanford
As much as I think Jamal Adams should go to the 49ers here, I don't believe San Francisco will do it. Over the past four years, the 49ers have drafted two safeties. To be clear, they have also selected two defensive lineman as well, but not the same position. Thomas will be able to man the other edge that is vacant. Pairing him with Deforest Buckner and Arik Armstead may deprive Offensive Coordinators of sleep for years to come.
3. Chicago Bears – Jamal Adams, S, LSU
Arguably the best prospect in this years draft, Jamal Adams goes to a team who needs some help in their secondary. Adams was a machine at LSU. He can cover, tackle, and make plays on the ball to boost a defense in need. Chicago needs that type of playmaker when facing QBs like Aaron Rodgers and Matthew Stafford.
4. Jacksonville Jaguars – Leonard Fournette, RB, LSU
Speaking of good prospects, here is one that is at the top as well. Leonard Fournette terrorized defenses in college, and is looking to do the same in the NFL. The Jaguars defense is stacked from previous drafts and free agency the past two years. That allows Jacksonville to go with the best player available. With a shaky running game right now behind the likes of TJ Yeldon and Chris Ivory, Fournette will help the Jaguars offense reach their potential.
5. Cleveland Browns (Via Tennessee Titans) – Mitch Trubisky, QB, North Carolina
(Trade: Cleveland trades Nos. 12, 33, and 108, for Nos. 5 and 124)
It's no secret Cleveland wants and needs a QB. Taking one with the first pick in the draft is a bit much though. The Browns are loaded with picks over the next two years. With two first round selections in 2017, Cleveland leapfrogs the QB needy Jets and get their man.
6. New York Jets – Marshon Lattimore, CB Ohio State
The Jets haven't had a good CB since Darrelle Revis…in his prime. The team as a whole is a wreck, so rebuilding the defense has to be at the top of the list of things to do. Remember, defense wins championships. Going against Sammy Watkins, Jarvis Landry, and Julian Edelman twice a year kind of forces your hand a bit.
7. Los Angeles Chargers – Malik Hooker, S, Ohio State
The Chargers secondary hasn't been the same since Eric Weddle left town for Baltimore. Adding a player of Hookers stature will bolster this DB corps to a new level.
8. Arizona Cardinals – Patrick Mahomes III, QB, Texas Tech
(Trade: Arizona trades Nos. 13 and 77 for No. 8)
This shouldn't come as a shock. Carson Palmer doesn't have many years left in the NFL, and the Cardinals need to plan for the future. With teams like Buffalo and New Orleans ahead of Arizona, GM Steve Keim and Head Coach Bruce Arians pull the trigger to jump them.
9. Cincinnati Bengals – Corey Davis, WR, Western Michigan
The loss of Muhammad Sanu and Marvin Jones last year was evident. With AJ Green sidelined for six games in 2016, the Bengals offense really struggled. Corey Davis will be able to step right in and give Cincinnati a dual threat at the WR position.
10. Buffalo Bills – OJ Howard, TE, Alabama
While they already have an established TE in Charles Clay, Buffalo may be taking a page out of their rivals page. New England has shown the two TE set can work. Adding Howard on the other side of Clay, will give QB Tyrod Taylor another weapon.
11. New Orleans Saints - Reuben Foster, LB, Alabama
The Saints have two picks in the first round, and there's a good chance they bolster that horrid defense. Once a lock at being picked in the Top 5, some off the field issues have surfaced about Reuben Foster. His draft stock has taken a hit, but New Orleans is there to catch the athletic LB.
12. Tennessee Titans - Mike Williams, WR, Clemson
If one things clear, it's the need of a WR for Tennessee. Tajae Sharpe had a decent rookie year, but Marcus Mariota needs another weapon outside of Delanie Walker. The 6'4" Williams will give the Titans an instant Red Zone threat.
13. Carolina Panthers - Christian McAffery, RB, Stanford
Nobody's Draft stock has risen more than the elusive RB out of Stanford. Jonathan Stewart, Carolinas starting RB, is hitting the downward slope of his career. McAffery instantly gives the Panthers a change of pace back along with a pass catcher out of the backfield.
14. Philadelphia Eagles - Marlon Humphrey, CB, Alabama
The liability for Philadelphia last season was the CB position. Losing Nolan Carroll to Dallas is just more evidence the Eagles need to find a playmaker. Humphrey was able to be apart of a special defense in Alabama the last few years. His transition to the NFL won't be hard.
15. Indianapolis Colts - Haason Reddick, LB, Temple
Reddick has a Khalil Mack feel heading into the draft. While Mack went second overall in the 2014 NFL Draft, there were still questions surrounding him. The same is going on for Reddick, but he is rising up the boards. Indianapolis has been revamping their defense this offseason. Adding the 6'1" 240lbs LB will be the cherry on top.
16. Baltimore Ravens - Jonathan Allen, DL, Alabama
There is always a player in the draft that falls compared to their buzz and projections. This year, that player will be Jonathan Allen. Christmas comes early for Baltimore. Plugging Allen on that defensive line will help cause havoc against the likes of Ben Roethlisberger and Andy Dalton twice a year.
17. Washington Redskins - Malik McDowell, DL, Michigan State
Like the pick that went before him, McDowell is a versatile player. He can play anywhere on the Defensive Line, and that will fit Washingtons scheme perfect. The Redskins struggled to get pressure on opposing QBs. The addition of McDowell will bolster that corps.
18. Tennessee Titans - Kevin King, CB, Washington
The Titans were able to make their franchise QB happy with the selection of Mike Williams earlier on. Now, Tennessee makes Defensive Coordinator, Dick LeBeau, happy with a playmaker in the secondary. Parrish Cox was so much of a liability last year, Tennessee cut him mid-season. With his size (6'3" 200 lbs) and ball awareness, King will help the Titans defense take the next step.
19. Houston Texans - Deshaun Watson, QB, Clemson
(Trade: Houston trades Nos. 25 and 89 for Nos. 19)
The investment in Brock Osweiler a year ago was one Houston wishes they had back. After just one season, the Texans shipped Osweiler off to Cleveland. Now with a gapping hole at the QB position, Houston needs to fill it soon. With his stellar performance at Clemson over the last couple of years, including a game of the ages in the 2017 National Championship Game, Watson will be able to help Houston stay afloat and much more.
20. Denver Broncos - Derek Barnett, DE, Tennessee
With the loss of Demarcus Ware to retirement this offseason, Denver needs to add a pass rusher to get to opposing QBs. Adding the University of Tennessee's All-Time sack leader seems to be a good start.
21. Detroit Lions - Garrett Bolles, OT, Utah
Matthew Stafford was the 6th most sacked QB in 2016. While he still had a great year, an extra half a second in the pocket would do wonders for Stafford and the Lions. Throwing Bolles in at either OT position will immediately help the offensive line.
22. Miami Dolphins - Forrest Lamp, OL, Western Kentucky
Had he played a full 16 games last season, Ryan Tannehill was on pace to be sacked 36 times. That number would've tied him for the 9th most sacked QB in 2016. The game is won in the trenches, and although Miami used a first round pick last year on an offensive lineman, giving Tannehill more insurance won't be frowned upon.
23. New York Giants - David Njoku, TE, Miami (FL)
It has been almost a decade since the Giants had a playmaking TE. That player just so happened to come from the same college Njoku played for. With an "all in" mentality because of the lack of years Eli Manning has left, adding a playmaker on offense outside of Odell Beckham Jr. and Brandon Marshall could pay off soon.
24. Oakland Raiders - Tre'Davious White, CB, LSU
The secondary for Oakland last year was atrocious. The Raiders ranked 24th in pass defense. A CB is needed in the worst way and Tre'Davious White will instantly upgrade that poorest corps.
25. Tampa Bay Buccaneers - Dalvin Cook, RB, Florida State
The running game for Tampa Bay has been inconsistent over the past few years. Doug Martin has missed 23 games in his five year career and will miss the first three contests of the 2017 season due to suspension (PED use). Tampa was able to give Jameis Winston a weapon via free agency with the signing of Desean Jackson. Now they give him a weapon in the draft with Dalvin Cook.
26. Seattle Seahawks - Ryan Ramczyk, OT, Wisconsin
Russell Wilson was the second most sacked QB in 2016. It was evident in many games that Wilson was running for his life after the snap. Ryan Ramczyk will instantly hold down the RT position, with the hopes of becoming the LT of the future.
27. Kansas City Chiefs - Cam Robinson, OT, Alabama
One name will instantly deflate a Chiefs fans feelings. Eric Fisher. A costly holding penalty on a two-point conversion try in the AFC Divisional Round wiped two points off the board. Kansas City ultimately went on to lose to the Steelers. An upgrade on the offensive line is needed and Cam Robinson will help with that.
28.!Dallas Cowboys - Obi Melifonwu, S, UCONN
The Cowboys can go many ways here with this pick, but it would have one common factor, defense. The secondary was atrocious in 2016. Dallas ranked 26th in Passing Yards allowed and 27th in interceptions last season. Obi is a playmaker. Whether he is at the line of scrimmage making a tackle for negative yards, or jumping a route to force a turnover, he knows how to play. This addition would help tremendously.
29.!Green Bay Packers - TJ Watt, LB, Wisconsin
With the loss of Julius Peppers in the offseason, Green Bay needs to find someone who can get to the QB. Peppers accounted for almost 20% of the Packers sacks in 2016. Drafting Watt will have Ted Thompson and Mike McCarthy hopping he is just like his brother down in Houston.
30. San Francisco 49ers - John Ross, WR, Washington
(Trade: San Francisco trades Nos. 34 and 146 for No 30)
San Francisco lost their speedy WR in free agency, Torrey Smith. With New Orleans ahead of the 49ers and possibly in the market for a WR, new GM John Lynch has to make a move. John Ross ran the fastest 40 yard dash anyone has seen at the combine this past February. Factor that in with his productive season for the Washington Huskies, and you can see why a team would move up to get him.
31. Atlanta Falcons - Taco Charlton, DE, Michigan
The rich get richer. Atlanta was able to terrorize opposing QBs in 2016 thanks to Vic Beasley. Adding Taco Charlton, a guy that gets to the QB with his hand in the dirt, is going to make life hell for Jameis Winston and Cam Newton for the next decade.
32. New Orleans Saints - Quincy Wilson, CB, Florida
There was a lot of talk a month ago in regards of a trade for Patriots CB, Malcom Butler. It seems as if that has died down a bit, so New Orleans focuses their attention on a good college CB. Wilson played lights out at Florida. He would be a significant jump in talent from what the Saints have in their secondary.