Clean Sweep: Wade Wilson and other Dallas assistant coaches hitting the bricks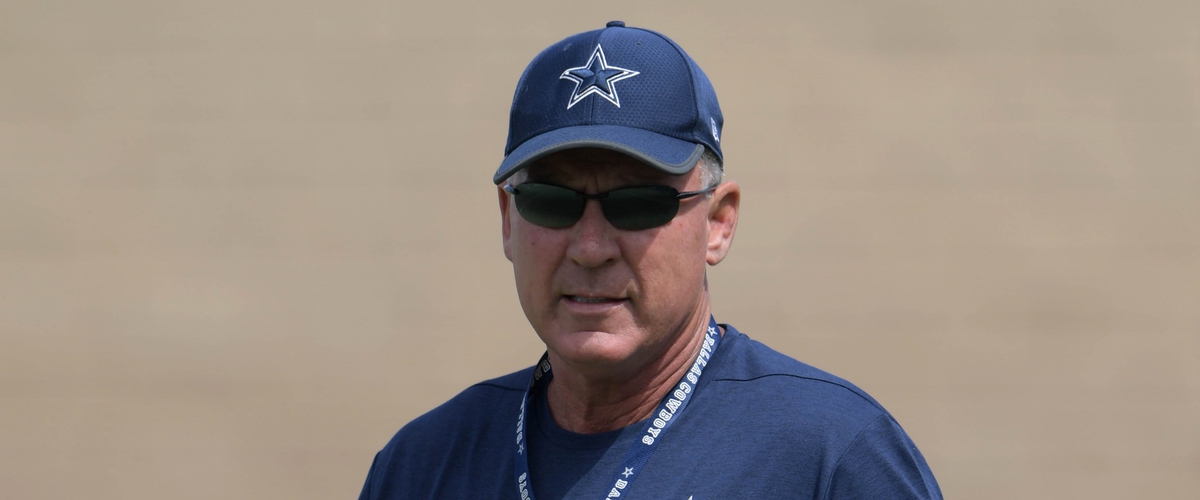 When the season ended, Jerry Jones made clear that his Head Coach Jason Garrett was safe. He also made clear that both Rod Marinelli and Scott Linehan were safe as well.
However, he did tell fans to expect changes at the assistance positions. And boy, he wasn't kidding.
Since the past few days, Wade Wilson (QB Coach), Joe Baker (Secondary Coach), and Rich Bisaccia (Special-Teams Coordinator) have been relieved from duty. It also appears that Frank Pollack (Offensive line Coach) could be out the door soon as well.
Now, to be fair, Coach Rich Bisaccia wanted out, to join Jon Gruden in Oakland. Nevertheless, he'll still be apart of the "let-go" list.
Rich Bisaccia was the Special-Teams Coordinator for the 2002-2003 Superbowl winning, Tampa Bay Buccaneers. Reports are coming out saying that Bisaccia wants to join Gruden in a reunion.
Now, I can't seem to understand why the Cowboys organization would let Wade Wilson go. Wade Wilson is a former Pro-Bowl Quarterback who was drafted by the Minnesota Vikings in the eighth round in 1981. He would go on to become a Dallas Cowboys backup Quarterback for three years, behind Troy Aikman. He was apart of the Superbowl XXX winning Dallas Cowboys roster.
Wade Wilson was hired by the Dallas Cowboys, to be a QB Coach in 2007. His job was to develop Tony Romo into a better pocket passer. And I think we could all say, mission accomplished.
I think this move is to allow the organization to find themselves a QB Coach, that fits Dak Prescott's needs. This shows that the front office is at least, slightly sold on building for the future of Prescott.
Joe Baker was a Dallas assistant coach, since 2012.
The Princeton grad was hired in 2012 as an assistant secondary coach in 2012, then became the safeties coach in 2014 before being promoted as the secondary coach in 2016.
After coming off of a decent 2017 campaign for the young Dallas defensive backfield, the Cowboys have also decided to fire their secondary coach.
However decent the year was for them, the Cowboys still had problems getting interceptions. The Cowboys haven't had a defensive back produce more than three interceptions, since Terrence Newman in 2011, where he led the team with four interceptions.
I can understand why Joe Baker was released.
With the right secondary coach, the Dallas Cowboys could have a lethal defensive backfield.
With bright new talents such as Jourdan Lewis, Chidobe Awuzie, and Anthony Brown at corner for Dallas, it would be horrifying to even think of the potential that defensive combo possesses.
To me, a bad look for the Dallas Cowboys defensive back coaches would be this;
Former Cowboys defensive backs Brandon Carr, Barry Chruch, and Morris Claiborne racked up a total of nine interceptions this year.
Brandon Carr perhaps had the best year of his career. Racking up four interceptions, for the Baltimore Ravens.
Barry Chruch also produced four interceptions, as well. And, if you can do simple math, you know how many interceptions Claiborne had this season.
The Cowboys front office surely saw those numbers and decided to take action in the coaching backfield.
As far as Frank Pollack (Offensive line Coach) goes, he has too many Pro-Bowlers on his offensive line to let the Quarterback get touched as many times he got touched this season. Yes, the rushing attack has been fierce, but the pass protection has to get better. As a pass protecting unit, the Dallas offensive line, has always been overrated. Even when Romo was in town.
The bottom line is,
I don't agree with the firing of Wade Wilson. I do however agree with the firing of Joe Baker and the (soon to be) firing of Frank Pollack.
I am, however, happy for Rich Bisaccia. He's getting to reunite with his good friend, Jon Gruden. I think they'll make a great team.
I have no word on possible replacements on any of them, I do think we'll be getting an idea of potential candidates, soon.