Opinion: Dak Prescott is dragging Dez Bryant down.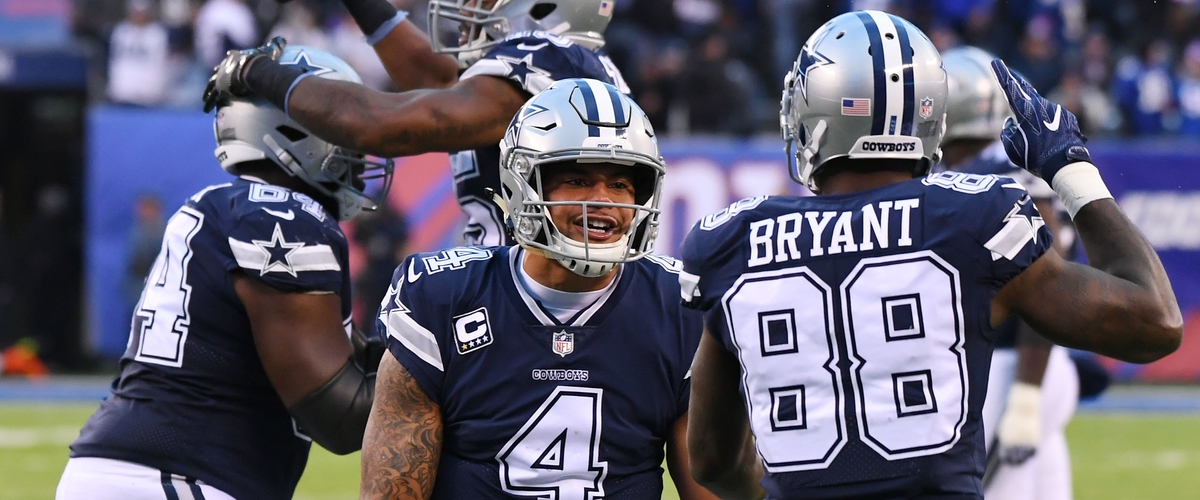 Opinion: Since the Dallas Cowboys' new captain Dak Prescott has taken over the team in 2016, we've seen numbers drop in, pretty much, all categories. Much of the fuss has been in the receiving category. Some fans place all the blame on Dez Bryant's shoulders.
Well, I'm here to say, it's wrong to blame Dez Bryant for his and others' failures. I'm going to try to make a case for Dez Bryant, and explain why he isn't the problem.
Let's go back to 2014, MVP-runner-up Tony Romo was the quarterback, then. Many thought he should have won the MVP award that year (myself included), but; instead, they decided to give the award to the NFL golden boy, Aaron Rodgers.
Tony Romo had a whopping 69.9% completion rating, alongside 3,705 yards, 34 touchdowns, and only 9 interceptions.
With a quarterback playing excellent, a quarterback's receiver will reap the awards from it, just by association.
Dez Bryant numbers were astonishing in 2014. He had 1,322 yards receiving, with a whopping 16 touchdowns. That doesn't sound like the Dez Bryant of the present, does it? Now, take a look at today's Dez Bryant.
He had only 838 yards with just 6 touchdowns.
What gives? A star wide receiver can just change, like that? Not hardly one bit. However, a star wide receiver's surroundings can change. Take away his quarterback, that's the result you get. Poorer numbers. Simple as that.
To crack the Dez Bryant code, you mustn't look at Dez Bryant's statistics, you must look at Dak Prescott's statistics.
Dak Prescott had a 62.1 completion percentage, 3,324 yards (3,124 net), 22 touchdowns, and a whopping 13 interceptions. His passer rating was also abysmal at 86.4.
Prescott's passer rating is a far cry from Romo's 2014 NFL leading passer rating, at 114.7. The closest to Romo was Rodgers, at 109.7.
You see? It takes great quarterback play for a wide receiver to give you great stats. Dez Bryant was used to working with a great veteran of the game. Now, he's working with a quarterback that's not used to pro-passing situations. Don't punish Dez Bryant, just because of a quarterback's mistakes. It's not fair to a great receiver.
Dez Bryant didn't change in a matter of a couple of years. His surroundings did. And, I'm not even talking about the leadership Romo brought to the team.
I always thought of it like this: Tony Romo was the Real Dad to Dez Bryant, and Dak Prescott was the Step-Dad.
The Real Dad made Dez do his homework, brush his teeth, and didn't let him eat candy for breakfast. Then, the parents got a divorce (Tony Romo and Jerry Jones), and the new Step-Dad came in. And Dez thought the new Step-Dad was REALLY cool!
The Step-Dad let Dez eat candy for breakfast, skip brushing his teeth, and let him skip out on homework. And Dez thought this was really cool! Until Dez started to get rotten teeth and bad grades, then he realized, his Real Dad was the one actually looking out for him.
Perhaps, Dez Bryant is starting to have buyers remorse with his new Step-Dad, Dak Prescott? That's just hearsay. However, I know if I were Dez, I would be having buyers remorse.