Top Dallas Coaches are safe, Why Rod Marinelli is the best D.C. in football.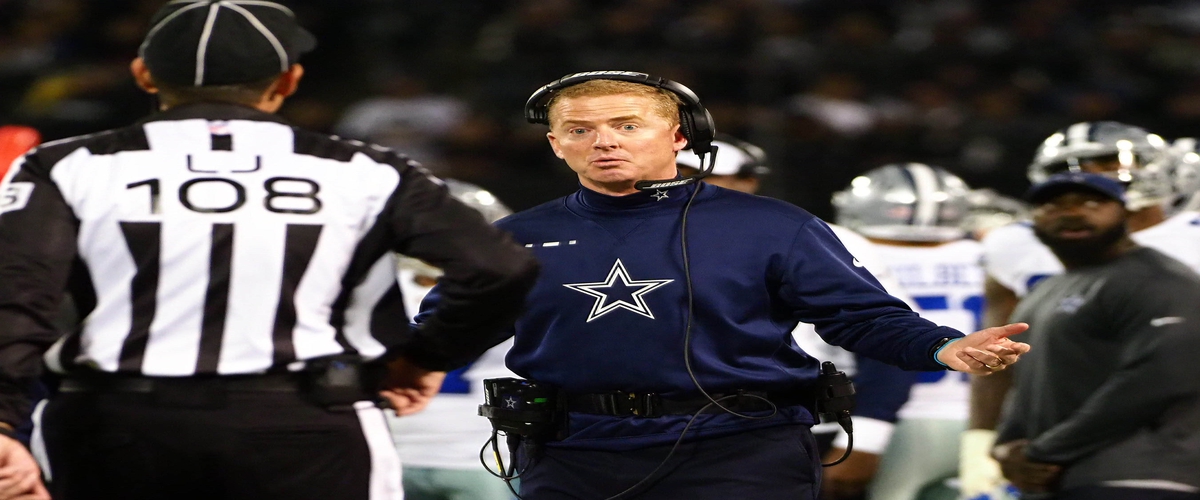 If you were hoping for any major coaching changes on the Dallas sideline, you'll presumably be upset to hear that you're likely not to see any huge changes. Not at the top of the brass, at least. Jerry Jones has said there would be coaching changes, but not Jason Garrett or both the head coordinators.
On 105.3 The Fan, Jerry Jones said again, that Jason Garrett will be the Cowboys Head Coach. "It's not even a thought for me," Jones said. "I like the fact that we've invested several years of Jason evolving in this profession."
Jones was then asked if he wanted both Linehan and Marinelli to come back in 2018, he responded, "The answer is yes."
This year, there has been growing murmurs amongst Cowboys fans about the possibility of wanting another Head Coach. Since taking over the team in 2010, the 51-year-old has led his team to a 67-54 (.554) record. Here is Jason Garrett's record, year by year.
As you can see, in seven years, he's only managed to get three (above .500) seasons, two of which he's made it to the playoffs. However, he's only won one playoff game against the Lions (in 2014). He's also only won the NFC East twice.
Not a very impressive record for a man whose job security is so concreted into the Dallas Cowboys front office. This year alone, the Dallas Cowboys have failed to score ten points in four out of their last eight games. Six out of the last eight games failed to generate more than 20 points. Let's go through the scores and the team's records, whom they've faced, in the last eight games.
Cowboys score 6 vs. Eagles. Outcome-WIN. Eagles' record, 13-3.
Cowboys score 12 vs. Seahawks. Outcome-LOSS. Seahawks record, 9-7.
Cowboys score 20 vs. Raiders. Outcome-WIN. Raiders record, 6-10.
Cowboys score 30 vs. Giants. Outcome-WIN. Giants record, 3-13.
Cowboys score 38 vs. Redskins. Outcome-WIN. Redskins record, 7-9.
Cowboys score 6 vs. Chargers. Outcome-LOSS. Chargers record, 9-7.
Cowboys score 9 vs. Eagles. Outcome-LOSS. Eagles record, 13-3.
Cowboys score 7 vs. Falcons. Outcome-LOSS. Falcons record, 10-6
I personally blamed most of the Dallas Cowboys' shortcomings on Dak Prescott this year. I still do. However, some Cowboys fans have been re-directing their anger onto the Cowboys Head Coach. And, I won't try and stop them. I can surely understand their anger with the head coach. However, this leads me to wonder what most Bengals fans have to be wondering. The Bengals strangely signed Head Coach Marvin Lewis to a three-year deal, just recently. I put Garrett on a way higher pedestal than Lewis, but for some Cowboys fans, it's starting to feel like the same kind of situation. And I truly can understand.
However, what I can't seem to understand is, why a very faint few of Cowboys fans are screaming for the entire Dallas sideline to be wiped clean. That's just simply not logical.
Take the great Rod Marinelli for instance.
Why in the world would someone want to let Rod Marinelli go?
He took over a Monte Kiffin-Cowboys defense, that was largely considered by many to be, the worst defense in NFL history.
The year right after he took over the historically worst Kiffin defense, he led a shockingly good defense. The defense was so good, it even garnered a cool nickname. The "U.F.O. defense".
The "Unidentified flying objects"defense.
The 2014 Cowboys defense was the ranked 14'th best defense in the NFL. However, many fans thought it was much better than 14th, eye-test wise.
This year, the Dallas Cowboys defense was ranked 8th best in the NFL. That is a far-cry from historically worst, not just a couple of years back.
How could you blame Marinelli for the Cowboys' failures? The Offense scored more than 12 points in only three games out of the last eight! It sounds like it's a mystery why we're even 9-7 right now. I'll tell you, it's not a mystery, it's Marinelli. He's the only reason why we're not sitting at 6-10 or something.
There is also a tremendous amount of respect in the locker room for Rod Marinelli. This is what Sean Lee, captain of the defense had to say about Rod,
"I think Rod's a Hall of Fame coach, who we have thrived under when we play his system the right way," Lee said. "And he's a guy that we love. He's a guy that has taught me a ton about football. I think we are, as a defense, if you look at the last four games, when we have had everybody, we have a defense that can be a championship defense."
I concur with Lee. This can be an extremely dangerous, championship defense.
I believe the Cowboys will soon have a number one ranked defense. If Dallas get's the right players in the right positions, they'll easily be ranked number one, one day. Only, if Dallas keeps Marinelli.
Bottom line, Marinelli is the absolute best defensive coordinator in the NFL. Do not fix something, that is nowhere near broken.
And as far as Garrett goes, I still support him 100%. Even though, I know he won't have his job at the end of next year. I said at the beginning of the season. Garrett will be the next Mike Shanahan. The Quarterback's failures will soon get him fired. And soon after the firing of Garrett, I predicted Prescott would be out the door as well.
However, if that were to happen, that would be far down the road. Perhaps, a year or two.