Expect a turnaround for the Patriots, but it'll be a work in progress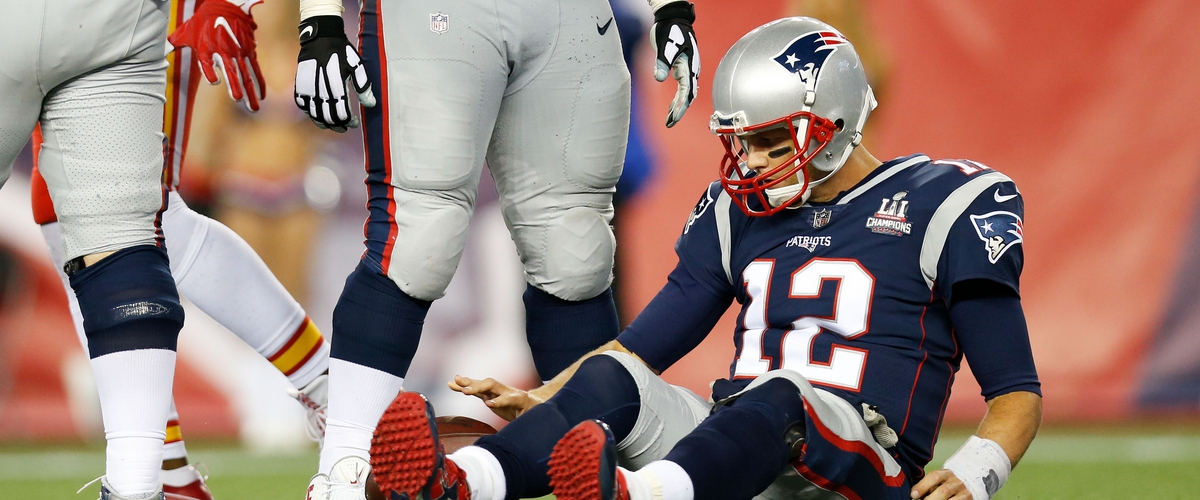 Thursday night was expected to be the Patriots night, a night when the NFL honored the dynasty of the last two decades. Owner Robert Kraft and the Patriots franchise raised their 5th Super Bowl banner for the capacity Gillette Stadium crowd that rallied together with their Roger Goodell clown towels that were passed out by Barstool Sports. Everything that was expected to happen Thursday night against the Kansas City Chiefs went the complete other way.
To everyone's surprise the Patriots were not only outplayed, but were even out coached. The offense that was picked by the experts all season to be more dangerous than the 2007 Patriots offensive juggernaut couldn't find their rhythm. Tom Brady wasn't bad, but he defiantly wasn't as sharp as he looked in training camp. Brady was only 16 for 36 on his passes with 267 yards. Rob Gronkowski was targeted 6 times, but only came up with 2 catches and was virtually a non-factor in the game.
The only bright spots for the Patriots on offense was the play of running back Mike Gillislee and newly acquired receiver Brandin Cooks. Gillislee rushed for 45 yards on 15 carries and punched in 3 touchdowns, while Brady and Cooks connected for 3 catches for 88 yards. Although he only had 3 catches on 7 targets, the chemistry between Brady and Cooks appeared to be there, connecting on a pair on deep balls including one 54-yard bomb. Danny Amendola was the team's leading receiver with 6 catches for 100 yards, but suffered a concussion in the 4th quarter. The offense should be fine and start clicking soon, but the loss of Amendola will be a challenge. Look for the Patriots to get Chris Hogan and James White more involved in the passing game. Hogan and White combined for only 4 catches and 38 yards. Gronkowski should also be more of a factor in the coming weeks, and you have to keep in mind that Gronk is coming off yet another back surgery. It could take a couple weeks to get the big fella rolling.
As for the defense, they were completely smoked by the 20th ranked offense in the league last season, giving up a total of 537 yards, the most yards given up by a Bill Belichick coached defense. Give head coach Andy Reid and the Chiefs a lot of credit. They're a good team that found a way to slow the Patriots offense and dominate the defense. Chiefs quarterback Alex Smith was 28-35 passing with 368 yards and 4 touchdown passes and rookie running back, Kareem Hunt, ran all over the Patriots front seven. After fumbling on his first NFL carry, Hunt went on and rushed for 148 yards with a touchdown. The Patriots defense couldn't find an answer for Hunt or receiver Tyreek Hill. Hill caught 7 passes for 133 yards, and burned Pats corner Stephon Gilmore on a 75-yard touchdown in the 3rd quarter. The secondary was supposed to be the strength of the defensive unit, but played poorly against Alex Smith's squad. That part of the defense should gel more as the season goes.
The front seven is what's the most concerning about this team. We knew they were a little thin at that spot coming into the season between Rob Ninkovich retiring and the lack of depth at linebacker. They got ran over by Hunt and had no pass-rush to show for it, only coming up with 3 sacks, 2 of them coming from Trey Flowers. This will be the spot Belichick will have to do the most retooling with, whether it's coaching the guys they have up more or making a trade. Reports have come out that teams have already inquired with the Patriots about Dion Lewis. Lewis could be used as a chip to acquire either a defensive end or another linebacker.
The worst news on the night for the defense came when linebacker Dont'a Hightower went down with a sprained MCL in the second half. It isn't expected to be a season-ending injury and it was reported that he will have a chance to play Week 2 against the Saints. But an injury this quick out of the gate by arguably your most important player on defense who's had a history of injuries isn't a great start. And they'll need a healthy Hightower for this season if they want to improve. Even though the offense didn't look good either it's this defense and front seven that is going to need the most work. And the offenses they will face doesn't get easier in Week 2, as they'll travel to New Orleans to face the high-powered offense of Drew Brees and the Saints.
Let's not all over react, it's only one loss and this team is still one of the best team's in the league. And the Chiefs are again a great team, and have already proved to be one of the Patriots' biggest threats in the AFC going forward. Any team that can come into New England and win a game in that fashion deserves respect. But this is without question a big wake up call for a team that was absurdly picked by others to go 19-0 this season. It was ridiculous to even predict such a thing, and it's sort of a blessing in disguise that it's already off the table.
The problem with the Patriots on Thursday was a lack of urgency and energy. You can argue the point that maybe the absents of Julian Edelman played a role in the teams urgency deficiency as he has proved to be the teams spark club throughout his career. While people were comparing the 2017 Patriots to the 2007 team, they overlooked the fact that this team hasn't found their true identity yet. Brady and Belichick will figure things out and a true identity will eventually be formed. But unlike what everyone expected, a cake walk to the 6th banner, a championship won't come easy. The 2017 Patriots will be a work in progress, and will be retooled by the leagues best.