Cardinals Five Homers For 8-11 Runs Rout Over Orioles. Rookie DeJong Shines, Carpenter-Fowler Duo At the Top
St. Louis Cardinals rookie Paul DeJong, re-called from Memphis Triple-A, replaced 2B Kolton Wong in the line-up. Wong recently went back to the 10-Day DL due to right triceps strain. With Cardinals Dexter Fowler designated as their DH against the Baltimore Orioles, DeJong batted ninth in the line-up last night in Game One.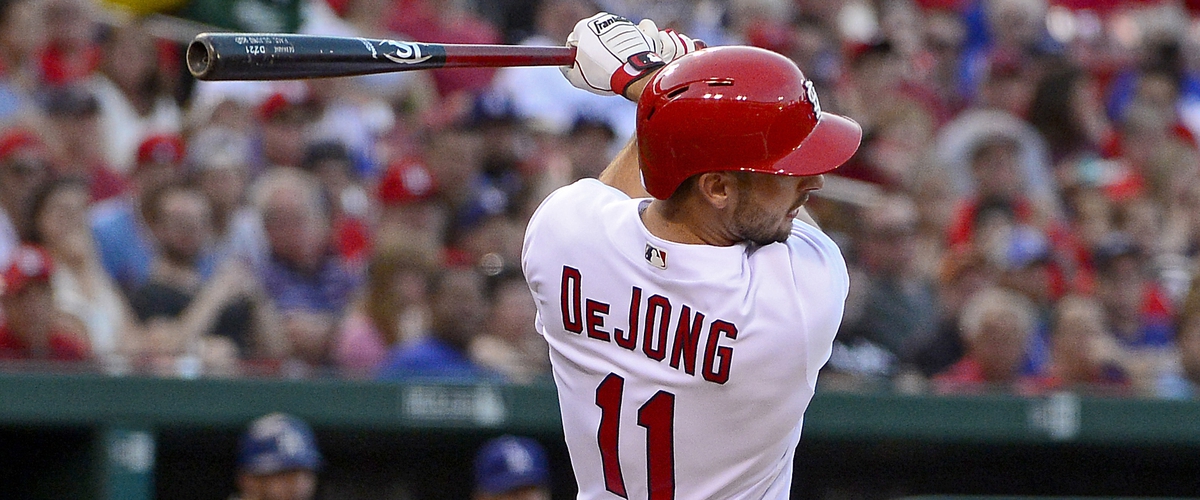 Cardinals facing Orioles Kevin Gausman took a 2-0 lead in the third. In the fourth, he had two outs with one runner on. DeJong had singled in the second, and was back to face Gausman. He was the first of five Cardinals who would slug out long balls in Oriole Park in Camden Yards. DeJong not only slugged out his second home run in his 14 games played, but it was a two-hole shot to give the Cardinals a 4-1 lead.
He would go on to add another RBI for his night, with a two-out single in the sixth. DeJong was 3-4/1 HR/3 RBI/3 Runs to bump his average to .286 BA. I believe Cardinals rookie enjoyed his debut at Oriole Park; and, proved to be a worthy replacement for Wong.
He was not the lone RBI hitter in the sixth, now facing Gabriel Ynoa. Cardinals lead-off Matt Carpenter (2-Run) and DH Dexter Fowler (solo) blazed out back-to-back home runs for a 8-1 lead.
Ynoa was held for the seventh. He had two "K's" and one runner on on his error throw to first. Tommy Pham, who has not had a great month only 9-41/2 RBI and no home runs coming into last night's game. Ynoa served up a pitch and Pham sent the two-seamer sailing over the left wall for a two-hole shot boosting Cardinals to a 10-1 lead.
Jedd Gyorko was 0-3 with three strikeouts coming to plate in the ninth. He got on the home-run train and crunched a solo out over the right wall to give the Cardinals their final run of the night. The Cardinals slugged out five homers for a total of eight runs in their 11-2 win over the Orioles.
A comment was posted last night to the tune regarding Gyorko only able hit solo home runs. In last night's game, with No Runners On, in my opinion, that was one more guaranteed run on the board.
CARLOS MARTINEZ GOES SIX WHILE FANNING EIGHT
Martinez' last stand a complete four-hit shutout game. His career first. He was able to go six solid innings against the Orioles only giving up four hits, one earned run, three walks; and, logged eight strikeouts for his sixth win.
Gausman was handed his sixth loss, 5.2 IP/1 HR/5 ER/3 BB and did fan seven. Much improved BB/SO ration from his previous outing which he issued six free passes, with no strikeouts, in only 3.1 innings pitched.
Reliever Brett Cecil followed C Martinez. Cardinals fans were ready to trade Cecil early in the season. Known to be a "late bloomer", better as the season goes, fans patience was wearing thin. Some still shudder when he takes the hill. Of course only recalling his 'bad innings pitched' - branded. Even though being pummeled by the Cincinnati Reds June 7 with 4 ER; in his last 11 game appearances, that was the only game he gave up runs. He has held the opposition scoreless with eight strikeouts, only issuing one walk. Last night, he took down the side with one strikeout.
RELIEVER SAM TUIVAILALA LAST TWO INNINGS
Tuivailala was recalled from Memphis Triple-A on June 13 for the Cardinals double-header against the Milwaukee Brewers. The last series at home before traveling with the team to Baltimore. He followed Cecil in the eighth. He takes down the side with two "K's". He was brought back for the ninth. He had two-outs on the board; but, his last out was broken up with a solo-shot by Trey Mancini for the Orioles second run. "Tui-Vee" got his last out the next hitter he faced.
CARDINALS BEGIN ANEW ~ CARPENTER AND FOWLER
Cardinals took command in Game One with their 11-2 win. Now, did they save some runs for Game Two? With a recent shake-up in the Cardinals organization, I feel, the players have taken on a new mindset. They are working together as a unit to begin a trek to see an above .500 season.
One of the most visible improvements for the Cardinals, the switching of Matt Carpenter from #3 hitter back to lead-off; and former lead-off, Dexter Fowler, coming in behind him in the #2 spot. Again, some Cardinals fans shake their head at the switch. Just can't understand why Carpenter has to be lead-off. Let me show you why.
Since June 7, nine games:
Carpenter ~ 15-35 AB/.429 BA/1.386 OPS/10 XBH/9 RBI/8 Runs
Fowler - 10-28 AB/.357 BA/1.098 OPS/5 XBH/8 RBI/4 Runs
Both, Carpenter and Fowler, were 2-3/1 HR/2 RBI in last night's game.
For those grumbling in their seats, Carpenter is more than willing to bat in whatever spot he is assigned to. However, for whatever reason (personally, this is not an issue), he does his best as lead-off. He has proven this season after season. WHY would anyone want to change what works so well? Why would manager Mike Matheny want to 'experiment' with what has proven to be very productive. For the fans? No.
To me, we now have quite the duo at the top of the line-up and both players are producing tremendously well. And, I'm pretty quite sure they are very happy with their production.
OR, they could go back with Fowler hitting a .222 BA in lead-off. And, Carpenter hitting a .226 in the third spot.
GAME TWO ~ FIRST PITCH, 3:05 CST
Cardinals Adam Wainwright (7-4/4.73 ERA) will face Orioles LHP Wade Miley (2-4/3.97 ERA).
Wainwright's history facing the Orioles, he has held them to a .234 BA. However, this season a rough go for Wainwright, he is 2-3 on the road holding a 7.28 ERA.
Miley has allowed the Cardinals a .328 BA in his past. Carpenter, 6-11/2 RBI/2-2B for a .545 BA. Dexter Fowler, 6-19/1 HR/1 RBI/1-2B for a .316 BA. Just sayin'. But, this season, Miley is 1-2 at home holding a 2.15 ERA.
As much as the Cardinals had; and needed, the slug-fest in Game One, they need to come out just as strong in today's game. The Orioles are playing without Chris Davis this series, their home-run king. He was placed on the 10-Day DL, two days ago, sustaining an oblique injury.