Cardinals IBB Gives Way To Pirates Three-Hole Shot Walk-off Win
St. Louis Cardinals facing the Pittsburgh Pirates coming down the stretch in a 2-2 tie.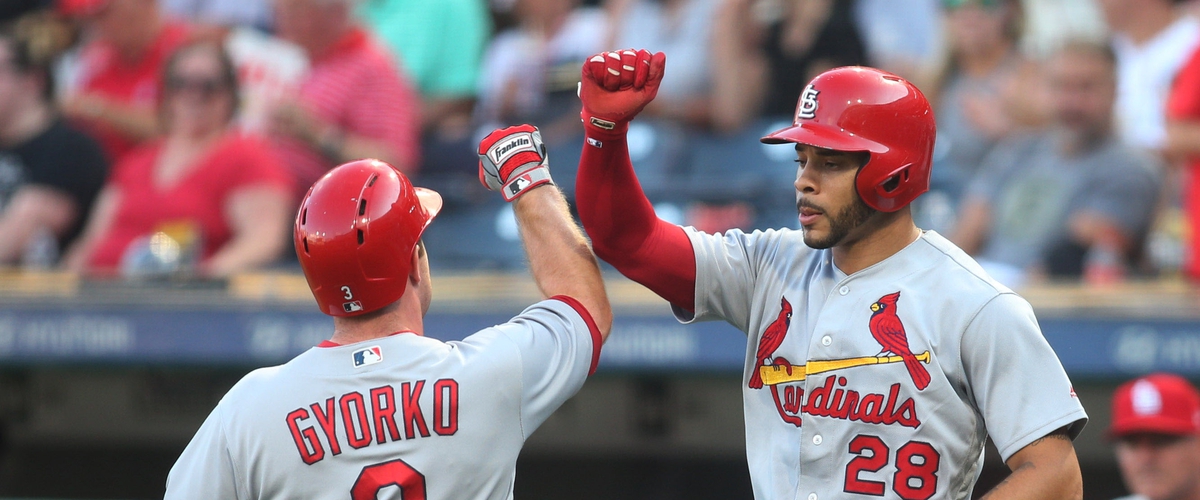 Jedd Gyorko put the Cardinals on the board early in Pirates Gerrit Cole's first inning. With two outs, taking Cole deep into the count, . That would be the only RBI for the Cardinals on their six hits of the night. And, the home run ball became a souvenir for the Allegheny River as a Pirates fan chucked the two-seamer out of PNC Park.
Defensively, Yadier Molina and Gyorko would pull off another pick-off at third base. In last night's game retiring Gregory Polanco in the fourth. Play reviewed to confirm - out at third.
Molina now has three pick-offs at third base this season, which hasn't been done since 1999 by a catcher. And, with Gyorko's forever watchful eye completed the play. Players should learn, with Molina as backstop, careful how far one wanders from the far corner.
Molina now has a career 49 pick-offs, the most for current catchers; and, 4th highest since 1987.
Gyorko, in the sixth, a big 5-4 double play for Matt Bowman's first two outs.
Bowman would get his third out off Josh Harrison's fly-out to close the inning.
Cardinals Mike Leake's stand was much better than his last right before the All-Star break seeing only 3.2 IP. However, he was retired after his fifth, giving up two earned runs. One of which was by Josh Bell for a RBI single to cut the Cardinals lead in half. His second, in the fifth, was by Polanco for a RBI single to keep the bases loaded. He struck out Francisco Cervelli swinging to close his last inning, to leave three Pirates stranded. But, a tied score on the board.
ONTO THE NINTH, POTENTIAL EXTRA INNINGS
Cardinals closer Seung-Hwan Oh on the mound for the ninth. He has held hitters from the right to a .209 BA. Left handers, however, have hit him with a .363 BA/1.101 OPS. He had also given up 7 HR/16 RBI. He has given up 6/13 from the left this season.
First up, lead-off lefty Adam Frazier connected for a double. Andrew McCutchen, who had singled in the third, was issued an IBB, by the new MLB rule, can only be a directive by the manager. Mike Matheny gave the nod to put two runners on. Following, lefty Josh Bell, 24, to the plate. On s 1-0 pitch, Bell slugs out a long-ball out over the left wall for his first career walk-off win. A three-run homer for the Pirates 5-2 win. Oh was handed his fifth loss; and, Felipe Rivero earned his fourth win.
I AGREE TO DISAGREE WITH MATHENY'S DECISION
A tie in place, extra innings a possibility, the crunch is on as to which players/relievers a manager has available to deal to the field. I understand that.
Cardinals Stephen Piscotty had to exit the game in the ninth sustaining injury (right quadriceps strain) on a throw. OF Jose Martinez was recalled from Memphis Triple-A on Friday. LF Randal Grichuk (lower back) had been placed on the 10-Day DL. J Martinez took Piscotty's place in rightfield. At that point, the Cardinals were down to just two position players on the bench, catcher Eric Fryer and utility player Greg Garcia.
With Oh's history against left-handed hitters, right-hander McCutchen is 1-5 facing Oh. He would not have been the player I would have issued an intentional walk to. With Oh's success against the right, I would have allowed him the chance for his second out facing McCutchen. Glorified would have been a double-play. In the event of a single out, issue the IBB to Bell. Righty David Freese would have followed, who was 1-3 for the night.
However, if "IF's were horses, we'd all ride". And, yes, managing from the cheap seats, hindsight is always 20/20. Bell (.243 BA), in his second season with the Pirates, now has 17 HR/48 RBI.
With the Cardinals making "investment" decisions coming down to the non-waiver trade deadline, July 31, I'm thinking a strong bullpen piece as closer will be key.
NEXT UP ~ 6:05 CST, FIRST PITCH FOR GAME TWO
Cardinals Lance Lynn (7-6/3.61 ERA) will face Pirates Jameson Taillon (5-2/2.73 ERA).