Cardinals Magic Number is Three to see a Wild Card Bid
St. Louis Cardinals are now two games back of the Colorado Rockies for the 2nd NL Wild Card position. Three games out to secure the postseason bid. Cardinals are 7-2 in this 10 game road trip. Final game tonight facing the San Diego Padres for a possible four game sweep.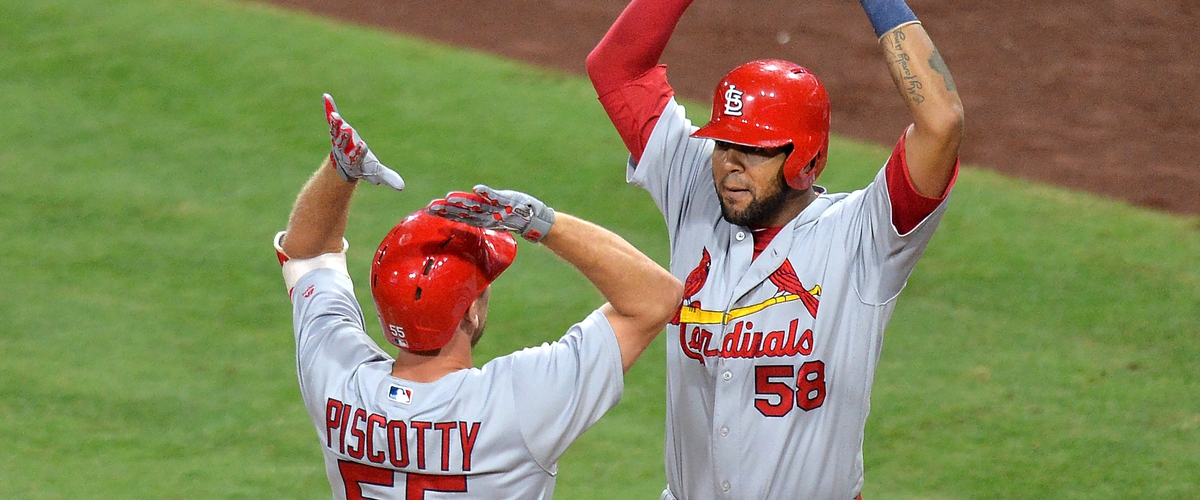 Cardinals RF Stephen Piscotty has had a season that has not lived up to his performance of 2016. He holds a .244 BA this season, only punching out nine home runs along with 37 RBI. Last season he closed with .273 BA/22 HR/85 RBI. I feel part, at least, Piscotty has been carrying a heavy load inside learning earlier this season that his mom had been diagnosed with ALS. He has been on the DL a couple times this season, and a stint with the minor leaguers for a 'workout rehab' in attempt to rekindle his bat. He has had a stronger September with hitting a .333 BA. Yes, a small sample with only six games in comparison to the total season thus far; but, we are beginning to see the Piscotty of the past at the plate.
Last night's Game Three against the Padres, his family was in attendance to cheer him on. And, he did not disappoint - family or Cardinals fans.
A NIGHT OF IMPROVEMENT FOR THE CARDINALS ROOKIE
Cardinals rookie Jack Flaherty made his second start this season. His debut, September 1, was not a great representation for the young hurler. Only on the hill for four innings giving up five earned runs; but, logged six strikeouts in his first major league appearance. Last night, facing Padres Dinelson Lamet (4.32 ERA), he turned in a much better performance. Still some tweaks needed; however, I feel he will improve upon and be a very solid pitcher for the Cardinals in the future.
In part, I credit his improvement to having a familiar backstop. Former teammate, Memphis Triple-A Redbirds now Cardinals back-up catcher, rookie Carson Kelly was behind the plate for Flaherty. Absolutely nothing against Cardinals' extreme and experienced Yadier Molina. However, in my opinion, familiarity goes a long way for a rookie pitcher. A comfort zone, so to speak, as much as Cardinals veteran pitchers are with Molina behind the plate.
Last night's game, Flaherty went five three-hit innings. He was able to get out of full log jam in his third, one out on the board, with a behind him. One pitch cost him as Yangervis Solarte, top-of-the-order in his fourth, connected for a solo home run. He issued three free passes and only logged three strikeouts. But, only gave up the one earned run. Closing his night with a 1.80 ERA, he brought his debut 11.25 down to 6.00 ERA. Rest assured Cardinals fans, that is a very big deal.
CARDINALS COMEBACK LATE IN THE GAME
Lamet held the Padres 1-0 lead through six frames. He had only allowed one hit to the Cardinals in his first inning, and continued to fan eight during his stand. He allowed his second of three hits, a single to top-of-the-order Jose Martinez, to begin his seventh. Next up to face him, Stephen Piscotty.
Piscotty did not waste any pitches from Lamet. He sent the first pitch served up and sailed it over the left-center wall to take the lead. A . Lamet issued his fourth walk before being retired from the mound.
Craig Stammen followed with two "K's" and Greg Garcia was caught stealing second by catcher Hector Sanchez for the
final out. Kirby Yates took over for the eighth. Rookie Harrison Bader knocks out a , speed of Tommy Pham in for the run, to give the Cardinals a little cushion, 3-1, lead.
Cardinals overcame a very strong stand by the Padres starter. And, handed Lamet his seventh loss.
CARDINALS "SHERRIFF" GETS THE WIN
Cardinals rookie LHP Ryan Sherriff (1.29 ERA) followed Flaherty for two innings. He allowed no hits, no runs, but did issue two free passes and had two strikeouts for his first major league win. John Brebbia in the eighth, held the Padres, with taking down the side.
LHP Tyler Lyons into close with the 3-1 lead intact. First two batters faced, two runners on, and with a mound visit, he settles in to take care of business. He gets two "K's" and got the off PH Cory Spangenberg. CF Dexter Fowler, who returned to the line-up after nursing a hip issue, makes the easy catch for Lyons second save this season.
The Cardinals (72-67), with a very strong road trip, 7-2, will look to sweep the Padres tonight in game four. They are now within three games to overtake the Colorado Rockies (74-65) for a postseason Wild Card bid. Keep in mind, Cardinals fans, it's the best W/L record to determine who get in; and, who doesn't.
The Cardinals, also, pass the Milwaukee Brewers in the NL Central Division by half a game to hold second place. They sit four games behind the first place Chicago Cubs. And, yes, the Cardinals "Rookie Brigade" made their contributions again in last night's game.
GAME FOUR AND FINAL GAME ~ 8:10 CST FIRST PITCH
Cardinals Lance Lynn (10-6/2.99 ERA) will face Padres Clayton Richard (6-13/4.94 ERA).
had gone eight one-hit scoreless innings in his last stand against the San Francisco Giants at AT&T Park. He had to remove himself to complete the game due to a finger blister. I hope the blister is healed enough that he has no issue in tonight's game. He is 5-3/3.09 ERA on the road this season. Padres past history facing Lynn, he has held them to a .229 BA.

, on August 19 at home in Petco Park, tossed a complete three-hit shutout facing the Philadelphia Phillies. That was his only win last month in his five starts. His one start this month, facing the Los Angeles Dodgers at home, he went 6 IP/1 HR/3 ER in the Padres 6-5 win to receive a no decision. He is 5-7/4.93 at home and the Cardinals have hit him with a .284 BA in past match-ups.