Cardinals reach 8 straight - A continuous line for Success
St. Louis Cardinals reach a pinnacle they have not seen since April 28-May 5, 2015. Eight straight wins. The number eight symbolizes a continuous line - what goes out, comes back in - for continued security and wealth.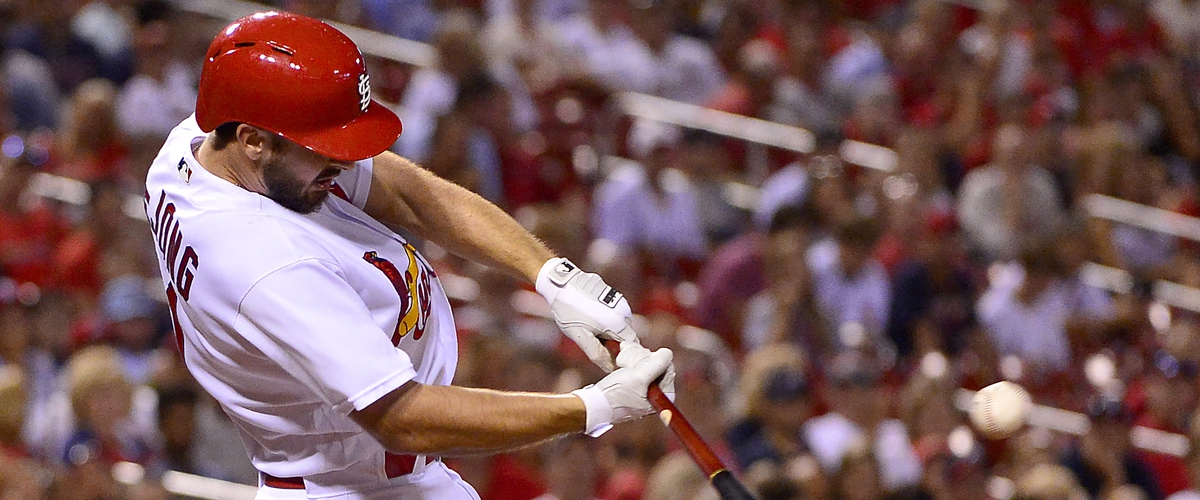 Will it be so for the Cardinals, who have definitely turned their season around. I believe their confidence is now instilled in each and every player, as they are now tied for first place in the NL Central Division. What has gone out, is coming back two-fold for the Cardinals.
ROOKIE EXTRAORDINAIRE
Cardinals knew they had a gem in rookie Paul DeJong. However, I believe he has amazed them all, and Cardinals fans, in just how well he has adjusted from the minors to the Bigs.
DeJong (24) set a goal this season to hit 30 home runs. And, that he had done. Wait ~ he only has 17 major league home runs, the last added in Saturday's game against the Atlanta Braves. True ~ but, he had 13 HR with the Memphis Triple-A before he was called-up to join the Cardinals, May 28. So, technically he has reached his goal. Now, for him to go beyond to see just how many he may add down the stretch.
And, coming onto the major league stage "late", he has logged 41 RBI in his 64 games played holding a .291 BA/.320 OBP/.566 SLG, and throwing in 16 doubles on 71 hits, adding 30 runs. DeJong has a tremendous talent of making 'minor adjustments, if needed' from one at-bat to another. He has, also, proven himself in the field with very solid play as Cardinals shortstop.
If any Cardinals fan feels adding rookies to the line-up is not a good idea. Then they truly do not appreciate the ability of a very strong player that is (and will be) another difference maker for the Cardinals now; and, into the future. I just shake my head at such statements because they can not foresee the future. Nor, accept change. Granted, not all rookies are successful when they reach the Big Dance. However, for Paul DeJong, he has proven he's "got it between the ears". A maturity beyond his young years.
CARDINALS BEGIN GAME TWO 'IN THE HOLE'.
Cardinals hosting the Atlanta Braves. Game Two, the Braves took a 2-0 lead in Carlos Martinez's (3.56 ERA) first inning, after he had loaded the bases out of the gate. That was the first in 41 innings Braves had been able to take an early lead over St. Louis. Once he closed his first frame, he settled in. He would be stung in his fifth by Brandon Phillips with a solo-shot for his third earned run in his six innings. C Martinez only issued one free pass and fanned seven Braves. Even though giving up three runs, he would reprieve himself later in the game.
CARDINALS RALLY
Cardinals faced 23 year old rookie Lucas Sims (5.71 ERA), in his third start for the Braves and his debut start on the road. Didn't take long for the Cardinals to overcome the Braves lead.
In Sims' first, he had two runners on due to a single and a walk issued. One out on the board, Dexter Fowler connects for a RBI single to cut the lead in half. Braves got a double-play to close his first. Randal Grichuk tied the score, in the second, with a solo homer.
Sims' fourth, the game got away from him. He issued a HBP on Kolten Wong. Once again, Grichuk to face him for a double to cover the corners. Greg Garcia grounded out with Wong in for the run to take a 3-2 lead. C Martinez to the plate. He slugs out a RBI single to center for his 9 RBI this season. Sims dinged another, Matt Carpenter, HBP again two runners on. Tommy Pham knocks out a RBI single with C Martinez flying around the bags to beat the throw at home adding a run for his night. Cardinals 5-2 lead, Sims logs two strikeouts to close the inning.
Just to note: Cardinals pitchers lead the MLB with RBI in the past two seasons with 57. San Francisco Giants in second with 52. Third place goes to the Chicago Cubs with 42.
He was brought back in the sixth. One runner on, with one out. He was replaced by former Cardinals reliever, Sam Freeman to face Matt Carpenter. Freeman got both Carpenter and Pham at the plate with a fly-out and ground-out, respectively. Sims retired, 5.1 IP/1 HR/3 ER/4 Runs/1 BB/3 SO, allowing ten hits to the Cardinals and a 5-3 lead.
And, just a personal note, even though an opposing pitcher now, I always liked Freeman. He did a solid job for the Cardinals and was sorry to see him depart. But, that is the business of baseball.
Jose Ramirez on the bump for the seventh. Paul DeJong, top-of-the-order bumped the lead by one. On a 1-0 pitch, he sent the two-seamer sailing out, top of the center wall bouncing up and out of park for a . (For his 17/30 HR this season).
Tyler Lyons not quite as crisp as in past performances, issuing two walks. However, he got Matt Adams swinging for his final out in the eighth.
BRAVES THREATEN IN THE NINTH
Cardinals fans know all too well, when Trevor Rosenthal comes in to close, there could be a bit (tongue-in-cheek) of drama before seeing the final out. And, that was the case in last night's ninth inning.
Cardinals still holding a 6-3 cushion lead.
Rosenthal got his first out, allowed a single, and another runner on due to an error by 1B Carpenter. The safe call was reviewed and held. Dan McLaughlin, Fox Sports Midwest commentator stated: "Things just got really interesting". In my opinion, that was an understatement as the inning unfolded.
Second out on a strikeout. Brandon Phillips, full count, earned a walk as it was deemed he did not "make the swing" on the fourth "ball" called. And not reviewable. The batter Rosenthal really didn't want to face, Braves Freddie Freeman (.319 BA) - especially with bases loaded. Freeman had been 2-3 AB for the night and 1-2 facing Rosenthal in his career. He was about to add another. He connects, on a 0-2 count, for a 2-RBI single to bring the Braves within one run.
Back to square one to see his final out. Still two runners on, two outs, Rosenthal faces Nick Markakis (.275 BA). He had been held to 0-7 in the two games thus far. "Rosie", with seeing 30+ pitches for the inning, 2-2 count, pitch #32 got .
Cardinals have their eighth straight win; and, are five games above .500, which they have not seen since May 16. Along with the Chicago Cubs losing to the Arizona Diamondbacks, they are tied for first place in the NL Central.
Rosenthal earns his 11 save in 13 attempts. Carlos Martinez is handed his ninth win. And, Lucas Sims has yet to realize a win for his Braves.
FINAL GAME TODAY AT 1:15 CST ~ BRAVES-CARDINALS RE-MATCH NEXT UP:
Braves R.A. Dickey (7-7/4.03 ERA) will face Cardinals Michael Wacha (9-4/3.70 ERA) ~ a rematch of the two starters.
Wacha is 6-1 in his last 10 starts. At home he is 7-1/2.67 ERA. His last stand against the Braves, May 7, at Turner Field. He logged 6 IP/2 ER on only five hits allowed, issuing two walks, while fanning six. However, he received a no-decision in the Cardinals 6-4 win. He held the Braves to a .238 BA.
Dickey is 3-1 with a 4.38 ERA in six career starts against St. Louis. Dickey, also, a no-decision on May 7, logged 6 IP/2 HR/4 RBI on eight hits. He issued two walks and only threw to strikeouts. The last he pitched at Busch Stadium was September, 2012. Known for his knuckle-ball, the Cardinals batters past history against him for a .341 BA.