Lance Lynn Is Back, Last Pitched October 2015
Cardinals Lance Lynn will make his 2017 debut appearance today. The first he has pitched at home since September 23, 2015. The last he pitched for the Cardinals was in postseason 2015 [ironically] against the Chicago Cubs. In 2016, due to Tommy John's surgery, his appearances were in rehab.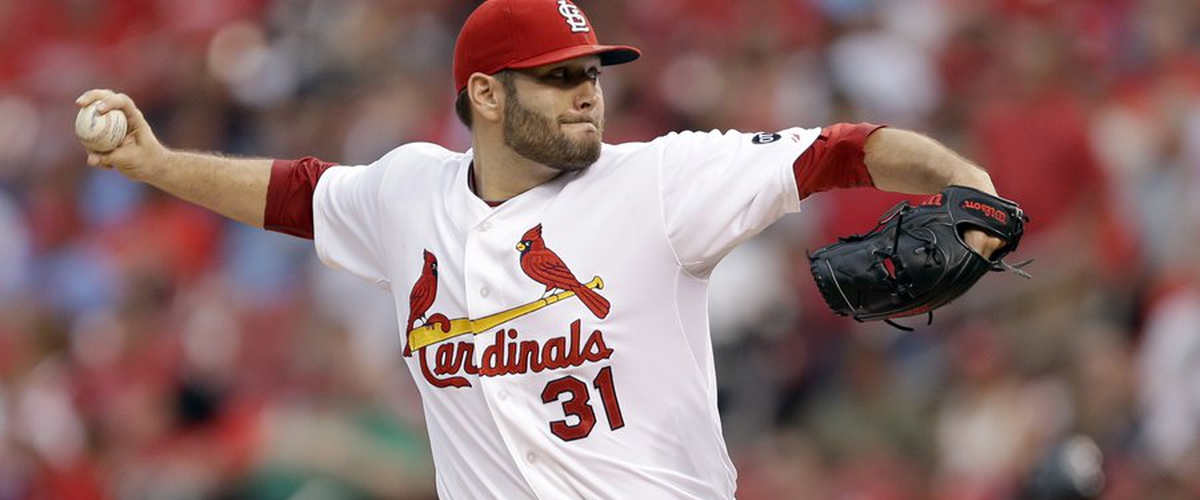 The St. Louis Cardinals game yesterday, against the Chicago Cubs, was postponed due to inclement weather conditions in the St. Louis area. Today's game is scheduled at 12:45 CST for first pitch.
POSTPONED GAME ~ TODAY'S RUBBER MATCH-UP
Cardinals Lance Lynn will make his first appearance this season. Lynn was very solid Spring training coming back from his TJ surgery. In 15 IP he was 1-1/1.29 ERA/8 SO/0.93 WHIP, with 91 pitches/78 strikes thrown. In 2015, he held a 2.91 ERA at home.
He will face Cubs John Lackey who was 11-8/3.35 ERA last season. This Spring, Lackey had seen his own struggles. He was 1-1/6.39 ERA/1.42 WHIP. In his three Spring games, he gave up 2 HR/9 RBI on 15 hits allowed. He logged nine strikeouts in his 12.2 IP. Even though, one of Lackey's best performances have been at Busch Stadium. Last season he held a 1.93 ERA in his former stadium, one his favorite places to pitch.
CARDINALS LINE-UP
Yesterday's line-up for the Cardinals, 1B Matt Adams was to make his season debut in the outfield.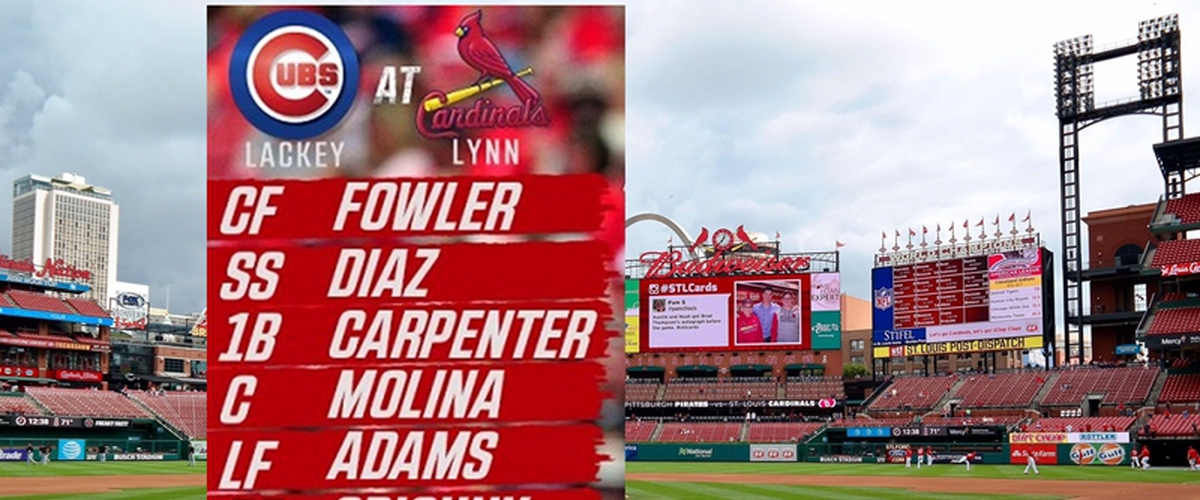 Due to RF Stephen Piscotty being hit three times by the baseball, during the fifth inning in Tuesday night's game, the last hit came at the plate knocking his helmet off. He was placed on the day-to-day with a head contusion. Yesterday, it was reported he cleared the concussion protocol and would be available to play, if needed.
LF Randal Grichuk has been penciled in to cover right field and Adams in the opposite corner. Now that Piscotty has had an additional days rest, I'm not sure if the Cardinals will hold with the same line-up.
Adams had a very strong Spring, 47 AB/5 HR/11 RBI for a .340 BA/.681 SLG and played in the left field. Matt Carpenter replaced Adams at first base. The Cardinals 'groomed' Adams elsewhere on the field to give him additional playing time options off the bench.
By mid-morning, Cardinals should have their line-up for today's game posted. Cardinals fans will then see if Adams will remain to make his outfield debut; or, he will remain on the bench in the final game against the Cubs.
WEATHER FOR TODAY
The rain has moved out of the St. Louis area. But, heavy duty winds will remain. For Game Three this afternoon, the winds are predicted to be between 20-30 MPH, with gusts up to 40 MPH, out of the northwest. With a solid punch, the two-seamer easily can fly out over the right wall.
Fans who had tickets for yesterday's game; and, are able to attend today ~ bundle up.