Rumors at their Best ~ Cardinals Still on the Donaldson Trail. Cooled on Machado
All across the MLB, since the Winter Meetings trades and/or signing of free agents movement has slowed considerably. The St. Louis Cardinals have been linked, as many fans know, to Tampa Bay Rays closer Alex Colome; and even, starter Chris Archer. Particularly the former. They have been in the conversations, among ten other teams, regarding Baltimore Orioles 3B Manny Machado. But, in recent hours the Cardinals reportedly have chilled in further pursuit. For the most part due to the Orioles organization still deciding whether to keep him or hit the release button. The one strong bat of interest for the Cardinals is Toronto Blue Jays 3B Josh Donaldson.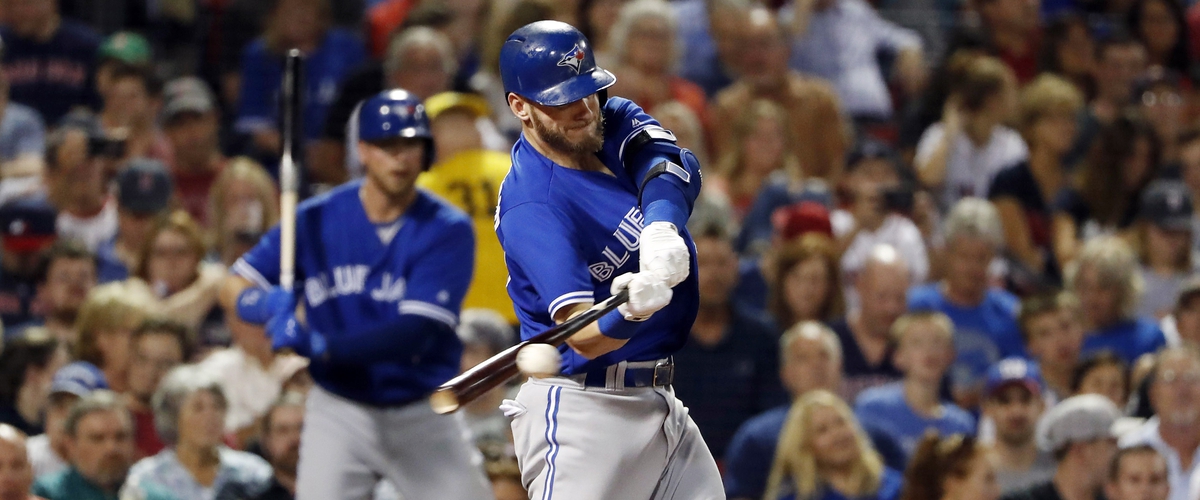 Neither Manny Machado nor Josh Donaldson will be free agents until 2019. Both are viewed as a "one season rental" which really is not the Cardinals forte to pursue such a player. Yes, they have signed "band-aid" fixes for the team for one year. However, without major risk.
They just acquired Marlins OF Marcell Ozuna, a major boost for their line-up, in a trade sending four of their prospects to Miami. For many disappointed Cardinals fans, prospects pitcher Sandy Alcantara and OF Magneuris Sierra were among the four dealt.
CARDINALS VENTURING OUT OF COMFORT ZONE WITH POSSIBLE 'ONE AND DONE' PLAYER
Now, with what seems to be serious pursuit of Donaldson (), what will be the price to pay? Per : "Hummel says a source familiar with the Jays said they "probably would want two major leaguers — such as a third baseman and a starting pitcher — and a prospect."
Starting pitcher? Would Cardinals part with Luke Weaver or Alex Reyes? Would Cardinals fans, once again, find fault if either were dealt for another solid bat?
In my opinion, even if the Cardinals were to lock down Chris Archer, I'm not sure they are ready to give up either Weaver or A Reyes. I do feel, though, the inclination would be easier. Especially if they are able to sign Colome as closer.
Reyes will return from Tommy John surgery in 2018. How soon will he actually be on the mound has yet to be determined. Guesstimates regarding Reyes is to begin in the bullpen, leaving Weaver among the Cardinals rotation.
Their current presumed rotation for 2018: Carlos Martinez, Luke Weaver, Adam Wainwright, Michael Wacha and Miles Mikolas. Compared to past Cardinals rotation strength, coming into 2018 with the afore mentioned, I feel the expectation is fair-to-midland at best based on 2017. Weaver, in my opinion, being the strongest of the five.
Mikolas, returning from Japan this off-season is unproven even though he had three seasons in the MLB. But not since 2012-2014. Cardinals inked him in for two years valued at approximately $15.5 MM. In his three seasons overseas, Mikolas logged a 2.18 ERA, 0.994 WHIP and 5.48 strikeout-to-walk rate. Some feel the Japan leagues are just another level of Triple-A play equal to that here in the States. True? We will get a look at Mikolas during Spring training. The side for the Cardinals pitchers, they now have Mike Maddox as their coach. Mikolas and Maddox have worked together before.
CARDINALS - DONALDSON COMBO
This morning on the MLB Network, the subject of the Cardinals-Donaldson venture was mentioned. Impressively, (32 - seven seasons in the majors) is among the top five for OPS. (25 - six years in the majors) is not.
MLB OPS LEADERS* ~ Minimum 1250 PA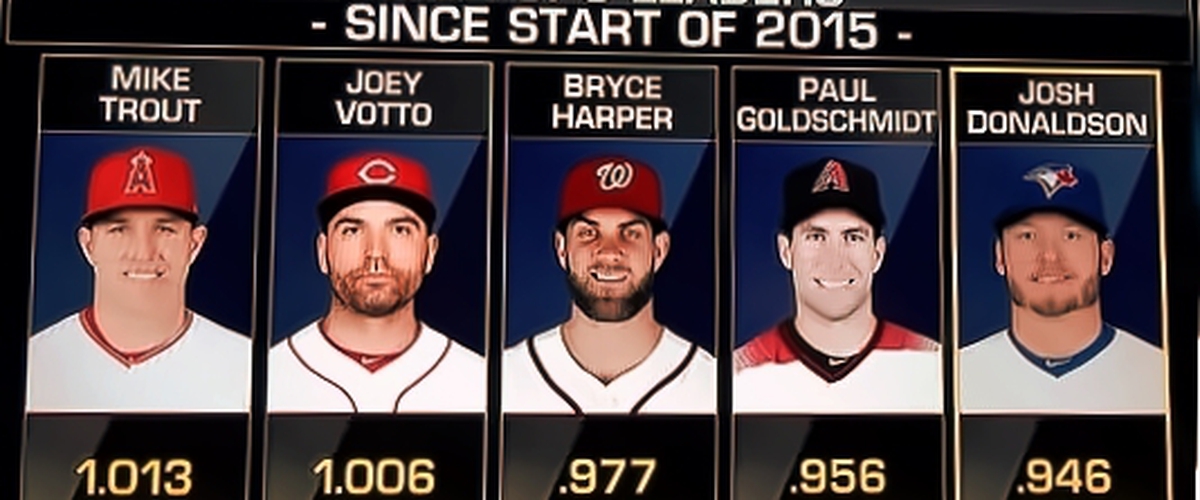 Last season Donaldson slugged out 33 HR/78 RBI, but only played in 113 games. He was on the DL from mid-April to the latter part of May due to a calf injury. A slow progression for Donaldson at the plate when he returned. Even though, down the stretch in 2017 he had a .289 BA in August and a stronger September with a .315 BA for his season .270 average.
PROJECTED CARDINALS LINE-UP WITH DONALDSON ~ MLB Network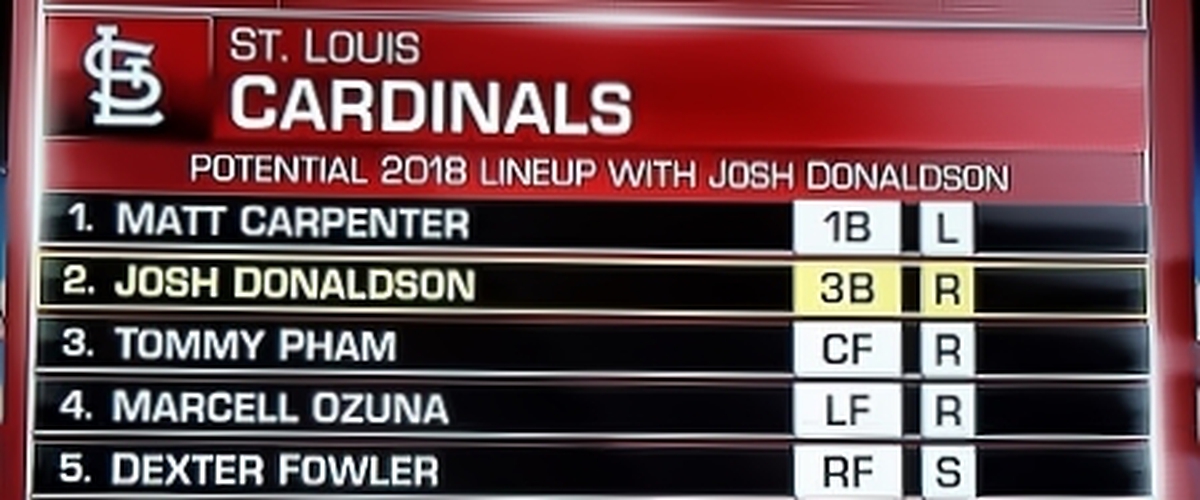 Following line-up positions, they listed #6 Yadier Molina; #7 Paul DeJong; #8 Kolten Wong and #9 pitcher. Who's missing from 2017? OF/1B (14 HR/46 RBI/.897 OPS in 307 PA/32-60 BB-SO ratio).
With the Blue Jays, Donaldson's slashline hitting in the two hole in 2017: .304/.406/.639/1.045.
I feel solid protection for Ozuna and the rest of the team.
Toronto has not made a move to extend Donaldson's contract as of today that I have found. Therefore, "if" the Cardinals are successful in bringing him on board, will it be worth the risk of the players they will have to commit to sending to Toronto.
I expect to see movement increase just prior to month's end. For right now, pretty quiet on the MLB off-season front.
A PERSONAL VIEW
*I find it interesting that the "old" player, Cincinnati Reds Joey Votto (34) is only second to Los Angeles of Anaheim Angels Mike Trout (26) on the OPS leader board.
In reading some comments since the end of the season and acquisition possibilities, some view players who are 29-30 years old have already had their best seasons. I have to laugh because I feel Votto has a much different view of that statement.