Strasburg, Taylor's Grand Slam over Cubs forcing Game Five at Nationals Park
The MLB NLDS between the Washington Nationals and the Chicago Cubs. Pitching was the key in Game Four. As it will be in the final game tonight and going forward. Nationals manager Dusty Baker announced yesterday afternoon the switch. Stephen Strasburg would make the start, replacing Tanner Roark, to face Cubs Jake Arrieta.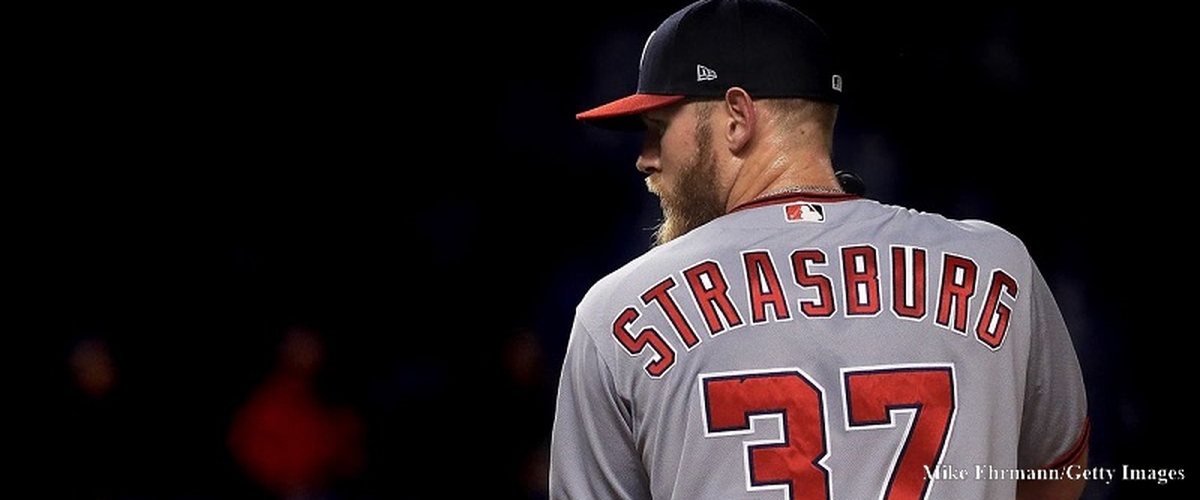 The payoff for the Washington Nationals was huge in the NLDS Game Four. Stephen Strasburg had been battling flu-like symptoms since his first start in Game One, October 6. He logged 10 strikeouts; but, was handed a loss in the Cubs 3-0 shutout facing Cubs Kyle Hendricks, who earned the win.
Game Four for Tuesday had been rained out. With the postponement, and with rumors flying that Strasburg would make the start, Baker stated they would hold with starter Tanner Roark as scheduled.
Wednesday morning, Strasburg went to talk with Baker. On full rest, he wanted the ball as he was feeling better and ready to go. And, that he was.
Strasburg pitched a stellar game last night. Again he went seven innings. He recorded a career postseason high of 12 strikeouts, only gave up three hits, issued two walks while holding the Cubs scoreless. With Ryan Madison (8th) and Sean Doolittle to close, Strasburg earned his first playoff win the a 5-0 shutout over the defending World Series champs.
NATIONALS OFFENSE SEALED THE DEAL IN THE EIGHTH
Facing Jake Arrieta, the Nationals put up their first run, unearned, in the third on an error by SS Addison Russell. He was relieved in the fifth by Jon Lester, who went 3.2 scoreless innings.
In the eighth creeping up on 60 pitches, Lester had his first out, then issued his one walk allowed. However, very rare for Lester, he picked off Ryan Zimmerman at first base for his second out. Daniel Murphy, up next, connected for a single.
Carl Edwards, Jr. was called to the hill to relieve Lester. Anthony Rendon drew a walk, followed by a walk issued to Wieters, to load the bases. Next up, Michael A Taylor.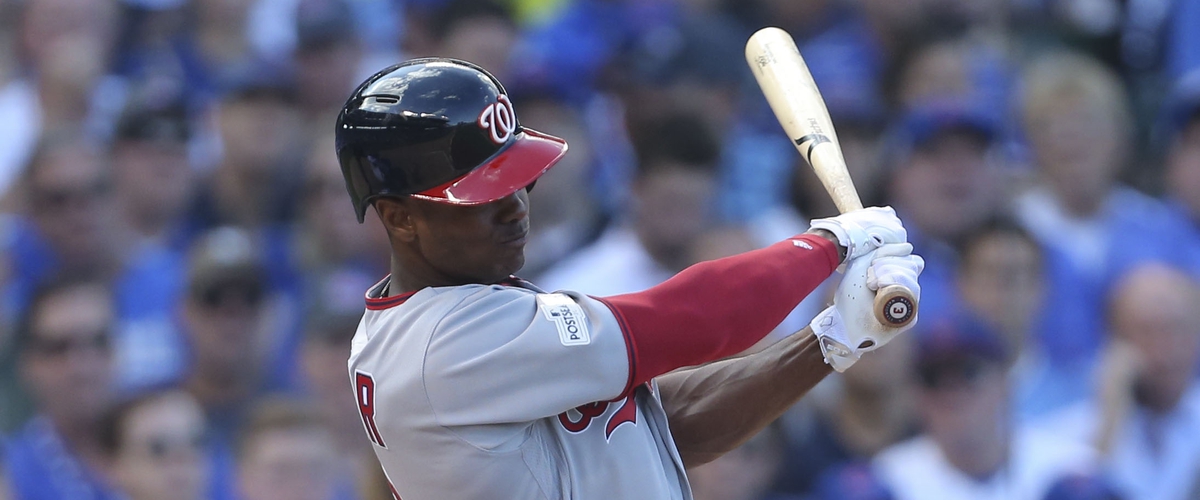 Cubs manager Joe Maddon made his third switch, Wade Davis to relieve Edwards. Davis (2.30 ERA/32 Saves) has been a very important bullpen piece for the Cubs throughout the season into the playoffs. However, Taylor got his pitch and defied the Chicago winds blowing into Wrigley Field. On Davis' 1-1 pitch, Taylor crunched the two-seamer out over the head of RF Ian Happ into the right wall basket. A two-out GRAND SLAM.
That was Taylor's career first postseason home run. That was the first postseason Grand Slam in Nationals franchise history.
Davis had only given up a total of six home runs in the regular season in his total 58.2 IP. And yes, dead silence fell, as did the rain, over Cubs fans.
FINAL NLDS GAME FIVE - AT NATIONALS PARK, 7:00 CST TONIGHT
Both teams packed up last night to head East for their final game at Nationals Park. This is appearance since 2012. They have yet to advance for the Championship Series.
Now, even though back home, they will face Cubs Kyle Hendricks (3.03 ERA). In Game One, he went two-hit seven scoreless innings, issued three free passes and logged six strikeouts. That was after eight days rest since his last regular season start, September 28. Granted, with the postponed game thrown in during this series, Hendricks will return on full rest. Will he be able to hold the Nationals in check for a second time?
Baker has yet to decide, will he go with LHP Gio Gonzalez (2.96 ERA), who started Game Two for the Nationals 6-3 win. He went five innings, but allowed 2 HR/3 ER off three hits, in his start. Or, will Baker choose to allow RHP Tanner Roark (4.67 ERA) his postseason start to face Hendricks?
Whichever team comes out with the win, Friday will be a travel day. From Washington D.C. to the West coast to face the Los Angeles Dodgers for the seven game NL Championship Series at Dodger Stadium. Of course, as the Dodgers await to see which team they will face on Saturday, their starters have yet to be announced.
And, the games ahead will not get any easier.
SURPRISE ALDS WINNER - AL WILD CARD NEW YORK YANKEES ADVANCE TO THE NLCS.
The New York Yankees won their AL Wild Card game over the Minnesota Twins. They were in the hole, 0-2, after the first two games at Cleveland Indians' Progressive Field. Back home at Yankees Stadium, they found new life and tied the series with back-to-back wins of their own. The final game last night, back in Cleveland, the Yankees did not back down.
Indians Corey Kluber (2.25 ERA) faced the Yankees in the final game. He was retired after 3.2 IP/2 HR/3 ER/2 BB/6 SO, in what would be his final game of 2017. The two homers and three RBI, both by Didi Gregorius.
Yankees C.C. Sabathia (3.69 ERA) took down the first nine batters faced before giving up his first hit allowed in his fourth, then took down the next three. In the top of the fifth, the Indians charged back with two earned runs that cut the Yankees three run lead to one run. He was retired after 4.1 IP/2 ER while fanning nine. No free passes issued.
Indians Cody Allen, in the top of the ninth, two-outs, Yankees add one earned run and one run on the error by RF Jay Bruce, for insurance runs and a 5-2 lead.
Yankees Aroldis Chapman shut the Indians down in the last two innings. He took down the side in the eighth. He issued a walk in the ninth, but closed the game with Austin Jackson "looking".
The Yankees will travel to face the Houston Astros at Minute Maid Park, for the ALCS. Astros LHP Dallas Keuchel (2.90 ERA) is listed to start Game One, Friday, October 13. Yankees have yet to announce their starter facing him. Game coverage begins at 7:00 CST.