The Cardinals-Cubs Pitching Duel, The Win Went To the Cubs
St. Louis Cardinals Adam Wainwright facing Chicago Cubs Jon Lester went toe-to-toe in a pitching duel that did not disappoint. And, Wainwright took away Lester's potential "Perfect Game" bid.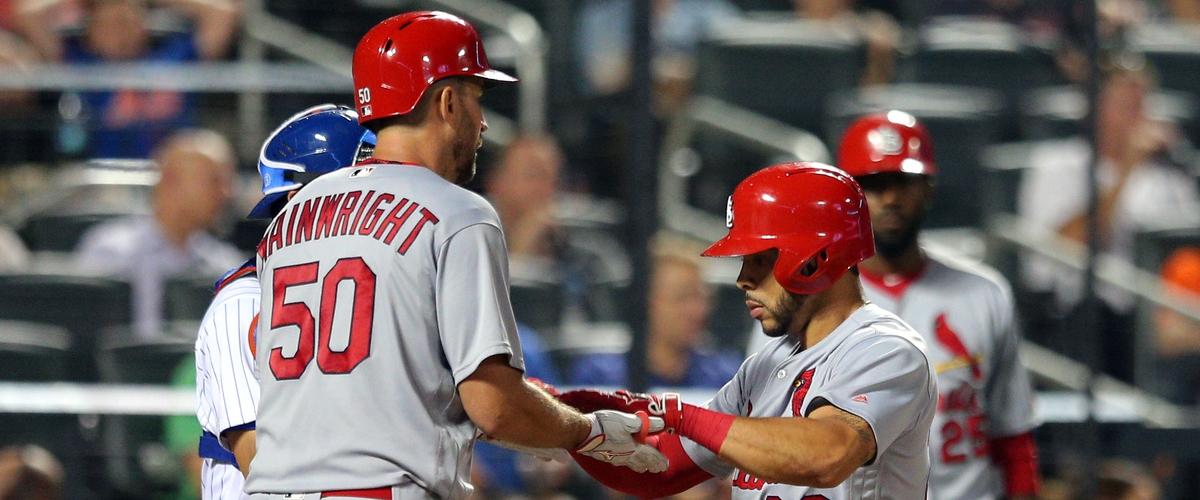 Two very strong and proven starters faced one another in Game Two, St. Louis Cardinals Adam Wainwright and Cubs Jon Lester, on the hill. Both had seen better and more consistent starts in past seasons; but, each brought their best to face one another yesterday. A game which conceivably would take far less than two hours the way it was moving along.
On a grading scale, Lester was a tick better than Wainwright in that he was taking his start into a "no-no" performance through his first five innings. Taking down the side in each while logging eight of his ten strikeouts facing 17 hitters into his sixth. The 18 Cardinals hitter came to the plate, Wainwright to face him and connects for a single to end Lester's possible perfect game.
However, a shutout was still possible for one or the other.
Wainwright had held the Cubs scoreless through seven innings. He had given up only two hits, taking down the side in four of his 7.2 IP. He only fanned three, but effective keeping the ball on the ground.
EIGHTH INNING THE LEATHER BEGAN TO POP
Lester back on the mound in the eighth. First up, Yadier Molina, HBP-left arm, to put him on base. Rookie Luke Voit hit into a double-play. Rookie Paul DeJong (0-2 AB) gets his first hit facing Lester sailing a solo shot to put the Cardinals on the board.
Randal Grichuk followed with a back-to-back solo homer into the shrubs over the center wall; and, a Cardinals 2-0 lead, retiring a shutout for Lester.
Wainwright was not as successful as he was in the sixth. He got ahold of a great hit; but, fielded by RF Jason Heyward for the final out.
WAINWRIGHT'S EIGHTH SHARED WITH THE BULLPEN
Wainwright came back for his eighth inning. One runner on with two outs on the board. Ben Zobrist slugs out a RBI single to cut the lead in half. He was retired, along with his possible shutout, and Matt Bowman followed to face Kris Bryant (1-3) who punches out a RBI single for the 2-2 tie. Manager Mike Matheny makes another switch, Brett Cecil to follow Bowman.
Anthony Rizzo (0-3) to face Cecil. He worked him to a full count. Cecil's next pitch was inside, just not quite far enough to hold Rizzo from slugging out a hit to left center. CF Dexter Fowler made the throw to home, but Molina did not have a firm catch for the out at the plate. Thus, a RBI double by Rizzo to take the lead. Willson Contreras was issued a IBB. Molina to SS DeJong to pick-off Contreras in his attempt to steal second for the final out. Cubs 3 - Cardinals 2.
CUBS SHUTDOWN THE CARDINALS IN THE NINTH
Wade Davis relieved Lester and was in to close for the Cubs. Two outs, he issues a free pass to Fowler, followed by his second walk issued to Jedd Gyorko. Yadier Molina to the plate. He worked Davis to a full count. However, on his 25 pitch, Molina went down swinging. Game over. Cubs win goes to Lester for only his seventh this season, going 8 IP/2 ER/10 SO with no walks issued. Davis earns his 19 save. Cardinals Matt Bowman is handed his fourth loss.
Wainwright, 7.2 IP/2 ER/-0-BB/3 SO receives a no-decision for his day's work. He will have to wait until his next start, Thursday, July 27, facing the Diamondbacks to look for his 12 win.
No doubt, a very tough loss for the Cardinals. Especially, coming off seven previous road games with three walk-off losses in their total of four. This one was no less painful with their bullpen giving up a two run lead. Matheny has searched among his bullpen for "that pitcher" to take command and deliver in late innings. To date, that hurler has not come to light. As the trade deadline approaches, seemingly 'nothing' is coming from the Cardinals front office as to possible moves to be made. The Cardinals are still in the "Hunt for October", still holding at 4.5 behind the first place Milwaukee Brewers. However, in my opinion, to remain; and to advance, they must address the issue at hand.
NEXT UP ~
Tonight's final game and rubber match ~ ESPN's featured MLB Sunday Night Baseball, 7:00 CST.
Cardinals Michael Wacha (7-3/3.71 ERA) will face Cubs Jose Quintana (5-8/4.20 ERA). The Cardinals face yet another left-hander who they are not totally familiar with, as he comes from the American League - newly acquired from the Chicago White Sox.
Wacha has had three quality starts to begin July. Even though he has allowed 13 hits in those three starts, he holds a 0.87 ERA for the month. He has only allowed two earned runs, issued four walks and has logged 26 SO in his 20.2 IP. His last outing was his career first complete, three hit shutout game for the 5-0 win over the Mets. His one start this season, June 4 at Wrigley Field, he only saw 4.1 IP with giving up six earned runs in the 7-6 Cardinals loss. , by paper numbers, have hit a .340 BA. He will return tonight to face the Cubs at home with a far different outcome.
Quintana, his first outing with the Cubs was on the road facing a familiar AL team, the Baltimore Orioles. He was solid in his start going 7 IP with a career high 12 SO, allowed three hits, no walks, in the Cubs 8-0 win. He makes his debut in front of his new home crowd today. The last he pitched at Wrigley Field, July 12, 2015. He was 0-1/3.68 ERA/1 HR/3 ER/9 SO on eight hits allowed. The last he faced the Cardinals was at Busch Stadium, July 1, of the same year. He was 1-0/1.50 ERA in his 6 IP with 1 HR/1 ER/8 SO. There are only five Cardinals who have faced Quintana - Matt Carpenter, (0-3); Randal Grichuk, (0-3); Yadier Molina, (2-6/1-2B); Kolten Wong, (1-3); and, Dexter Fowler.
Fowler has a bit more experience against Quintana, As the Cubs-White Sox intra-city rivalry lives on, the two teams usually play one another each season. And, as Fowler is a former Cubs, he is 2-6/1 RBI/1-2B facing the former White Sox hurler.
This final game will be another hard fought game between the Cardinals and Cubs.