"The G Stanton Story" awaits an ending to be written. But, how soon will Cardinals fans be able to breathe?
As the MLB 2017 World Series was drawing to an exciting close, 'rumors' had already begun to fly that the St. Louis Cardinals were in pursuit of the hitting marvel, Miami Marlins Giancarlo Stanton. Approximately 15 days ago. In the Business of Baseball, not long. In the life of a fan, an excruciating length of time.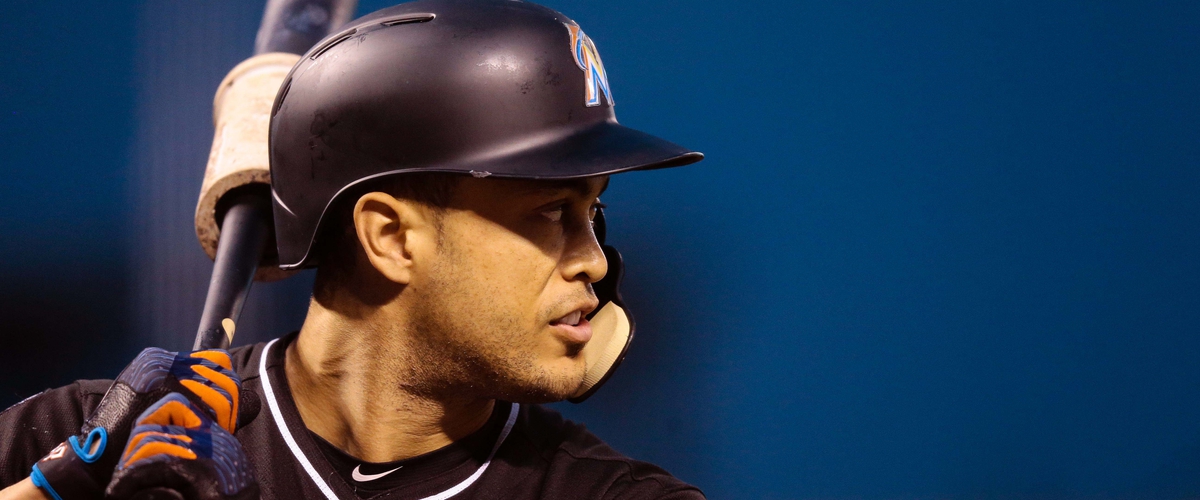 For more than eager Cardinals fans, 15 days seems like months of discussions. Now, the Cardinals fans enthusiasm is waning due to varying "speculation" articles written. Giancarlo Stanton, who holds the reigns in this big picture with his "full no-trade clause" has yet to announce a decision. And, the audacity of the Marlins organization talking with other teams putting more pressure on awaiting Cardinals fans.
Stanton's deal is not due to John Mozeliak, Cardinals President of Baseball Operations, making an effort or opening DeWitt's checkbook, as many like to use both as a scapegoats for their complaints. The final decision comes from Stanton himself. No matter the team.
Folks, it has only been two weeks since the end of the World Series and "talks" with Stanton's "agent" will continue until the Marlins and "one" MLB team come to their terms for a final ending to this off-season Big Hype story. This is a deal that will not be an "overnight" flip, so to speak.
Cardinals fans are looking to Stanton to be their next "Albert Pujols". The slugger, who turned down a $220 MM for up to ten years with the Cardinals, who grabbed the carrot dangled by the Los Angeles Angels. They look to Stanton as their savior of the team to give them another World Series Pennant. Many are more than willing to give up as many prospects the Cardinals possess to accomplish the "deal".
In my opinion, one player does not make a winning team as has been evident these past Stanton seasons with the Marlins. The Marlins have not made postseason since Stanton made his debut in 2010. Take a moment to think about that, Cardinals fans.
However, coupled with some very solid players on the Cardinals "Team", their postseason capability would be increased two-fold. Should Stanton continue his 2017 season, .281 BA/.376 OBP/.631 SLG/1.007 OPS with 59 HR/132 RBI, yes, Stanton would definitely be an asset for the Cardinals.
And, Stanton himself, I'm sure, by way of grapevine discussion is looking for "that team" to give him a golden ring. He and his agent are looking at the team he will untie the bow around his FNTC for and move out of Miami.
As all are aware, the Marlins organization in "dealing Stanton", not only to get his remaining hefty $295 MM off their books, are looking for high level pitching prospects. The Cardinals have the caliber and level of young pitchers who are available to entice the Stanton-Cardinals outcome.
During the General Managers meetings this week, per : ".... top officials from the Cardinals and Marlins met again Wednesday [Nov. 15] to discuss parameters of a Giancarlo Stanton blockbuster." And per Morosi:
ORLANDO, Fla. -- The Cardinals have an abundance of the most coveted commodity in baseball: young, talented starting pitchers.
Judging by the team's trade discussions at this week's General Managers Meetings, the Cardinals won't be shy about moving one -- or perhaps more -- in order to acquire the right outfield and bullpen upgrades.
The Tampa Bay Rays and the Cardinals have also been in discussions regarding pitching possibilities. Rays Closer Alex Colome, particularly, as he had 47 saves this past season.
The Rays -- among other potential St. Louis trade partners -- have interest in the Cardinals' starting-rotation prospects. Right-handers, Alex Reyes, Sandy Alcantara and Jack Flaherty are poised to pitch in Major League rotations next year. Two additional prospects, Dakota Hudson, 2017 Pitchers of the Year in the Double-A Texas League and Ryan Helsley, Class A Florida State League are possibles.
Therefore, Cardinals fans, your frenzy about the "G Stanton Story" can be rekindled. However, in my opinion, rekindle with caution. Should nothing is ironed out by the December Winter Meetings in Orlando, December 10-14, the Cardinals will be talking to various agents concerning hitters; and, pitchers, in the free agent pool. Personally, I would talk with agents for Kansas City Royals 1B Eric Hosmer and Colorado Rockies CF Charlie Blackmon, even though Blackmon won't be a free agent until 2019.
The Stanton story has dominated hundreds of pages since the World Series. I'm sure it will continue to be the topic of interest. Can't just allow such a fire to die out. As much as the "Albert Pujols Story" was discussed for weeks in 2011, this will be the same with Stanton for Cardinals Nation. A different outcome? Only time will tell. But, this particular story has only been on the sports pages and social media news priority list for two weeks.
Reportedly, the Cardinals were front runners in this story. That has changed several time in the past few days. The Los Angeles Dodgers recently stepped into discussions with the Marlins organization; along with the Cardinals, Boston Red Sox who are/were in the mix and the Philadelphia Phillies at one point in time. I believe the San Francisco Giants, who were linked early an interested party, are pretty much out of the picture. Their 31 year old starter Johnny Cueto (2015/$130 MM guaranteed-7 yr upwards of $170 MM+) decided he would forgo his opt-out and "he's staying" with the team.
There is still a lot of major league baseball discussions to be written about. Coming into the largest Free Agent pool the majors will ever see in 2018. Lot of players packing up and ready for a move by Spring Training, February 14, 2018.
The real splash yet to be determined ~ Nationals OF Bryce Harper, a deal that would be more than ten years at the bargain basement price tag of $400 MM, after all is said and done. Preferably to remain with the Nationals. Are baseball contracts ridiculous? In my opinion, hands down yes.
High School and College football players out there, you may want to turn in that oval ball for a round one.
However, the Big Question still remains for the Cardinals and fans, will Giancarlo Stanton be sporting a "Birds on the Bat" uniform for Valentines Day? OH, the wait and see is a killer.