Wainwright and Cardinals Streak to Seven Straight In Win over the Braves. The 'Tommy Pham Influence'.
St. Louis Cardinals now with seven straight wins. Their last six have been with eight runs or more. A first in their franchise history, which surpassed the record held by the 2011 team.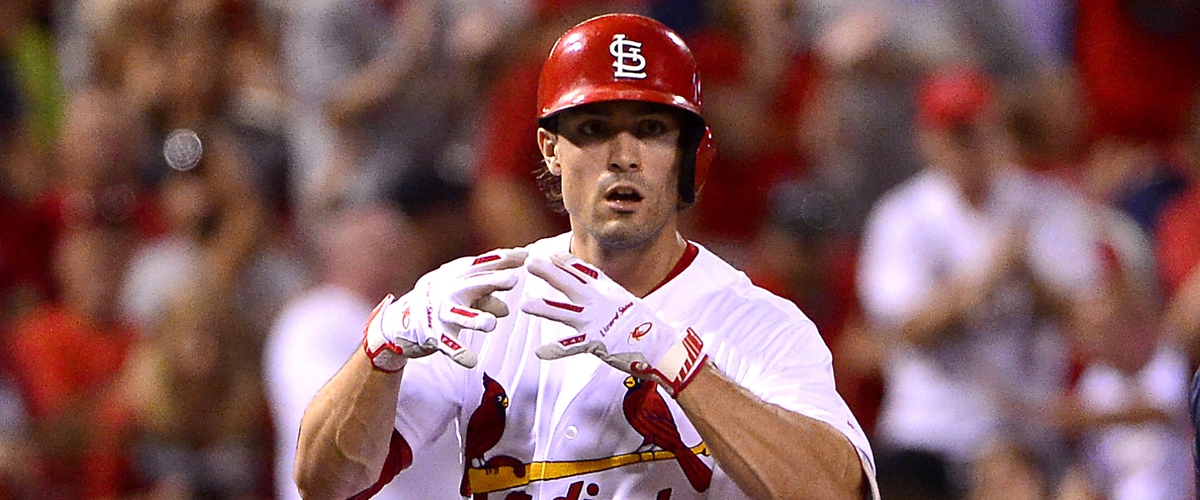 Cardinals are hosting the Atlanta Braves, who they swept in early May at Turner Field. In Game One last night, they added their fourth for the season against the them with an 8-5 win.
The Cardinals did not get the win with a Grand Slam; or, any home run; at least, not by St. Louis. Even though, solid hitting and base running brought in the runs. Once again a team effort up and down the line-up for win.
The second inning, Cardinals put up four runs off Foltynewicz as he faced nine batters. Three doubles and a single. He issued his third walk, followed by Kolten Wong, RBI double; Randal Grichuk, RBI single; Matt Carpenter, RBI double; fourth walk issued; and, Paul DeJong pumped out a RBI double, before closing the inning with his final two outs and a Cardinals 4-0 lead.
In Wainwright's third, he allowed two singles, one by Foltynewicz; and, issued his third walk to load the bases. Freddie Freeman grounded into a double play, but Braves cut the lead to three with Foltynewicz in for the run.
Foltynewicz back for his third. Cardinals began again. One out, Wong to first HBP. Grichuk slams out his first, RBI triple this season, standing. Wainwright returns the favor to Foltynewicz. He connects for a RBI single to boost the lead. Braves starter was retired with only 2.2 IP/6 ER. He was followed by Luke Jackson with his first strikeout.
Brett Cecil followed Wainwright, with a 6-1 lead on the board. The last he had faced the Braves (formerly with the Toronto Blue Jays) was in April 17-18, 2015. His first appearance, 2 HR/3 ER in 0.2 IP. His second, he held the Braves to one hit in his one scoreless inning. Fast forward to 2017, a repeat of his first in 2015. He had two outs, issued one walk, and a single. Two runners on. Former Cardinals Matt Adams, at the plate, connected for a RBI single. Still two bags covered. Ozzie Albies, (.214 BA), slugs out a three-run homer out over the left wall to cut the Cardinals lead to one run. Four earned runs in this 0.2 IP. Hope in abundance for the Braves to stay a fourth straight loss.
Rex Brothers in for the eighth. He got Grichuk swinging this go round. His second "K' on PH Jose Martinez. Then issued two walks. DeJong, who had already pumped out a RBI double in the second, had a repeat performance. He blazed the two-seamer out right for a 2 RBI double giving the Cardinals some insurance, 8-5, on the board.
.
Baseball after Cecil. John Brebbia, Zach Duke and Matt Bowman held the Braves scoreless in their collective 3.1 IP. Bowman gives Wainwright his 12 win, as he earns his second save. Foltynewicz was handed his seventh loss.
HOME PLATE UMPIRE HELD A TIGHT REIGN
For the starters, Braves Mike Foltynewicz and Cardinals Adam Wainwright, they had to deal with a very tight strike zone called by HP umpire, John Tumpane. Foltynewicz only logged one strikeout. Wainwright recorded none.
However, the Braves bullpen was able to overcome as Cardinals hitters put up 10 strikeouts. Six of those were by Braves reliever Luke Jackson in his 2.1 IP. Cardinals bullpen only saw one by Zach Duke. A total of eight walks were issued by the Braves. Cardinals pitchers issued five.
CONCERN FOR WAINWRIGHT
Wainwright in his second start since returning from the DL (back stiffness), went a bit deeper in his stand on Friday than his last (Aug. 6) only seeing three innings. Last night he went five innings, but, logged no strikeouts in a very tight strike zone called. With four hits by the Braves and issuing three free passes, Wainwright had to work out some jams with tremendous defense behind him with three double plays. However, he did take down the last eight Braves he faced.
To the viewers eye, he was going through the motions; but, not as sharp. More deliberate in his pitches and not the velocity of the Wainwright past throwing in the 60-70+ mph range. During warm-ups, he felt something on the outside of his throwing elbow. Slight inflammation, which he explained away during the postgame interview as a condition which crops up due to pitching for so long.
The Cardinals certainly rely upon Wainwright in their rotation. He had a very sluggish beginning this season. Made strides in July; but, in August since the DL, has struggled once again. Now, with a possible new injury to consider, will the Cardinals recall rookie Luke Weaver. Weaver covered for Wainwright while on the DL due to his back issue. Time will tell.
CARDINALS OFFENSE ~ TOMMY PHAM INFLUENCE
Cardinals fans have, for the most held their belief, been waiting for the offense to "click into action". The talent has always been there; now, they are proving "they are, they can and they will" succeed with their new found competitive spirit. Was this new positive dedication due to OF Tommy Pham calling out his teammates to step up to the challenge of better play? I like to think so.
Cardinals were 'sleeping' their way at the plate. Pham, who has been extreme since his arrival with the team May 5, as a call-up from Memphis Triple-A due to a rash of Cardinals injuries at the time. He holds a .309 BA/14 HR/48 RBI/.401 OBP. He wanted help and knew it was within the Cardinals offense to provide it. In my opinion, due to Pham's dedication to "his job" and concentrated efforts, he foresaw the Cardinals ability to join him with a bit of reality 'kick in the pants' statement for his teammates.
And with that, the Cardinals offense has stepped to the plate with more power. No less than eight runs in each of their last six wins. After Pham's "proposed" challenge - the offense have a total of 62 runs off 64 hits in their seven straight wins. Yes, a first on the Cardinals franchise record straight wins list.
Pham has made 88 game appearances out of the 90 games since his arrival. Along with the highest BA in the line-up, he has logged, along with HR/RBI, 14-2B/1-3B on 95 hits. He's added 62 runs with 16 stolen bases, only being caught five times. He holds a 43-87/BB-SO ratio. I feel, Tommy Pham has earned, not only 'the comeback player' for the Cardinals; but, he has definitely been "The Difference Maker". Along with his tremendous offense, he has added some great plays from the outfield, too. Click to see ~ .
NEXT UP ~ GAME TWO, 6:15 CST
Braves prospect Lucas Sims (0-2/5.25 ERA) will face Cardinals Carlos Martinez (8-9/3.52 ERA).
C Martinez is 5-3/3.27 ERA at home. The last he faced the Braves at home was August 6, 2016. He allowed 2 HR/6 ER/2 BB/5 SO. He is 1-1/6.55 ERA against the Braves. His last outing, against the Royals at Kauffman Stadium, he went 8 IP/2 ER/7 SO. Does he have anything left to overcome past performances against the Braves.
This will be Sims third start for the Braves; and, his debut stand on the road. He's pitched 12 innings, with three home runs, and seven earned runs allowed, issued two walks and had six strikeouts.