Fantasy Football: AFC South Analysis
Now let's talk some AFC South Analysis, and see who are the gems and sleepers in this division. Even though the AFC South is known as the red-headed stepchild of the NFL, there is a lot of fantasy value to be had with this division. A division on the rise, there really is no fantasy weakness in the AFC south. The only downside is the lack of Quarterback strength in Jacksonville and Houston, because both teams have strong offensive weapons. This limits the value of receivers like Allen Robinson and DeAndre Hopkins, even though they are star talents. With all this talent, the AFC South will look to win the Battle of the Divisions.
Quarterbacks
Despite potentially missing the first game of the season and playing through injury last season, Andrew Luck is the class of the division. While sustaining a shoulder injury all season, Luck was still the fourth best Quarterback in fantasy. The Colts will need him to play at an MVP level to be competitive in the AFC this season. Even if he just plays okay, he'll still be a good QB1 option this season. Marcus Mariota is definitely a star Quarterback on the rise, and has a full arsenal of weapons. Mariota has a solid, but not star-studded wide receiver corp, with a TE1 and two awesome running backs. His red zone efficiency is the best in the league, and he has tons of upside even in a run-first offense.
The other two Quarterbacks in the division should not be fantasy relevant this season. Both Blake Bortles and Tom Savage should be low end QB2s at best, but will have responsibility in fantasy. Both Quarterbacks have great weapons in their offenses, and will have to keep them relevant. However, both don't warrant any consideration for drafting as your starter or backup in standard leagues.
Running Backs
There are multiple RB1s in this division to take into account. Tennessee looks to be a dominant run-first offense again with DeMarco Murray looking great for his age, and Derrick Henry who can be a strong backup. Murray will be a RB1 in this offense and is a three down back. Leonard Fournette is the high draft pick of the Jaguars, and should get a ton of volume. Even though the offensive line isn't stellar, and Bortles is hot garbage, the volume is enough to warrant drafting Fournette early.
Lamar Miller is also going as a RB1 this season, and should get a lot of volume. Even with this volume, Miller just isn't a high ceiling player, and can't seem to play a whole season at a high level. The last starting back in the division is future HOF Frank Gore, whose production doesn't seem to drop off. The model of consistency, Gore is a RB2 value you can grab in round six or seven. The only other running backs worth drafting here are really just handcuffs to their respective starters.
Wide Receivers
Even though there is a lot of receiver talent in the division, T.Y. Hilton is the only elite receiver not harmed by his Quarterback situation. Even with an injured Andrew Luck, Hilton can still blow up for monster games and maintain a high target share. The next two receivers are DeAndre Hopkins and Allen Robinson, who both have had flashes of greatness. Hopkins just isn't fully utilized in this complex Bill O'Brien offense, and has subpar Quarterback play. Allen Robinson has even worse Quarterback play, but has a higher target share. Both are such extraordinary talents, but they are limited by their poor Quarterbacks.
Tennessee has a very interesting receiver conundrum for fantasy. Eric Decker, Rishard Matthews, and Corey Davis are all ranked similarly in fantasy. Decker has been one of the league's best red zone threats, and joins a strong red zone offense. Davis has a lot of talent as the fifth overall pick, and could have the most upside. Matthews has the most chemistry with Mariota and is listed as the WR1 on the depth chart. All of this makes for a tough situation to decipher, so I'm really indifferent if I get shares of any of these players or not. The only other relevant fantasy option worth targeting is Donte Moncrief in Indy. He just needs to stay healthy and he'll be one of the best red zone threats in the NFL.
Tight Ends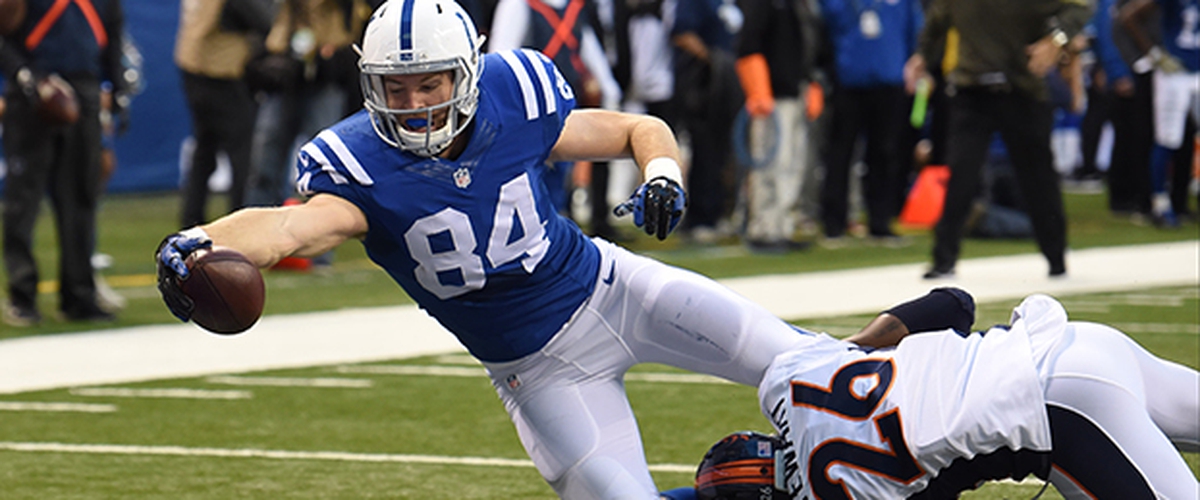 When it comes to the tight end position, Delanie Walker is the class of the AFC South. Walker has been very consistent in Tennessee, and will continue to be a focal point of this passing attack. He will be drafted like a TE1, and will hold down the position for you all season. The only other fantasy relevant tight end in the division is Jack Doyle in Indy. Doyle had a mini breakout last season as the TE2 on the depth chart, and will now be the starter. Look for Doyle to be a fixture of Indy's passing attack, and a great fantasy sleeper.
Defense/Special Teams
If you're looking for defenses in this division, both Houston and Jacksonville are impressive option. Houston was the number one defense in the league last season, and now gets J.J. Watt back healthy. Jacksonville also did well defensively last season, and has added big name free agents in Calais Campbell and A.J. Bouye. The big kicker too target here is Adam Vinatieri, as the future HOF continues to produce.
My AFC East Fantasy Team
QB: Andrew Luck, QB, Indianapolis Colts
RB: DeMarco Murray, RB, Tennessee Titans
RB: Leonard Fournette, RB, Jacksonville Jaguars
WR: T.Y. Hilton, WR, Indianapolis Colts
WR: DeAndre Hopkins, WR, Houston Texans
TE: Delanie Walker, TE, Tennessee Titans
Flex: Lamar Miller, RB, Houston Texans
DST: Houston Texans
K: Adam Vinatieri, K, Indianapolis Colts
Bench: Marcus Mariota, QB, Tennessee Titans
Bench: Allen Robinson, WR, Jacksonville Jaguars
Bench: Donte Moncrief, WR, Indianapolis Colts
Bench: Frank Gore, RB, Indianapolis Colts
Bench: Jacksonville Jaguars DST
Bench: Jack Doyle, TE, Indianapolis Colts