2017 Fantasy Football: My Do Not Draft List
For avid fantasy players like myself, we've all participated in countless mock drafts and have a good idea of who we like drafting and who we're avoiding. This article contains the players that I'm continuously avoiding in drafts, and the reasons why. Each player has very different reasons as to why I'm avoiding them, but they all boil down to one general reason. It's that I don't predict the player to return the value that I'm passing up on at that point in the draft. Of course this is all built on my own perception of predicted 2017 player stats and the value of each individual player. Even with all the advice and content published by countless fantasy football sites and experts, it's important to think for yourself and feel confident in your decision.
Now with all this in mind, I'm here to share the players I'm currently avoiding in drafts. Even though my confidence in these players could change a bit based on preseason camps, seeing how injuries heel, and if other players competing for the same job get injured, it's not looking likely. As I mentioned before, every player below has some reason as to why I'm avoiding them, and it all boils down to not returning the value that I'm passing up on. Even though I traditionally wait on Quarterbacks, you'll notice that there are no early Quarterbacks on the list. This is because it's a personal strategy and I'm aware of the value they can bring each week. Below are the players I'm avoiding on draft day.
Mark Ingram, RB, New Orleans Saints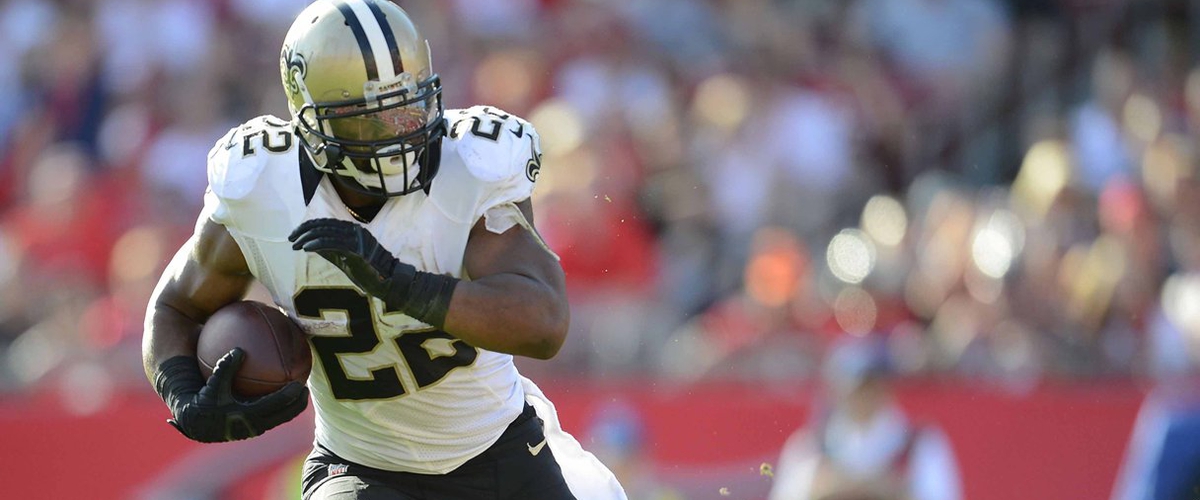 *Courtesy of NewOrleansSaints.com
After having a dynamic 2015 campaign before getting injured, I was all in on Mark Ingram in 2016. I invested a second round pick on him in multiple leagues, but man did he come back to screw me. Even though he played 16 games a season for the first time since 2012, the inconsistency Ingram had all season is not what you want in the second round. In PPR formats, Ingram had six games with over 20 fantasy points (two were in weeks 16 and 17), and eight games with under 10 fantasy points.
A lot of this is all Coach Sean Payton's fault, who gave Tim Hightower way too many reps, turned this offense into a running back committee, and refused to give Ingram the ball around the goalline. Despite being the worse back, Tim Hightower had five games with over 10 carries (two games with 23 or more carries). In week four against the Chargers, Payton gave fullback John Kuhn five total touches, and scored three touchdowns. Payton even gave tight end Coby Fleener a two yard rushing touchdown in week six against Carolina, to solidify his hatred for Mark Ingram.
After week 15 against the Cardinals, reports came out about Ingram's displeasure about his usage, and claimed his lack of end zone touches are to keep Ingram from hitting his contract bonus for touchdowns. Even though Ingram got the workload he wanted in weeks 16 and 17, now there's a whole new amount of competition in town. In the off season, New Orleans signed future hall of famer Adrian Peterson, and traded up in the third round to draft Alvin Kamara. Even though Peterson could be at risk for injury, he was the league leading rusher two years ago. I can't see Ingram getting enough touches, and usage from a coaching staff who hates him, to make drafting him in the fourth round viable.
Sammy Watkins, WR, Buffalo Bills
The Buffalo Bills report Sammy Watkins (foot), "should be close to 100%" when training camp starts. Oh man we've all heard this before! Don't get me wrong, I love Sammy Watkins as a player. He's the clear cut number one receiver in an offense where the only other good receiving option is a second round rookie. With all of his athletic talent, the sky should be the limit with Watkins as his upside is enormous, but he can't stay on the field. I bought low on Watkins last year after week two, and Buffalo didn't even know his status well enough to provide to correct updates for him. When Watkins was on the field, he was mostly used as bait, which didn't fool defensive coordinators long because he couldn't run.
Despite drafting a receiver in the second round to be the number two option, nothing has really changed. Watkins still has tremendous upside, and if he could stay healthy he would have all the targets his heart can handle. However, the foot situation still really scares me, and when medical experts in fantasy like Stephania Bell of ESPN say she's avoiding Watkins, that's a big sign. Watkins is currently going as a late third round pick, which is the earliest I would really consider gambling on an injury-prone player like Watkins. Even with that in mind, this is too early for me to take Watkins, he'd have to fall to the late fourth or fifth round for me to really consider. I can't guarantee he will be available at that point in drafts, but he isn't worth a third round pick with all the other talented receivers on the board.
C.J. Anderson, RB, Denver Broncos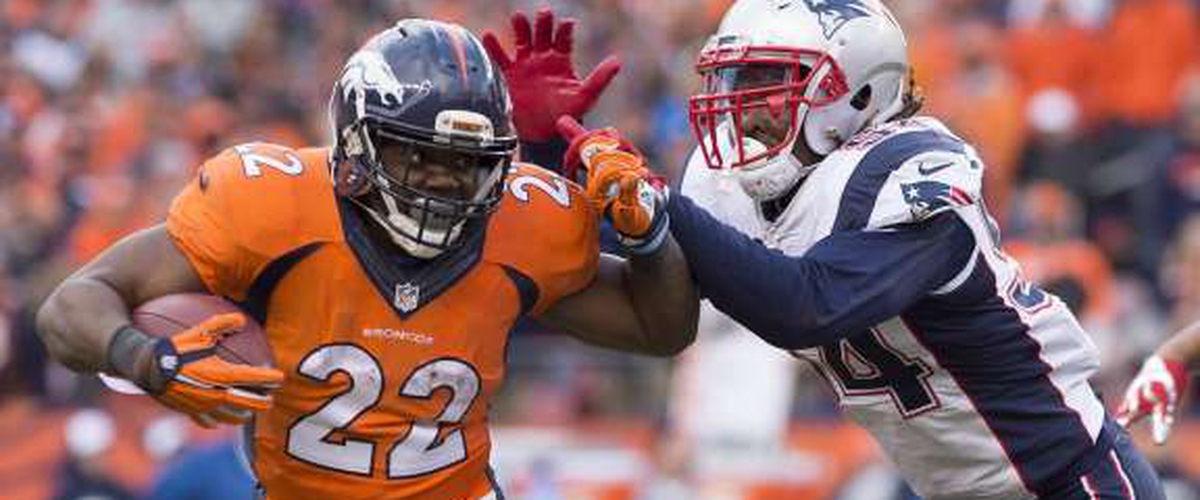 *Courtesy of SF Chronicle
Before last season, Anderson always seemed to start out terribly but finish hot. Last season, Anderson injured himself after his best game of the year in week seven, and didn't play the rest of the season. Through those seven games, Anderson only had one game with over 100 yards rushing and had just two games with a ypc over 3.7. The main factor keeping him viable in fantasy were his touchdowns. Even though Anderson was getting ample touches, his ypc was subpar and he was not much of a factor in the passing game.
This season presents a mix of new and the same old obstacles for Anderson. The team signed future hall of famer Jamaal Charles, who they will clearly use to try to beat the Chiefs both games this season. Denver also utilized rookie Devontae Booker last season after Anderson went down, but he didn't do anything to take the starting role from C.J. Even though Booker's injury helps Anderson's value, Denver really likes this rookie De'Angelo Henderson, who will earn snaps easily.
Other than the additions in the backfield, Denver still has the same problems it had last season. The Quarterback situation doesn't look to be settled, as Trevor Siemian and Paxton Lynch will continue to battle for the starting job in training camp. Even though Denver has made moves to improve its offensive line, the unit is still in the bottom of the league, and is likely a year of working together away from moving out of the bottom. These two factors will help rush defenses stop the run without having the load of the box most of the time, which will make this rushing game very frustrating for Denver and fantasy fans alike. For all these reasons, I'm avoiding C.J. Anderson in the sixth round, when I can draft Spencer Ware or Dalvin Cook in the same round, or wait a round or two for Mike Gillislee, Ameer Abdullah, Paul Perkins, or Frank Gore.
Tyler Eifert, TE, Cincinnati Bengals
After a dynamic 2015 campaign where Eifert became one of the best red zone targets in the NFL, injuries crippled the Bengals tight end. Eifert has never played sixteen games in a season, and has just two seasons with over 10 games played. When healthy last season, Eifert looked less like the complete tight end in 2015, and more like a touchdown dependent fantasy option. Even though he had five touchdowns in eight games, he averaged just three fantasy points per game in games where he didn't catch a touchdown, and one of those games was buoyed by a 71 yard reception.
Even though Eifert should be healthier this season, Cincinnati added more weapons on offense, by drafting John Ross and Joe Mixon in the first two rounds. This will make it tougher for Eifert to compete for touches in the middle of the field, limiting him to more of a red zone option. Eifert is currently going in the seventh and eighth rounds of drafts, which is too early for my taste. Even if he catches six or seven touchdowns, I'd rather get a tight end at a lower ADP that will a more consistent part of the offense.
Rob Gronkowski, TE, New England Patriots
Gronk might be the most avoided player in fantasy the last couple years because of his inability to stay healthy. There's no argument to how high Gronk's ceiling is, even with all of the weapons in a high-powered New England offense. Gronkowski is coming off his worst season yet in 2016, as he played just eight games and was mostly used as bait. Gronk only caught 25 passes in eight games, and has had more surgeries than I can count.
Even though I'm not drafting Gronk in any of my leagues, I can't say I haven't been tempted in mock drafts to take him. After being a first round pick the last two seasons, Gronk is currently going in the early third round of drafts. Even with his injuries, you can't think that his ceiling has really shrunk from what it was two seasons ago. The two reasons to avoid Gronk are his injury history and his position. The only reason to take Gronk this high is because of his ceiling, but he's hardly a guarantee to stay healthy. I personally avoid tight ends until the late rounds of the draft, so Gronk will be someone I'm avoiding on draft day.
Jordan Reed, TE, Washington Redskins
Another elite fantasy tight end, Jordan Reed also has had plenty of issues with staying on the field. Even after posting a dominant 2015 campaign with 87 receptions for 952 yards and 11 touchdowns, Reed still hasn't played more than 14 games in a season. He almost seems to be made of glass bones and paper skin, and if he's not 100% he really struggles. There's no doubt that Reed is an exceptional pass-catching talent, but again health and position are a concern.
Reed is currently being drafted as the TE2, and is a third round pick in fantasy drafts. This draft position is all based on upside, and is just short of his true ceiling. What Reed does have going for him is that his rapport with Kirk Cousins will only be rivaled by Jamison Crowder, as both Pierre Garcon and DeSean Jackson have left in free agency. Even though the talent is clear, I don't like drafting tight ends early, especially someone as injury prone as Reed.
Eddie Lacy/Thomas Rawls, RB, Seattle Seahawks
Both backs are listed here because even though most experts are down on Seattle's run game, a few still are optimistic. This backfield is going to be an absolute mess to predict each week. Currently, Lacy is still recovering from ankle surgery, while Thomas Rawls will be healthy heading into camp. Rawls will likely get a lot of the first-team snaps through camp, which only hurts Lacy's share of touches. Prosise is the only running back in this offense with a set role, but even he can take snaps away from the two bruisers. Lacy wasn't playing poorly last season until ankle surgery, but Rawls on the other hand had one or two good games and a lot of clunkers. On top of all this, Seattle's offensive line is abysmal, and they haven't done anything significant to improve the unit.
None of this really adds up for a good fantasy situation for all three running backs. There are simply too many options for a coaching staff that is likely high on all of these players. Lacy is currently going in the sixth round, while Rawls is going in the tenth-twelfth round. Rawls is absolutely the better value, and is the one to take if you have to grab one. With Lacy, there are simply too many options around him with more solidified roles and better offensive lines. I'll be avoiding this backfield as a whole in drafts this season.
Matt Forte, RB, New York Jets
This should be a no-brainer, but because the Jets are making this difficult and it's a big name, I'll throw Forte in here as well. Matt Forte had a great start to the season in 2016, but he collapsed quickly and struggled to produce. The Jets cut several veterans in the offseason, including starting center Nick Mangold, which should hurt the running game. They clearly used Bilal Powell as the featured back toward the end of last season, and he was the best player on their offense by far. The Jets would be silly to try anything different, but they're not a top team in the league for a reason.
Forte is currently going as an eighth or ninth round pick in drafts, but I'll be avoiding him. There are other potential break out running back options just a round earlier in Mike Gillislee, Paul Perkins, and Ameer Abdullah. There is no reason for to take a chance on Forte, who I'm surprised hasn't been cut by New York yet.
DeVante Parker, WR, Miami Dolphins
Mr. Breakout Candidate for the last three years now has really lost my faith for fantasy purposes. Experts have raved about his potential for years now, but it just simply hasn't panned out. After last season, the Dolphins finally found an identity as ground and pound offense through Jay Ajayi, which limits Parker's role. Quarterback Ryan Tannehill is also still healing up from injury, which will limit him in training camp. Even though I trust Adam Gase to get the most out of this offense, I just don't have my hopes up for Parker this season.
Rishard Matthews, WR, Tennessee Titans
Matthews had a surprisingly strong season as the biggest red zone aerial threat for Tennessee. Considering his sixth or seventh round ADP, I don't personally have anything against Matthews. The truth is that there are so many other talented receivers not just in this range, but going earlier in drafts. I keep finding I have too many receivers in drafts, so Matthews is just one I'm not going to bother drafting. Eric Decker and Delanie Walker will take away a lot of his red zone targets, and Matthews will have much more competition at the receiver position. I will take my chances with other receivers like Mike Wallace and Donte Moncrief over Matthews here.
Tyrod Taylor, QB, Buffalo Bills
It's clear how deep the Quarterback position is and how waiting on Quarterback is recommended, but Taylor is someone I'm avoiding. Taylor only threw for 17 touchdowns this season, and with a receiving corp of injury prone Sammy Watkins and a rookie in Zay Jones, I'm not impressed. Even though these receivers will have high ceilings in this offense because of limited options, we all know who's offense this is. This is Shady McCoy's offense, and he will be the lead option in all facets of the offense. Taylor loses even more value in leagues where passing touchdowns are worth six points instead of four. His biggest asset is rushing touchdowns, and the difference in point totals for each, so if the totals are the same for each kind of touchdown, he becomes a QB3. It's important to understand the scoring system in your league before targeting a run-first Quarterback like Tyrod Taylor.
Bonus:
Jarvis Landry/Julian Edelman/Golden Tate in Standard
I've actually already written a great piece on Wide Receivers in rounds three and four, and it covers these receivers' value in standard vs. PPR formats. To summarize, wideouts who are possession receivers, and rarely catch touchdowns or deep passes aren't useful in this format. That's exactly the kind of receivers Landry, Edelman, and Tate all are, which makes them incredibly low ceiling options in this format. Even though I love these receivers in PPR, they just won't produce enough value to be taken as a third or fourth round receiver. Look more to the article I mentioned above for any further advice.