2017 Fantasy Football: Wide Receiver Rankings (Standard Scoring)
Wide Receiver is often the most consistent position in fantasy from a production standpoint. The reason that players like Antonio Brown, Julio Jones, and Odell Beckham Jr. have been first or second round picks in each of the last three seasons is because of their consistent high level of production. However, this doesn't mean that wide receivers can't always live up to expectations. I previously wrote an article shown here, that illustrates the issues regarding all receivers going in the third or fourth rounds of drafts, and what is holding them back from being a WR1. Receivers don't always get the consistent touches that running backs get, so there can be a fairly low floor on a week to week basis. However, overall the numbers wide receivers are expected to produce are often very consistent. The biggest concerns in drafts are navigating injury history, poor Quarterback play, and ultimately finding the diamond in the rough.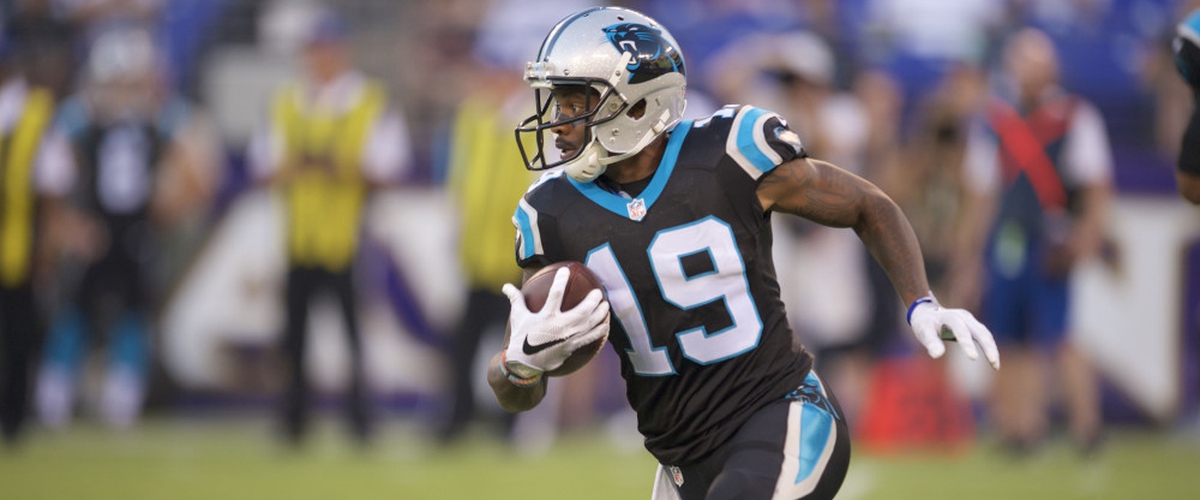 *Courtesy of Panthers Wire - USA Today.
The rankings below are for standard scoring, which traditionally favors running backs over receivers. This is because points are not allotted per touch, so the scoring is seriously dependent on touchdowns. Even though more and more teams are throwing inside the 10 yardline, teams ideally would like to run the ball in for six. This scoring system increases the value in big play threats and red zone threats, like Ted Ginn Jr., Donte Moncrief, and Eric Decker. It also lowers the fantasy value in receivers that catch a lot of passes but don't have a high touchdown total, like Julian Edelman, Jarvis Landry, and Golden Tate. This is taken into account in the rankings below, and should part of your thought process on draft day.
Below are my top 50 receivers for standard scoring in this 2017 fantasy football campaign.
Top 50 Wide Receivers 2017 (Standard Scoring)
Antonio Brown, Pittsburgh Steelers
Julio Jones, Atlanta Falcons
Odell Beckham Jr., New York Giants
Mike Evans, Tampa Bay Buccaneers
A.J. Green, Cincinnati Bengals
Jordy Nelson, Green Bay Packers
T.Y. Hilton, Indianapolis Colts
Michael Thomas, New Orleans Saints
Dez Bryant, Dallas Cowboys
Amari Cooper, Oakland Raiders
Brandin Cooks, New England Patriots
DeAndre Hopkins, Houston Texans
Doug Baldwin, Seattle Seahawks
Demaryius Thomas, Denver Broncos
Alshon Jeffery, Philadelphia Eagles
Allen Robinson, Jacksonville Jaguars
Michael Crabtree, Oakland Raiders
Keenan Allen, Los Angeles Chargers
Davante Adams, Green Bay Packers
Golden Tate, Detroit Lions
Jarvis Landry, Miami Dolphins
Sammy Watkins, Buffalo Bills
Julian Edelman, New England Patriots
Emmanuel Sanders, Denver Broncos
Terrelle Pryor Sr., Washington Redskins
Stefon Diggs, Minnesota Vikings
Pierre Garcon, San Francisco 49ers
Larry Fitzgerald, Arizona Cardinals
Tyreek Hill, Kansas City Chiefs
Jamison Crowder, Washington Redskins
Donte Moncrief, Indianapolis Colts
Martavis Bryant, Pittsburgh Steelers
Mike Wallace, Baltimore Ravens
Willie Snead, New Orleans Saints
Brandon Marshall, New York Giants
Jordan Matthews, Philadelphia Eagles
Kelvin Benjamin, Carolina Panthers
DeSean Jackson, Tampa Bay Buccaneers
Ted Ginn Jr. New Orleans Saints
Adam Thielen, Minnesota Vikings
Robert Woods, Los Angeles Rams
Eric Decker, Tennessee Titans
Cameron Meredith, Chicago Bears
Corey Coleman, Cleveland Browns
Corey Davis, Tennessee Titans
Zay Jones, Buffalo Bills
Kenny Britt, Cleveland Browns
Rishard Matthews, Tennessee Titans
Kevin White, Chicago Bears
Tyrell Williams, Los Angeles Charg