Fantasy Football: AFC East Analysis
To continue with the Battle of the Divisions, I'm here with some AFC East analysis for fantasy. We all know this division is owned by Tom Brady and the New England Patriots. All of the other teams in this division are sub .500 teams, but still have some fantasy relevance. The Jets however, really only have one fantasy relevant player in Bilal Powell. The Patriots have a ton of premium fantasy talent throughout their roster, and a couple of sleepers to target as well. These three teams actually contribute a good amount of fantasy talent, and will be in strong contention in the Battle of Divisions.
Quarterbacks
Tom Brady is the GOAT, and is an elite fantasy quarterback even at age 40. There really isn't much else to say about him that hasn't already been proven last season. The only other fantasy relevant Quarterback in the division is Tyrod Taylor, whose stock has been falling. The Bills recently traded Sammy Watkins, and Anquan Boldin just retired the other day. Taylor just doesn't have strong weapons around him other than LeSean McCoy. What Taylor does have however is speed to burn, which is keeping him fantasy relevant. Taylor just isn't a QB I'm targeting, but is the only worth backup in the divisional lineup behind Tom Brady.
Running Backs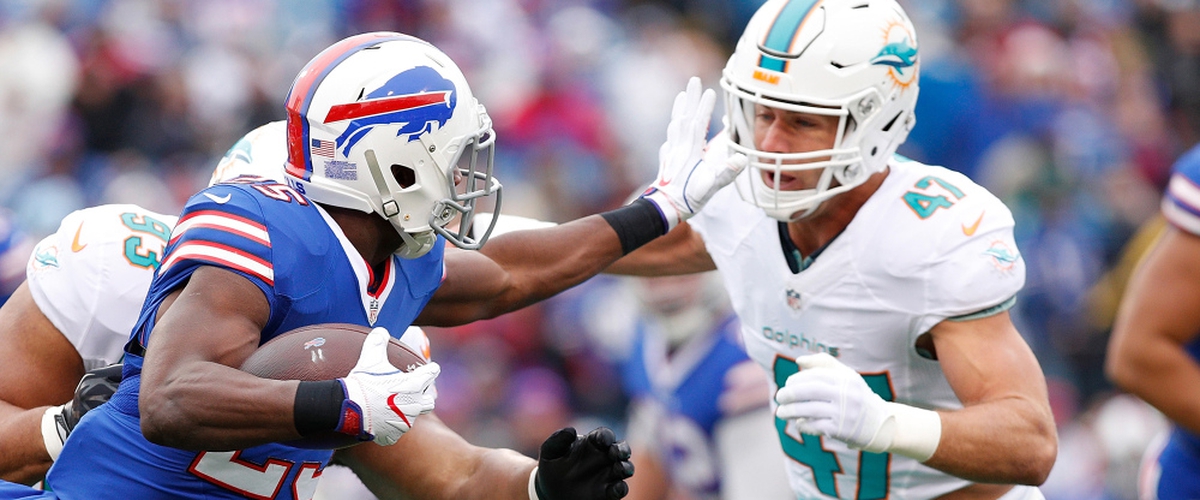 The most talented position in the division, the talent at running back in the AFC East is impressive. The two starting studs are LeSean McCoy and Jay Ajayi, both of whom are legit RB1s. They will be the focal points of their respective offenses, and first or second rounders in redraft leagues. There are a lot of other mid round running backs with a lot of upside in this division. Bilal Powell looks to be the only offensive weapon on the Jets this season, and will get as much work as he can handle. The New England running back situation is still murky, but Mike Gillislee looks to be in the lead for the LeGarrette role from last season. All of the other running backs in this backfield have such low ADPs that they're smart to roster. Rex Burkhead looks to be competing with Gillislee for the main rushing and goal line role. James White is set to be the passing down back, giving him flex appeal. There are a ton of late round backs that are worth targeting in the division. However, the stud options in Shady and Ajayi are huge for fantasy, so be sure and target them as a RB1.
Wide Receivers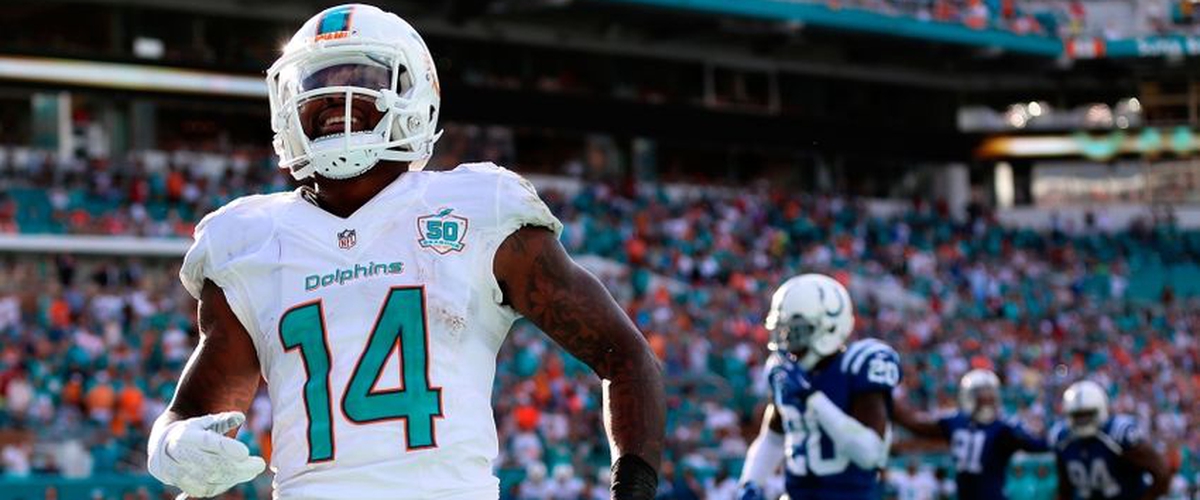 Even though there are a lot of solid receivers in the division, there's nobody that blows you away. With Sammy Watkins in Los Angeles now, the only strong receiving options are in New England and Miami. Brandin Cooks is definitely the best receiver in the division, but he is unproven in New England and in outdoor stadiums. Even with that concern, and the number of receiving options in town, Cooks has the best chance of being a WR1. Julian Edelman of the Patriots and Jarvis Landry of the Dolphins are the next best two receivers. Both have very similar games and are reception monsters, but have very different offenses. Landry is limited by his offense with Ryan Tannehill and now Jay Cutler at the helm of a run-first offense. Edelman is definitely the more accomplished receivers, but has the lower ceiling and has a lot of competition for targets. Both are solid WR2s in PPR scoring, and even better flex options.
There are several sleeper and late round receivers that have some fantasy upside as well. Jordan Matthews and Zay Jones look to be the only capable pass catchers in Buffalo, and both have great draft day value. The volume and opportunity they will have is not easy to find for such a cheap cost. As I mentioned in my recent Jay Cutler piece, Devante Parker and Kenny Stills stand to benefit more. Cutler is definitely the better deep ball thrower and has already developed some chemistry with Parker. Chris Hogan, Danny Amendola, and Malcolm Mitchell are names to keep an eye on as well. All have proven themselves viable in Brady's eyes, but the competition at the position there is just too much right now.
Tight Ends
One word, Gronk! When healthy, Gronk is clearly the best tight end in the game, and is an absolute monster. The only issue is that he needs to stay healthy, but that won't hold any owners back from investing. The other tight ends in this league are pretty lackluster, but they all have some TE2 potential. Julius Thomas is reunited in Miami with his former offensive coordinator Adam Gase, who produced Thomas' best years in Denver. Cutler has proven he likes throwing to the tight end in chicago, which should help Thomas' value. Charles Clay has continuously underperformed in Buffalo, but is the only passing weapon left that has chemistry with Taylor. Meanwhile in New York, Austin Sefarian-Jenkins is the only non-running back receiving option that anyone can name. If I have to bet on any of these tight ends other than Gronk to have a productive fantasy option, I will reluctantly go with Clay.
Defense/Special Teams
Even though nobody in this division has a bad defense, the Patriots have the best unit to target. With elite playmakers all over that secondary, the interceptions should be plentiful in New England. Stephen Gostkowski is a very reliable kicker, and is in an offense that should move the ball down the field a lot.
My AFC East Fantasy Team
QB: Tom Brady, QB, New England Patriots
RB1: LeSean McCoy, RB, Buffalo Bills
RB2: Jay Ajayi, RB, Miami Dolphins
WR1: Brandin Cooks, WR, New England Patriots
WR2: Julian Edelman, WR, New England Patriots
TE: Rob Gronkowski, TE, New England Patriots
Flex: Jarvis Landry, WR, Miami Dolphins
DST: New England Patriots
K: Stephen Gostkowski, K, New England Patriots
Bench: Mike Gillislee, RB, New England Patriots
Bench: Bilal Powell, RB, New York Jets
Bench: Tyrod Taylor, QB, Buffalo Bills
Bench: Charles Clay, TE, Buffalo Bills
Bench: DeVante Parker, WR, Miami Dolphins
Bench: Zay Jones, WR, Buffalo Bills