What if Michael Jordan Never Played in the NBA?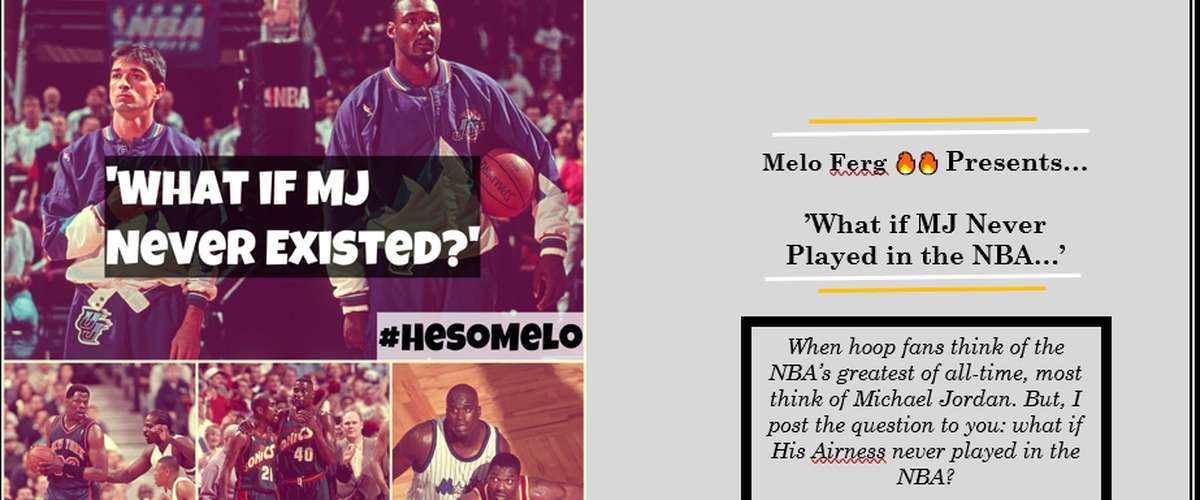 - What's up hardwood fans! Amidst the drama and suspense of the 2017 NBA Playoffs and the award results, my mind has been working. We've heard some of the great 'What-Ifs' in NBA history – what if Tracy McGrady was healthy, what if Shaq and Kobe co-existed, etc – but I've got one of my own that I've never heard. Michael Jeffrey Jordan is often regarded as the greatest NBA player of all-time. Ask 100 fans, and I guarantee you half of them will say that His Airness is the best to ever do it. But, now I pose the question to you – what if MJ never laced 'em up in the National Basketball Association? Definitely, some factors to consider…
~~~~~~~~~~~~~~~~ ~~~~~~~~~~~~~~~~ ~~~~~~~~~~~~~~~~ ~~~~~~~~~~~~~~~~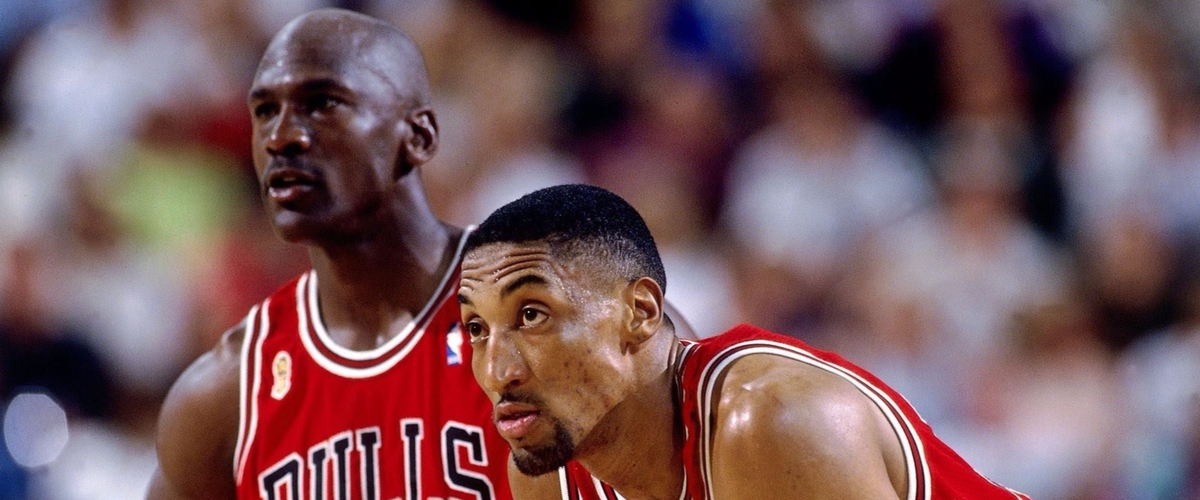 ~ Jordan's Legacy:
- There's no need to dive into this too deeply. The accolades of Michael Jordan are well known, but it does help his case as the greatest of all-time. The question has come into discussion on if it's overrated, but a perfect (100%) in the NBA Finals, winning six titles in six trips is certainly noteworthy. Jordan's clutch ability and his role in leading the greatest team in NBA history counts toward that as well.
- Just to name a few more of Jordan's accolades: 5-time Most Valuable Player, 14-time All-Star, Defensive Player of the Year (insane ability to impact game on both ends of the floor), 10 (ten!)-time scoring champion, 3-time Athlete of the Year, and Olympic Gold Medalist. Another thing that undervalued in the grand scheme of things is this: Jordan won three consecutive NBA titles, took a break, and picked right back up where he left off, winning three more. From a competition standpoint, he held back the careers of some of the all-time greats, and that's where we'll start off at to begin this mind boggling blog.
~~~~~~~~~~~~~~~~ ~~~~~~~~~~~~~~~~ ~~~~~~~~~~~~~~~~ ~~~~~~~~~~~~~~~~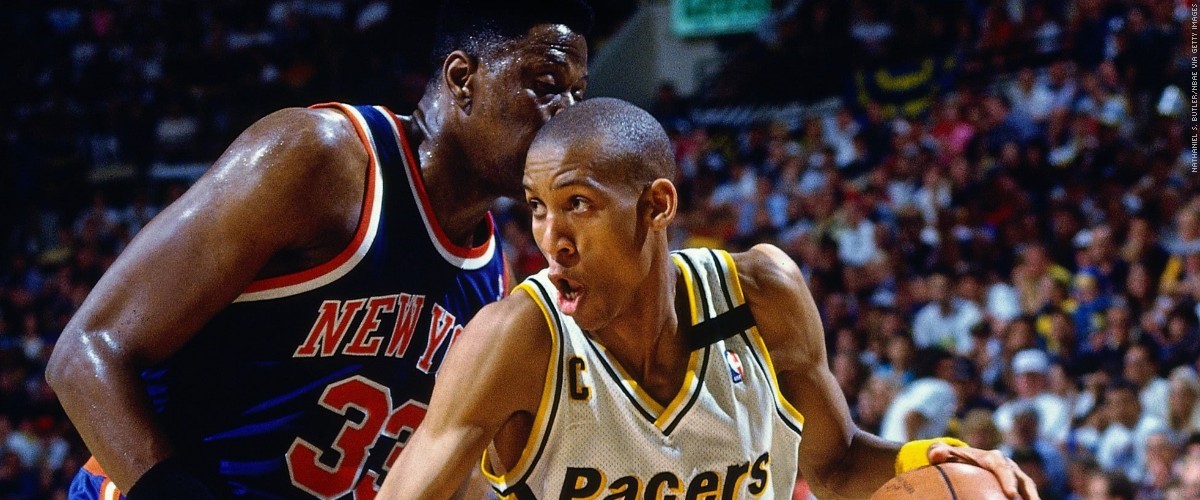 ~ Star Power Out East (Vol. 1)
- If Michael Jordan and the Bulls weren't around in the 1990s, the possibilities are endless, after all, he ruled this decade. Rendering the Bulls irrelevant for six NBA Finals throughout the decade opens up chances for some of the other more forgotten stars of the 1990s. Just to name a few – Reggie Miller, Patrick Ewing, Isiah Thomas (still went on to win two rings), Penny Hardaway (and young Shaquille O'Neal), Charles Barkley (Philadelphia), the Brad Daugherty/Craig Ehlo led Cavaliers, Alonzo Mourning (Miami and Charlotte), Grant Hill's Pistons, and the Steve Smith/Dikembe Mutombo led Hawks.
- I guess it's safe to say if you were a fan of the NBA in the mid-1990s, Michael Jordan probably broke your team's hearts at one point or another. After all, six titles and seven trips to the Eastern Conference Finals means that the legacies of others are massively improved, should Jordan have decided to perhaps try his luck at the Major Leagues (baseball) a tad bit earlier.
- Let's play the scenario game, imagining how the NBA would have been changed out East, should Jordan not be in the NBA. It's safe to say that Chicago would have likely settled on either Alvin Robertson in the 1984 Draft (went on to have a nice career, incredible underrated), Leon Wood, or even Jay Humphries. I know, relatively nobodies compared to MJ. Any who, let's get on with the process.
~~~~~~~~~~~~~~~~ ~~~~~~~~~~~~~~~~ ~~~~~~~~~~~~~~~~ ~~~~~~~~~~~~~~~~
- 1990 – Michael Jordan and the Chicago Bulls were still struggling to usurp the Bad Boys out in Detroit. During this postseason, the #2-seeded Bulls lost the series 4-1. Nothing changes without Jordan, other than the fact that Chicago wouldn't have even been in this situation. Pistons still advance to Finals.
- 1991 – Things get interesting here, as the Bulls embark on their first championship journey in the NBA Finals. Obviously, that's not in the realm of possibility without Jordan. Therefore, the Bulls don't get that much-needed win over Isiah's Pistons. Pistons advance to another Finals without MJ's interference.
- 1992 – Things get even tougher in 1992. MJ and the Bulls knocked off Ewing's 4-seeded Knicks and the 3-seeded Cavaliers in the ECF. Cleveland beat the Knicks in the season series 4-0 by an average of 4.0 PPG, so the Cavs will be in the Finals. Would this affect the Cavs plans of signing their savior some 11 years later in LeBron James? Just food for thought. Cavs to the Finals!
- 1993 – Move over Chicago, move over Cleveland. By now, I'd imagine the Bulls would have a decent replacement, but there is no fully replacing MJ. Therefore, the 1993 Finals will feature Charles Barkley vs. Patrick Ewing, one matchup I'd have loved to see. Knicks to the Finals behind Ewing and Starks.
- 1994 – Finally, an easy season. During this year, Michael Jordan had retired from the NBA, and Scottie Pippen was creating his own legend. I'd imagine that still happens, but the Knicks were the best team in the East. Back-to-back Finals appearances for Ewing here. Back-to-back Finals trips for NY!
- 1995 – Jordan's semi-return to action occurred in 1995, but there's a young squad ready to take the NBA by storm in 1995. Shaquille O'Neal and Penny Hardaway! There's a chance this affects Kobe's legend as well, considering Shaq may stay in Orlando with a few rings at his side, but that's honestly a story for a different day. Shaq and Penny… the best 90s duo?
- 1996 – Alas, the start of the second three-peat. Chicago absolutely steamrolled through the Finals, beating the Magic in four games. But now, the young Magic duo has two Finals trips under their sleeves under the age of 25. Amazing. Magic get two wishes; back-to-back Finals trips.
- 1997 – By this point in time, the injuries to Penny derail a chance at a Finals three-peat, opening the door for Alonzo Mourning's Heat to sneak into the Finals. Miami and Utah for the '97 Finals. Zo and the Heat to the Finals.
- 1998 – After waiting in the shadows for much of the decade, Reggie Miller finally gets his turn. The Indiana Pacers will be representing the East in 1998, essentially ending the What-If experiment for the moment. Reggie's shot.
But what about the Finals…?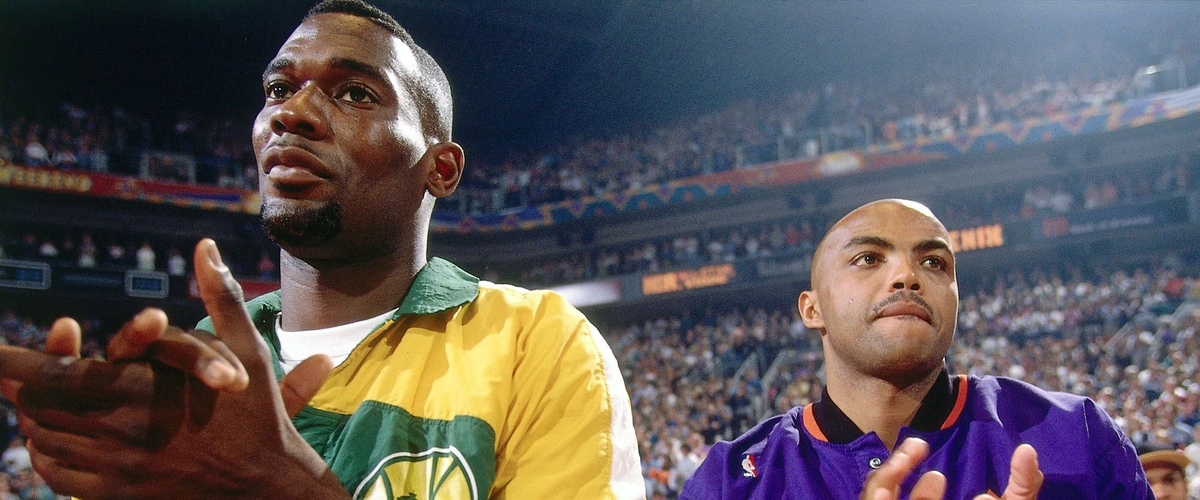 'Star Power in the Finals… (Pt. 2)
- The legacies of a few of the Western Conference stars also took quite the hit because of Jordan's dominance. Karl Malone missed out on a few championships that could've perhaps rendered him the greatest player of all-time, as did Charles Barkley, Clyde Drexler, and even Magic Johnson, John Stockton, Gary Payton, and the amazingly underrated Shawn Kemp, just to name a few. Now, we have our East teams – let's see how the Finals play out.
- 1991 – The subtraction of Jordan from the NBA world means we get the Lakers vs. Pistons for a third consecutive season. Without Kareem Abdul-Jabbar, this series isn't a cakewalk, but: Lakers 4-2
- 1992 – What a treat; we get the Blazers and Cavaliers in 2017 and in 1992 (lol!) for the Finals. In this scenario, I'd imagine Clyde the Glyde, Terry Porter, and Clifford Robinson help bring home a title. Blazers 4-1
- 1993 – Knicks vs. Suns, Barkley vs. Ewing. This is perhaps the toughest series to predict. The supporting casts presented would've been great, but I think the physicality would've been too much for Phoenix to handle. Knicks 4-3
- 1994/1995 – Rockets vs. Knicks, and then the Magic. I'm not going to interfere with history and how it turned out here. Hakeem and the Rockets embark on back-to-back titles. Rockets in 7 and 5.
- 1996 – SuperSonics vs. Magic. Payton vs. Penny and Shaq vs. Kemp. Taking Jordan out of the equation makes for some interesting Finals matchup. After losing to the Rockets in '95, Shaq and Penny get their chip, this season. Magic in 7.
- 1997 – The Heat and the Jazz are next up in this new wave of Finals teams, meaning we get Alonzo Mourning and Tim Hardaway vs. Karl Malone and John Stockton. I'll take the MVP Malone. Jazz in 7.
- 1998 – The final season of our experiment comes in the form of Indiana and Utah. This season, Reggie Miller's team was deep. I'll spread the love here and say that the Pacers get that elusive championship. Pacers in 6.
~~~~~~~~~~~~~~~~ ~~~~~~~~~~~~~~~~ ~~~~~~~~~~~~~~~~ ~~~~~~~~~~~~~~~~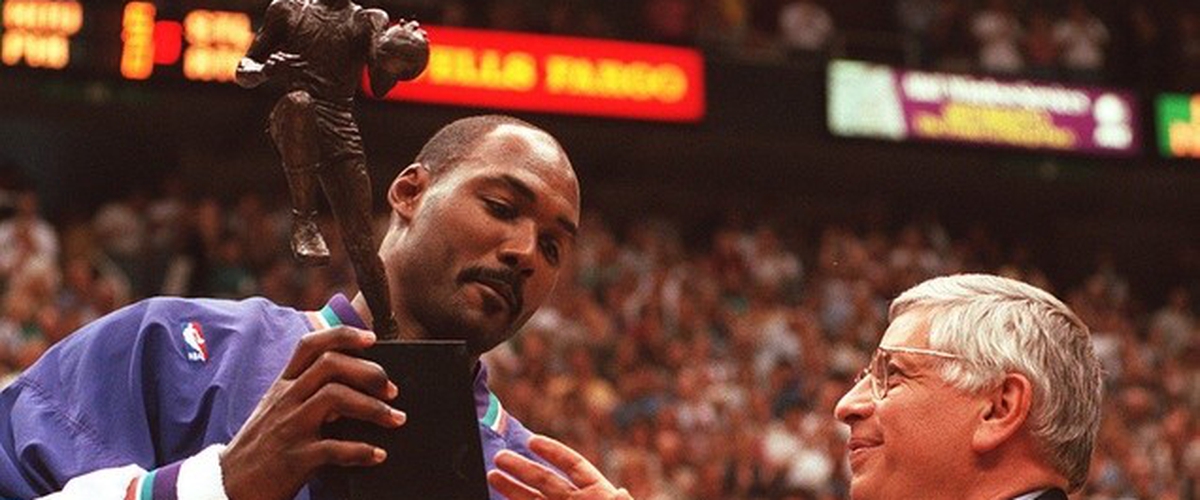 'And the award goes to….'
§ The gift keeps on giving. Alongside the litany of rings that Jordan won in the Finals, there's also a mantle of five different MVPs (among other awards) to re-hand out in our experiment. Let's get right into it.
~ The Most Valuable Player Award:
- 1988 – Michael Jordan won his first MVP Award during the 1987-88 season, averaging 35.0 PPG, 5.5 RPG, and 5.9 APG on 53.5% shooting. Unreal. But, without MJ, the award goes to Larry Bird (29.9 PPG, 9.3 RPG, 6.1 APG, 50-40-90%)
- 1991 – In the real season, Jordan derailed Magic Johnson of both an NBA Title and an MVP. In this case, not so fast. Magic adds to his legacy with both of those distinctions to complete one of the greatest all-time seasons.
- 1992 – Writing this makes me kind of sad to think about how things would be without MJ. But, I like this one: Clyde Drexler adds an MVP, NBA Title, and a Finals MVP to his mantle. Amazing.
- 1996 – After third place finishes in 1991 and 1992, the Admiral gets his shot. David Robinson pours in 25.0 PPG, 12.2 RPG, 3.0 APG, 1.4 SPG, and 3.3 BPG. Respect.
- 1998 – Woah. Subtracting Michael Jordan means that Karl Malone runs off three straight MVPs from 1997 to 1999. I'll get back to that later.
- For what it's worth, Hakeem Olajuwon wins the 1985 Rookie of the Year, and Dominique Wilkins, Shaquille O'Neal, and Glen Rice/Grant Hill earn a few All-Star MVPs to their legacies.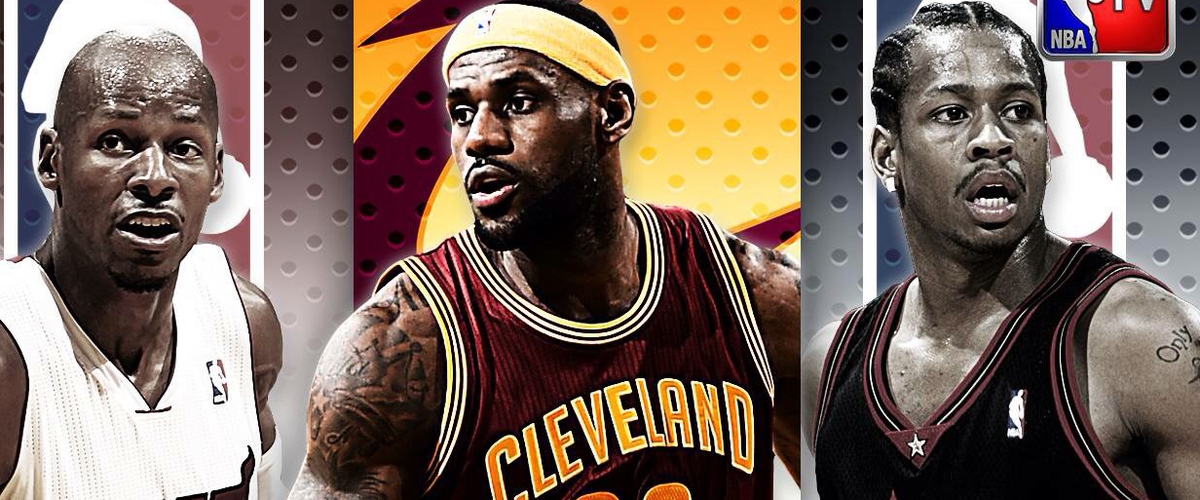 ~ Final Results & Thoughts
- That 'Greatest Player to Never Win a Ring' list gets a little shorter. Patrick Ewing cashes in a ring in 1993, Karl Malone snags a ring in 1997, and an extra MVP award. Reggie Miller gets that elusive ring in 1998, perhaps changing our view on loyalty. He spent his entire career in Indiana, making the moment even more special. Magic Johnson, Larry Bird, and David Robinson add an MVP, as does Clyde Drexler in the process. Not to mention, the amount of trades, signings, and overall underrated legacies that can't even be covered with such a hypothetical situation.
- Thought #1 – It's crazy to think about the impact that one player has had on the NBA's history. The generation he inspired, and the influence he had on some of our favorite players. Kobe Bryant, Allen Iverson, LeBron James, whoever. I doubt there's a single player that couldn't pick up something from MJ. It's almost sad to imagine a situation like this – we'd miss out on incredible moments such as: The Shrug, the Double Nickel, the 1992 Dream Team, etc.
- Thought #2 – Would the NBA even be as popular? In the 1990s, Michael Jordan generated billions of dollars, and created an excitement to watch the game. I doubt the game would be as exciting at all, should MJ have never done it.
- Thought #3 - What about the career of Scottie Pippen? In my heart of hearts, I want to believe he'd have gone to Portland in 2000, alongside Rasheed Wallace and Arvydas Sabonis, and managed to snag a title over perhaps a Shaq-less Lakers team that won it that year. Who knows if he's still a Hall of Famer? That's the fun of the game, though.
- Thought #4 – Wilt fans, here's your time. I think Wilt or Kareem would be perhaps the greatest of all-time. One guy I think garners consideration – Karl Malone. 14-time All-Star, a career 25-10-3 player, a 4-time MVP, 2-time NBA Champion, and #2 all-time in scoring. That's definitely G.O.A.T material to me.
- Thought # 5– Shoutout to my blogging team (on a different app). I've tried to ramp my blogging "game" up for the sake of this competition, and they've motivated me to increase my creativity and production. Finally (and foremost) special thanks to my dad for assisting me with insight in the 1990s, as well as the entertainment while writing this. I dedicate this one to you. This is perhaps my most creative (and definitely longest blog), and I hope all have enjoyed...
Ferg, out...