Wrong Era, My Man...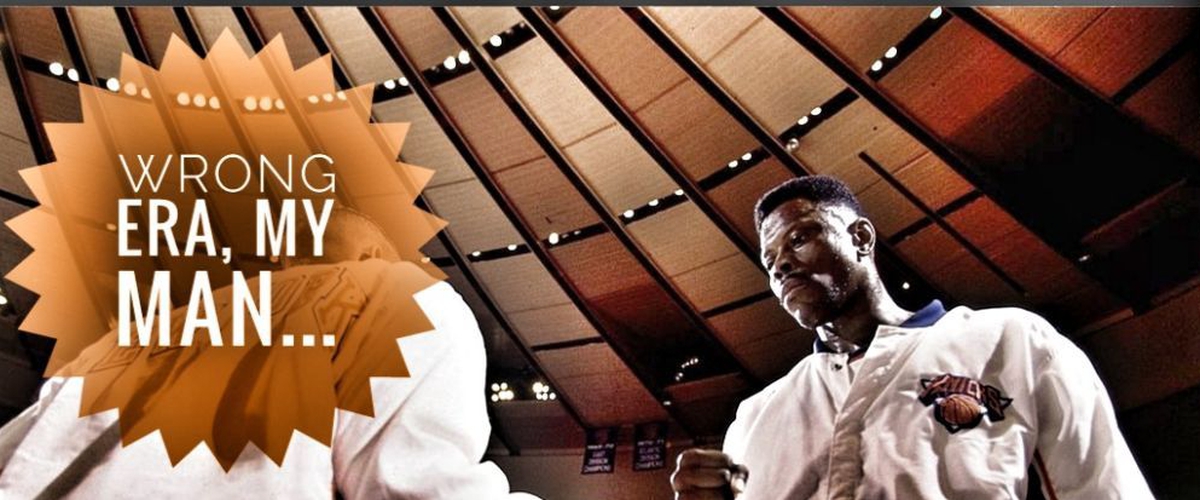 The topic at hand deals with a select sample of some of our game's most decorated talents that for one reason or another, just ended up in the wrong era. Some players have more transcendent reasons than others, though it goes without saying - they'd have found substantially more success if they'd been in a different era.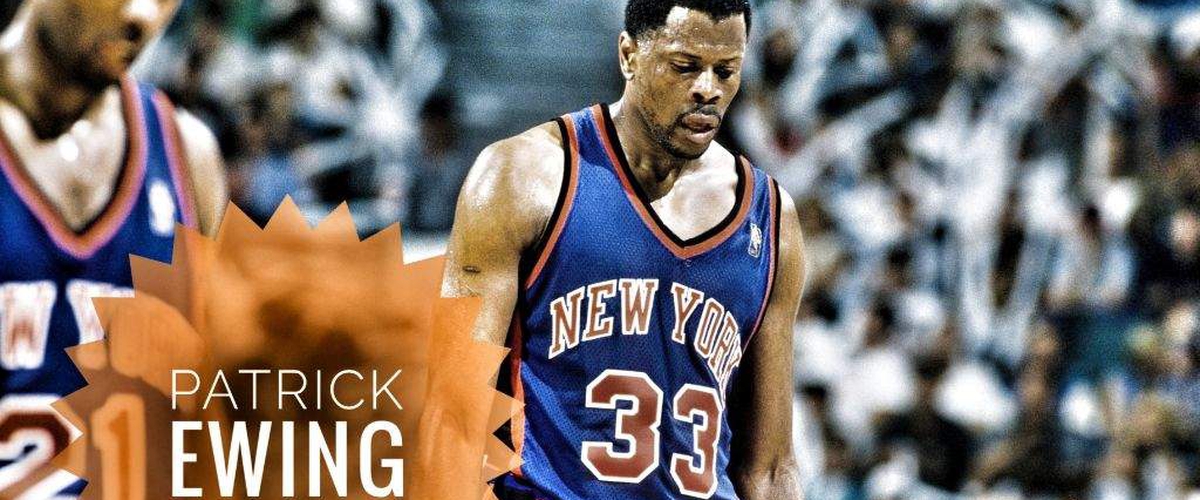 Patrick Ewing (1985-2002)
Career Stats: 21.0 PPG, 9.8 RPG, 2.4 BPG; 50.4% FG, 74.0% FT, 126.4 WS, 21.0 PER
Career Awards: Hall of Famer, 11-time All-Star, 1986 Rookie of the Year, 7-time All-NBA
It goes without saying that any superstar in the Michael Jordan era had their status shriveled up. That two-edged sword cuts into Ewing when you consider the barometer of talent that he'd played with within his generation. Hakeem Olajuwon, David Robinson, Alonzo Mourning, Shaquille O'Neal, Dikembe Mutombo, etc. The career arc of Ewing was on par with the absolute best of his generation, and at his peak, a strong case for Ewing being perhaps the best of or second best big could boast quite a solid claim.
Two key barometers lead me to the assumption that Ewing would've been much more respected in a different era. For starters, Ewing was simply cut that from a different cloth - that 1990s cloth - much different from this generation. The mindset was, "if I can't win a title where I'm at, I'll die trying." Quite simply, Ewing wasn't interested in joining the Bulls or Pacers, teams that routinely beat him in the Playoffs. For that, my respect for him stands at an all-time high. It does come with some downsides though. New York management provided Ewing with a decent supporting cast of solid defenders and so-so shooters. As for a second starter - and an undeviating one at that? Not so much.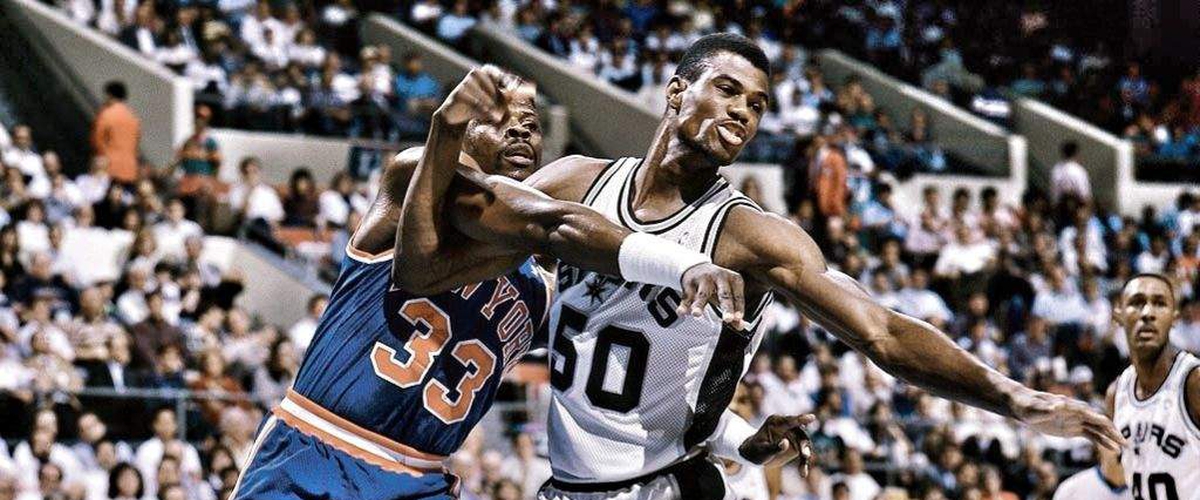 John Starks was a rock solid contributor. But winning a championship with him as the Robin? Yeah, good luck with that.
New York had some special teams in the 1990s, but pairing Ewing with a second-option who goes 2-of-18 with 5 fouls in the biggest game of his career, and the challenges Jordan, Olajuwon and Miller presented, made it nearly impossible for Ewing to obtain the ring. Along with the missing championship gold, it's realistic to assume Ewing could have won some Most Valuable Player awards as well. Consider that from 1989 to 1997, Ewing averaged 24.6 PPG, 11.1 RPG, 2.7 BPG, and 50.6% FG. For reference, take a look at Ewing's numbers alongside the ultimate MVP winners.
25.5 PPG, 11.7 RPG, 3.6 BPG, 52.5% FG
27.0 PPG, 10.9 RPG, 3.1 APG, 53.4% FG
31.1 PPG, 6.4 RPG, 5.3 APG, 50.6% FG
24.9 PPG, 11.9 RPG, 3.7 BPG, 51.4% FG
Robinson, Malone, Jordan, Olajuwon, in order
As it's seen here, Ewing's prime window from 1990 to 1997 was essentially right on par - or hardly a notch below - some of the MVP winners from that time period. Ewing may ultimately never get his full respects simply based on the era in which he played in, and the hardware it costs him. If Ewing had partook in the 1970s, 1980s, or even the current era, an MVP and a championship ring would become much more plausible - there's no doubt about it.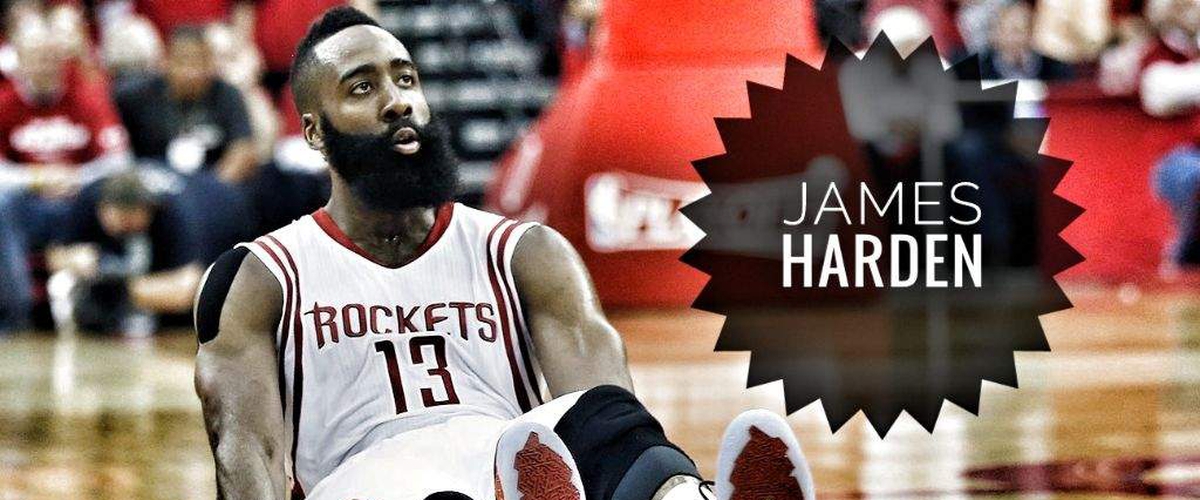 James Harden (2009-current)
Career Stats: 22.1 PPG, 5.0 RPG, 5.7 APG, 1.5 SPG; 44.2% FG, 85.4% FT; 91.3 WS, 22.9 PER
Career Awards: 5-time All-Star, 4-time All-NBA, 2012 Sixth Man of the Year
Before we even get into this, I just want to make one note: it's amazing how many pictures you can find of James Harden on the ground. For that reason alone, in many ways, he is playing in the right generation. An era where referees are more lenient, and it's easier for crafty scorers to manipulate the rules, and get to the charity stripe with relative ease. It's safe to say, Harden would've had much more trouble operating, in say the 1990s, when the game was much less forgiving.
All things considered, Harden is still behind the 8-ball in this current generation. For starters, the competition ahead of Harden is seemingly too steep for Harden to undoubtedly separate himself from the pack. You might be thinking: how, so? He's become a top-5 player in the game of basketball. But what exactly has that gotten him? He's been arguably robbed of the Most Valuable Player award in both 2015 and 2017, failing short to Stephen Curry and Russell Westbrook. In essence, he could be sitting here as a 2-time MVP, and he'd unquestionably deserved of it. But instead, the cruel reality of it is that this generation's level of intense competition has robbed Harden of every ounce of the bonafide greatness.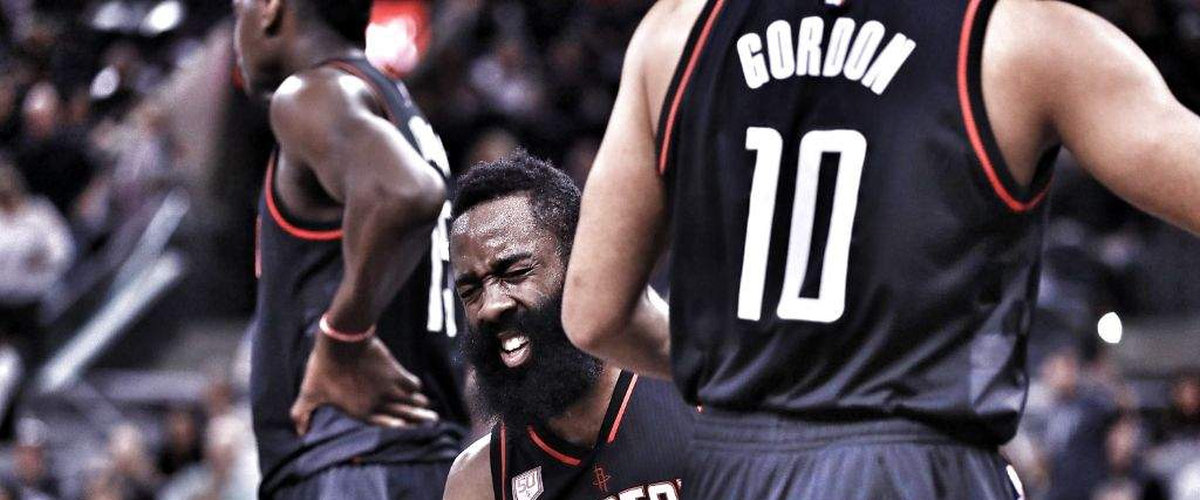 It's certainly arguable that Harden would have struggled to do so in any generation, and that'd be correct. But what's eluded Harden is something he can't get back. He's approaching 30-years old, and his usage is figured to be much lower with Chris Paul and other key players coming to potentially give him an NBA title, it's safe to say Harden may only have a handful of opportunities to win the MVP left, and it'll be much tougher with the new wave of stars ahead, such as Giannis Antetokounmpo, Kristaps Porzingis, De'Aaron Fox, among others. Take a look at Harden's numbers in 2014-15 and 2016-17, and you'll see why his best might have been the absolute best in a different era.
2014-15 MVP Race
27.4 PPG, 5.7 RPG, 7.0 APG, 1.9 SPG, 44-38-87%, 16.4 WS
23.8 PPG, 4.3 RPG, 7.7 APG, 2.0 SPG, 49-44-91%, 15.7 WS
*Harden and Curry, respectively.
2016-17 MVP Race
31.6 PPG, 10.7 RPG, 10.4 APG, 13.1 WS, 43-34-85%
29.1 PPG, 8.1 RPG, 11.2 APG, 15.0 WS, 44-35-85%
*Westbrook and Harden respectively
29.0 PPG, 6.1 RPG, 7.5 APG, 44-36-86% in 2015-16.
Proceeds to miss out on the All-NBA 1st Team, 2nd Team, and 3rd Team.
It goes without saying that either Harden has gone unappreciated, or the competition is too steep for him to become that undisputed top guy. Curry's case over Harden dealt with team success going towards Curry's advantage. Westbrook over Harden dealt with Russ having a slight edge, and a boost for his triple-double. The point is, Harden has excelled in both cases at some time, and continually comes up empty handed. He boasts a strong case as a Hall of Famer, but it just seems like if "The Beard" played in the 1980s or early 2000s hero-ball eras, used be just as good -- and maybe he'd finally rack up some awards along the way.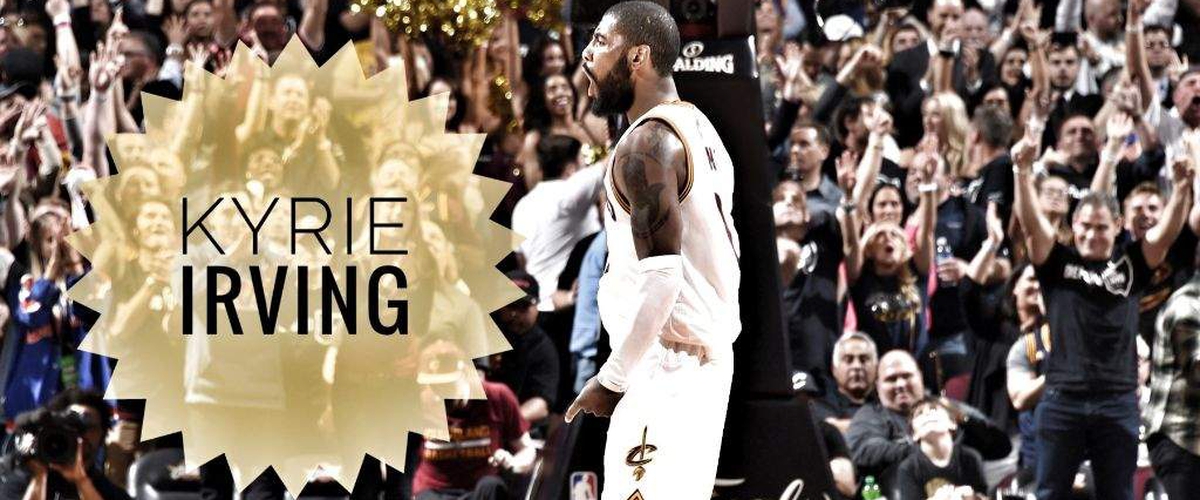 Kyrie Irving (2011-current)
Career Stats: 21.6 PPG, 5.5 APG, 3.4 RPG; 45.7% FG, 38.3% 3PT; 40.4 WS 21.3 PER
Career Awards: 4-time All-Star, 2016 NBA Champion, 2012 Rookie of the Year, All-Star MVP, 1-time All-NBA
The common theme you'll find with players on this list are fairly simple: incredible players in their era, that'd be definitely better in an altered setting. Irving has made his name, without a shadow of a doubt in this generation, but two distinct facets lead me to believe he could be better elsewhere.
Irving was perhaps an era too late, for the iso-heavy, hero-ball age of the early-2000s would be far more compatible.
This past season, Irving averaged 25-6-3 on 47-40-90% lines. Ask any "expert", and he's barely a top-10 PG.
For those two reasons, Irving seems to be a puzzle-piece for the early-2000s. With the topic at hand, it's also convenient to shatter some of the hypocricies that NBA analysts seem to throw Irving's way. For starters, Irving's numbers and efficiency are right on par with essentially every PG in the NBA, not named James Harden or Russell Westbrook. Even then, Irving scores at a higher efficiency than nearly any of the star PGs in era. For reference, think about a sample of elite generals of our time: Thomas, Wall, Lillard, CP3, Curry, and Lowry, all PGs with seasons a tier below the two aforementioned MVP frontrunners.
Guess who's the most efficient of each of these PGs?
Kyrie Irving.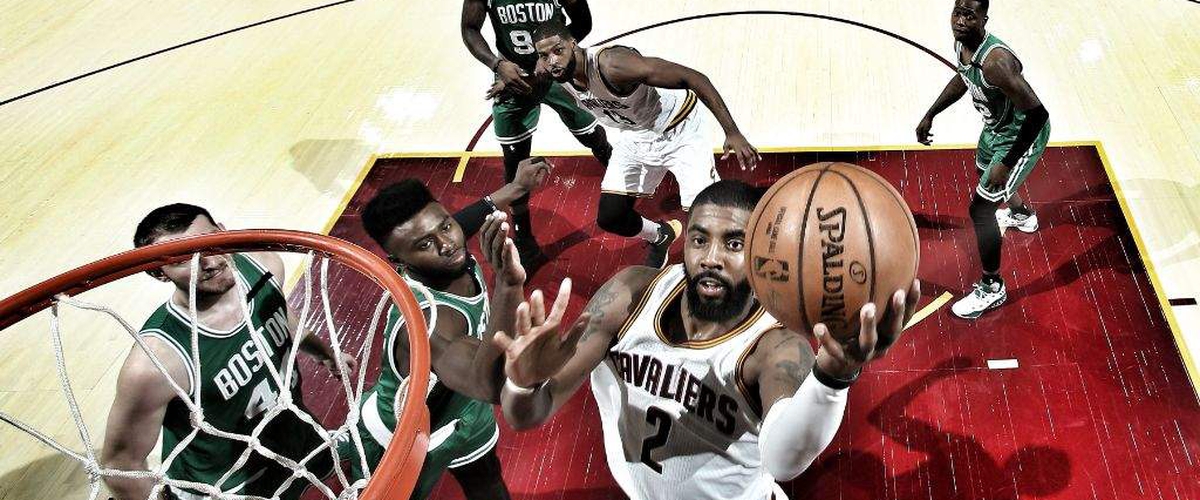 Irving (19.7) and Lillard (19.8) take essentially the same amount of shots, and Irving hits them at a higher clip. Chris Paul edges Irving by .3%, but on nearly 7 less shots. Now, you might be thinking: Irving doesn't play defense, and that's what makes him the odd man out. Irving, Lillard, and Thomas are essentially equal on the defensive end, but in defensive box score /minus looks, Thomas is on a different planet as far as defensive futility. And as we've seen, Irving ramps his defense up substantially during the Playoffs. Of course, he'll never get his appreciation, similar to Damian Lillard, who also deserves a spot in this blog. Irving edges him out, for the second facet, which we'll get into now.
In many ways, Irving's spectacular offensive game is outdated. While the duels featuring Irving against previously discussed PGs have been a joy to watch, his game would've been perfectly suited a decade or two before. The play style of Allen Iverson, Steve Francis, Stephon Marbury, or even Tim Hardaway. The iso-heavy, "put my team on my back" type game would've been ideal for Irving.
In that case, he would've been much more appreciated as well. The best point guards of that time either had the great defense, but lacked offensive fire (Jason Kidd), or vise versa (Steve Nash). Somewhere in between, Irving could have fit, garnering strong likenesses to "The Answer", dropping 25-30 PPG seasons, and carrying the team the way he desires to. One thing's for certain - Irving would've been a regular for the nightly SportsCenter highlights in either generation. But as far as overall appreciation for his heart stopping play style? Let's just say, he might've been a little tardy.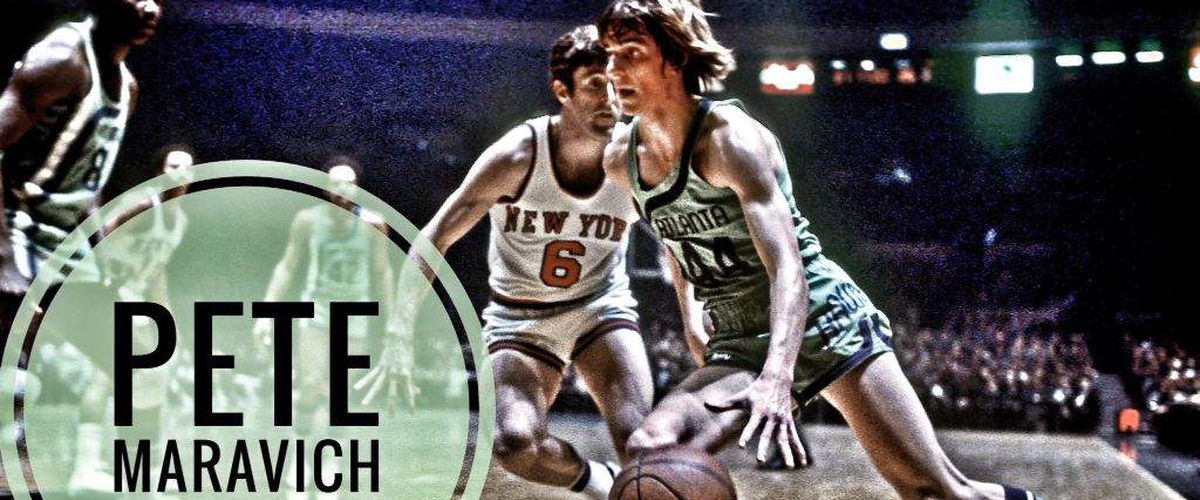 Pete Maravich (1970-1980)
Career Stats: 24.2 PPG, 5.4 APG, 4.2 RPG, 1.4 SPG; 44.1% FG, 66.7% 3PT, 82.0% FT; 46.7 WS, 18.4 PER
Anytime you're dropping flashy, behind-the-back passes, and shooting three-pointers before the invention of the line, you know you're in the wrong era. Funny thing about Maravich's case is, he actually knew it. Prior to his death, he was quoted saying, "My pro career wasn't fun. They weren't ready for my style." Maravich's archetype was one that was without a doubt before its time, and while he was certainly a respected, decorated player, that appreciation for his game wasn't nearly as paramount as it should have been.
Next time you're watching the likes of Magic Johnson and the Showtime Lakers or Jason Williams in Sacramento, look first to the pioneer.
One article in the Chicago Tribune following Maravich's death has heightened my appreciation for Maravich's legacy. Dribbling a basketball out a window during 20 MPH car rides, averaging over 40+ per game in college, and the lack of appreciation for his offensive reportoire that the basketball world simply wasn't ready for, it all makes for quite the sad story to reminisce upon. Even the outside appearance for Maravich was revolutionary, similar to Iverson in the early-2000s with cornrows and sleeves. Maravich often attired himself with baggy socks, and long, frenzied hair, often setting himself apart from the average.
Before the days of Stephen Curry relentlessly pulling the trigger from 30+ feet, the original "Pistol" Pete did it, even before it was cool.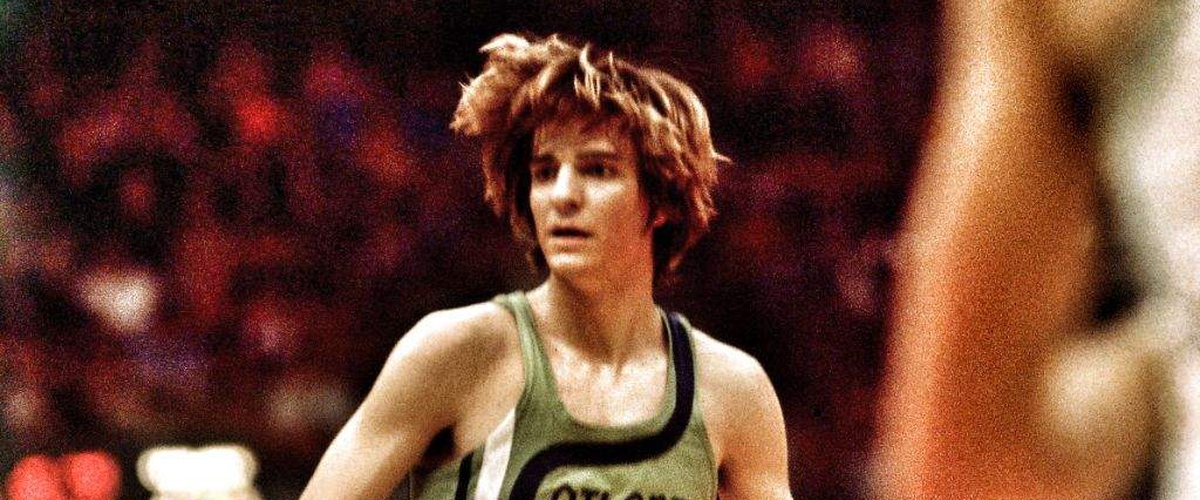 Recall, the institution of the NBA three-point line didn't come into fruition until the 1979-80 season. Apparently, he didn't get the memo. He'd let them fly, and drain them at impressive clips, nonetheless. Definitely a human highlight film, Maravich's stats are vastly underrated. Even though he finished his career with borderline all-time great achievements, his numbers would be likened to that of a top-5 player in the NBA today. For reference, take a look at "Pistol" Pete's stats compared to some great swingmen of our generation. The sample is based on five prime seasons.
Maravich (1973-1978) - 26.6 PPG, 5.7 APG, 4.8 RPG, 44.2% FG
Wade (2006-2011) - 27.0 PPG, 6.5 APG, 5.1 RPG, 48.6% FG
Carter (1999-2004) - 24.6 PPG, 5.2 RPG, 4.0 APG, 44.7% FG
Iverson (2001-2006) - 30.1 PPG, 3.9 RPG, 6.3 APG, 41.7% FG
It goes without saying that you have to be careful comparing players of different generations, but the point remains the same. Sliding Maravich into an era where his on-court expressiveness would've been more appreciated, and his legacy substantially changes. Consider, that during Maravich's insane prime, he did all that with only TWO seasons within the top-10 in usage. Just as the black-and-white footage shows, Maravich was simply a man before his time.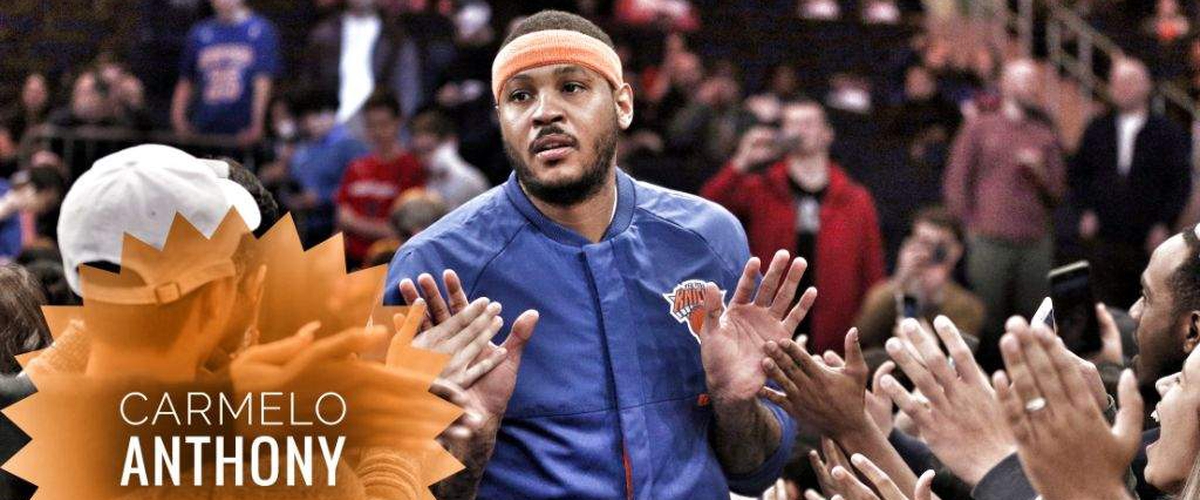 Carmelo Anthony (2003-current)
Career Stats: 24.8 PPG, 6.6 RPG, 3.1 APG, 1.1 SPG; 45.2% FG, 34.6% 3PT, 81.3 FT%; 20.9 PER, 97.1 WS
Career Awards: 10-time All-Star, 6-time All-NBA, 2013 Scoring Champion, 1st-Team All-Rookie
Carmelo Anthony is yet another future Hall of Famer, who for a vast array of reasons, is somehow playing in the wrong era. For reasons vastly similar to Kyrie Irving, the appreciation for Anthony's game can't be fully calibrated. For starters, playing in a generation with two of the greatest SFs ever in LeBron James and Kevin Durant means that somewhere in between the shadows is Carmelo Anthony. A step below, and often unappreciated for it.
Sharing both a Draft class with the likes of Dwyane Wade, LeBron James, and Chris Bosh, along with being the odd man out in the ring category has left a bad taste in the mouth of NBA fans over the past few years. After years of experiencing legendary seasons put forth by aforementioned players, Melo has yet to stamp in a season where you can definitively say he was the best player that season. Winning solves everything. It's the same reason critics weren't saying anything about Anthony's all of a sudden "selfish" style of play.
And "winning" is the same reason why Anthony is behind players he'd otherwise he ahead of.
Anthony: 26.7 PPG, 6.3 RPG, 3.2 APG, 46-35-82%, 22.1 PER, 72.1 WS
Pierce: 22.1 PPG, 6.2 RPG, 4.1 APG, 44-37-81%, 21.2 PER, 91.2 WS
Carter: 24.2 PPG, 5.5 RPG, 4.3 APG, 45-38-80; 21.8 PER, 78.7 WS
Marion: 18.3 PPG, 10.2 RPG, 2.1 APG, 48-34-82; 20.5 PER, 95.2 WS
*8-season sample in primes of SFs.
Still, because of Pierce and Marion having more decorated Playoff legacies, a case is often formed against Anthony being worse than the following, especially Pierce, but it's rather hard to fathom. Ultimately, that gets us into our other barometers worth considering about Anthony's misfortune in this current generation.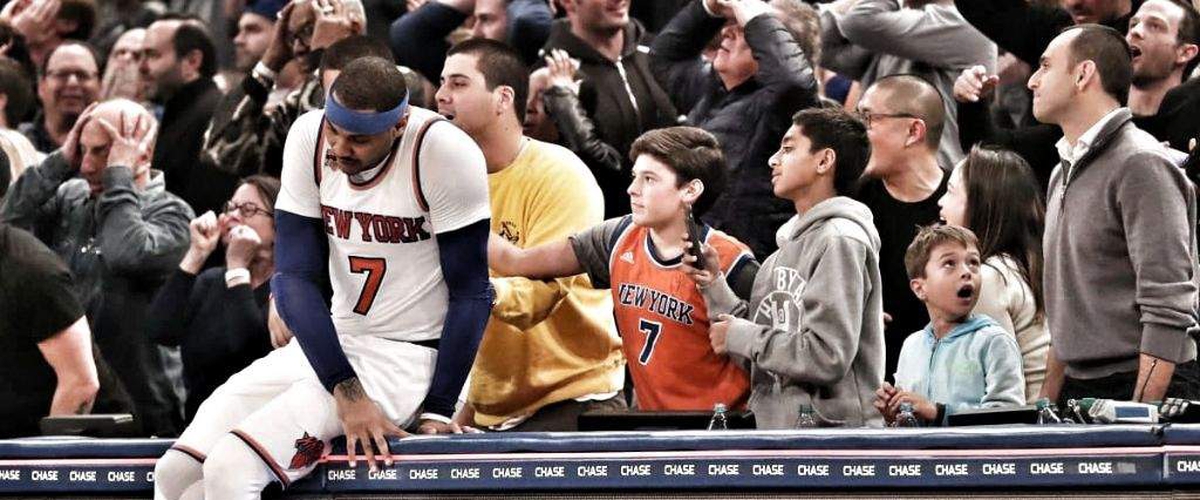 The current generation doesn't fully understand the loyalty of Carmelo Anthony, a loyalty that would've been much more justified during the days of Reggie Miller or Patrick Ewing, where, for better or worse, you stick it out with your current organization. Anthony deserves immense commendation for staying loyal to a franchise that couldn't quite reciprocate the same productivity his way. In fact, I can recall Anthony bring crucified in the Summer of 2014. A season following his best all-around of his career in 2013, the Knicks finished 2014 at 37-45, a game within the Playoffs. The choices weren't as similar as they seemed to be.
Join forces with former MVP Derrick Rose, Joakim Noah, and Jimmy Butler in pursuit of multiple titles in Chicago.
Or:
Stay in New York where your second best player is J.R. Smith; that is if he can stay within positivity, a big "if".
So, when Anthony made a decision different from his peers (joining forces with superteams), the media immediately dubbed Anthony as the man who "cared more about money than winning". Did we ever consider beneath the surface that he wanted to win in his hometown of New York, accomplishing a feat that hadn't been achieved since 1973? Did we consider his family? Simply put, Anthony just might not have been cut from the same cloth as James, Durant, and others. Did we even consider the move to Chicago realistically?
Join a wounded, once more unproven Rose, a Joakim Noah who'd fallen off a cliff nearly as fast as than Roy Hibbert, and a Jimmy Butler who'd be gone within a few seasons later?
Obviously, circumstances aren't much better in New York, but as we can see how, it was like picking between a trash front office, and a dirt front office. Anthony just wanted to be home. As mentioned, in the early-1990s, his undying affinity for New York would've been much more appreciated. That's not even mentioned his iso, hero-ball type play style, favored more for the decade before his own. When Anthony entered the league in 2003-04, the transitions from hand checking to zone defenses made for a culture shock, and while Anthony would've made a penchant for scoring in ANY era, the love for his playing preference would be easily more compatible. Sooner, rather than later, Anthony has become the most unappreciated star of his generation; and it really shouldn't be this way.
This feels like a decent stopping point for today. Hopefully, all were able to enjoy this recent piece. Thank you for everything, and I will see you in the next one.
Melo, out...