Sam's Grading the Pack Week 11: Mike McCarthy's Time in Titletown is Running Out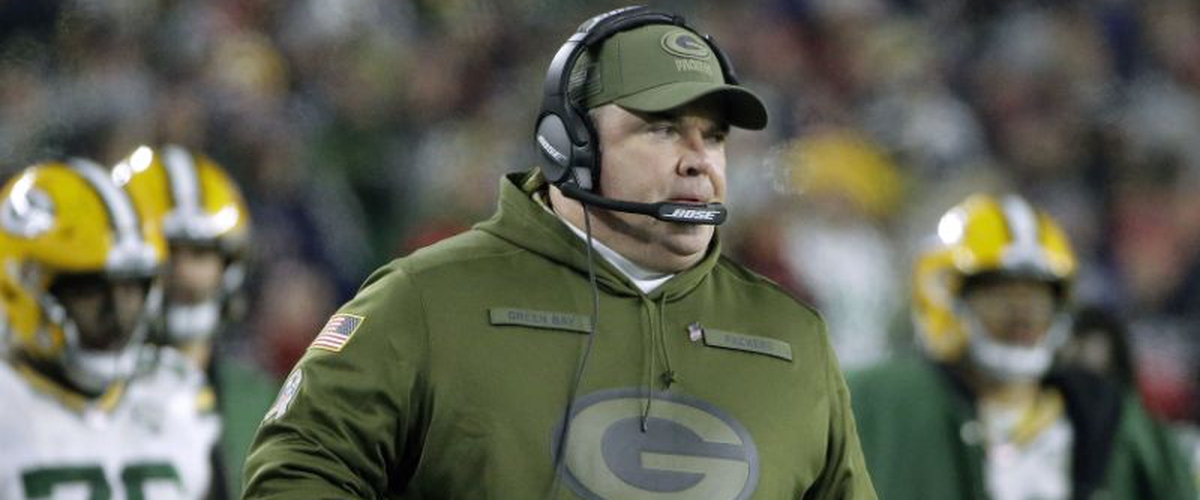 Last week, I said a win is a win following a relatively ugly loss hosting Miami. This week, a loss is a loss, despite questionable catch calls and insensible penalties. Green Bay was leading this game 14-3 with the ball in possession, and they blew it quickly. With just over four minutes to go in the fourth, Green Bay faced a Fourth & 2. Mike McCarthy decided to punt to a Seahawks team who already rushed for over 150 Yards at that point. Essentially, McCarthy damned any chance of a comeback by deciding to punt in a fourth and short with Aaron Rodgers at the helm.
Now, take that decision and combine it with the recent play-calling flak and their ugly 4-5-1 record. That's a coach hanging on to his job by a thread. Yes, many of the mistakes in the game were completely out of his hands, but he's also been riding on Aaron Rodgers coattails for years. Defenders of McCarthy always bring up the Super Bowl victory. To put that argument in perspective, they won Super Bowl XLV while I was a freshman in high school, and now I've graduated college and am currently typing this out at a well-paying, full-time job. They've had Aaron Rodgers, one of the best gunslingers of all time, as their QB this whole time. Green Bay's front office also just made Mr. Rodgers the highest-paid player in NFL history. If the Packers want to make #12's final years in Green Bay successful, a change at head coach is looking increasingly necessary.
OVERALL: C
Offense: C+ QB/RB: B WR/TE: B- OL: C
Defense: C DL: C+ LB: B- DB: C- Special Teams: C
BEST GRADE: A+: WR Davante Adams and OLB Kyler Fackrell
Davante Adams shared the best grade for the sixth straight week, making it over half the season as the team's highest grade-earner. No touchdown from Davante this week, but carrying the load with Randall Cobb out and Geronimo Allison on Injured Reserve, Adams pulled in 10 catches for a career-high 166 Yards. He proves every week why he's as good as any receiver in the league right now. Kyler Fackrell had a monster game, tallying a hat trick of sacks. His season total now rests at eight, which is three more than anyone else on the team. Fackrell began the season on the roster bubble as the fourth-string edge rusher, but he now has twice as many sacks as Clay Matthews and Nick Perry combined.
WORST GRADE: D+: S Raven Greene, CB Will Redmond, and ILB Korey Toomer
Penalties have proven very costly for Green Bay down the stretch, and the three bench players tied for the worst grade all committed pretty bad penalties. Raven Greene basically ran into a wide receiver for a huge pass interference call, not even trying to look for the ball. Will Redmond played in his second Packers game ever, and also committed a dumb penalty in one of the few special teams opportunities he receiver. Korey Toomer's holding call on a kick return brought a 50+ yard return back to the 10 yard line, ultimately killing any momentum Green Bay bared at that point.
MVP Watch: Davante Adams continues to increase his MVP lead over Aaron Rodgers. Blake Martinez sits comfortably in third, while the emergence of Aaron Jones now has him tied with Kenny Clark for fourth.
STATS OVERVIEW:
Passing - Rodgers: B+ (21/30, 332 Yds, 2 TD, 0 INT, 128.8 Passer Rating; 1 Rush, 3 Yds)
Rushing - A. Jones: A (11 Rush, 40 Yds, 1 TD; 5 Rec, 63 Yds, 1 TD) J. Williams: C (1 Rush, 5 Yds)
Receiving - D. Adams: A+ (10 Rec, 166 Yds); Valdez-Scantling: C (1 Rec, 8 Yds); Graham: C+ (1 Rec, 13 Yds); Kendricks: C+ (2 Rec, 12 Yds); Tonyan: A (1 Rec, 54 Yds, 1 TD); St. Brown: C (1 Rec, 16 Yds)
Defense - No Interceptions, 3 Sacks (Fackrell x3)
Questions? Comments? Concerns? General Feedback? Is there any reason to keep Mike McCarthy around after this season? Let me know!
Thank you and God Bless,
Samuel R. Fuller