Sam's Grading the Pack Week 2: The Refs Stole a Win from Green Bay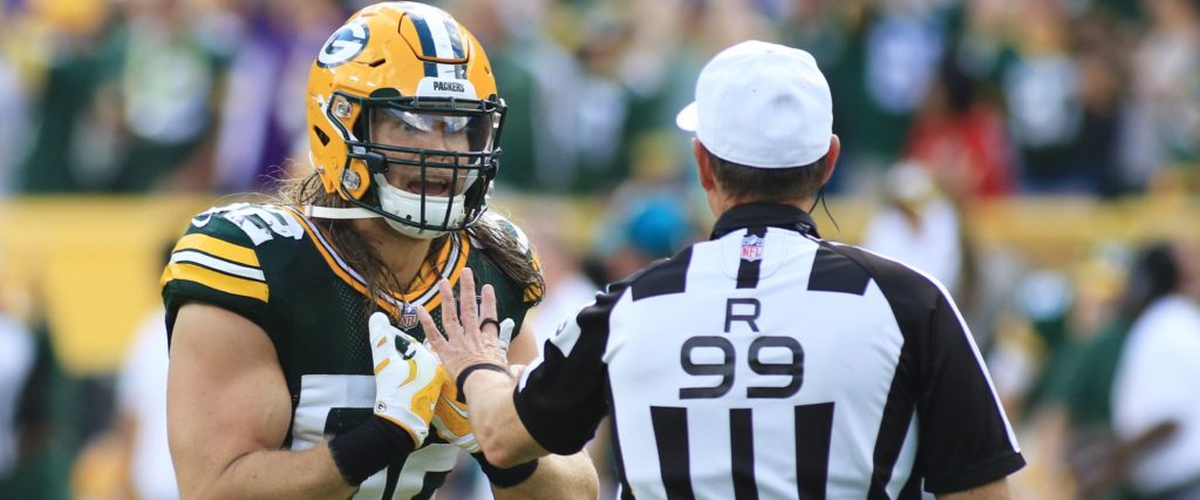 Total, absolute nonsense.
That's the cleanest way I can put how the referees called the Vikings/Packers game. Let's recap the errors...
- Davante Adams should have been awarded a touchdown that the officials ruled an incompletion
- The refs took away a Jimmy Graham touchdown by calling a hold on Lane Taylor, who in reality completed a clean block on his defender
- Ah, the big one: flagging Clay Matthews for a clean hit on Kirk Cousins, wiping away what SHOULD have been a game-sealing Interception by Jaire Alexander.
There's zero question that Green Bay should be 2-0. Should it have come down to late in the fourth quarter? No, but they were the better team in every facet of the game. I'm grading this week as I saw it, meaning Clay isn't getting penalized for a clean hit and Lane Taylor isn't getting penalized for a clean block ( bonus consideration for Davante Adams and Jimmy Graham for their robbed touchdowns). Let's get into it.
OVERALL: B-
Offense: B- QB/RB: B WR/TE: B+ OL: D+
Defense: C+ DL: C+ LB: C+ DB: C+ Special Teams: B+
BEST GRADE: A: Jimmy Graham, TE
There were a handful of "A-" grades, but only one player earned the full 4.0 - Jimmy Graham. After a mere two catches for eight yards, he nabbed six receptions for 95 Yards. Add the yardage and a touchdown to the should-have-been score the refs erased by a horrid holding call, and you have an elite performance from a Tight End.
WORST GRADE: D: Bryan Bulaga, RT; and Justin McCray, RG
Surprise, surprise. The two worst performers in Week 2 are the exact same as Week 1, with DeShone Kizer off the list by simply not playing. Both Bulaga and McCray blew pass coverage more than once, something completely unacceptable when blocking an already-injured franchise Quarterback. To make matters worse, both committed penalties throughout the game. Green Bay better be looking for other options to compete on the right side of the line this week.
MVP Watch: Even on a bad knee, Aaron Rodgers showed why he's the undisputed front-runner in the Team MVP competition. His top three receivers Davante Adams, Geronimo Allison and Randall Cobb join with career-day Kicker Mason Crosby to round out the top five.
STATS OVERVIEW:
Passing - Rodgers: B+ (30/42, 281 Yds, 1 TD, 0 INT, 97.4 Passer Rating; 3 Rush, 8 Yds);
Rushing - J. Williams: B+ (16 Rush, 57 Yds; 3 Rec, 12 Yds); Montgomery: B- (5 Rush, 31 Yds; 1 Rec, 9 Yds)
Receiving - D. Adams: A- (8 Rec, 64 Yds, 1 TD); Cobb: A+ (4 Rec, 35 Yds); Allison: A- (6 Rec, 64 Yds, 1 Punt Blocked); Graham: A (6 Rec, 95 Yds); Kendricks: C+ (1 Rec, 4 Yds)
Defense - 1 INT (Clinton-Dix), 2 Sacks (Clark, Gilbert/Alexander)
Questions? Comments? Concerns? General Feedback? Think that ties in football are absolute BS? Please let me know!
Thank you and God Bless,
Samuel R. Fuller