2017 FullerMetrics Mock Draft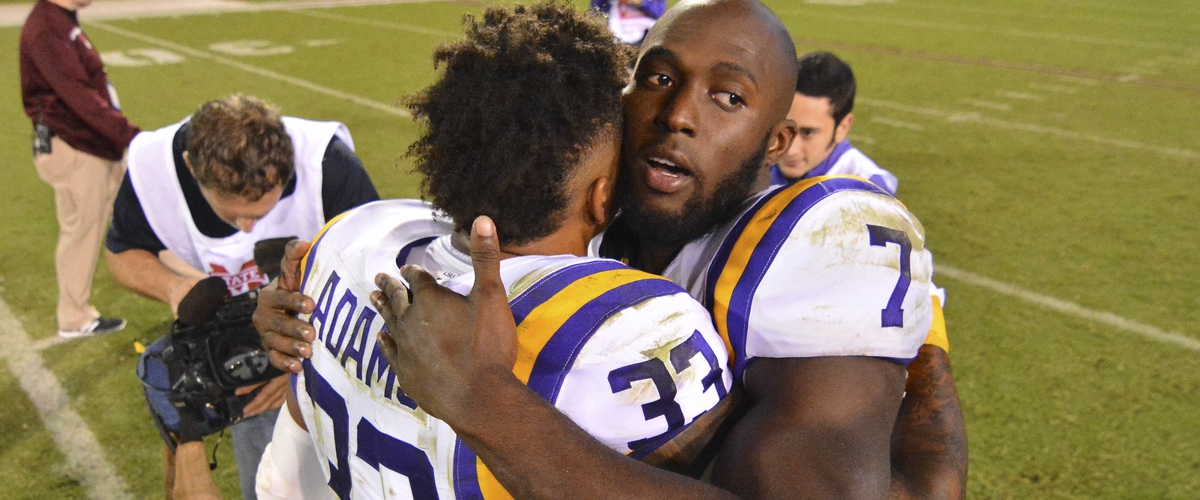 This is it, folks. The final mock draft. I've spent many, many hours avoiding schoolwork by analyzing prospects and hype on draft stocks. It's all come to this, and guess what? Almost all of these could be wrong! One trade could change the entire board, and that's the reality of mock drafts: They're never mostly right. It's like a batting average in baseball, if you hit the target 30% of the time, you're pretty good. Even on the eve of the draft, the stock of Gareon Conley, Jonathan Allen and Dalvin Cook are all over the place. Hell, there will probably be another Laremy Tunsil incident tomorrow too. Regardless, this analysis is based on zero trades being made and from fitting the needs of teams on the board, not just based on talent like a big board. In the words of Pat Benatar, I'm going to hit you all with my best shot.
1. Cleveland Browns: Myles Garrett, DE/OLB, Texas A&M
No surprise here. They'll take a QB later on, but get the best player here. Next!
2. San Francisco 49ers: Solomon Thomas, DE, Stanford
I don't see San Fran taking a QB here. They could trade down from #2 and take their next starter, but they paid Brian Hoyer and there's killer value here over a QB. Thomas is the next best edge rusher, right down the road, the talent is appropriate and he fits well in their defense.
3. Chicago Bears: Jamal Adams, S, LSU
This is one where talent comes into play. They could get CB Marshon Lattimore, and S Malik Hooker might be a better fit for what they need, but Jamal Adams is the best player on the board, especially since he cut his 40 time into a sub-4.4.
4. Jacksonville Jaguars: Leonard Fournette, RB, LSU
The Jags have spent a ton of money on D already and neither Chris Ivory nor T.J. Yeldon hit 500 Yards on the ground last year. Leonard Fournette is the biggest talent at his position since AP and could easily see an Ezekiel Elliott-type ceiling for his rookie year.
5. Tennessee Titans: Marshon Lattimore, CB, Ohio State
The Titans cut Jason McCourty and Marshon Lattimore is probably the best player on the board still. They could trade down here, but I don't see them stretching for O.J. Howard or Mike Williams/Corey Davis at #5.
6. New York Jets: Malik Hooker, S, Ohio State
The Jets still don't have the stones to take a QB here, and Lattimore just got taken. Fitting their variety of needs, Safety is one of them and Malik Hooker is the best player left on the board.
7. Los Angeles Chargers: Mike Williams, WR, Clemson
Both of the Safeties deserving to go here are gone, and that's the biggest need. No way they're wasting #7 on a QB, so they'll get another weapon for Phillip Rivers and Mike Williams is currently regarded as the best WR in the draft.
8. Carolina Panthers: Christian McCaffrey, RB, Stanford
It seems unlikely that Leonard Fournette will drop to them anymore. They could go with DE Derek Barnett here to add a young edge rusher, but they have them, they're just old. They could develop a later pick over a year or two, and giving Cam Newton a healthy, quick back could make this offense a serious threat. Look no further than Christian McCaffrey, that is if they don't trade down.
9. Cincinnati Bengals: Jonathan Allen, DL, Alabama
Jonathan Allen dropping out to #9 seemed impossible a month ago, but with arthritic shoulder, the Bengals could pass on him too. This could be a toss-up between Derek Barnett on the edge and Reuben Foster at ILB. Still, I have a feeling they see Allen as Geno Atkins 2.0, so he could stop his decline down the board here.
10. Buffalo Bills: Reuben Foster, ILB, Alabama
They need another receiving weapon, but I've heard it's Mike Williams-or-bust at #10. They need youth at multiple positions on defense, and Reuben Foster is one of the top defenders on the board.
11. New Orleans Saints: Derek Barnett, DE, Tennessee
The Saints have needs on every level of defense, especially secondary, but Gareon Conley's stock is dropping, they won't go with QB here, so it's DE Derek Barnett, LB Haason Reddick or even WR Corey Davis. Out of those players, Barnett is the best value.
12. Cleveland Browns: Mitch Trubisky, QB, North Carolina
The Browns want Trubisky, and they can get him in this scenario by staying at #12. If need be, they will move up to secure it, as they're already talking to a few teams of getting another pick in the Top 10 (Tennessee and Carolina, most likely).
13. Arizona Cardinals: Corey Davis, WR, Western Michigan
The Cards aren't going with a QB this early, and WR is the biggest need. Corey Davis is an excellent value at #13. TE O.J. Howard could be added if they feel that's a bigger talent acquisition.
14. Philadelphia Eagles: Marlon Humphrey, CB, Alabama
Gareon Conley would have gone here if it wasn't for his current allegations. RB Dalvin Cook isn't Top 15 worthy and CB is a bigger need anyways, and they have a number of options to choose from: Gareon Conley, Tre'Davious White, Kevin King, or Marlon Humphrey. For me, I think Conley has dug himself a hole, White hasn't gone Top 20 in any board I've seen and Humphrey and King are interchangeable. Toss-up between King and Humphrey here.
15. Indianapolis Colts: Forrest Lamp, G, Western Kentucky
They could go with OLB Takk McKinley as an edge rusher here or even stretch for RB Dalvin Cook, but this franchise is centered on Andrew Luck and they need to protect him. No OT is good enough for #15 and they had luck with Ryan Kelly last year, so nearby prospect Forrest Lamp could help out Mr. Colt.
16. Baltimore Ravens: Takkarist McKinley, OLB, UCLA
WR John Ross is basically Breshad Perriman 2.0, so not a great fit. No OT is good enough here either, and with Elvis Dumervil out and Terrell Suggs aging, OLB might be the biggest need anyways. Takk McKinley is a better fit and more talented than Taco Charlton.
17. Washington Redskins: Haason Reddick, LB, Temple
RB Dalvin Cook would be a poor fit, and the front seven on defense is a bigger need anyways. With his current hype, Haason Reddick could easily be taken much earlier than here, but if he's available, he's a young freak talent and debatably a steal for one of their needs here.
18. Tennessee Titans: O.J. Howard, TE, Alabama
They already filled CB, so a target for Mariota is the priority here. TE O.J. Howard and WR John Ross are the two guys here, and Howard is a bigger talent.
19. Tampa Bay Buccaneers: Dalvin Cook, RB, Florida State
They could go with an OT or stretch for TE David Njoku, but despite the reports of Cook dropping out of the first round, he'd be teaming up with James Winston again, he's in-state, they've worked him out often and he's an excellent fit for a big need.
20. Denver Broncos: Garrett Bolles, OT, Utah
Denver's biggest need is an OT, especially one that can contend at LT, and Bolles is right next door and the best Tackle in the draft. No-brainer here.
21. Detroit Lions: Taco Charlton, DE, Michigan
A young DE pass rusher in their 4-3 is their biggest need, and Taco Charlton is a seamless fit and the best guy available here. Easy choice.
22. Miami Dolphins: Tre'Davious White, CB, LSU
Miami needs young talent on all levels of defense, and Corner might be the biggest hole. Gareon Conley drops here, but Tre'Davious White and Kevin King are here too, and White has been closely tied to Miami before. This pick will go to whatever CB is left that fits best.
23. New York Giants: Ryan Ramczyk, OT, Wisconsin
RT is the biggest need for the Giants, and they could easily go with Ryan Ramczyk and Cam Robinson are pretty much interchangeable. After the newest Memorabilia scandal, they don't need any other off-the-field issues. This makes the Wisconsin boy the favorite here.
24. Oakland Raiders: Kevin King, CB, Washington
The Raiders need youth on defense before taking a decent value RB on Day 2. Gareon Conley is the best player on the board, followed by fellow corner Kevin King, but the Raiders don't need more people to hate them after abandoning Oakland for sketchy Las Vegas. King's the man here.
25. Houston Texans: Cam Robinson, OT, Alabama
Yes, I know Deshaun Watson, Pat Mahomes and DeShone Kizer are all still available here for a team that needs a QB, but RT is a much bigger need for whoever throws the ball. Cam Robinson is a good value at #25, and Houston could actually alternate players between RG and RT, which is absolutely perfect for Robinson.
26. Seattle Seahawks: Adoree Jackson, CB, Ohio State
Seattle could make a risk and take Gareon Conley here, but from the most recent reports, there's absolutely no way he's going on Day 1. Adoree Jackson and Quincy Wilson are the next best corners, and Jackson is a freak athlete, something Pete Carroll loves.
27. Kansas City Chiefs: Deshaun Watson, QB, Clemson
KC has made it clear that Alex Smith is not the long-term guy, and this is a talented team with no glaring holes. Deshaun Watson is out to prove critics wrong as the top QB, and he'd be walking into a team with a killer defense and fast options. If Watson's gone, Pat Mahomes would go here instead.
28. Dallas Cowboys: Obi Melifonwu, S, Connecticut
I see Dallas using almost all of their picks on defense, and secondary and edge rushers are the two biggest holes. This leaves CB Adoree Jackson, CB Quincy Wilson, OLB Charles Harris, OLB T.J. Watt, and a number of Safeties. Jackson's a poor fit, Wilson isn't a first-round talent, Harris or Watt could go here, but I really like a slight surprise pick here: Obi Melifonwu. This guy's a physical freak who isn't getting talked about simply because he's kept his profile very quiet. He could be a steal here. Whether Dallas sees that or not is a different question.
29. Green Bay Packers: Joe Mixon, RB, Oklahoma
I like T.J. Watt here over Charles Harris at OLB, and no Corner or Guard are good enough here, but RB is the outstanding need. A month ago, this was Alvin Kamara, but they've worked out Joe Mixon and really like the guy, so this might be a surprise to people outside of Green Bay.
30. Pittsburgh Steelers: Charles Harris, OLB, Missouri
Lawrence Timmons is gone and James Harrison is almost 40, so OLB is their biggest need. Harris is the best edge rusher on the board and he's a pretty good fit as well.
31. Atlanta Falcons: T.J. Watt, OLB, Wisconsin
Dan Quinn would love another pass rusher opposite of Vic Beasley, and Watt might be the biggest sleeper in this draft.
32. New Orleans Saints: John Ross, WR, Washington
Yes, they need help at corner too, but John Ross is a steal at #32 and somebody has to replace Brandin Cooks in this new Drew Brees/Adrian Peterson-combo offense.
SECOND ROUND:
33. Cleveland Browns: David Njoku, TE, Miami
34. San Francisco 49ers: Pat Mahomes, QB, Texas Tech
35. Jacksonville Jaguars: Evan Engram, TE, Ole Miss
36. Chicago Bears: Quincy Wilson, CB, Florida
37. Los Angeles Rams: Gareon Conley, CB, Ohio State
38. Los Angeles Chargers: Budda Baker, S, Washington
39. New York Jets: DeShone Kizer, QB, Notre Dame
40. Carolina Panthers: Taylor Moton, G/T, Western Michigan
41. Cincinnati Bengals: Zach Cunningham, ILB, Vanderbilt
42. New Orleans Saints: Chidobe Awuzie, DB, Colorado
43. Philadelphia Eagles: Alvin Kamara, RB, Tennessee
44. Buffalo Bills: Zay Jones, WR, East Carolina
45. Arizona Cardinals: Jabrill Peppers, S, Michigan
46. Indianapolis Colts: Tyus Bowser, OLB, Houston
47. Baltimore Ravens: JuJu Smith-Schuster, WR, USC
48. Minnesota Vikings: Malik McDowell, DT, Michigan State
49. Washington Redskins: Caleb Brantley, DT, Florida
50. Tampa Bay Buccaneers: Dion Dawkins, G/T, Temple
51. Denver Broncos: Adam Shaheen, TE, Ashland
52. Cleveland Browns: Marcus Williams, S, Utah
53. Detroit Lions: Curtis Samuel, RB/WR, Ohio State
54. Miami Dolphins: Jarrad Davis, LB, Miami
55. New York Giants: Samaje Perine, RB, Oklahoma
56. Oakland Raiders: D'Onta Foreman, RB, Texas
57. Houston Texans: Joshua Dobbs, QB, Tennessee
58. Seattle Seahawks: Tim Williams, OLB, Alabama
59. Kansas City Chiefs: Larry Ogunjobi, DT, Charlotte
60. Dallas Cowboys: Jordan Willis, DE, Penn State
61. Green Bay Packers: Carl Lawson, OLB, Auburn
62. Pittsburgh Steelers: Fabian Moreau, CB, UCLA
63. Atlanta Falcons: Chris Wormley, DL, Michigan
64. Carolina Panthers: Derek Rivers, OLB, Youngstown State
Questions? Comments? Concerns? Any feedback at all? Please let me know!
Thank You and God Bless,
Samuel R. Fuller