2017 NBA Head-to-Head Mock Draft: Sam Fuller vs. Jamey Schilling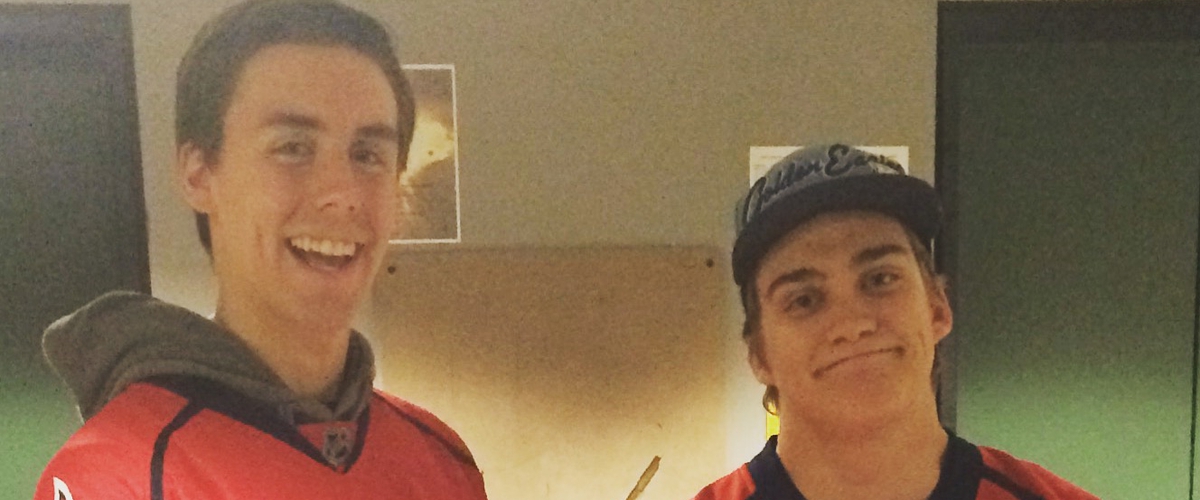 "Two Brothers, and they have a strong bond."
Well, not biologically, but Sam Fuller of FullerMetrics (mp3gaul) and Jamey Schilling of TheCollegeTailgate.com, two Marquette brethren and Milwaukee Bucks co-workers in the collegiate sports journalism sphere, are finally going head-to-head in a NBA Mock Draft-off where no one is really confident outside of the first few picks. Let the poor-advised dialogue begin!
Jamey: Thanks for having me, Sam! Before I begin, I need to start by saying Ethan Wragge (Creighton), Jimmer Fredette (BYU), Kyle Korver (Creighton), Steve Novak (Marquette), and Luke Babbitt (the mystic womb of a unicorn) need to just quit toying around and form a "Shooters Gonna Shoot" super-team already. Great, now that we've cleared that up, let's get started on the Mock Draft!
Sam: If they made super teams in the Chinese Super League, "Shooters Gonna Shoot" would undoubtedly run the table. Jajuan Johnson still needs to find somewhere to play too.... unless by a miracle he gets drafted in this year's draft which we're analyzing riiiiiight now:
1. Philadelphia 76'ers
Jamey: Markelle Fultz, PG, Washington
You know how year after year in all those mock drafts there's one player that stands alone as the unanimous number one, who ultimately does end up going number one? That player this year is Markelle Fultz. Fultz can average 23 points per game, but can he see why kids love the delicious taste of Cinnamon Toast Crunch?
Sam: Markelle Fultz, PG, Washington
If there were any questions about Markelle Fultz being the best guy in this draft, they are all long gone now. A 76'ers team with Fultz, Ben Simmons, Dario Saric and Joel Embiid? It will be very hard for Philly to blow it this year like they normally do. Don't count them out, though!
2. Los Angeles Lakers
Jamey: Lonzo Ball, PG, UCLA.
What's going to be the bigger show in Los Angeles: Lonzo Ball's show-stopping skills, or his dad's loud mouth?
Sam: Lonzo Ball, PG, UCLA
There are talks about the Lakers making some changes at #2, but Lonzo Ball is simply the second-best player in this draft. Plus, the LA area is used to Lavar Ball's obnoxious antics by now anyways. Sorry D'Angelo Russell, your days are numbered.
3. Boston Celtics
Jamey: Josh Jackson, SF, Kansas.
I'm sure Jackson would prefer the Celtics over the chance to be the most recent college superstar who's career gets absolutely derailed by joining a 76'ers team surrounded by mediocrity.
Sam: Jayson Tatum, SF, Duke
If the Celtics even keep this pick, they'll be looking for a wing. Josh Jackson is the most talented wing here, but Jayson Tatum is a better fit with Jaylen Brown (Tatum can soak up minutes at the 4). Plus, Jackson made it public that he didn't work out with Boston. Might be regretting that one right now.
4. Phoenix Suns
Jamey: Malik Monk, SG, Kentucky.
If there's one thing that the Suns need, it's defense. Monk is extremely athletic and can be an absolute lock-down defender. That's what five minutes on Google told me anyway.
Sam: Josh Jackson, SF, Kansas
Jamey's absolutely right: the Suns need defense. Jackson's only downsides are his streaky shooting and extracurricular activities. Phoenix can handle both, as they already have the shooting with Devin Booker and Eric Bledsoe, and the experience working with troublemakers (I see you, Chriss). Killer fit here.
5. Sacramento Kings
Jamey: Jayson Tatum, SF, Duke
The Kings will trade DeMarcus Cousins for… oh…right. The Kings are a mess, so what else is new? It doesn't matter who they draft, the kings are going to continue being cellar dwellers. But hey, drafting Tatum will help a little right?
Sam: De'Aaron Fox, PG, Kentucky
No one rookie is going to turn this franchise around. Ty Lawson and Darren Collison are both UFA's, so they need a PG and Fox can start right away.
6. Orlando Magic
Jamey: Jonathan Isaac, SF/PF, Florida State.
Aaron Gordon + Elfrid Payton + Jonathan Isaac = Fun.
Sam: Jonathan Isaac, SF/PF, Florida State
I agree with Jamey on the pick. First off, damn you Orlando for taking our beloved GM John Hammond. This roster is just weird and mediocre, but Jonathan Isaac could add a second scorer to the frontcourt to join Vucevic.
7. Minnesota Timberwolves
Jamey: Terrance Ferguson, SG/SF, Australia.
Can't wait for the first international player that no one's heard of to be drafted. They took Rubio, maybe they'll take Ferguson.
Sam: Lauri Markkanen, PF, Arizona
Whoa, Terrence Ferguson at #7? Wayyyyyy too ambitious. Lauri Markkanen (also a foreigner) is a seven-footer who can shoot threes. Remind you of anyone, Minnesota fans?
8. New York Knicks
Jamey: De'Aaron Fox, PG, Kentucky.
Do you really think that D-Rose can last an entire season of point guard? Neither do I. You can't go wrong with a Kentucky point guard.
Sam: Dennis Smith Jr., PG, North Carolina State
De'Aaron Fox won't drop to #8. Malik Monk could go here, but the Knicks have a hole to fill at PG thanks to D-Rose. Dennis Smith Jr. is the reasonable answer, but in classic Knicks fashion, they could go wildcard international and take French PG Frank Ntilikina.
9. Dallas Mavericks
Jamey: Lauri Markkanen, PF/C, Arizona
As sad as it is, it may be time to look forward to a Dirk-less future. Lauri Markkanen could be a good start.
Sam: Frank Ntilikina, PG, France
Dallas could fill a bench role really anywhere, but this team has done a ton of homework on Frank Ntilikina, to the point where Marc Cuban has flown out to see him play. With no PG of the future, a long-term replacement for Dirk will have to wait.
10. Sacramento Kings
Jamey: Zach Collins, C, Arizona.
It's amazing, the Kings have two first round picks, and will probably find a way to blow both of them. A mock draft I saw online said they'd draft him, so let's go with that.
Sam: Zach Collins, C, Arizona
Jamey's lack of confidence in the Kings front office is completely warranted. I'll agree with him here on the pick as well. Zach Collins might need to bulk up a bit, but he's a paint scorer at the NBA level for a team that needs it in their post-Boogie days.
11. Charlotte Hornets
Jamey: Justin Jackson, SF, North Carolina.
I'll be the first to tell you, I don't know a thing about the Hornets except for the fact that they have Kaminski and Kemba.
Sam: Malik Monk, SG, Kentucky
Kemba Walker could get a long-term partner in the backcourt with Monk, who could be the steal of this draft at #11. If Monk is gone, Louisville's Donovan Mitchell would be the next man up.
12. Detroit Pistons
Jamey: Frank Ntilikina, PG, France.
The Pistons could use some help in the scoring department by someone other than Andre Drummond. Maybe Frank Ntilikina is the answer.
Sam: Luke Kennard, SF, Duke
Jamey, Detroit already has Reggie Jackson and Ish Smith at PG, remember? Luke Kennard's stock is soaring, and the guy can simply knock down 3's like nobody else in this draft. Drawing some attention away from Andre Drummond could finally give them a chance at the playoffs. But probably not.
13. Denver Nuggets
Jamey: Isaiah Hartenstein, PF Germany.
I honestly just want to see Isaiah Hartenstein struggle to figure out why he was drafted by a team that's named after a food at McDonald's.
Sam: Justin Jackson, SF, North Carolina
Okay, as much as I love Germany, too damn early man. Front court is the area that needs to be addressed, and as much as I want to keep OG Anunoby as the pick, as they can let him recover on their already-crowded roster and use his tenacious defending when he comes back, Danilo Gallinari is likely to leave and Justin Jackson is a proven scorer on the wing.
14. Miami Heat
Jamey: Jarrett Allen, PF, Texas.
Jarrett Allen has a 7'6 wingspan. If you combine that with Hassan Whiteside (8' wingspan), that could definitely be scary.
Sam: T.J. Leaf, PF, UCLA
I like the position, I just don't like Jarrett Allen going here. The Heat need a big that can score so Hassan Whiteside can just do his thing. T.J. Leaf can play as a true forward while stretching defenses with his shooting range.
15. Portland Trail Blazers
Jamey: Ike Anigbogu, PF UCLA.
Damian Lillard needs someone to help him get buckets.
Sam: Harry Giles, PF, Duke
They have three picks in this draft and already have Ed Davis, Meyers Leonard, Festus Ezeli and Jusuf Nurkic. They can gamble on a Top-5 talent with the same amount of knee surgeries as I've had (fun fact: three).
16. Chicago Bulls
Jamey: Ivan Rabb, PF Cal.
Ivan Rabb will take his stretch-four ability from the California Sun to the Windy City.
Sam: Isaiah Hartenstein, PF, Germany
Nikola Mirotic potentially walking away and a lackluster frontcourt behind him boasting Cristiano Felicio, Joffrey Lauvergne and Bobby Portis makes Power Forward a priority. C Robin Lopez already brings the physicality, so Hartenstein can bring the range.
17. Milwaukee Bucks
Jamey: Justin Patton, C, Creighton.
#BucksIn6 #RollJays Ayo Justin, if you come to Milwaukee, we can hang out and talk about Omaha and Runzas (it's an Omaha thing, don't worry about it.)
Sam: Justin Patton, C, Creighton
Are Runzas those sandwiches with meat and cheese like stuffed in them? Justin Patton could turn into the most dangerous dual-threat big man of this class. He has a shooting touch to nearly the three-point line, a good size at 7' with a 7'3" wingspan, and he crashes the board (which we are desperate for) This is especially needed if Greg Monroe walks.
18. Indiana Pacers
Jamey: Anzejs Pasecniks, C, Latvia
Height doesn't hurt.
Sam: Ike Anigbonu, C, UCLA
A man of few words. The Pacers DO need a sizable big to take the pressure off of Myles Turner, and Ike Anigbonu might have the most tools out of any big men in this draft. If not Ike, then Bam Adebayo would make sense here.
19. Atlanta Hawks
Jamey: Donovan Mitchell, G Louisville.
Donovan Mitchell is a talented athlete and a good shooting guard that can also play point guard. Again, this is what Google tells me.
Sam: John Collins, PF, Wake Forest
Donovan Mitchell is talented, but Atlanta has made it clear they're looking for depth and long-term help up front behind the departing Paul Millsap and aging Dwight Howard. Collins is a true PF that can contribute on both ends.
20. Portland Trail Blazers
Jamey: T.J. Leaf, PF, UCLA.
You find leaves on a trail, so this is a natural fit.
Sam: OG Anunoby, SF, Indiana
Ah, "natural fit," well played good sir. The Trail Blazers already took a big man, and they can afford to have OG Anunoby sit out and recover. He'll be a scary-good defender once he's healthy.
21. Oklahoma City Thunder
Jamey: Harry Giles, PF/C, Duke
Enes Kanter needs company.
Sam: D.J. Wilson, PF, Michigan
Company in Turkish jail, maybe. Taj Gibson, Nick Collison and Andre Roberson all could leave this summer, and Wilson can take minutes at the 3 and 4 while providing range and scoring help for Russ.
22. Brooklyn Nets
Jamey: John Collins, PF, Wake Forest
The Nets, an absolute dumpster fire.
Sam: Jarrett Allen, C, Texas
God, the Nets suck. It's Brook Lopez and an orphanage. Although the backcourt is bad and they have Trevor Booker and Lopez in the frontcourt, the team is still tipped to nabbing a big man, and Allen is both the best big available and potentially the best long-term value left on the board.
23. Toronto Raptors
Jamey: OG Anunoby SF Indiana.
Shooters gonna' shoot, and OG Anunoby is gonna' defend.
Sam: Bam Adebayo, PF/C, Kentucky
Kyle Lowry might be leaving, and nothing is holding Serge Ibaka, P.J. Tucker and Patrick Patterson back from leaving this summer too. Bam Adebayo brings that hard-nosed mentality and physicality with an NBA-ready body here at #23, a good value for Toronto. If stashing a pick makes more sense financially, Anzejs Pasecniks could go here as well.
24. Utah Jazz
Jamey: Wesley Iwundu SG/SF, Kansas State.
Are people still reading these explanations?
Sam: Anzejs Pasecniks, C, Latvia
I think they give up by now, Jamey. The Jazz will be strapped for cash, and they do need long-term help up front, so look no further than Anzejs Pasecniks.
25. Orlando Magic
Jamey: Jawun Evans PG, Oklahoma State.
He's got the magic in him. Every time he touches a court it turns into gold. Everybody knows he's got the magic, magic, maaaagic (it's the B.O.B. song)
Sam: Donovan Mitchell, SG, Louisville
The Magic could use a little pixie dust in creating some offensive firepower. Mitchell is a high-energy guy and a steal at #25, this is the second of four picks. There's a little flexibility here.
26. Portland Trail Blazers
Jamey: Jordan Bell, PF, Oregon.
Still not sure if staying in Oregon is a good thing.
Sam: Terrence Ferguson, SG, Australia
Portland can add a young, rangy scorer here at #26 with Terrence Ferguson. He's an offensive dark horse this late in the first round.
27. Brooklyn Nets
Jamey: Caleb Swanigan, PF/C, Purdue
More like Purdont amirite?
Sam: Semi Ojeleye, SF, SMU
They already have a Caleb Swanigan in Trevor Booker on the roster. Semi Ojeleye has immediate starting potential on the wing as a two-way combo forawrd. He'll had some versatility to a stale, depressing franchise. Seriously though, how could you even take yourself to a Nets game?
28. Los Angeles Lakers
Jamey: Tony Bradley, C, North Carolina
I'm literally just picking players at random now.
Sam: Ivan Rabb, PF/C, California
Not a bad choice for at random; the Lakers need help behind Timofey Mozgov. Ivan Rabb is a strong stretch-4 rebounder who could develop among the young core.
29. San Antonio Spurs
Jamey: Semi Ojeleye, SF/PF, SMU
A foreign sounding players on the Spurs? Unheard of.
Sam: Caleb Swanigan, PF/C, Purdue
The Spurs REALLY need help crashing the boards, and even if Pau Gasol comes back, Dwayne Dedmon isn't likely to and the defensive void left from Tim Duncan's retirement still has not been filled. Caleb Swanigan is a double-double machine, and even if he doesn't have a high ceiling, he provide immediate help off the glass.
30. Utah Jazz
Jamey: Sindarius Thornwell, SG, South Carolina
The kid went off in the NCAA tournament. Maybe that counts for something.
Sam: Jawun Evans, PG, Oklahoma
The Jazz might lose George Hill this offseason, and although some believe he has a limited ceiling, Evans is fast, a playmaker and can make big shots. Don't get me wrong, I would LOVE to see my boy Sindarius make it in the first round, but some team is going to get Malcom Brogdon-like results in the early second round.
See more of Sam's articles: http://mp3gaul.info/fullermetrics/
See more of Jamey's articles: http://thecollegetailgate.com/author/andrewschilling/