2017 NBA Mock Draft by FullerMetrics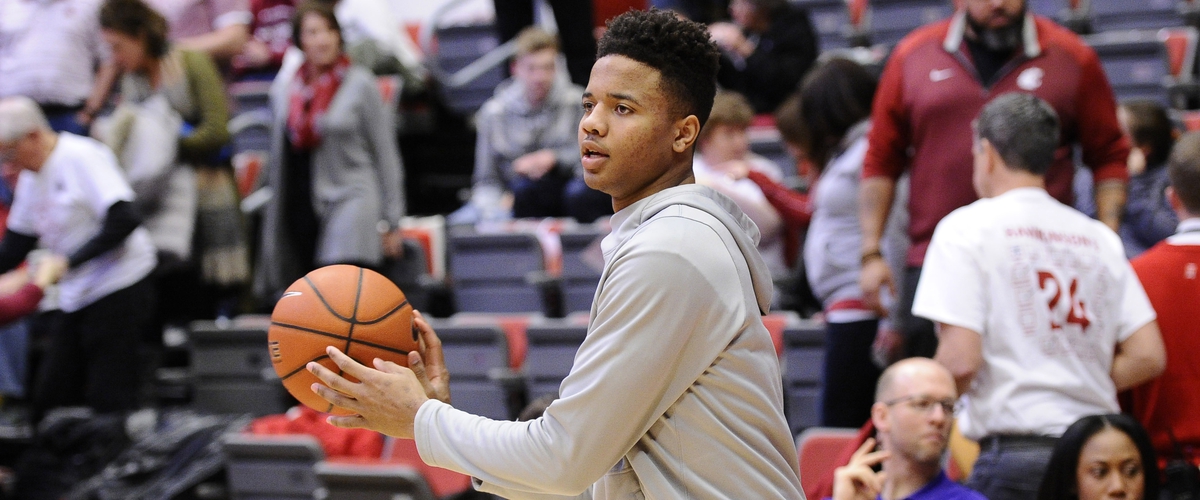 With this mock draft, I'll literally have to pay attention to the time marked when I finish it because trade potential is at an all-time high leading up to Thursday's draft. Sure, the first couple picks are pretty obvious by now, but three through 60 is really anyone's best guess. Well, here's mine:
1. Philadelphia 76ers: Markelle Fultz, PG, Washington
Easiest pick of the draft. They literally made the move to get this guy.
2. Los Angeles Lakers: Lonzo Ball, PG, UCLA
Trading D-Russ to the Nets absolutely solidified that Lonzo is the man here at #2. Looks like Lavar is right about one thing.
3. Boston Celtics: Jayson Tatum, SF, Duke
If they don't trade this pick to New York for Kristaps Porzingis or to Chicago for Jimmy Butler, it's between Tatum and Josh Jackson. Jackson refuses to work out for the Celtics unless they commit to draft him, which makes it the second time he's cancelled a workout. Tatum fits better with Jaylen Brown anyways.
4. Phoenix Suns: Josh Jackson, SF, Kansas
The Suns are also rumored to be in talks for Porzingis, but if they keep the pick, Jackson is a no-brainer. GM Ryan McDonough openly said he doesn't care about off-court issues, the Suns need defense badly and they already have shooters. Perfect fit for Jackson.
5. Sacramento Kings: De'Aaron Fox, PG, Kentucky
Ty Lawson, Darren Collison and Langston Galloway are all free to walk away. Do you want Garrett Temple running the point? No. De'Aaron Fox is a start-right-away PG, which is perfect for the boring Kings.
6. Orlando Magic: Jonathan Isaac, SF/PF, Florida State
The Magic need some spark of energy where they can get it, and Jonathan Isaac can play major minutes right away without taking away opportunities for Nikola Vucevic and Aaron Gordon in the front court.
7. Minnesota Timberwolves: Lauri Markkanen, PF, Arizona
The only starting spot that could be challenged it Gorgui Dieng's, and Lauri Markkanen could do exactly that. He's 7' and shot 42% from beyond the arc last year. Remind you of anyone, Minnesota?
8. New York Knicks: Frank Ntilikina, PG, France
Sure, Malik Monk is available, but the Knicks love Frank Ntilikina and they need a PG for the future BADLY. He's a project, so he shouldn't play a ton of minutes right away, but regardless, the Knicks won't have to bet on Derrick Rose to play 40 minutes a game and stay healthy.
9. Dallas Mavericks: Dennis Smith, Jr., PG, North Carolina State
They would love to have Frank Ntilikina still on the board, but if he's taken by the Knicks, it's either Smith or Malik Monk. Although they have the money to spend in getting a Free Agent PG, they already have a shooting 2-guard is Wesley Matthews and a sharpshooter in Harrison Barnes, so energy in the back court is a priority over shooting.
10. Sacramento Kings: Zach Collins, C, Gonzaga
The Kings found a PG in De'Aaron Fox, now they need someone not named DeMarcus Cousins to figure out how to score in the paint. Zach Collins needs to beef up a bit, but he sure knows how to do that.
11. Charlotte Hornets: Malik Monk, SG, Kentucky
The Dwight Howard trade really doesn't shift any interest away from giving Kemba Walker a back court buddy. Monk is a sharp-shooter that could add needed offense and a distraction from the new big man down low.
12. Detroit Pistons: Luke Kennard, SF, Duke
The Pistons needs someone to take attention away from Andre Drummond on the offensive end. Luke Kennard shot 44% from beyond the arc, undoubtedly the best 3-point ace in this draft. His ceiling might not be high, but as long as his long ball percentage is, that's all Detroit needs right now.
13. Denver Nuggets: Justin Jackson, SF, North Carolina
Danilo Gallinari would be the biggest departure, and Justin Jackson can score at Small Forward right away. If OG Anunoby was healthy, he'd get consideration here.
14. Miami Heat: John Collins, PF, Wake Forest
If I was making the pick, I'd take T.J. Leaf, but Miami really likes the West Palm Beach-native John Collins. With Hassan Whiteside drawing the attention, it'll let Collins develop his offensive game at the professional level.
15. Portland Trail Blazers: Harry Giles, PF, Duke
Portland has three picks in the first round, and they're very unlikely to keep them all, but if #15 is still in Portland's hands, they can gamble on a player who one-upped me on knee surgeries (3>2).
16. Chicago Bulls: Isaiah Hartenstein, PF, Germany
With Dwyane Wade coming back, that's less money Chicago is willing to spend to bring Nikola Mirotic back. That being said, PF is the way to go anyways, and with Robin Lopez already bringing the physicality and rebounding, they can get a rangy seven-footer in Isaiah Hartenstein
17. Milwaukee Bucks: Ike Anigbonu, C, UCLA
What will one-week-tenured GM Jon Horst do? Even with Greg Monroe coming back, that doesn't add any help with rebounding. There's a few guys who could really go here: Justin Patton, Ike Anigbonu, and Jarrett Allen. What the Bucks need more than anything is rebounding, and the best player for that is Ike Anigbonu. He also won't be asked to play a ton of minutes right away either, which is good because he'll take some time to adapt.
18. Indiana Pacers: Bam Adebayo, C, Kentucky
Justin Patton or Jarrett Allen would be more talented players, but Bam Adebayo is the best player to take the defensive pressure off of Myles Turner: the priority of this offseason.
19. Atlanta Hawks: Justin Patton, C, Creighton
With Dwight Howard gone, the Hawks need help in the front court. Justin Patton is a lengthy player who can contribute on both ends of the floor. He or Jarrett Allen would be ideal here for Atlanta.
20. Portland Trail Blazers: OG Anunoby, SF, Indiana
Portland has a logjam of players and picks, and they can wait for him to recover from surgery to eventually be a nasty good defender.
21. Oklahoma City Thunder: T.J. Leaf, PF, UCLA
Taj Gibson, Nick Collison and Andre Roberson all could leave this summer, and T.J. Leaf can hit from range at the 4. His defensive concerns are less cared about on a team with Steven Adams near the rim.
22. Brooklyn Nets: D.J. Wilson, SF/PF, Michigan
This pick changed, with Brook Lopez leaving and Timofey Mozgov and D'Angelo Russell entering the picture. They could still use more scoring, as Russell is iffy and Mozgov isn't a reliable offensive presence. D.J. Wilson can score at the 3 and 4, giving the Nets a much-needed exciting presence with the ball.
23. Toronto Raptors: Tyler Lydon, SF/PF, Syracuse
They definitely need help at Power Forward, and Lydon can play the 4 in a small-ball shoot-first lineup. With Jonas Valanciunas down low, Tyler Lydon could soak up minutes (and points) from range.
24. Utah Jazz: Anzejs Pasecniks, C, Latvia
The Jazz are strapped for cash and need long-term help up front. Look no further than Anzejs Pasecniks.
25. Orlando Magic: Donovan Mitchell, SG, Louisville
The Magic need help creating energy, and Donovan Mitchell is a high-energy combo guard ready for whatever minutes he can get. Mitchell is arguably the biggest steal so far at #25. Terrence Ferguson would make sense here as well.
26. Portland Trail Blazers: Terrence Ferguson, SG, Australia
There's a good chance Portland won't have a third pick in this draft, but if they do, they already have enough forwards and Terrence Ferguson can score from all over the court right away off the bench.
27. Los Angeles Lakers: Jarrett Allen, C, Texas
The Lakers just acquired Brook Lopez, but they're still relatively empty on talent in the front court. Allen won't be required to put up major points right away, which is good because he can contribute on the glass and learn how some footwork and fundamentals offensively at the next level.
28. Los Angeles Lakers: Semi Ojeleye, SF, SMU
If the Lakers keep the back-to-back picks, they could use more variety on the wing. Semi Ojeleye is ready for major minutes as a combo forward who can contribute on both ends of the floor. In my humble opinion, Ojeleye might be be one of the best values in this draft.
29. San Antonio Spurs: Ivan Rabb, PF/C, California
The Spurs still haven't filled their rebounding void in the post-Duncan era, and Dwayne Dedmon leaving doesn't help the cause. Rabb is a strong stretch-four who can rebound, and he has a higher NBA ceiling than Caleb Swanigan or Jordan Bell.
30. Utah Jazz: Jawun Evans, PG, Oklahoma State
The Jazz might lose George Hill this offseason, and although some believe he has a limited ceiling, Evans is fast, a playmaker and can make big shots. Derrick White out of Colorado could easily go here as well.
SECOND ROUND:
31. Charlotte Hornets: Jordan Bell, PF, Oregon
32. Phoenix Suns: Tony Bradley, C, North Carolina
33. Orlando Magic: Caleb Swanigan, PF/C, Purdue
34. Sacramento Kings: Wesley Iwundu, SG/SF, Kansas State
35. Orlando Magic: Jaron Blossomgame, SF, Clemson
36. Philadelphia 76ers: Sindarius Thornwell, SG, South Carolina
37. Boston Celtics: Jonah Bolden, PF, Australia
38. Chicago Bulls: Johnathan Motley, PF, Baylor
39. Philadelphia 76ers: V.J. Beachem, SF, Notre Dame
40. New Orleans Pelicans: Mathias Lessort, PF, France
41. Atlanta Hawks: Kyle Kuzma, PF, Utah
42. Utah Jazz: Derrick White, PG/SG, Colorado
43. Houston Rockets: Dwayne Bacon, SG/SF, Florida State
44. New York Knicks: Damyean Dotson, SG/SF, Houston
45. Houston Rockets: Vlatko Cancar, SF/PF, Slovenia
46. Philadelphia 76ers: Alec Peters, PF, Valparaiso
47. Indiana Pacers: Josh Hart, SG, Villanova
48. Milwaukee Bucks: Dillon Brooks, SF, Oregon
49. Denver Nuggets: Aleksandar Vezenkov, SF/PF, Bulgaria
50. Philadelphia 76ers: Frank Mason, PG, Kansas
51. Denver Nuggets: Isaiah Hicks, PF, North Carolina
52. Washington Wizards: Devin Robinson, SF, Florida
53. Boston Celtics: Frank Jackson, PG/SG, Duke
54: Phoenix Suns: Monte Morris, PG/SG, Iowa State
55. Utah Jazz: Nigel Hayes, PF, Wisconsin
56. Boston Celtics: Nigel Williams-Goss, SG, Gonzaga
57. Brooklyn Nets: Wesley Da Silva, SG/SF, Brazil
58. New York Knicks: Sterling Brown, SG, SMU
59. San Antonio Spurs: Kobi Simmons, PG/SG, Arizona
60. Atlanta Hawks: L.J. Peak, SG, Georgetown
Questions? Comments? Concerns? Feedback? Please let me know!
Thank You and God Bless,
Samuel R. Fuller