2018 NFL Draft by Position: Safeties (11/11)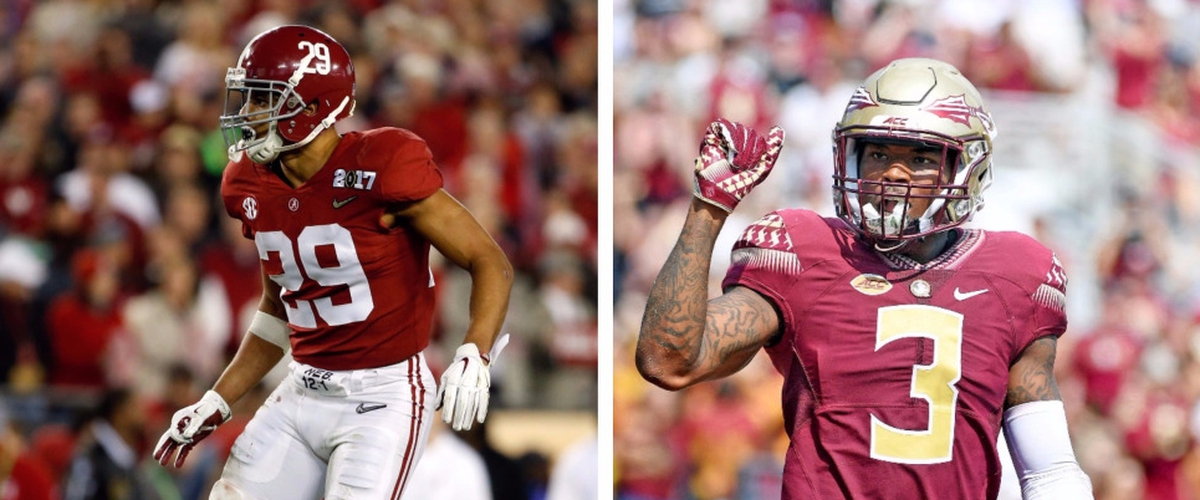 Minkah Fitzpatrick and Derwin James are about as far apart on the "Safety spectrum" as you can get, but both players have a chance at landing in the Top 10. Some of the Safeties in this class are like Fitzpatrick, a rangy center fielder who could cover at Cornerback in certain packages. Other Safeties are more like James, an in-the-box disruptor who can make plays defending both the passing and running games. When it comes to Safeties, it's all about how teams use them, so front offices have definitely done their homework to figure out which Safeties would best fit their systematic needs. If they (or anyone) want a Safety cheat sheet, just look below...
1. Derwin James, Florida State - Top 12 Pick
Derwin James is one of the most physical players out of any position. His 6'2", 215-pound frame and mental toughness round out the profile of a true defensive enforcer. James is athletic with an incredible skill set, but he has to better his run defense capabilities if he wants to stay in the box at the next level. James translates best as a pressing, in-the-box Strong Safety, and if he can handle pro blockers and big running backs, he has the upside of an Eric Berry-like All-Pro playmaker.
2. Minkah Fitzpatrick, Alabama - Top 12 Pick
Nick Saban holds Minkah Fitzpatrick as high as any defender he's ever had, and that's extremely high praise. His primary position seems to be Free Safety, but he has plenty of experience as a slot corner and nickel corner. Fitzpatrick's tape is filled with center field-like deep plays, as well as skilled blitzes against the run and the pass. Talk about a do-it-all defensive back. Fitzpatrick is a hard worker, and assuming that competitiveness and drive translates to the next level, Fitzpatrick should see starting reps right away, with a realistic upside of an Antrell Rolle-like versatile All-Pro defensive backs.
3. Justin Reid, Stanford - Late 1st/Mid 2nd Round
Justin Reid has the size (6'1", 207 lb.), speed and overall athleticism combination that every team is looking for at Safety. Just like his older brother Eric, he'll provide versatility in man coverage while also boasting the ball-hawking abilities further back in coverage. Reid's tape shows he occasionally got overaggressive and committed silly penalties, but his instincts outweigh any mental lapses. His tool set is strong enough that if he speeds up his back pedal and relies on tackling technique over aggression, he should be a quality starting combo Safety in no time.
4. Jessie Bates, Wake Forest - Late 1st/Mid 2nd Round
Jessie Bates bears the desired, versatile combination of ball skills good enough for deep coverage and athleticism fit for in-the-box responsibilities. His angles needs work, as he relies on his aggression and hard hitting skills far more often than actual tackling technique. Bates has the frame (6'1, 200 lb.) to use his skills to maximize his productivity at the next level. The versatility should help his case for immediate reps in various packages and special teams. Bates' upside is of a Justin Evans-like quality NFL starting Safety.
5. Ronnie Harrison, Alabama - 2nd Round
Ronnie Harrison is as sizable (6'2", 207 lb.) of a combo safety as they come. The size, his fluidity and athleticism, make him effective in any possibly coverage package. Harrison has a bad habit of tackling shoulder-first, and that may take some time to break. If Harrison can develop a consistent technique while keeping his physicality as impressive as it is, he should start early and often. He reminds me of Adrian Wilson, but unlike Wilson, his upside is likely limited as a decent in-the-box Safety and nothing more.
6. Kyzir White, West Virginia - Mid 2nd/3rd Round
Kyzir White went from a JUCO transfer to being the most talented player at West Virginia. He's confident, fearless, and a very physical safety with a strong 6'2", 220-pound frame. White's ability to cover Tight Ends, or receivers with a similar frame, should guarantee his landing on Day 2. His athleticism is average, and his ceiling won't be much more than as an average starter, but White's skill set in the run defense should be enough for him to see early starting reps as a hybrid, in-the-box Strong Safety.
7. Marcus Allen, Penn State - Late 2nd/4th Round
Marcus Allen has good size (6'2", 215 lb.) and uses that strong frame to close out tackles consistently. His movement and agility is solid when moving downfield, but his backpedal and lateral movements are poor. Allen's toughness, proven production and leadership should guarantee rotational reps right away, with a realistic potential of earning in-the-box starting reps right away.
8. Terrell Edmunds, Virginia Tech - 3rd/4th Round
Terrell may not have the Top 10 hype like his Linebacker brother Trumaine, but his size (6'1", 217 lb.) and impeccable initial burst make him a quality Safety prospect. His tape shows exceptional talent in man coverage against big targets, a coveted trait by scouts. Edmunds' tackling is extremely inconsistent and a major cornern, and the teams that think they can coach it up will give him a shot late on Day 2. The status of his tackline technique may be the difference between seeing only special teams and press-happy package reps, and developing into a fill-in starter at Strong Safety.
9. DeShon Elliott, Texas - 3rd/5th Round
DeShon Elliott has great size (6'1", 210 lb.) and physicality to make an immediate impact at the line of scrimmage. The unanimous All-American uses his aggressiveness to make up for his mediocre athleticism. His average combine may be enough to bump his stock down to Day 3, but he's an immediate second option at Strong Safety who could make an impact on special teams right away. His ceiling is very limited, though.
10. Tarvarius Moore, Southern Mississippi - 3rd/5th Round
Tarvarius Moore has a rare combination of size (6'2", 190 lb.), speed (4.32 forty at his pro day) and explosiveness. He's an incredible athlete with freakishly long arms, and his fluid movements and quick feet means he can handle man coverage as well as any other Safety in this draft. Moore can handle both coverage and run support duties. He should pad more to his long frame, and he's raw and ducks his head into tackles, a very bad habit given the new, stricter NFL rules on tackling. He has the upside of a decent starting Free Safety, good enough to potentially land on Day 2.
11. Armani Watts, Texas A&M - Late 3rd/5th Round
Armani Watts is a boom-or-bust prospect at a position where that high ceiling/low floor potential is a rarity. His size (5'11", 202 lb.) isn't great, but he's athletic, fluid, and his natural instincts are impressive. Watts struggles with effort, and mental lapses are apparent on his tape. His tackling technique isn't that bad, but it's extremely inconsistent. It's largely on Watts if he wants to develop into a decent combo Safety, or just stay as a mere bench option.
12. Kameron Kelly, San Diego State - Late 3rd/5th Round
Kameron Kelly has pretty good size for a Safety (6'2", 202 lb.), but a lot of scouts say teams may want to utilize his size outside as a Cornerback. He makes far too many mistakes in one-on-one coverage, and his movements aren't fluid on tape. Kelly is rangy, and his ball skills are great, giving teams good reason to keep him at Free Safety. Teams will have to find the right scheme for Kelly, but if he develops in zone packages, he could become a fill-in third Safety or Cornerback down the road.
13. Quin Blanding, Virginia - 4th/6th Round
Quin Blanding is big (6'2", 207 lb.) and smart. He's hard-working and has as much starting experience as any Safety in this class. Blanding gets beat in coverage far too often, and he lacks the speed to make up for mistakes. That's a really bad combination to have, and unless he loosens his hips and gets faster, he won't develop into much more than a backup Safety.
14. Godwin Igwebuikwe, Northwestern - 4th/7th Round
Godwin Igwebuikwe may not have the necessary size (5'11", 213 lb.) for Strong Safety, but his ruthless downfield tackling and incredible skill set for NFL-level run support should keep him at the strong spot. He struggles in man coverage on tape, a major red flag for the next level. Igwebuikwe doesn't have the natural instincts like most other Safeties in this class, and some teams me see that as a complete liability in zone coverage. He should be strong on special teams right away, but his potential to be anything more than a subpackage rotational option is a huge question mark.
15. Jordan Whitehead, Pittsburgh - 5th Round
Most of Jordan Whitehead's plays at Pittsburgh came at the line of scrimmage, and with his poor size (5'10", 198 lb.), there's a good chance that won't translate at the next level. Whitehead may still be usable as a hybrid defensive back who can cover in the slot on sub packages. His skills should help teams in run support, but with his poor collegiate production, he needs to make some plays in training camp if he wants a shot to develop into a backup Strong Safety.
16. Siran Neal, Jacksonville State - 5th/7th Round
Siran Neal has good size (6', 206 lb.) for when he played Cornerback, but it doesn't translate too well as a Safety. He's not great in coverage, but his bump-and-run ability is impressive. Neal's terrible ball skills and instincts pretty much eliminate his odds at being an NFL Free Safety, but his ability to cover Tight Ends make him a potential Eric Rowe-like scheme fit. It's up to Neal's work ethic if he wants to be a borderline practice squad defensive back, or eventually a quality package-dependent backup.
17. Natrell Jamerson, Wisconsin - 6th Round/Undrafted
2017 was only Natrell Jamerson's second year at Free Safety, as his Wisconsin career began as a wideout prospect. His instincts are surprisingly good, and his 4.4 forty proves how quick he is. At 5'11" and 210 pounds, Jamerson isn't built like an NFL Safety, and big receivers beat him every time. He's far too cautious going into tackles, and he gets imbalanced far too often. Jamerson's ceiling is low, but his impressive special teams skills may be enough to hear his name on Day 3, but he'll have to fight for a roster spot in training camp.
18. Tracy Walker, Louisiana-Lafayette - 6th Round/Undrafted
Tracy Walker is long (6'1", 206 lb. and long arms) with impressive linear speed. He tested well enough to get a shot at hearing his name on Day 3, and teams that value measurables over instincts may want to try and develop into a rangy deep option. He's definitely a long ways away from being a reasonable option, as he has absolutely no instincts, very tight hips, poor in-play agility and a total lack of play strength. It's almost certain that he'll start on a practice squad before an active roster, and it's up to a coaching miracle to turn him into a decent Free Safety.
19. Tre Flowers, Oklahoma State - 6th Round/Undrafted
Tre Flowers is tall (6'3") and lanky (202 lb.), with decent in-game speed and instincts. His agility is poor, and while his ball skills looked good on tape, it's clear he was relying on his height and not his inconsistent technique. Flowers isn't a good tackler, and he's a liability in man coverage. Those two negatives alone may be enough to kill his draft odds and see his career begin on the practice squad, but if Flowers can show some consistency in a variety of techniques, he has a far-out ceiling of a decent backup Safety.
20. Trayvon Henderson, Hawaii - 6th Round/Undrafted
If you look at Trayvon's tape from 2016 and then watch 2017, you'll see his tackling actually get more inconsistent over time. That's a big concern. Henderson also has mediocre speed, and he never could dig his way out of mistakes. His aggresiveness and hard hitting ability may be enough to be a third option at Strong Safety for some teams, but he just doesn't fulfill the responsibilities needed at the position. There's a good chance his decline in overall play will be enough to see him get cut in camp, let alone go undrafted.
21. Damon Webb, Ohio State - 7th Round/Undrafted
Damon Webb already made the switch from Cornerback to Safety, but his speed and athleticism somehow already peaked. His technique and instincts got better throughout 2017, but he still made plenty of mistakes and doesn't have the speed to make up for them, thus making him a liability at Free Safety. Webb's size (5'11", 209) doesn't make him a great candidate in the box either. The only way he's ever going to see the field is in a two-deep, zone-only package. That's likely not enough to keep him on an active roster come September.
22. Stephen Roberts, Auburn - 7th Round/Undrafted
Stephen Roberts is one of the fastest Day 3 Safeties, but he's also one of the smallest (5'11", 186 lb.). His toughness and aggression are NFL ready, but his lack of ball skills and upper body strength really hurt his draft odds. If he makes some plays in camp, he has a shot as a depth Safety option for sub-packages, but it's more likely his career begins, and possibly ends, on the practice squad.
23. Tray Matthews, Auburn - 7th Round/Undrafted
Tray Matthews has decent size (6', 207 lb.), and he uses it well in run support. He got kicked out of Georgia his freshman year for verball abusing a professor and committing financial fraud, but he's apparently matured since. Matthews tested decently at his pro day, and his athleticism is good enough for the next level. His tape shows he plays stiff, and he backpedals far too slow for the next level. Overall, Matthews has the chance to become a decent backup combo Safety, but he won't make an active roster if he doesn't make any plays in training camp.
24. Troy Akpe, Penn State - 7th Round/Undrafted
Troy Akpe wasn't on anybody's seven-round mock until he put together an incredible combine, epitomized by his 4.34 forty. He only started for one year, and that tape isn't impressive at all. Akpe honestly doesn't even stand out much on his own tape. His size (6'1", 200 lb.) is solid, but he isn't rangy enough to be a preferred option in coverage, and he doesn't tackle hard enough or consistent enough to be a preferred choice near the line of scrimmage. Akpe will need to prove his worth as a special teamer if he wants to make an active roster by the end of camp.
Other Safeties with training camp chances: Dane Cruikshank, Arizona; Sean Chandler, Temple, Joshua Kalu, Nebraska