2018 NFL Draft by Position: Tight Ends (4/11)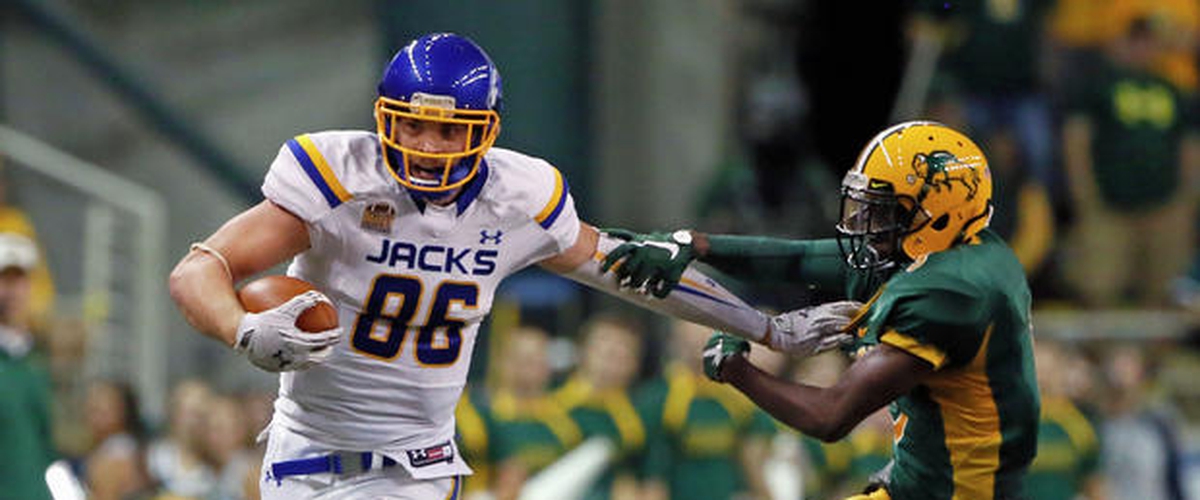 This is the first time in my tenure covering the draft where I could legitimate cases for three different Tight Ends going in the first round. Now, it's highly likely that only one will, and barring injury, South Dakota State's Dallas Goedert is the stand-alone Day One pick. It's not often that an FCS school produces the top prospect at any valuable position, but Dallas Goedert is an absolute mauler who's immediately in the top half of all starting Tight Ends. Hayden Hurst had a great pro day, and Mike Gesicki had a monster combine. Mark Andrews dropped off a bit, but there's a good chance one of the mid-round tight ends ends up being just as productive as the bigger names going earlier in the draft. Let's start with Mr. Small School...
1. Dallas Goedert, South Dakota State - Mid 1st/Early 2nd Round
Dallas Goedert is truly a do-it-all Tight End. He's been on my radar since last summer, and I was expecting him to be a mid-round sleeper that surprises everyone, but throughout the pre-draft process scouts have actually given him the respect he deserves. His size (6'5", 255 lb.) paired with good downfield speed and incredible hands makes him a dangerous threat in any offense right away. He pulls off incredible one-handed catches with ease, and finds a way to separate from faster defenders at every route level. The difference-maker between Goedert and all the other Tight End prospects is that he can block just as well. The biggest question mark surrounding Goedert is his transition from blocking weak FCS opponents to blocking and escaping from NFL athletes. If he improves his motor and adjusts to the level of play well, he's an instant combo Tight End like Zach Ertz, pushing into the Top 10 of all NFL Tight Ends.
2. Hayden Hurst, South Carolina - Late 1st/2nd Round
The last 25-year-old early-round prospect I can remember was Brandon Weeden, and that didn't pan out well. Weeden also didn't have a giant chip on his shoulder like Hayden Hurst. Hurst plays every down like it's his last, and his 6'4", 250-pound frame combined with high-end athleticism and sure hands makes him a versatile weapon at Tight End. The biggest questions marks involve his route-running and his ceiling, and the verdict is still out on both. At the very least, Hurst is an NFL-ready Tight End who can take as many reps as you want to give him. He may not develop into a star, but he has a realistic ceiling of a poor man's Dallas Clark.
3. Mike Gesicki, Penn State - Late 1st/2nd Round
Mike Gesicki was talked about as a mid-round pick until he took the NFL Combine by storm. He measured in at 6'5", 247 pounds, then went on to run a 4.54 forty, tallied 22 bench reps, posted a vertical of 41.5" and caught every ball thrown to him on every route. He very well may be the best receiving Tight End in this draft, keeping him on the bubble of hearing his name on Day One. However, he's an awful blocker. At the NFL level, it's hard to see him being on the field in anything outside of a receiving capacity, which could very well limit the number of teams interested in him. Still, with his separating ability and ball skills combined with his solid hands and freak athleticism, he could be utilized as a Jimmy Graham-like Tight end in plenty of offensive sets.
4. Mark Andrews, Oklahoma - 2nd/Early 3rd Round
Mark Andrews is massive at 6'5", 256 pounds; but when you watch his tape, it's no surprise he used to be a Wide Receiver. He honestly plays like a wideout trapped in a Tight End's body. Andrews finds space, especially in zone coverage, and makes route adjustments as well as any prospect in this class. He also rarely drops the ball and doesn't need a big window to reel in a pass. Like Mike Gesicki, he lacks the fundamentals of blocking, and he doesn't look like he even wants to bother trying to get better. Andrews should develop nicely into a productive, above-average pass-catching Tight End. Think of a Coby Fleener 2.0.
5. Ian Thomas, Indiana - 3rd/Early 4th Round
Ian Thomas measures nearly identical to Jermaine Gresham coming out of college, and he has similar traits too. He wasn't the most productive during his senior campaign, but he was riddled with injuries throughout the year. If he works on using his hands and a mean streak, he could become a great in-line blocking Tight End. While he has the upside of a good starting combo Tight End, he's much more raw than the Tight End prospects ranked above him. A franchise can reap the potential rewards of Ian Thomas as their tight end if they focus on developing and coaching him the right way. Think of what Jermaine Gresham COULD have been.
6. Dalton Schultz, Stanford - 3rd/5th Round
Stanford has become a Tight End haven, and Dalton Schultz is the next big weapon out of the California school. His 6'6" frame could add more mass (242 pounds), but he's the best run blocking Tight End in this class. Schultz is tough and tenacious as a blocker, with incredible fundamentals and an innate desire to out-battle edge rushers. His physicality also creates space on passing routes, where he's best fit as a short-range target. His lack of production in the receiving game will prevent him from being a starter right away, but he should see a good number of reps just to run block very early on in his NFL career.
7. Chris Herndon, Miami - 4th/6th Round
Chris Herndon waited until his senior year to be the primary target, but his athleticism and abnormally long arms were on display all four seasons at Miami. Herndon is very raw, and his lack of production as either a receiver or a blocker mirrors that. Despite his college track record, scouts see him as the mid-round pick most likely to be the sleeper of the class at Tight End. His release quickness and downfield speed make him a potential weapon for any franchise, but he needs to use his hands much better as a blocker and add some serious upper body strength before reaching his potential as a versatile TE2.
8. Durham Smyth, Notre Dame - 5th/6th Round
Durham Smyth is built to be a run-blocking Tight End. His 6'5", 257-pound frame combined with a high motor and incredible toughness makes him an immediate factor at the next level. He's not a bad receiving tight end, but he doesn't have the speed, hands or ball skills to really be targeted at all in the NFL. He's more of a sixth offensive lineman, and for teams that run the ball consistently, he could be looking at split-starting reps right away.
9. Troy Fumagali, Wisconsin - 5th/6th Round
Troy Fumagali caught passes well from a handful of bad Wisconsin Quarterbacks, but he finally learned how to block during his senior campaign. Many scouts question how he'll create space while route-running, given his mediocre athletic abilities. Fumagali's also still just an average blocker at best. Still, he finds a way to poke holes in zone coverage and get open during play action passes, small traits that may just be the difference of adding depth as a bench combo Tight End and landing on a practice squad instead of an active roster.
10. Ryan Izzo, Florida State - 5th/6th Round
Ryan Izzo's draft stock relies on how many teams need a run-blocking-specialist Tight End. He lacks athleticism and doesn't provide much of anything in the receiving department. What Izzo provides is a strong 6'5", 250-pound frame with the toughness, natural blocking ability and mean streak to be a powerful blocker both at the point of attack and moving down the field. He should see TE3 blocking responsibilities right away, with an Anthony Fasano-like upside.
11. Jordan Akins, Central Florida - 5th Round/Undrafted
Similar to his peer Hayden Hurst, Jordan Akins had a brief minor league baseball career before trying his hand at college football. His 6'3", 237-pound frame is a bit undersized compared to other prospects in this draft, but his tape is filled with flashes of speed, quickness and agility abnormally high for a Tight End. He should probably still be able to separate and create windows for himself at the next level, but he's an absolute liability as a blocker. His biggest disadvantage? His age: 26. For how bad he is when blocking, it would take big strides in multiple parts of Akins' 26-year-old skill set to develop into anything more than a fringe roster player.
12. Ethan Wolf, Tennessee - 6th Round/Undrafted
At 6'6" and 258 pounds, Ethan Wolf is built like a prototypical Tight End. He's a four-year starter who's a decent athlete, a decent receiver and a decent blocker. Wolf's just a decent overall prospect. His versatility, experience and usability should be enough to see him make a roster, but he needs to add some toughness, increase his motor and become a consistent run blocker in order to develop into anything more than a bench warmer.
13. Tyler Conklin, Central Michigan - 7th Round/Undrafted
Tyler Conklin suffered a nasty foot injury that he miraculously came back from, but his 2017 shows how limited he was athletically. Adding tape in from a successful 2016 campaign helps show his space-creating, speed-changing skills that will translate well at the next level. He has the attitude and will to develop into a good blocker, but his 6'4", 240-pound frame is just as mediocre as his blocking film. He'll likely have to fight hard to gain a roster spot when September rolls around.
14. Will Dissly, Washington - 7th Round/Undrafted
Will Dissly is the rawest prospect still with a chance to get drafted. He's built sturdy (6'4", 267 lb.), but lacks the athleticism, hands and ball skills to be a factor as a receiver. What Dissly doesn't lack is toughness, IQ and heart. A patient franchise could work hard with him over a few years to turn him into a quality blocking tight end with a hint of receiving production here and there. That's a big "if" though.
Other Tight Ends with training camp chances: Jeb Blazevich, Georgia; Adam Breneman, Massachusetts; and Jordan Thomas, Mississippi State.