Explaining Every Pick of My Bracket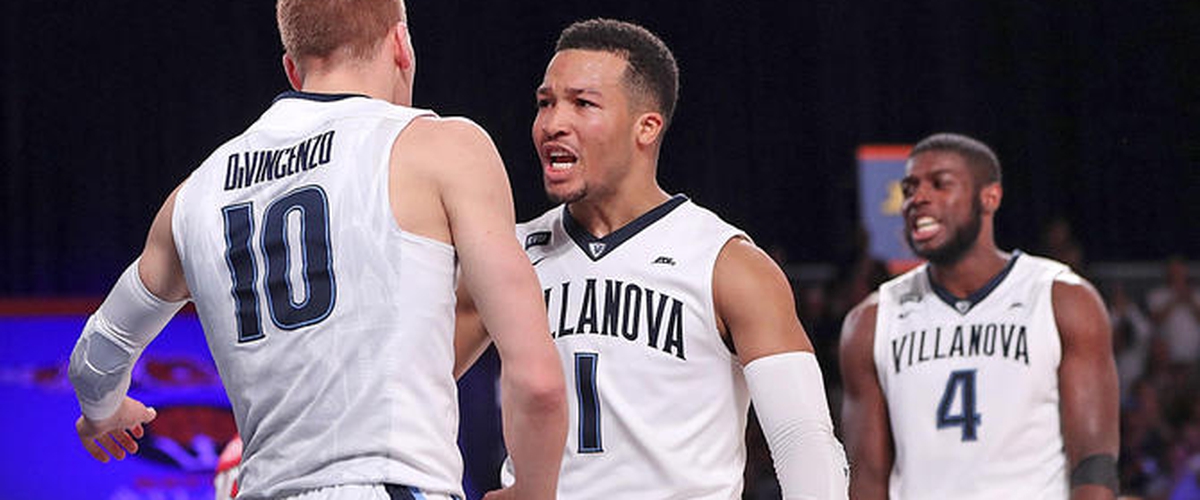 Every pick of my bracket, I'm just going to get right to it.
FIRST ROUND: SOUTH
#1 Virginia over #16 UMBC
No #16 has beaten a #1. Moving on.
#8 Creighton over #9 Kansas State
Two of K-State's best players, Dean Wade and Barry Brown, might both miss this game due to injury. Plus, Creighton plays like Kansas, and the Jayhawks beat Kansas State in all three matchups this season. Also, Big East Bias.
#5 Kentucky over #12 Davidson
Steph Curry put Davidson on the map, and they haven't gotten out of the first round since he was enrolled. Davidson doesn't guard the three well and, when hot, this Kentucky is good from deep. Well, they're hot.
#4 Arizona over #13 Buffalo
Arizona has the #1 pick of the 2018 NBA Draft in DeAndre Ayton, and the Buffalo player guarding him is 6'7". Game over.
#11 Loyola-Chicago over #6 Miami
Loyola beat another #6 seed in Florida earlier this season, and they can both shoot and defend. They'll slow down the game like they always do, which the streaky-shooting Miami will absolutely hate. I also almost went to Loyola.
#3 Tennessee over #14 Wright State
Tennessee has beaten Purdue, Texas A&M and, twice, Kentucky. Wright State's biggest win is Toledo. Also, Wright State relies on defense due to a mediocre offense, and Tennessee is one of the best defensive teams in the country. Easy pick.
#10 Texas over #7 Nevada
I'm not seeing what everyone else sees in Nevada. They're 0-2 against the Big 12, lost to San Diego State twice due to a lack of size, and Texas is significantly taller and playing their basketball, especially with a Top-10 pick in Center Mohamed Bamba healthy again.
#2 Cincinnati over #15 Georgia State
Cincinnati is one of the best defensive teams in the country, and Georgia State doesn't have the offensive firepower to even remotely challenge the Bearcats.
FIRST ROUND: WEST
#1 Xavier over #16 Texas Southern
No #16 has beaten a #1. Moving on.
#8 Missouri over #9 Florida State
Florida State struggles defending the perimeter, and Missouri just got Michael Porter Jr. back. I'm assuming he'll automatically do better than his 5-17 shooting performance in his first game after spinal surgery.
#12 South Dakota State over #5 Ohio State
Two words: Mike Daum. This guy is an absolute baller, and the Jackrabbits have giant-killing experience. Unless Keita Bates-Diop goes beast mode for the Buckeyes, I really like this upset.
#4 Gonzaga over #13 UNC-Greensboro
This 30-win Gonzaga team only got seeded at #4 because they play in a weaker conference. There's no way Mark Few is letting the Bulldogs slip here.
#6 Houston over #11 San Diego State
Houston went undefeated at home and was a dumb turnover removed from beating a really good Cincinnati team last weekend. San Diego State has won nine straight games, but I can't see Kelvin Sampson & co. losing this early.
#3 Michigan over #14 Montana
Moritz Wagner is a beast and this is the best rebounding team John Beilein has ever constructed. Yes, they've had an extended layoff due to the Big 10 tournament being moved up a weekend, but that just means more rest after a jam-packed conference schedule.
#7 Texas A&M over #10 Providence
Providence doesn't shoot three's well, and if they want to go to the paint and score, they're facing lottery pick Robert Williams and the sixth-tallest team in the country. The matchup of playing styles alone favors the Aggies.
#2 North Carolina over #15 Lipscomb
I hate UNC, but facts are facts: Roy Williams has never lost a first-round game. Easy pick.
FIRST ROUND: EAST
#1 Villanova over #16 Radford
No #16 has beaten a #1. Moving on.
#9 Alabama over #8 Virginia Tech
Collin Sexton is on an absolute tear, and with a healthy Donta Hall, the momentum will be too much for Buzz Williams and the Hokies. It'll be close though.
#5 West Virginia over #12 Murray State
Bob Huggins is a helluva coach, and Jevon Carter is the best defending Point Guards in the country. Their pressing style will suffocate Murray State.
#4 Wichita State over #13 Marshall
Gregg Marshall is another incredible coach, and he's won five straight first round games. Marshall will look to pour in three's, but Landry Shamet and the Shockers are disciplined and ready to advance.
#11 St. Bonaventure over #6 Florida
The Bonnies showed they can tough it out during rough stretches against UCLA, and play-in teams fair pretty well in Round One. Florida has been exposed by Loyola-Chicago and Clemson this season, two teams that shoot well.
#3 Texas Tech over #14 Stephen F. Austin
I love the Lumberjacks probably more than the next guy, but if Texas Tech didn't lose star Keenan Evans to a toe injury, they could have very well won the Big 12. Oh, and he'll be back for this game. Sorry, SFA.
#7 Arkansas over #10 Butler
As much as I want to implement the Big East Bias, Arkansas has three veteran guards and a potential future lottery pick in Center Daniel Gafford. Butler doesn't have anyone to match up against Gafford. Simple as that.
#2 Purdue over #15 Cal State Fullerton
Isaac Haas is 7'2", and his backup Matt Haarms is also over 7' tall. CS-Fullerton has one player over 6'7". That's not going to go well.
FIRST ROUND: MIDWEST
#1 Kansas over #16 Pennsylvania
No #16 has beaten a #1. Moving on.
#8 Seton Hall over #9 North Carolina State
The Pirates have one four of their last six, and the two losses were to Butler and Villanova. NC State just lost to Boston College. Plus, Big East bias.
#12 New Mexico State over #5 Clemson
The 12-over-5 upset is popular, and Clemson is 7-6 since losing their best player Donte Grantham to a torn ACL. Plus, the Aggies are really good. Zach Lofton scores almost 20 points a game and they had a school-record 28 wins. This is my favorite upset.
#4 Auburn over #13 Charleston
This one could be an upset as well, but Bruce Weber is an experienced coach. Auburn has beat Tennessee, Kentucky, Alabama and Arkansas. Charleston only played two tournament teams, Wichita State and Rhode Island, and they lost to both. Hard to see them as a giant-killer.
#6 TCU over #11 Arizona State
If this was the Arizona State team we saw in November and December, this would go in favor of the Sun Devils. TCU is a better rebounding team on both glasses, and they don't turn the ball over a ton, so more opportunities means a higher likelihood of more points.
#3 Michigan State over #14 Bucknell
Bucknell's biggest win on the season is Vermont. Vermont. Michigan State has zero reason to worry here.
#7 Rhode Island over #10 Oklahoma
I may as well have put "#10 Trae Young", because he's the only reason the Sooners are in the tournament. Rhode Island is a better teams and has something to prove after dropping the A-10 championship to Davidson.
#2 Duke over #15 Iona
Iona is horrible at rebounding, and Duke has two of the best rebounders in the country in Marvin Bagley III and Wendell Carter. This could get ugly.
SECOND ROUND: SOUTH
#1 Virginia over #8 Creighton
Creighton has the firepower to outgun Virginia, but UVA is better than anyone in the country at keeping the pace as slow as possible. Khyri Thomas and Mason Foster may still be productive at a slower speed, but the rest of the Jayhawks won't be able to outplay Virginia and their deep bench.
#4 Arizona over #5 Kentucky
Both teams can put up points from beyond the arc, but Kentucky doesn't have an answer for DeAndre Ayton on both ends of the court. This could be the most entertaining game of the tournament, but I don't see how DeAndre Ayton doesn't automatically give Arizona an advantage with a Jarret Vanderbilt-less Kentucky squad.
#11 Loyola-Chicago over #3 Tennessee
Both Tennessee and Loyola-Chicago want to play slow, defend and shoot well. Tennessee has the edge on D. However, Loyola doesn't go on long scoring droughts. Offensively, the Volunteers give their coach trust issues. Look for a double-digit seed to make the Sweet 16 here.
#2 Cincinnati over #10 Texas
Cincinnati absollutely dominated teams who couldn't shoot well this season, and Texas can't shoot well. Enough said.
SECOND ROUND: WEST
#1 Xavier over #8 Missouri
Missouri has two good players in Jontay Porter and Michael Porter Jr., but Xavier has five seasoned starters. Missouri has trouble defending score-first guards and Trevon Bluiett can shred this perimeter defense apart.
#4 Gonzaga over #12 South Dakota State
Gonzaga is under-seeded, and while South Dakota has one of the best scorers in the country in Mike Daum, they have no matchup answers for the trio of Killian Tillie, Rui Hachimura and Johnathan Williams. Gonzaga just has too much fire power for the Jackrabbits to keep their Cinderella story short.
#3 Michigan over #6 Houston
Here's a very specific stat: 25.9%. That's the shooting percentage Michigan kept opposing Point Guards to during the Big 10 Championship run. Zavier Simpson will neautralize the threat of Rob Gray, limiting Houston's offensive firepower to a level incapable of beating the Wolverines.
#2 North Carolina over #7 Texas A&M
Joel Berry is the human representation of North Carolina's experience in March Madness. The experience of Berry and fellow Seniors Theo Pinson and Cameron Johnson will help Roy William's squad ease into the Sweet 16.
SECOND ROUND: EAST
#1 Villanova over #9 Alabama
Alabama isn't the best defensive team, as we saw against Kentucky, and Villanova averages over 87 points per game. Plus, there's no way Jay Wright's Villanova leaves in the second round back-to-back seasons.
#5 West Virginia over #4 Wichita State
Ugh, this is such a good matchup. The biggest weakness Wichita State had this year was defending Guards who can drive, and the Mountaineers have two in Jevon Carter and Daxter Miles, Jr. Sagaba Konate will neutralize Wichita State's big man Shaq Morris, and if anyone can guard Landry Shamet, it's Jevon Carter. WVU in a close one.
#3 Texas Tech over #11 St. Bonaventure
The recipe to beat St. Bonaventure is to defend the perimeter, and Texas Tech's half-court defense can do exactly that. Plus, if Keenan Evans wasn't available for Round One, he'll definitely be available for Round Two.
#2 Purdue over #7 Arkansas
Arkansas' biggest weapon is Center Daniel Gafford, and Purdue's Isaac Haas will make him a non-factor. Plus, Arkansas doesn't defend from beyond the arc well, and Purdue is one of the most dangerous 3-point shooting teams in the tournament. This is a worst-case-scenario matchup for Arkansas.
SECOND ROUND: MIDWEST
#1 Kansas over #8 Seton Hall
Seton Hall went 1-5 against Villanova, Marquette and Creighton: three teams that shoot the 3-ball often. Guess who else does? Devonte' Graham, Lagerald Vick, and the hardest name to pronounce in the tourney: Sviatoslav Mykhailiuk. However, if Udoka Azubuike is still out injured, Angel Delgado could be hard to guard down low. Still, Kansas is the better team and will expose Seton Hall's poor perimeter defense.
#12 New Mexico State over #4 Auburn
Physically, New Mexico State matches up well with Auburn. The Aggies beat Miami, almost took out USC, and just took out Clemson in Round One. Auburn is reliant on 3-pointers, and New Mexico State defends well from beyond the arc. Look for a double-digit seed to make the Sweet 16.
#3 Michigan State over #6 TCU
TCU's biggest asset is rebounding, but Michigan State is even better. One thing the Spartans have that TCU doesn't: two lottery-pick level talents in Jaren Jackson Jr. and Miles Bridges. This is one of the easier second-round picks.
#2 Duke over #7 Rhode Island
Rhode Island lacks interior defense, and Duke has Marvin Bagley and Wendell Carter crashing down low. This is a total mismatch for URI, and an easy win for Duke.
SWEET 16: SOUTH
#1 Virginia over #4 Arizona
If Allonzo Trier got back to his early-season form, Arizona could make this a real game. However, playing like they currently are, Virginia's double-team on Ayton will be enough to out-play the Wildcats. Virginia's slow pace and suffocating defense will be too much for Ayton & Co.
#2 Cincinnati over #11 Loyola-Chicago
This game won't be pretty to watch. If Loyola gets hot from beyond the arc, they could take this game, but otherwise, Cincinnati is just better than the Ramblers.
SWEET 16: WEST
#4 Gonzaga over #1 Xavier
Gonzaga beat Xavier by almost 30 points last year, and while this Xavier team is better, Mark Few still has Chris Mack beat in the coaching matchup. Xavier will be the first #1 seed to drop out of the tournament.
#3 Michigan over #2 North Carolina
On paper, these two are almost even. UNC has the experience and coaching to win this matchup, but Michigan is as hot as anyone right now. They're 11-1 in their last 12 games and rank Top 10 in offensive efficiency. North Carolina's weakness down the stretch? Teams that could shoot efficiently.
SWEET 16: EAST
#1 Villanova over #5 West Virginia
Villanova's offense is led by their Guard play. Kansas is the same way, and West Virginia lost to the Jayhawks in all three matchups. 'Nova is #1 for a reason.
#2 Purdue over #3 Texas Tech
Texas Tech will be on all cylinders with Keenan Evans back, but they don't match up well against Purdue. Purdue's defense is disciplined enough to limit the back cuts Texas Tech relies on, and while the Red Raiders can defend Purdue's 3-point prowess, Isaac Haas will give them troubles down low on both ends.
SWEET 16: MIDWEST
#1 Kansas over #12 New Mexico State
This is usually where double-digit Cinderellas meet their match, and it's no different here. While New Mexico State has size, they don't have nayone who can match-up with Udoka Azubuike. They'll need extra post presence, which means more open looks for Devonte' Graham, Lagerald Vick and Sviatoslav Mykhailiuk. Nightmare scenario for the Aggies.
#3 Michigan State over #2 Duke
Duke beat Michigan State after Grayson Allen went off for 37 points. That likely won't happen again, and Michigan State Jaren Jackson's paint defense has gotten a lot stronger, making it tougher for Marvin Bagley and Wendell Carter to be as effective. Duke will be tought to beat, but the best way to beat a zone defense is effective shooting, and the Spartans shot 41.3% from beyond the arc while ranking Top 25 in both offensive and defensive efficiency.
ELITE 8: SOUTH
#1 Virginia over #2 Cincinnati
Cincy beat Tennessee in the Sweet 16 by out-slowing a slow, defense-first team. Now it's their turn to get one-upped. Virginia is the best team in the country in doing what Cincinnati does, and Tony Bennett is one of the best in-game coaches. It'll be a grinder, but it's hard to see Virginia losing a game where they get to play their ideal way.
ELITE 8: WEST
#4 Gonzaga over #3 Michigan
Gonzaga's two big losses were against Florida and Villanova. A similar trait between those two teams? Efficient 3-point shooting. However, Michigan might not have the tall bodies to keep up with Gonzaga's big men. Mo Wagner can take away Killian Tillie, but can he also limit Johnathan Williams and Rui Hachimura? I don't think so. Size alone will limit Michigan's rebounding abilities. Goodbye big blue.
ELITE 8: EAST
#1 Villanova over #2 Purdue
These are the two top teams in the entire country in adjusted offensive efficiency. Both teams will play solid defense and shoot a lot of three's. While 'Nova may not have anyone to match-up with Isaac Haas, Purdue doesn't have a defensive answer for Mikal Bridges, and Bridges is the better of the two. Villanova just has the more talented roster overall.
ELITE 8: MIDWEST
#3 Michigan State over #1 Kansas
Kansas could get away with playing small in the Big 12, but they can't get away with it against Michigan State. Baylor and Oklahoma State were the only two teams that consistently played with two men in the post, and Kansas went 1-3 in those games. After Jaren Jackson takes away the X-factor of Udoka Azubuike, MSU's rebounding ability gives them far more possessions to outscore Kansas.
That leaves a Final Four of Virginia, Gonzaga, Villanova, and Michigan State
#4 Gonzaga over #1 Virginia
Finally, a match-up that can beat Virginia at their own game. Gonzaga has three big playmaking athletes in Killian Tillie, Rui Hachimura and Johnathan Williams. With De'Andre Hunter gone, Jack Salt can't do all of the work defending tall, athletic players. This is the first matchup that doesn't favor UVA, and Virginia's depth is now pretty much as weak as Gonzaga's. Bye-Bye, overall #1 seed.
#1 Villanova over #3 Michigan State
The size different in the post could have people seeing Michigan State as an obvious favorite, but it's more complicated than that. Villanova gets exposed by slashing players, and neither Miles Bridges nor Jaren Jackson do that on offense. Miles will also be matched up with fellow Bridges: Mikal. One position will decide this match-up: Point Guard. Yes, like it was fate, Jalen Brunson will lead Villanova back to the National Championship game.
and in the national championship...
#1 Villanova over #4 Gonzaga
I'm just not sure the Zags can defend four lights-out shooters in Jalen Brunson, Mikal Bridges, Phil Booth, and Donte DiVincenzo. Yes, Gonzaga has better big men, but Omari Spellman is getting good - and quickly. Five wins will already have him feeling confident enough to take on anyone. If anyone can go toe-to-toe with Mark Few in a chess game of basketball, it's Jay Wright. Plus, who's going to step up off the bench? Gonzaga lacks depth, and Villanova doesn't. Simple. Villanova's also been here before. It's hard to see the #2 team in the country not ending up as the #1.