FullerMetrics NFL Draft Big Board 2.0: Post-Bowls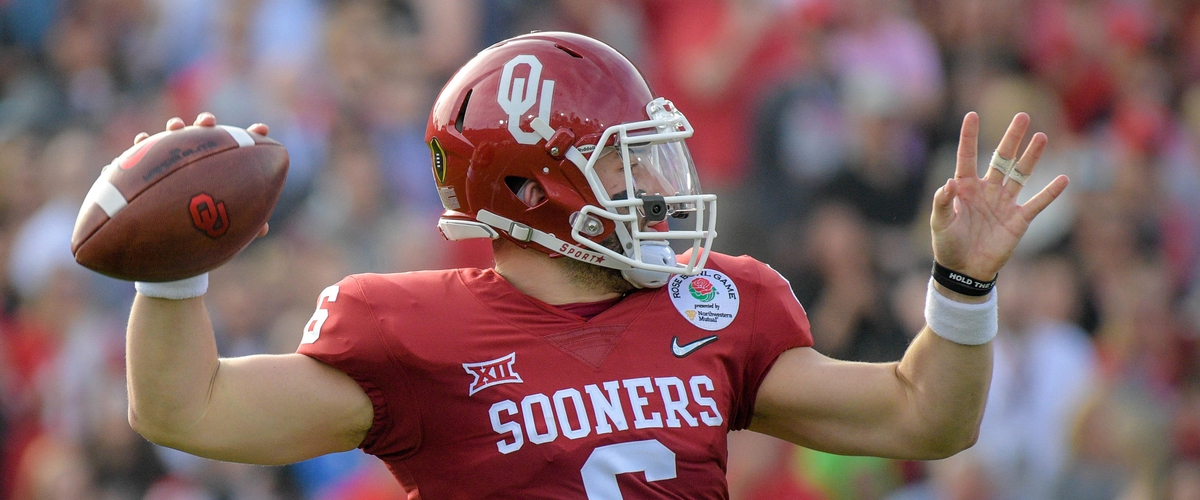 With my second edition of the FullerMetrics NFL Draft Big Board, I'm weighing the potential draft position stronger, as well as including the previous ranking to show progression or decline in each of the prospects. Some players like Iowa's Josh Jackson surged up the board after their bowl game success, and other prospects like LSU's Derrius Guice began to slide down the rankings. After the NFL Wild Card weekend, the first 24 picks are finalized (barring a coin toss between San Francisco and Oakland to determine who get's the 9th or 10th picks). With plenty of head coaching vacancies, there's a lot still up in the air as far as draft priorities, but as of today, the potential NFL first-rounders have done everything they could to boost their stock on the field.
1. Saquon Barkley, RB, Penn State (Previously: 1)
To no one's surprise, Barkley declared for the draft a couple days after Penn State's bowl win. He was kept to a platoon role and still managed to pull in over 100 Total Yards and a Touchdown. His elusiveness combines with explosiveness even when he didn't seen half as many reps as he's used to keeps him as the top prospect. Bonus points for recent positive examples of character.
2. Bradley Chubb, DE/OLB, North Carolina State (Previously: 2)
Even after all of the quarterback drama involving NFL Draft declaration, Chubb remains the premier pass rusher and the second-best overall prospect behind Barkley. One key difference as to why he sits above the QB's is that there's no questioning his NFL readiness. He'll start attacking quarterbacks Day One in the NFL.
3. Josh Rosen, QB, UCLA (Previously: 5)
Rosen beat fellow Cali QB Sam Darnold to declaring himself draft-able by an hour or so, and he also now sits higher than Darnold on the big board. While he didn't obliterate his bowl game opponent like Wyoming's Josh Allen did, he showed his maturity and NFL radiness by making smart plays, avoiding key mistakes and not holding onto the ball too long. If former UCLA QB Brett Hundley learned how to play mentally like Rosen, the Packers might have made the playoffs this season...
4. Sam Darnold, QB, USC (Previously: 4)
Darnold made far too many mistakes in his bowl game fiasco. If he couldn't handle Ohio State's defense, how is he going to handle defensive pressure at the NFL level? Despite his poor decision making and lack of NFL readiness, his potential is still keeping him in the discussion for the #1 overall pick. His lack of decline on most post-bowl mock drafts keeps him right where he was in the first edition.
5. Minkah Fitzpatrick, FS, Alabama (Previously: 3)
Fitzpatrick is still as highly-touted as he was before the bowl season; the quarterbacks are just getting higher and higher draft stock (and publicity, to no surprise). He still has Jalen Ramsey-like abilities, both in range and playmaking ability, and if Cleveland doesn't take him at #4 and Tampa Bay doesn't take him at #7, there's zero chance he's falling past Oakland rounding out the Top 10.
6. Quenton Nelson, G, Notre Dame (Previously: 6)
It's extremely rare to see a Guard sitting this high on a draft board, but he's that good and he remains the sixth-best prospect. Teams like Denver (#5), Tampa Bay (#7) and San Francisco (#9) will be very high on Nelson come April 26th.
7. Calvin Ridley, WR, Alabama (Previously: 9)
Despite playing in a distinctly run-first offense, Calvin Ridley showcased his speed and deep threat abilities in the College Football Playoff. If receiving-talent-dry Chicago and new head coach Matt Nagy don't take him at #8, San Francisco won't be able to resist giving Jimmy G a deep threat weapon at #9.
8. Baker Mayfield, QB, Oklahoma (Previously: 13)
Baker Mayfield's stock has risen over the past couple months like no other. He went from being "Oh, he's short with low potential, he'll be a mid round pick" to now landing in the Top 10 of pretty much everyone's mock drafts. His maturity was on full display both on and off the field in their heartbreaking loss to Georgia in Double Overtime. He handled everything like a true leader, and teams desperate for leadership under center (Broncos at #5 and Jets at #6) will give Mayfield a very long look.
9. Josh Allen, QB, Wyoming (Previously: 7)
It's odd that the quarterback who put together arguably the best bowl performance is now sitting as the fourth-best passer. While Josh Allen showed off the cannon of an arm he had, his average mock draft position actually sank. It seems less and less realistic that Allen lands in the Top 5 and more realistic that teams like Miami (#11), Cincinnati (#12), Washington (#13) and Arizona (#15) will take a chance on the Wyoming gunslinger.
10. Derwin James, SS, Florida State (Previously: 11)
James didn't earn himself any credibility for sitting out of a bowl game, but his raw athleticism should be defended by his eventual combine performance and give him a reason to sit on the bubble of the Top 10. His returning ability should add to even further intrigue from teams like Oakland (#10), Miami (#11) and Cincinnati (#12) who could all certainly use him.
11. Joshua Jackson, CB, Iowa (Previously: 22)
Jackson will still probably be known for his three interceptions against Big 10 Champion Ohio State, but his impressive play (and interception) in Iowa's bowl game cemented his case over Denzel Ward as the best true corner in the draft. He's got the drool-worthy combination of length, athleticism and playmaking ability, solidifying him as a mid-1st-Round lock.
12. Connor Williams, T, Texas (Previously: 12)
Right now, it's a coin toss between Connor Williams and Orlando Brown on who's the better Tackle to draft. Simply based on big board legacy, Williams gets the slight edge.
13. Orlando Brown, T, Oklahoma (Previously: 25)
Brown's bright play given a heavy workload in both the pass and run blocking against Georgia's defense saw him surge up into the Top 15. Both he and Connor Williams will go in the middle of the 1st; the combine and team interviews will determine to which city each player will land in.
14. Arden Key, DE/OLB, LSU (Previously: 10)
Key didn't help his case by sitting out this season and having all the other pass rushers show off their skills, especially during the bowl season. Still, he's an explosive pass rusher that remains a first round lock. His interviewing skills and however he can demonstrate character and maturity during the pre-draft process will determine whether he's a bubble Top 10 pick or one of the 30's.
15. Roquon Smith, LB, Georgia (Previously: 15)
Smith lands at the same place he was in the first Big Board, but if I was a GM, I'd have him much higher than #15. He showcased his ability to blitz through every gap against a good Alabama offensive line AND manage to make solid tackles out in the secondary. He was all over the place - in a good way. At this point, I wouldn't be surprised to see him go as high as #8 to Chicago.
16. Courtland Sutton, WR, SMU (Previously: 24)
The receiving prospects probably saw the biggest rise up the draft boards out of any one position. While he didn't have the same dazzling bowl performance James Washington managed, he showcased the desirable combination of speed, route running and consistent catching ability. He's a popular pick for the receiving-starved Ravens at #16 - if the Bears still fancy Calvin Ridley over him at #8.
17. Mike McGlinchey, T, Notre Dame (Previously: 18)
McGlinchey has less potential than Connor Williams and Orlando Brown, but at this point he's the most NFL-ready offensive lineman behind his Notre Dame teammate Quenton Nelson. Many teams aren't looking for superstars in their Right Tackles; they just want a guy that can be consistent and start all 16 games without giving up the edge. McGlinchey can do that, and will for whatever team that selects him in the mid-to-late First Round.
18. Denzel Ward, CB, Ohio State (Previously: 17)
Ward was outshone by Iowa's Joshua Jackson in their Regular Season matchup, and was further eclipsed when comparing both of their bowl performances. Ward may actually be the most consistent, talented man-to-man corner in this draft, but it's hard to make a case for the best in your position when someone else is making far more big time plays than you. Still, he's a First Round lock and could see starter-level reps in the NFL Day One.
19. Christian Wilkins, DT, Clemson (Previously: 16)
Wilkins had a decent bowl performance against Alabama, but wasn't exactly great nor made any big plays. In fact, he and the rest of the superb Clemson defensive line were outshone by Alabama DT Da'Ron Payne, who made game-deciding plays on defense AND offense. Wilkins still showcased his interior quickness and versatility between the A and B gaps, keeping him as a first round lock.
20. Clelin Ferrell, DE/OLB, Clemson (Previously: 14)
Like Wilkins, Ferrell played okay but didn't earn himself any draft stock in his bowl performance. Still a premier edge rusher, teams might still prefer him over the troubled Arden Key and injury-prone Harold Landry, making him a likely mid-first round pick to a team like Green Bay at #14.
21. Harold Landry, DE/OLB, Boston College (Previously: 19)
Landry was a potential early-to-mid first round pick last season before he decided to return to Boston College. Well, the injury bug continued and the fact that he wasn't healthy enough to play in BC's bowl game might (or should) make scouts wary. His stock might begin to slide a bit, looking less like a mid-first and more like a late-first gamble. Still, when healthy, he's more than capable of making plays off the edge at the next level.
22. Lamar Jackson, QB, Louisville (Previously: 28)
Jackson didn't surprise anyone when he declared for the NFL Draft, but he did surprise people by how well he played as a composed pocket passer during the last few games of the season. Run-first mobile quarterbacks haven't panned out since Michael Vick attended Virginia Tech, and the former Heisman winner Jackson knew how to make himself more NFL-ready. More than anything, his decision-making and maturity were on full display during the last half of Lousiville's season, and that pushed him from being a first round gamble to a potential Top 10 pick. I'm not THAT high on Jackson, as I need a lot more evidence that the scrambler can perform at the next level (I don't want any team to get another Brett Hundley), but his names looks more and more likely to be called on the first day of the NFL Draft.
23. Vita Vea, DT, Washington (Previously: 23)
The 346-pound Vita Vea was making sideline-to-sideline plays throughout the entire bowl game, as well as stepping up his production and work rate on third downs. While he would have shot up my draft board after his performance, it appears the scouts and draft boards feel his bowl game did next to nothing for his draft stock. Then again, there are reasons why they get paid to be in the front office and I'm sitting here as an intern writing this article instead of doing actual work.
24. Maurice Hurst, DT, Michigan (Previously: 27)
While Hurst didn't do anything exception in Michigan's bowl performance, he seems to never escape being picked in the late first round. Teams like Detroit (#20), Buffalo (#21, #22), New Orleans and Atlanta have apparently been keen on the Consensus All-American lineman.
25. Billy Price, G/C, Ohio State (Previously: 26)
Price is nearly a clone copy of his former teammate Pat Elfein, and interestingly enough, the Vikings could still use help in their interior offensive lineman. It wouldn't surprise me at all if the Vikings take Price late in the first and reunite the Buckeyes.
26. Malik Jefferson, LB, Texas (Previously: 30)
As far as rangy linebackers go, Georgia's Roquan Smith is the clear leader, with Malik Jefferson and Alabama's Rashaan Evans right behind. Jefferson was the dominant playmaker for the Longhorns defense, and his standout presence compared to Evans blending in with the rest of the Crimson Tide gives Jefferson the slight edge for second. The combine should determine who will be a late first rounder and who will be an early second round selection, as it's hard to see teams picking both in the first round given all the talent at other positions.
27. James Washington, WR, Oklahoma State (Previously: NR)
Washington showed why he was a unanimous All-American wideout with a tremendous bowl performance. Both he and Mason Rudolph used the season finale to better their draft stock. Washington has risen from a run-of-the-mill second rounder to seeing popularity on mock drafts as high as Baltimore at #16. The combine might be the biggest factor in determining where Calvin Ridley, Courtland Sutton and James Washington rank among their fellow receivers.
28. Derrius Guice, RB, LSU (Previously: 8)
Talk about a slide. Derrius Guice went from a bubble Top 10 pick to now not even showing up in half of the first round mock drafts. It doesn't help that fellow running backs Kerryon Johnson, Ronald Jones, Sony Michel, Damien Harris and Rashaad Penny had great bowl games. Honestly, he might benefit from staying another year in college, but if he wants to land where he used to be seen, he better run a nice 40 and show something in his pro day that leave the scouts impressed.
29. Sam Hubbard, DE, OSU (Previously: NR)
Hubbard did nothing but improve his stock with a fantastic pass rushing performance against USC. His effort and explosiveness were questioned, especially coming from a school boasting the Bosa brothers, but Hubbard showed why he deserves first round consideration. There are plenty of talented edge rushers in the 2018 Draft class, so Hubbard will need good combine numbers and positive interviews to solidify his case as a late first round pick.
30. Rashaan Evans, LB, Alabama (Previously: 20)
While teammate Da'Ron Payne used the College Football Playoff Championship to boost his draft stock, Evans dropped spots because of his efforts, or lack there of. On a defense chalked with talented players, Evans just appeared to blend in with the crowd. He needs to stand out in the draft preparations to come if he wants to be in the same conversation as Roquan Smith and Malik Jefferson as every-down first-round linebackers.
31. Da'Ron Payne, DT, Alabama (Previously: NR)
Payne forced a turnover and actually caught a touchdown against Clemson in the College Football Playoff. His pass rushing also forced a crucial interception in the second half against Georgia in the Championship. If Da'Ron Payne demonstrated anything in January, it's that he can be a playmaker in the middle. He also hasn't had any character issues to detract from his draft stock, so Payne could now hear his name near the end of Draft Day One.
32. Isaiah Oliver, CB, Colorado (Previously: 29)
This last spot could go to five or six different guys, but the most common name this late on draft boards that hasn't been mentioned already is Isaiah Oliver. He has NFL size and athleticism, and with the recent success of young defensive backs in the NFL like Marshon Lattimore, Tre'Davious White and Jalen Ramsey, a team like Pittsburgh, Philadelphia or New England could use a solid young option at the most valuable defensive position. He'll need to defend the athleticism with good combine numbers is he wants the first round nod, though.
Honorable Mention:
1. Taven Bryan, DT, Florida (Previously: 32)
2. Ronnie Harrison, S, Alabama (Previously: 21)
3. Marcus Davenport, DE/OLB, UT-San Antonio
4. Dallas Goedert, TE, South Dakota State (Previously: 31)
5. Martinas Rankin, T, Mississippi State
6. Mark Andrews, TE, Oklahoma
7. Tremaine Edmunds, DE/OLB, Virginia Tech
8. Christian Kirk, WR, Texas A&M
9. Mason Rudolph, QB, Oklahoma State
10. Marcus Allen, S, Penn State
Packers Fans: start studying up on these players
1. Joshua Jackson, CB, Iowa
2. Arden Key, DE/OLB, LSU
3. Roquon Smith, LB, Georgia
4. Denzel Ward, CB, Ohio State
5. Clelin Ferrell, DE/OLB, Clemson
6. Harold Landry, OLB, Boston College
7. Sam Hubbard, DE/OLB, Ohio State
8. Marcus Davenport, DE/OLB, UT-San Antonio
9. Tremaine Edmunds, DE/OLB, Virginia Tech
10. Ogbonnia Okoronkwo, OLB, Oklahoma
The next Big Board will likely come after the NFL Combine, but the first FullerMetrics Mock Draft will be published during the week following Super Bowl LII!