Grading Every NFL Team's Quarterback Situation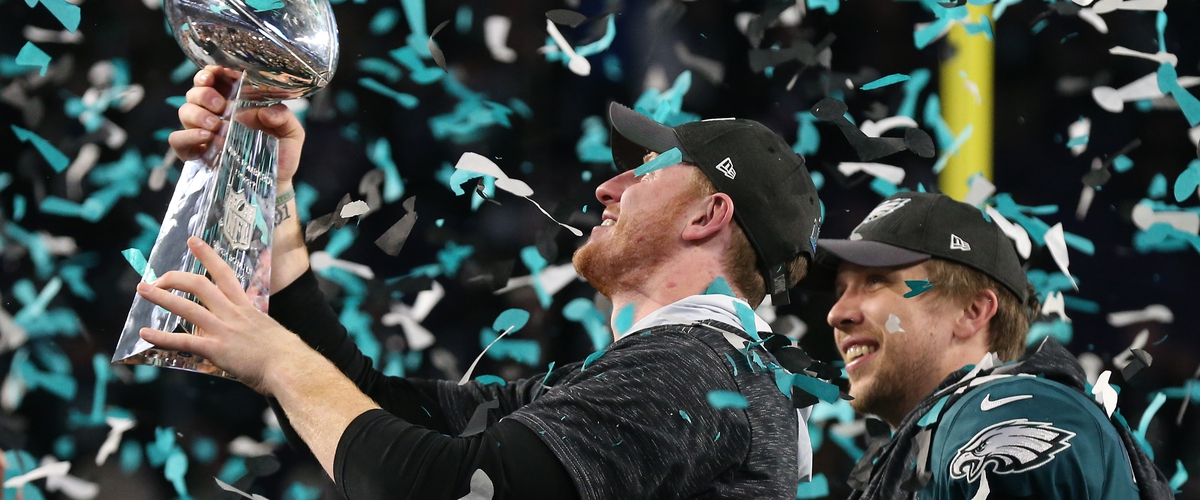 February going on March is a time of uncertainty for many NFL front offices. While most teams are finished putting together their coaching staff, they still have a lot of holes to fill with free agency and the NFL Draft on the horizon. No positional hole is more significant to fill than quarterback. In this article, I'll be addressing each team's quarterback situation heading into the new season, and what their potential options are to find Mr. Right at the most pivotal position in the game. Listed in alphabetical order, let's get down to it!
Arizona Cardinals: F
2017 Quarterbacks: Carson Palmer, Drew Stanton, Blaine Gabbert, Matt Barkley
2018 Quarterbacks under contract: none
Yep, that's right. None. The Cardinals don't have a single quarterback on their roster after Carson Palmer retired and the other three old backup options remain unrestricted. The Cardinals also don't pick until #15, meaning all of the starting-ready QB's will be gone, and they don't have the cap space to go after Kirk Cousins or Case Keenum. Obviously they'll have to draft one or two guys just to fill in the depth chart, but this entire position is a question mark that isn't looking good. I wouldn't have high hopes for 2018 if I was a Cardinals fan, plain and simple.
Atlanta Falcons: A-
2017 Quarterbacks: Matt Ryan, Matt Schaub, Garret Grayson
2018 Quarterbacks under contract: Matt Ryan, Matt Schaub, Garret Grayson
Matt Ryan may not have replicated his 2016 MVP form, but he didn't necessarily drop off either. He may have had an off year, but they also had a change in Offensive Coordinator and blowing a 28-3 lead in the Super Bowl can lead to a nasty hangover. Ryan is 32 and as durable as any other quarterback in the NFL. Even if he did go down, Matt Schaub is a quality back-up with more starting experience (and familiarity with the playbook) than most team's #2 option. Garrett Grayson is irrelevant, but hey, you never know. Atlanta's quarterback options are safe, and that's an extremely desired condition.
Baltimore Ravens: D+
2017 Quarterbacks: Joe Flacco, Ryan Mallet
2018 Quarterbacks under contract: Joe Flacco, Josh Woodrum
I think we can all agree that Joe Flacco hasn't been the Super Bowl-winning quarterback that got the big extension, well, since that Super Bowl. At 33, odds are he isn't getting back to that level anytime soon. Honestly, I'd look at Flacco the same way I look at Andy Dalton. The only difference is the Ravens are shelling out almost $25 Million to Flacco in 2018, and over $26 Million in 2019. Over the past five years, he's averaging 20 Touchdowns and 15 Interceptions per season. Sure, those numbers are better than 2017 Marcus Mariota, but he's not winning anybody over, nor securing another playoff berth with that ratio. It's hard to see the Ravens challenging the Steelers for the AFC North title anytime soon with their salary cap (and potential talent) so strapped into a player that's just average. They also don't have a solid back-up option right now, with Josh Woodrum, a failed Liberty prospect who couldn't make it with the freaking Browns, as their current #2. They have work to do, and it may begin with the front office waking up and realizing Joe Flacco just isn't that good.
Buffalo Bills: D-
2017 Quarterbacks: Tyrod Taylor, Nate Peterman, Joe Webb
2018 Quarterbacks under contract: Tyrod Taylor, Nate Peterman
The Bills are in a pickle. They have last year's starter Tyrod Taylor under contract, but he was inconsistent as ever and cutting him would save a minimum of $10 Million dollars. It's clear that most people, whether it's the coaching staff, front office, or fans, want to move on. That leaves Nate Peterman who, as none of us can forget, came in and threw five interceptions in one half. If you were curious, his QBR is 12. They could sign a free agent, but they don't have the cap space to sign what guys like Kirk Cousins or Case Keenum might go for. Honestly, their best bet may be to cut Tyrod Taylor and then re-sign him on a restructured contract. Plus, sitting back in the 20's with their two first round picks doesn't put them in a good position to get Mr. Franchise. Maybe they could trade up using both picks and more to get one of the top four prospects? Buffalo's quarterback situation might bear more questions than any other club.
Carolina Panthers: B
2017 Quarterbacks: Cam Newton, Derek Anderson, Garrett Gilbert
2018 Quarterbacks under contract: Cam Newton, Garrett Gilbert
Cam Newton probably won't ever put up passing numbers like his 2015 MVP season, but he still finds a way to win games for the Panthers. His receiving corps needs a major upgrade and having a healthy Greg Olson for an entire season should lead to much better numbers from an already potent offense. Derek Anderson is unrestricted, but the seasoned veteran seems very comfortable in Carolina and it wouldn't surprise me if he's resigned. If he walks, there are other veteran QB's who would love to sit behind Newton. Garrett Gilbert never saw the field and will remain nothing short of a mere third option. No major changes here.
Chicago Bears: C
2017 Quarterbacks: Mitch Trubisky, Mike Glennon, Mark Sanchez
2018 Quarterbacks under contract: Mitch Trubisky, Mike Glennon
Mitch Trubisky starred in five more games than Deshaun Watson (12 to 7), but he certainly didn't look as good. He only completed 166 Yards per Game, less than 60% of his passes, amassed an abysmal 77 Passer Rating and threw as many touchdowns as interceptions (7). An optimist would say he got his feet wet at the next level and is now ready to thrive under new coach Matt Nagy's offense. A pessimist would say he's just simply not that good and won't be anything more than another mid-tier quarterback at best like Andy Dalton. Cutting Mike Glennon after June 1st saves the Bears $12.5 Million in salary cap, so yeah, they're going to do that. That leaves a glaring hole behind a young quarterback, and while Mark Sanchez has apparently really helped with Trubisky's development off the field, I doubt he's good enough to step in as QB2. They ought to bring in a veteran with experience (Josh McCown reunion?) to sit behind Trubisky, as I see him still running over some speed bumps during his sophomore campaign.
Cincinnati Bengals: D+
2017 Quarterbacks: Andy Dalton, AJ McCarron, Jeff Driskel
2018 Quarterbacks under contract: Andy Dalton, Jeff Driskel
Andy Dalton's 2017 QBR of 42 was the worst in his entire career. It was also the first season since his rookie campaign that his completion rate sank below 60%. At 30, Andy Dalton will forever be a mid-tier starter at best moving forward. Second string AJ McCarron flashed the most potential out of all three quarterbacks, but after a slip-up by the Browns on the trade deadline, he's walking out of Cincy a coveted man by many teams in free agency. Jeff Driskel hasn't shown any glimpses of becoming anything special. Even in Cincinnati wanted to take the QB of the future right away this April, they don't pick until #12, where odds are the only four quarterbacks potentially ready to start Week 1 will already be taken. They'll have to look for a mid-round sleeper and hope for the best behind Andy Dalton's $16+ Million salary. A sticky situation indeed.
Cleveland Browns: C-
2017 Quarterbacks: DeShone Kizer, Cody Kessler, Kevin Hogan
2018 Quarterbacks under contract: DeShone Kizer, Cody Kessler
To start off, no one on their current roster should be a starting quarterback in the NFL. However, for a team who had the worst QB1 in the entire league last year with rookie DeShone Kizer, they're fortunately in a position to immediately get better. They have picks #1 and #4, one of which they can get whichever one of the quarterback prospects they like the most. If they don't think that guy's ready? They have a ridiculous amount of cap space to pay a veteran like Josh McCown what he wants to be the interim starter. If they don't want to use their two incredible picks? They have the money to go out and buy Kirk Cousins or Case Keenum. Now, I'm not sold on the idea of either one of those two suiting up for the Browns next season, and I do think pick #1 will be whichever QB new General Manager John Dorsey prefers, but the point is that Cleveland has a lot of different avenues to pursue. Plus, they're not tied down to a ridiculous amount of cap money for a mediocre starter (Joe Flacco, Ryan Tannehill, etc.) It could be a helluva lot worse in Cleveland.
Dallas Cowboys: B
2017 Quarterbacks: Dak Prescott, Cooper Rush, Zac Dysert, Jameill Showers
2018 Quarterbacks under contract: Dak Prescott, Cooper Rush, Jameill Showers
A year removed from an incredible rookie campaign, Dak Prescott came back down to earth in 2017, passing for fewer than 3,400 Yards and missing the playoffs. Now, a lot of the blame for Dallas missing the playoffs should land on the suspended shoulders of Ezekiel Elliott. While his passing numbers may not be great for fantasy owners, he still added over 350 Yards and 6 Touchdowns on the ground, and with a 16-game season out of Elliott and an improved receiving corps, Prescott's numbers should be on the upswing. Cooper Rush is an unproved 24-year-old and Jameill Showers is irrelevant, so Dallas may want to consider bringing in a veteran that's familiar with a run-first read option system... maybe RGIII?
Denver Broncos: D
2017 Quarterbacks: Trevor Siemian, Brock Osweiler, Paxton Lynch, Chad Kelly
2018 Quarterbacks under contract: Trevor Siemian, Paxton Lynch, Chad Kelly
Trevor Siemian, Brock Osweiler, and Paxton Lynch all took snaps in multiple games last season, and none of them threw more touchdowns than interceptions. None of them were able to post a Passer Rating above 75 either. The collective effort was under 3,700 yards, 19 Touchdowns and 22 Interceptions, all while having a rock-star receiving duo of Demaryius Thomas and Emmanuel Sanders. They need someone new ASAP. Osweiler is unrestricted and walking away, while Paxton Lynch will just be relegated to the bench. As far as Trevor Siemian, who got the most reps last season, he's actively being shopped on the trading block with just one year left on his contract. If they want to pursue Kirk Cousins (which they should), they'll have to clear some cap room and make sacrifices elsewhere. Otherwise, they do have pick #5 and could gamble on another first rounder to make an immediate impact. Regardless, if the three quarterbacks going into camp are Siemian, Lynch and Chad Kelly, I would be prepared as a fan to see another ugly losing season.
Detriot Lions: B+
2017 Quarterbacks: Matthew Stafford, Jake Rudock, Alek Torgersen
2018 Quarterbacks under contract: Matthew Stafford, Alek Torgersen
Not only is Matthew Stafford one helluva quarterback, I'm also convinced he could play a game with a broken arm. There's just no quit with this guy. He hasn't missed a game since 2010 and his ridiculous levels of production given the Lions never have a good running back have still led to him completing over 65% of his passes the past three seasons. The backup situation isn't too pretty, with their #2 option being Exclusive Rights Free Agent Jake Rudock, but that's nothing a cheap veteran or mid-round pick couldn't fix. Even if they had a decent backup, I'm not sure Stafford would even let him take the field....
Green Bay Packers: B-
2017 Quarterbacks: Aaron Rodgers, Brett Hundley, Joe Callahan
2018 Quarterbacks under contract: Aaron Rodgers, Brett Hundley
It's hard to be critical of a team's quarterback situation when their starter, when healthy, is as good as anybody in the league. Still, the Green Bay Packers have some decisions to make. Rodgers' contract is up after 2019, and he's hinted at wanting the extension he deserves. After the Jimmy Garoppolo deal, that salary might be reaching the $30 Million mark. Still, it's almost undeniable that Titletown's best chance of bring the Lombardi Trophy home is with a happy, healthy Aaron Rodgers. As far as the backup situation, the 2017 campaign proved more than any that every team with or without a franchise quarterback needs a reliable #2 option if they want to play into January. Brett Hundley is, well, not good. He's simply poor at decision-making, throws too many interceptions and literally falls into sacks that otherwise would have been prevented by an offensive line led by All-Pro Left Tackle David Bakhtiari. Hundley has one more year left on his rookie deal, but cutting him would save $700K and makes sense for both parties involved. It goes without saying that Brett Hundley is one of the most despised individuals in Brown County after his 2017 campaign. Signing a veteran backup like Sam Bradford would be the most sensible option this offseason. Joe Callahan is 24 and an Exclusive Rights Free Agent, which basically means he'll forever be that option coming off the practice squad for depth and nothing more. There's a very good chance Green Bay will draft a raw quarterback prospect with one of their middle-round picks. For a team with a potential MVP at the helm, that's three things they need to address this offseason at just one position. Good luck, new General Manager Brian Gutekunst.
Houston Texans: C+
2017 Quarterbacks: Deshaun Watson, Tom Savage, T.J. Yates, Taylor Heinicke
2018 Quarterbacks under contract: Deshaun Watson, Taylor Heinicke
Similar to Jimmy Garoppolo and Jared Goff, Deshaun Watson is a good quarterback based on the relatively small sample size he provided his rookie season: seven games. While I do believe that Watson is the Texans' best shot at a franchise quarterback since Matt Schaub, he'll still have a lot to prove after returning from an ACL tear. The fact that they have absolutely no backup option for Watson doesn't make matters any better. T.J. Yates is a third-string talent, and while Tom Savage wasn't completely awful as a fill-in starter, re-signing him comes along with a lot of baggage. It would make most sense to sign an experienced veteran as the new #2 option behind a young Watson, both for his development and for the possibility that Watson struggles in his return. ACL tears aren't fun.
Indianapolis Colts: C-
2017 Quarterbacks: Andrew Luck, Jacoby Brissett, Scott Tolzien
2018 Quarterbacks under contract: Andrew Luck, Jacoby Brissett, Brad Kaaya, Phillip Walker
Okay, what the hell is going on with Andrew Luck? There are so many question marks surrounding his shoulder. The front office insists it's fine, but we heard that going into 2017 and he missed the entire season and needed another surgery. If Luck can't play, this team isn't going to do any better in 2018 than they did in 2017 with their current supporting cast. Jacoby Brissett is mediocre and simply showed that he isn't a winner. Scott Tolzien had a Passer Rating of 34 and showed why he'll never be more than a third-string option. Brad Kaaya is a Miami prospect that proved absolutely nothing in Detroit, and Phillip Walker is a 23-year-old practice squad player with no potential to be found. They need a guy like A.J. McCarron or Ryan Fitzpatrick to come in and be a formidable #2 option behind Andrew Luck ASAP.
Jacksonville Jaguars: C
2017 Quarterbacks: Blake Bortles, Chad Henne
2018 Quarterbacks under contract: Blake Bortles
Blake Bortles is the only player left under contract, and after his miraculous job leading the team to the AFC Championship (I mean, the victory over the Steelers was just plain awesome), they rewarded him with a meaty contract extension through 2020. Tacking on two extra years doesn't exactly scream "long-term option", and that's for a reason: because he isn't. He's earned the right to be the placeholder starter on a run-first, defense-led roster, but the Jaguars will still likely draft a player they see potentially turning into Mr. Franchise in the first few rounds. They also need to bring in a veteran like Ryan Fitzpatrick to shore up the depth right away in 2018. The Jags have accomplished one of three things they need to do at quarterback this offseason.
Kansas City Chiefs: C
2017 Quarterbacks: Alex Smith, Patrick Mahomes, Tyler Bray
2018 Quarterbacks under contract: Patrick Mahomes
Trading Alex Smith to Washington freed up 2017 first rounder Pat Mahomes to be the undeniable starter now, but that's definitely a gamble given he's only made one career start. Andy Reid will do well developing Mahomes, and he does have serious potential if coached right, so the major question mark surrounding the quarterback position in Kansas City is his backup. The Chiefs needs a veteran to help Mahomes as much as any other team in the league. There should be a plethora of seasoned backups available to help Andy Reid turn Pat Mahomes into a franchise quarterback. Mahomes probably won't put up numbers like Alex Smith did in 2017, but he might be putting up those numbers on a year-to-year basis down the road if the coaching staff gets this gamble right. Look for KC to also draft a raw prospect in the later rounds for depth.
Los Angeles Chargers: B+
2017 Quarterbacks: Phillip Rivers, Kellen Clemens, Cardale Jones
2018 Quarterbacks under contract: Phillip Rivers, Cardale Jones
Phillip Rivers still has yet to show that he's mortal. With a poor offensive line as usual, he was only second to Brady in passing yards and put up his lowest single-season interception mark (10) in nine years. Still, he's 36 and the team doesn't necessarily have a solid backup option, nor a quarterback of the future. Kellens Clemens is 34 and doesn't offer much, so they'l likely just let him walk in free agency. While Cardale Jones may turn into their #2 option going forward, he hasn't shown any franchise-QB potential yet. Look for the Chargers to draft their next Mr. Right in the first few rounds.
Los Angeles Rams: B-
2017 Quarterbacks: Jared Goff, Sean Mannion, Brandon Allen
2018 Quarterbacks under contract: Jared Goff, Sean Mannion, Brandon Allen
Jared Goff absolutely took off in his second season. The main reason why this grade isn't better is because he's only had one full year of being a starting quarterback. Look at the 2017 drop-offs of quality players like Matt Ryan and Dak Prescott and it shows that it takes more than one superb year to be the secure long-term answer. As far as backups, they could use an experienced guy behind Goff, as Sean Mannion is a mediocre #2 option. Brandon Allen may seem like a throwaway guy given he's third string and a former sixth-rounder but Sean McVay is really high on this guy. Allen might actually be QB2 by the end of training camp. A seasoned veteran behind Goff during his second year as the full-time guy would boost this grade big time.
Miami Dolphins: C-
2017 Quarterbacks: Ryan Tannehill, Jay Cutler, Matt Moore
2018 Quarterbacks under contract: Ryan Tannehill, Brandon Doughty
Jay Cutler was an emergency fill-in after Ryan Tannehill's season-ending knee injury during training camp, and his 2017 was complacent. The coaching staff still has high hopes for Tannehill, but in his five healthy seasons of play, he threw over 25 Touchdowns once, over 4,100 yards once, and had a QBR over 50 just once. His average passing yards per season is just shy of 3,700, with 21.2 Touchdowns per season. In simpler terms, he's nothing more than a mid-tier starter when healthy. Cutting him before June 1st would actually save the cash-strapped team Plus, Matt Moore is unrestricted and the only other quarterback under contract, Brandon Doughty, is nothing more than a practice squad member. It may be time to start looking for their next starter, and with pick #11, it would take a miracle for one of the top four QB prospects to fall out of the Top 10. Either they'll have to sacrifice and move up, or they ride with a complacent starter again and sign a reliable backup as QB2. Either way, it's not a pretty scenario.
Minnesota Vikings: C+
2017 Quarterbacks: Teddy Bridgewater, Sam Bradford, Case Keenum
2018 Quarterbacks under contract: Kyle Sloter, Teddy Bridgewater?*
The biggest question mark out of any position on any team in the entire league is the 2018 quarterback of the Minnesota Vikings. Rumor has it they're willing to let Case Keenum walk instead of applying the franchise tag, but he could still be resigned. Sam Bradford could also be resigned, but he'd have to accept that he's the reliable back-up now. Teddy Bridgewater, wait for it, might actually...still be under contract. That's right, the league is still determining if the Vikings can "toll" his contract (give him the same 2017 again in 2018) due to him missing games via injury. They could indeed let all three walk and make a run at Kirk Cousins, as joining a 13-3 team is surely enticing. While there are so many unknowns surrounding the 2018 roster, they'll have plenty of talented options to choose from.
New England Patriots: A
2017 Quarterbacks: Tom Brady, Jimmy Garoppolo, Brian Hoyer
2018 Quarterback under contract: Tom Brady, Brian Hoyer
The only thing preventing the AFC Champions from an A+ grade is one number: 41. That's how old NFL MVP Tom Brady will be when he takes the first snap of his 2018 campaign. Brian Hoyer is currently serving the ever-popular role of former-starter-turned-wise-backup. Flipping Jimmy Garoppolo turned out to be extremely beneficial for both the player and San Francisco, and with the Patriots now bearing pick #41 in this year's draft, they could nab and develop a quarterback like Oklahoma State's Mason Rudolph. New England will definitely take a quarterback in April's draft; However, they don't have to use a top 50 pick to get their next franchise quarterback. In fact, Bill Belichick proved he could develop a lanky gunslinger with pick #199...
New Orleans Saints: B
2017 Quarterbacks: Drew Brees, Chase Daniel, Taysom Hill
2018 Quarterbacks under contract: Taysom Hill
Obviously Taysom Hill isn't going to be the only quarterback on the roster in 2018, and the reason why the Big Easy still gets a "B" is because I, like many sports writers, truly don't see Drew Brees playing anywhere else in 2018. He's less than 1,500 yards away from breaking Peyton Manning's all-time passing record, and he's literally the best player in franchise history. They'll pay him what he deserves for a season or two to go out a Saint. While Chase Daniel may not be the ideal backup for a team with a Quarterback turning 40, Taysom Hill is a flat-out baller who could develop nicely as a read option #2 quarterback. Look for New Orleans to draft another young option as early as the second round.
New York Giants: B-
2017 Quarterbacks: Eli Manning, Geno Smith, Davis Webb
2018 Quarterbacks under contract: Eli Manning, Davis Webb
For a team with the #2 overall pick, their quarterback options aren't so bad. Eli Manning was a consistent, reliable starter and the only game he's missed since 2004 was when he got benched for Geno Smith. Well, Smith sucked, and the Giants pretty much fired everyone in the organization who didn't believe Eli Manning could be their starter in 2018. They could draft the quarterback of the future with #2, as at least three of the top four prospects (Josh Rosen, Josh Allen, Sam Darnold, and Baker Mayfield) will still be available. However, this Giants team also has major needs elsewhere and could take a difference maker like RB Saquon Barkley or DE Bradley Chubb to really bolster this team. Plus, Davis Webb is really out to prove to the Giants coaching staff that he is the next Giants gunslinger. There's a lot of different ways the cards could fall for Giants QB's this offseason.
New York Jets: D+
2017 Quarterbacks: Josh McCown, Bryce Petty, Christian Hackenberg
2018 Quarterbacks under contract: Bryce Petty, Christian Hackenberg, Joel Stave
The Jets have openly said that they're going to make a huge push to sign top free agent Kirk Cousins. This would certainly be an improvement over who's on their current roster. With the sixth overall pick, the Jets will take a quarterback if they don't sign Cousins or Case Keenum. If that quarterback is a guy that may not be ready to start Week 1, they could bring back Josh McCown on a short-term deal, as he was actually pretty good as a fill-in starter in 2017. Bryce Petty has thrown more interceptions than touchdowns and boasts a career passer rating of 57, so he's not to be trusted. Christian Hackenberg got decent hype after being drafted 51st overall in 2016, but two years later and he still hasn't taken a single snap for the Jets. Being a Wisconsin Badgers fan, I can personally tell you that Joel Stave is absolute garbage. The Jets currently have three quarterbacks on their roster, none of which should take a single snap in 2018. Yikes.
Oakland Raiders: B-
2017 Quarterbacks: Derek Carr, EJ Manuel, Connor Cook
2018 Quarterbacks under contract: Derek Carr, Connor Cook
Derek Carr's injury problems in 2017 ultimately led to the demise of their playoff hopes. While the 2016 MVP candidate should bounce back in 2018, it's apparent that like many teams with a franchise quarterback, they need a solid back-up option. E.J. Manuel was okay as a fill-in starter, but he's unrestricted and likely to walk away. In his one NFL start, Connor Cook completed only 40% of his passes and threw three picks, so he's not the right man for the job. Look for the Raiders to shed some cash on a backup with quality starting experience at some point in his career.
Philadelphia Eagles: A+
2017 Quarterbacks: Carson Wentz, Nick Foles, Nate Sudfeld
2018 Quarterbacks under contract: Carson Wentz, Nick Foles, Nate Sudfeld
I don't think any team could prove their depth to be as valuable as Philadelphia's. Carson Wentz was on the MVP track before tearing his ACL, and while the Eagles were written off then and there by the rest of the country, backup Nick Foles goes on a tear (pun intended) and marches on to win the Super Bowl and, personally, the Super Bowl MVP. Even their third-string option Nate Sudfeld showed glimpses of potential NFL starter stuff. Wentz may not be ready to start Week 1 of the 2018 season, but the Eagles have no need to rush him back with a starting option like Nick Foles ready to roll. As far as Nate Sudfeld, even if he's still raw or needs more development, the Eagles certainly have more than enough time to work with him. Life is good for quarterbacks in Philly.
Pittsburgh Steelers: B
2017 Quarterbacks: Ben Roethlisberger, Landry Jones, Joshua Dobbs
2018 Quarterbacks under contract: Ben Roethlisberger, Landry Jones, Joshua Dobbs
Ben Roethlisberger played an entire healthy season for the first time in three years, and he dissipated the retirement rumor carousel when he proclaimed he'll be back for his age-36 season. Big Ben may have the best supporting cast out of any QB in the league, which ultimately slows down his talent degeneration significantly. If he does get hurt or drop off, they have an average back-up in Landry Jones in which the Steelers know exactly what he can do. Joshua Dobbs is a 2017 fourth-rounder who hasn't seen the field yet, but he could still develop into something nice down the road. Pittsburgh does need to start thinking about their QB of the future, and while they probably won't use their first-rounder on such a prospect, don't be surprised to see the Steelers take a QB on Day 2 of the draft.
San Francisco 49ers: C+
2017 Quarterbacks: Jimmy Garoppolo, Brian Hoyer, C.J. Beathard
2018 Quarterbacks under contract: Jimmy Garoppolo, C.J. Beathard, Nick Mullens
It took just five games as a starting quarterback to turn Jimmy Garoppolo into the highest-paid quarterback of all-time. While optimism and confidence may be at an all-time high for 49ers fans, it's gonna take more than five games for me to determine Jimmy G deserved that Floyd Mayweather-like payday. He's got great stuff, but how will he fare as the #1 option for, I don't know, more than six weeks for once in his NFL career? Regardless of how he does in 2018, it would be wise to get another seasoned option like they had in Brian Hoyer as the backup. 2017 rookie C.J. Beathard put up a miserable 32 QBR in the five games he started. Nick Mullens is just a practice squad player currently slotted as QB3 until they bring in another option. While Beathard may develop into a solid second option, I'm not sold he can be Mr. Reliable as a fill-in during Jimmy G's first big contract year.
Seattle Seahawks: B+
2017 Quarterbacks: Russell Wilson, Austin Davis, Trevone Boykin
2018 Quarterbacks under contract: Russell Wilson, Trevone Boykin
While it may look like Seattle doesn't have a ton of depth, they didn't need it in 2017. Russell Wilson played well enough that if he had a better supporting cast and made the playoffs, he would have undoubtedly been in the MVP conversation. It should be noted that his 586 Rushing Yards were over twice as many as the next leading rusher. In other words, Russell Wilson WAS the Seahawks' offense. He's signed through 2019, and judging by his play, there's a good chance a back-loaded extension is coming his way in the near future. Injury-barring, their quarterback situation is ideal. Imagine what damage the Seahawks could do if they had a Running Back who could total more than 300 Yards all season...
Tampa Bay Buccaneers: B-
2017 Quarterbacks: Jameis Winston, Ryan Fitzpatrick, Ryan Griffin
2018 Quarterbacks under contract: Jameis Winston, Ryan Griffin
Jameis Winston had an up-and-down season, but after he overcame his injury bug he flashed more than enough quality to regain long-term confidence from the coaching staff and front office. Ryan Fitzpatrick is a veteran with plenty of starting experience, and he could be re-signed, but he'll definitely draw a market in free agency. Ryan Griffin is simply a depth guy, not someone you want as your fill-in starter if Winston's shoulder acts up again. If Fitz walks, Tampa Bay should look for another experienced backup instead of drafting for a #2 guy.
Tennessee Titans: B-
2017 Quarterbacks: Marcus Mariota, Brandon Weeden, Matt Cassel, Tyler Ferguson
2018 Quarterbacks under contract: Marcus Mariota, Matt Cassel, Tyler Ferguson, Alex Tanney
There are a lot of mixed opinions involving Marcus Mariota. He threw more interceptions (15) than touchdowns (13) last season, but he also commanded and won a playoff game. New OC Matt LaFleur assisted in Matt Ryan's 2016 MVP campaign and contributed significantly to Jared Goff's development last season, so all signs are showing an improved 2018 campaign. Matt Cassel is currently their #2 option, and Tyler Ferguson and Alex Tanney are two practice squad-level talents fighting to be QB3, so Tennessee might look to sign a cheap veteran or use a later pick to get another fresh face in the building.
Washington: B
2017 Quarterbacks: Kirk Cousins, Colt McCoy, Stephen Morris
2018 Quarterbacks under contract: Alex Smith, Colt McCoy, Stephen Morris
Somehow, Washington managed to replace the biggest QB hitting free agency with a statistically-better quarterback before free agency even begins. Alex Smith had a killer year with the Chiefs all while not having an ace receiver, and while he may not entirely replicate his 2017 production, he won't turn the ball over. With improvements to the receiving corps and a healthy Jordan Reed, he should be a Top 10 quarterback again in 2018. Colt McCoy is a decent fill-in starter that's entirely aware of the system. Stephen Morris will enter his fourth season in the league without ever throwing a pass, so he's a throwaway practice squad player. No need to use their first-rounder on a quarterback after all.